Saint Siméon Stylite
(† 459)
Voici peut-être le plus étrange, le plus miraculeux de tous les Saints. Il naquit en Cilicie. Son père était berger, et lui-même passa les premières années de sa vie à garder les troupeaux. Il avait treize ans, quand un jour, à l'église, il entendit lire ces paroles: "Bienheureux ceux qui pleurent!... Bienheureux ceux qui ont le coeur pur!" Éclairé par la grâce, embrasé du désir de la perfection, il se met en prière, s'endort et fait un songe: "Il me semblait, dit-il, que je creusais les fondements d'un édifice; quand je crus la fosse assez profonde, je m'arrêtai: "Creuse encore!" me dit une voix. Par quatre fois je repris mon travail et je m'arrêtai, et par quatre fois j'entendis la même parole: "Creuse encore!" Enfin la voix me dit: "C'est assez! Maintenant tu peux élever un édifice aussi haut qu'il te plaira." Ce songe signifiait sans doute l'humilité, base de toutes les vertus et mesure de la perfection; mais il faisait aussi allusion au genre de vie que devait mener le pieux jeune homme.
Siméon entre dans un monastère; là, ses mortifications paraissent si effrayantes, qu'on lui conseille la solitude. Il se retire dans un désert et passe le Carême entier sans manger; le jour de Pâques, la Sainte Communion lui rend toute sa vigueur. Dès ce moment, il prend la résolution de passer ainsi tous les ans le temps du Carême. Les foules se pressent bientôt autour de lui attirées par ses miracles; il s'enfuit sur une montagne pour échapper au commerce des hommes; mais le concours prodigieux s'accroissait tous les jours. C'est alors qu'il se fit bâtir une colonne qui, s'élevant d'année en année, atteignit enfin la hauteur de quarante coudées, ou à peu près vingt mètres, sur laquelle il vécut environ trente-six ans. De là lui vient le surnom de Stylite, mot qui signifie, en grec, l'habitant de la colonne. Les heures de sa journée étaient partagées entre la prière, la prédication et les oeuvres de charité; la nuit se passait presque entière dans les entretiens avec le Ciel. Quelqu'un voulut un jour compter les inclinations profondes qu'il faisait en la présence de Dieu; arrivé au nombre de mille deux cent quarante-quatre, il s'arrêta, n'ayant pas la patience de continuer plus longtemps. Tout est merveilleux dans les détails de cette vie surprenante; et cependant on n'y trouve rien qui ne montre un homme conduit par l'Esprit de Dieu et soutenu par la vertu d'En Haut.
Abbé L. Jaud, Vie des Saints pour tous les jours de l'année, Tours, Mame, 1950

Saint Siméon Stylite
Né à Sis en Cilicie, il fut renvoyé de la communauté monastique de Tell-Ada, en Syrie, pour ses austérités excessives, il devint ermite à Telanissos, où il s'attacha avec des chaînes à un rocher. Dérangé par les visites des curieux et en quête d'une plus grande solitude, il s'installa sur une plate-forme d'un mètre carré, au sommet d'une colonne, dont il augmenta toujours la hauteur jusqu'à vingt mètres. Il y vécut trente-sept ans et y mourut, ce qui lui valut son surnom de "stylite", c'est-à-dire : "monté sur un pilier". Conseiller d'empereurs aussi bien que de gens simples, sa renommée s'étendit jusqu'en occident et il exerça une grande influence sur le concile de Chalcédoine (451). Il est le premier stylite.
ST. SIMEON STYLITES.
One winter's day, about the year 401, the snow lay thick around Sisan, a little town in Cilicia. A shepherd boy, who could not lead his sheep to the fields on account of the cold, went to the church instead, and listened to the eight Beatitudes, which were read that morning. He asked how these blessings were to be obtained, and when he was told of the monastic life a thirst for perfection arose within him. He became the wonder of the world, the great St. Simeon Stylites. He was warned that perfection would cost him dear, and so it did. A mere child, he began the monastic life, and therein passed a dozen years in superhuman austerity. He bound rope round his waist till the flesh was putrefied. He ate but once in seven days, and, when God led him to a solitary life, kept fasts of forty days. Thirty-seven years he spent on the top of pillars, exposed to heat and cold, day and night adoring the majesty of God. Perfection was all in all to St. Simeon; the means nothing, except in so far as God chose them for him. The solitaries of Egypt were suspicious of a life so new and so strange, and they sent one of their number to bid St. Simeon come down from his pillar and return to the common life. In a moment the Saint made ready to descend; but the Egyptian religious was satisfied with this proof of humility. "Stay," he said, "and take courage; your way of life is from God."
Cheerfulness, humility, and obedience set their seal upon the austerities of St. Simeon. The words which God put into his mouth brought crowds of heathen to baptism and of sinners to penance. At last, in the year 460, those who watched below noticed that he had been motionless three whole days. They ascended, and found the old man's body still bent in the attitude of prayer, but his soul was with God. Extraordinary as the life of St. Simeon may appear, it teaches us two plain and practical lessons: First, we must constantly renew within ourselves an intense desire for perfection. Secondly, we must use with fidelity and courage the means of perfection God points out.
Reflection.CSt. Augustine says: AThis is the business of our life: by effort and by toil, by prayer and supplication, to advance in the grace of God, till we come to that height of perfection in which with clean hearts we may behold God.@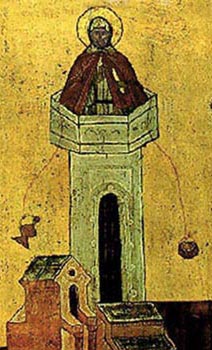 St. Simeon Stylites the Elder
St. Simeon
was the first and probably the most famous of the long
succession
of
stylitoe
, or "pillar-hermits", who during more than six centuries acquired by their strange
form
of
asceticism
a great
reputation
for
holiness
throughout
eastern Christendom
. If it were not that our information, in the case of the first
St. Simeon
and some of his imitators, is based upon very reliable first-hand evidence, we should be disposed to relegate much of what
history
records to the domain of fable; but no modern critic now ventures to dispute the reality of the feats of endurance attributed to these
ascetics
.
Simeon
the
Elder
, was born about 388 at Sisan, near the northern border of
Syria
. After beginning
life
as a shepherd boy, he entered a
monastery
before the age of sixteen, and from the first gave himself up to the practice of an austerity so extreme and to all appearance so extravagant, that his brethren
judged
him, perhaps not unwisely, to be unsuited to any
form
of community life. Being forced to quit them he shut himself up for three years in a hut at Tell-Neschin, where for the first time he passed the whole of
Lent
without eating or drinking. This afterwards became his regular practice, and he combined it with the
mortification
of standing continually upright so long as his limbs would sustain him. In his later days he was able to stand thus on his column without support for the whole period of the
fast
. After three years in his hut,
Simeon
sought a rocky eminence in the
desert
and compelled himself to remain a
prisoner
within a narrow
space
less than twenty yards in diameter. But crowds of
pilgrims
invaded the
desert
to seek him out, asking his counsel or his
prayers
, and leaving him insufficient
time
for his own
devotions
. This at last determined him to
adopt
a new way of
life
.
Simeon
had a pillar erected with a small platform at the top, and upon this he determined to take up his abode until death released him. At first the pillar was little more than nine feet high, but it was subsequently replaced by others, the last in the series being apparently over fifty feet from the ground. However extravagant this way of
life
may seem, it undoubtedly produced a deep impression on contemporaries, and the fame of the
ascetic
spread through
Europe
,
Rome
in particular being remarkable for the large number of pictures of the
saint
which were there to be seen, a fact which a modern writer,
Holl
, represents as a factor of great importance in the development of image
worship
(see the
Philotesia in
honour
of P.
Kleinert
, p. 42-48). Even on the highest of his columns
Simeon
was not withdrawn from
intercourse with his fellow
men
. By means of a ladder which could always be erected against the side, visitors were able to
ascend
; and we
know
that he wrote letters, the text of some of which we still possess, that he instructed
disciples
, and that he also delivered addresses to those assembled beneath. Around the tiny platform which surmounted the capital of the pillar there was probably something in the
nature
of a balustrade, but the whole was exposed to the open air, and
Simeon
seems never to have permitted himself any sort of cabin or shelter. During his earlier years upon the column there was on the summit a stake to which he bound himself in order to maintain the upright position throughout
Lent
, but this was an alleviation with which he afterwards
dispensed
. Great
personages
, such as the
Emperor Theodosius
and the Empress
Eudocia
manifested the utmost
reverence
for the
saint
and listened to his counsels, while the Emperor Leo paid respectful attention to a letter
Simeon
wrote to him in favour of the
Council of Chalcedon
. Once when he was ill Theodosius sent three
bishops
to beg him to descend and allow himself to be attended by physicians, but the sick
man
preferred to leave his cure in the hands of
God
, and before long he recovered. After spending thirty-six years on his pillar,
Simeon
died on Friday, 2 Sept., 459 (Lietzmann, p. 235). A contest arose between
Antioch
and
Constantinople
for the
possession
of his remains. The preference was given to
Antioch
, and the greater part of his
relics
were left there as a protection to the unwalled city. The ruins of the vast edifice erected in his
honour
and known as
Qal
'at
Sim
'ân (the mansion of
Simeon
) remain to the present day. It consists of four
basilicas
built out from an octagonal court towards the four points of the compass. In the centre of the court stands the base of
St. Simeon's
column. This edifice, says H.C.
Butler
, "unquestionably influenced contemporary and later
church
building to a marked degree" (Architecture and other
Arts
, p. 184). It seems to have been a supreme effort of a provincial
school
of
architecture
which had borrowed little from
Constantinople
.
Sources
St. Simeon's life is principally known to us from an account by THEODORET, who was a contemporary; also from the biography of a disciple Antonius and from a more or less independent Syriac source. All these materials have been edited by LIETZMANN in HARNACK AND GEBHARDT,
Texte und Untersuchungen
, XXXII (Berlin, 1906), no. 4;
Acta SS.,
Jan., I, 234-74. See also DELEHAYE in
Revue des questions historiques
, LVII (1895), 52-103; STOKES in
Dict. Christ. Biog
., s.v., Simeon (12) Stylites; HOLL in
Philotesia P. Kleinert zum 70. Geburtstag
(Leipzig, 1907). Upon the architecture of Qal 'at Sim 'ân see BUTLER,
Architecture and other Arts of Syria
(New York, 1904), 184-93; DE VOGÖE,
Syrie centrale
, I (Paris, 1885), 141-54; JULLIEN,
Sinai et Syrie
(Lille, 1893), 246-61; LECLERCQ in CABROL,
Dict. d'arch. chrét
. I, 2380-88.
Thurston, Herbert.
"St. Simeon Stylites the Elder."
The Catholic Encyclopedia.
Vol. 13.
New York: Robert Appleton Company,
1912.
5 Jan. 2016
<http://www.newadvent.org/cathen/13795a.htm>.
Transcription.
This article was transcribed for New Advent by Robert B. Olson.
Offered to Almighty God for Timothy Meares.
Ecclesiastical approbation.
Nihil Obstat.
February 1, 1912. Remy Lafort, D.D., Censor.
Imprimatur.

+John Cardinal Farley, Archbishop of New York.
Simeon Stylites the Elder, Hermit (RM)

Born in Sis, Cilicia (near Nicopolis, Syria), c. 390; died at Telenissus in 459.
Son of a Cilician shepherd and born on the Syrian border of Cilicia, he was a shepherd in his childhood. When he was 13 had a vision that he later interpreted as foretelling his later life on pillars. As a youth Simeon read the Bible and puzzled over it, especially the Sermon on the Mount. Hearing it in church one day, he asked a bystander what it meant. He was told that happiness is achieved through the Cross--through persecutions, humiliations, tears, fastings, vigils, and continual prayer. Simeon was moved by what he heard and decided to take these words to heart. From that time onwards he subjected himself to ever-increasing bodily mortifications and austerities, especially fasting from food.
Following a vision in which he was exhorted to dig ever deeper in preparing the foundations of a house, he begged to be allowed to live in a nearby monastery working as the lowest of all the servants. He proved himself worthy of acceptance by neither eating nor drinking anything for five days until the abbot, Timothy, told him to enter. He spent two years there and the monks grew to love him.
But he grew to believe that the life he had chosen was not rigorous enough, so Simeon then became a monk at a stricter monastery ruled by Heliodorus at Eusebona (Tell'Ada near Antioch), where he practiced such severe mortifications that he nearly died. He ate nothing during Lent and only once a week the rest of the year, but that isn't what almost killed him. He wore a rope of twisted palm leaves next to his skin that ate into his flesh, which could only be removed by three days' treatment of being softened by liquids and then separated by incisions. After his recovery he was dismissed from the monastery for not obeying the order to temper his appetite for austerity.
After his dismissal, Simeon first descended a deep well, and without food or sleep, was brought again near the point of death. He was rescued by his former comrades of the monastery, but left them after his recovery because they began to reverence him as a saint. Thus, ended his 20 years as a monk in northern Syria.
Simeon then moved to a cell of dry stones and earth at the foot of Mount Teleanissae (Dar Sem'an) near Antioch. His first Lent alone he spent without any food or drink. A priest, Bassus, who knew of his plans, left him ten loaves and some water in case of emergency. These were found untouched at Easter, together with an unconscious Simeon. He was revived by the Eucharist and a few lettuce leaves.
After three years in this cell, Simeon moved to the top of the mountain, where he lived in a small building that had no roof. There he chained himself to a rock, but a representative of the patriarch of Antioch told him that a firm will, assisted by divine grace, would enable him to remain in his chosen state without such artificial aids. Simeon immediately sent for a blacksmith to cut him loose. It's a good thing that Simeon was not permanently chained to that rock, or he would not have been able to escape the numerous visitors that interrupted his solitude, visitors that went so far as to snip off a piece of his tunic to keep as a relic.
To have accomplished the great feats of mortification detailed in Simeon's life, he must have been a man of tremendously robust constitution and fantastic will-power, and equipped with a capacity for religious devotion and perseverance that exceed all imagination. Word of his holiness began to attract hugh crowds. They came to seek his advice, to pray with him, and some just to see him.
Because he could not seem to escape the world horizontally, he attempted to avoid the distractions of the crowds by moving vertically. In 423, he erected a ten-foot (about 3 meters) high pillar in Telenissus (Dair Sem'an) and lived on top of it for about four years; he spent the rest of his life living on successively higher pillars (stylites is from the Greek word stylos, meaning pillar), which were no wider than six feet (2 meters) in diameter at the top; his last pillar was 60 feet (20 meters) high. At the top of the pillar was a platform with a balustrade, which has been calculated to have been about 12 feet square.
Lent continued to be a time of increased penance for Simeon. The first two weeks would be spent praising God in an upright position; the next two, while sitting; and the last two, prone, because of weakness from his total fast.
His attempt to find solitude was futile. Many more people flocked to him--pilgrims and curiosity seekers, emperors and beggars. He practiced great austerities, slept little if at all, was clad only in the skins of wild animals, and fasted completely during Lent for 40 years. Before dawn Simeon would stand with his arms and eyes raised to heaven in prayer. And talk about praying with your body! Every day Simeon repeatedly bowed his body in prayer: one visitor counted, it is said, 1,244 prostrations within the day.
He soon became greatly venerated as a holy man and had extraordinary influence. He preached twice daily exhorting his endless stream of listeners to greater holiness and converting many, and was listened to and consulted by all. Men had the privilege to consult him face to face by climbing a ladder. He was especially sought out by Bedouin Arab tribesmen who came to him for baptism and spiritual advice. Disputes among individuals or whole tribes were remedied. Bishop Theodoretus of Cyrus writes that literally thousands of Arabs from the desert had been enlightened by his teaching: "I was eyewitness and I heard how they renounced their native godlessness and accepted the evangelical teaching."
Simeon was full of kindliness and sympathy, and his discourses were marked by practical common sense and freedom from fanaticism. He exhorted positively to sincerity, justice, and prayer, and denounced swearing and usury with special energy. Among the crowds were the lame, sick, blind and possessed who obtained cures. When Simeon saw among the crowd a native of distant Gaul, he entrusted him with an affectionate message for his sister, Saint Geneviève, the patroness of Paris.
Those who could not make the long journey to northern Syria consulted him by letter. He would dictate his answers to bishops, emperors, and other officials. The Emperor Theodosius and the Empress Eudocia reverenced him as a saint and listened to his counsels. The Emperor Leo paid respectful attention to a letter Simeon had written in favor of the Council of Chalcedon.
Simeon, like many of the stylites, was completely orthodox in his theology. He was a champion of the doctrines of Chalcedon. It may be important to note that Simeon lived in a chaotic age. The Roman Empire had fallen into ruin and Rome itself was sacked by the Vandals. The Franks followed by Attila the Hun brought destruction in their wake. Heresies of all sorts--Monophysitism, Manichaeism, Nestorianism and Pelagianism--were rocking the foundations of the Church. Through all this Simeon prayed and did penance, like so many other saints for whom God kept the world going. At this same time Patrick was entering Ireland, Augustine was writing his City of God, Geneviève was praying and fasting for Paris, and John Cassian. Only God knows what terrible events would have taken place at that time had Saint Simeon not done penance and prayed for causes and individuals who were fighting for the Church Militant. In an age and land of license and luxury, Simeon bore witness to the claims of virtue and selflessness in so striking a fashion that no one could fail to see it.
From Saint Simeon, atop his column uniting heaven and earth, we learn the principle that the children of God should be "in" the world but not "of" the world. In Saint Simeon God has given us a concrete and picturesque example of the highest and most perfect way of serving Him by a combination of the active and contemplative life. He reminds us that Jesus said Mary had chosen the "better" part in wishing to remain at his feet; she had not chosen the "best" part--a combination of contemplation and action; of receiving God's grace and passing it on. Most of us will not be called to his extreme asceticism, but we are all called to holiness and to worship.
Simeon was the first of many stylites, who found that life at the top of a column offered unexpected advantages: it was conducive to the stability that was so dear to the hearts of monks in retreat; and it added to his ascetic sufferings. Although stylites rejected the "world" in the New Testament sense of the word, unlike the desert monks, the stylites performed a prophetic ministry and were visited by many people. They preached, gave counsel, reconciled enemies, reproved sinners and led them to repentance, cast out devils, and often manifested a gift of prophecy.
Modern Christians have trouble understanding this kind of asceticism; however, it exemplified the tendencies of Syrian asceticism in general. The Syrian monks mortified their bodies by going without rest or simple hygiene, and by taking only enough food to avoid suicide. Is this insanity? Not if it is understood.
The purpose of such ascetic practices is to use all their powers to prevent the demands of the body from interfering with their spiritual aspirations. Clearly the idea that the body is essentially evil underlay such terrible asceticism; nor is this surprising in view of the influence Manicheeism had on the attitudes and faith of the Syrian Christians.
The rule is this: The more the body suffers, the more the spirit flowers. We can set aside the picturesque and the eccentric aspect. The prophets, too, had strange ways for the ways of the Lord are not our ways. We can also set aside the psycho- physiological aspects--the manifold extensions of the strength of the spirit and the extreme longevity of the stylites--and concentrate on essentials.
The theory of the stylites, which they practiced with magnificent heroism, is faithful to the mystical theology of the Eastern Church, in accordance with which supernatural peace is to be obtained by blessed tranquility (hesychia) preceded by perfect temperance (encrateia) and impassiveness (apatheia), or in other words indifference to the needs and claims of the body. Discipline and asceticism were the means to attain these. The stylites held, very logically, that the more severe the discipline, the harsher the asceticism, the greater the hope of winning the palm that Saint Paul promised to the winner of the race.
Before this first of the pillar ascetics died on September 2 (or perhaps July 24), he did all these things. People contended physically with one another to obtain his relics, which they then carried about for an entire year in celebration of his heroic virtues. His body was buried at Antioch, accompanied by bishops and many of the faithful. After his death a monastery and sanctuary were built over the spot, and amidst the imposing ruins the base of Simeon's column can still be seen (Attwater, Benedictines, Bentley, Delaney, Encyclopedia, Farmer).
The above facts are quite authentic for they are based on the testimony of eye-witnesses. Simeon's disciple Antonius recorded the following story:
"The fame of the holy man increased throughout the world, and they built him a pillar 12 cubits high, and he stood upon it 12 years. And again they built him a pillar 20 cubits high, and he stood upon it 12 years. Then all that dwelt in that place came together, and they built two churches beside the pillar, and a pillar 30 cubits high, and he stood upon it four years, and began to do miracles. . . . And many people he turned to the Christian faith, namely Saracens and Persians and Armenians and Laotians and the Foreigners. . . .
"And after these days they again built him a pillar 40 cubits high, and he stood upon it for 16 years until his death. Now at that time there was a exceeding large dragon that lived close by, in the country to the north: and because of him no grass ever grew there: and a branch of a tree fell into his right eye. And lo, one day the blind dragon came, dragging himself along, and he applied himself to the pillar which was the habitation of the man of God, and winding himself into a wheel as if to ask pardon, lay with his head bowed low. And the blessed Simeon gazed down upon him, and straightway, the branch fell out of his eye: and it was a cubit in length. And indeed all that saw it glorified God, notwithstanding that they fled from him in terror. But the creature coiled itself up and stayed quiet in one place, whilst all the people went by. Then rising up, it worshipped at the gate of the monastery for well-nigh two hours, and so returned to its den, and did no hurt to any (Antonius).
Of course, in art Simeon is depicted as sitting on top of a column, often surrounded by many people. He may be shown as an emaciated hermit holding a column (Roeder). He is the patron of shepherds (Roeder).
St. Simeon Stylites, Confessor
From the account given of him by Theodoret, one of the most judicious and most learned prelates of the church, who lived in the same country, and often visited him; this account was written sixteen years before the saint's death. Also from St. Simeon's life written by Antony his disciple, published genuine in Bollandus, and the same in Chaldaic by Cosmas, a priest; all three contemporaries and eye-witnesses. This work of Cosmas has been lately published by Monsignor Stephen Assemani,
1
from a Chaldaic MS. which he proves to have been written in the year 474, fifteen years only after the death of St. Simeon. Also from the ancient lives of SS. Euthymius, Theodosius, Auxentius, and Daniel Stylites. Evagrius, Theodoras Lector, and other most faithful writers of that and the following age, mention the most wonderful actions of this saint. The severest critics do not object to this history, in which so many contemporary writers, several of them eye-witnesses, agree; persons of undoubted veracity, virtue, and sagacity, who could not have conspired in a falsehood, nor could have imposed upon the world facts, which were of their own nature public and notorious. See Tillemont, T. 14.
ST. SIMEON was, in his life and conduct, a subject of astonishment, not only to the whole Roman empire, but also to many barbarous and infidel nations. The Persians, Medes, Saracens, Ethiopians, Iberians, and Scythians, had the highest veneration for him. The kings of Persia thought his benediction a great happiness. The Roman emperors solicited his prayers, and consulted him on matters of the greatest importance. It must nevertheless, be acknowledged, that his most remarkable actions, how instrumental soever they might be to this universal veneration and regard for him, are a subject of admiration, not of imitation. They may serve, notwithstanding, to our spiritual edification and improvement in virtue; as we cannot well reflect on his fervour, without condemning and being confounded at our own indolence in the service of God.
St. Simeon was son to a poor shepherd in Cilecia, on the borders of Syria, and at first kept his father's sheep. Being only thirteen years of age, he was much moved by hearing the beautitudes one day read in the church, particularly these: Blessed are they that mourn; blessed are the clean of heart. The youth addressed himself to a certain old man, to learn the meaning of those words; and begged to know how the happiness they promised was to be obtained? He told him that continual prayer, watching, fasting, weeping, humiliation, and patient suffering of persecutions, were pointed out by those texts as the road to true happiness; and that a solitary life afforded the best opportunities for enforcing the practice of these good works, and establishing a man in solid virtue. Simeon, upon this, withdrew to a small distance, where, falling prostrate upon the ground, he besought Him, who desires all may be saved, to conduct him in the paths which lead to happiness and perfection; to the pursuit of which, under the help of his divine grace, he unreservedly from that moment devoted himself. At length, falling into a slumber, he was favoured with a vision, which it was usual with him afterwards to relate. He seemed to himself to be digging a pit for the foundation of a house, and that as often as he stopped to take a little breath, which was four times, he was commanded each time to dig deeper, till at length he was told he might desist, the pit being deep enough to receive the intended foundation, on which he would be able to raise a superstructure of what kind, and to what height he pleased. "The event," says Theodoret, "verified the prediction; the actions of this wonderful man were so superior to nature, that they might well require the deepest foundation of humility and fervour whereon to raise and establish them."
Rising from the ground, he repaired to a monastery in that neighbourhood, under the direction of an holy abbot, called Timothy, and lay prostrate at the gate for several days, without either eating or drinking; begging to be admitted on the footing of the lowest servant in the house, and as a general drudge. His petition was granted, and he complied with the terms of it with great fervour and affection for four months. During this time he learned the Psalter by heart, the first task enjoined the novices; and his familiarity with the sacred oracles it contains, greatly helped to nourish his soul in a spiritual life. Though yet in his tender youth, he practised all the austerities of the house; and, by his humility and charity, gained the good-will of all the monks. Having here spent two years, he removed to the monastery of Heliodorus, a person endowed with an admirable spirit of prayer; and who, being then sixty-five years of age, had spent sixty-two of them in that community, so abstracted from the world, as to be utterly ignorant of the most obvious things in it, as Theodoret relates, who was intimately acquainted with him. Here Simeon much increased his mortifications: for whereas those monks ate but once a day, which was towards night, he, for his part, made but one meal a week, which was on Sundays. These rigours, however, he moderated at the interposition of his superior's authority, and from that time was more private in his mortifications. With this view, judging the rough rope of the well, made of twisted palm-tree leaves, a proper instrument of penance, he tied it close about his naked body, where it remained unknown both to the community and his superior, till such time as it having eat into his flesh, what he had privately done was discovered by the stench proceeding from the wound. Three days successively his clothes, which clung to it, were to be softened with liquids, to disengage them; and the incisions of the physician, to cut the cord out of his body, were attended with such anguish and pain, that he lay for some time as dead. On his recovery, the abbot, to prevent the ill consequences such a dangerous singularity might occasion, to the prejudice of uniformity in monastic discipline, dismissed him.
After this, he repaired to an hermitage at the foot of Mount Telnescin, or Thelanissa, where he came to a resolution of passing the whole forty days of Lent in a total abstinence, after the example of Christ, without either eating or drinking. Bassus, a holy priest, and abbot of two hundred monks, who was his director, and to whom he had communicated his design, had left with him ten loaves and water, that he might eat if he found it necessary. At the expiration of the forty days he came to visit him, and found the loaves and water untouched, but Simeon stretched out on the ground, almost without any signs of life. Taking a sponge, he moistened his lips with water, then gave him the blessed Eucharist. Simeon, having recovered a little, rose up, and chewed and swallowed by degrees a few lettuce-leaves, and other herbs. This was his method of keeping Lent during the remainder of his life; and he had actually passed twenty-six Lents after this manner, when Theodoret wrote his account of him; in which are these other particulars, that he spent the first part of the Lent in praising God standing; growing weaker, he continued his prayer sitting; and towards the end, finding his spirits almost quite exhausted, not able to support himself in any other posture, he lay on the ground. However, it is probable, that in his advanced years he admitted some mitigation of this wonderful austerity. When on his pillar, he kept himself, during this fast, tied to a pole; but at length was able to fast the whole term, without any support. Many attribute this to the strength of his constitution, which was naturally very robust, and had been gradually habituated to such an extraordinary abstinence. It is well known that the hot eastern climates afford surprising instances of long abstinence among the Indians.
2
A native of France has, within our memory, fasted the forty days of Lent almost in that manner.
3
But few examples occur of persons fasting upwards of three or six days, unless prepared and inured by habit.
After three years spent in this hermitage, the saint removed to the top of the same mountain, where, throwing together some loose stones, in the form of a wall, he made for himself an enclosure; but without any roof or shelter to protect him from the inclemencies of the weather; and to confirm his resolution of pursuing this manner of life, he fastened his right leg to a rock with a great iron chain. Meletius, vicar to the patriarch of Antioch, told him, that a firm will, supported by God's grace, was sufficient to make him abide in his solitary enclosure, without having recourse to any bodily restraint: hereupon the obedient servant of God sent for a smith, and had his chain knocked off.
The mountain began to be continually thronged, and the retreat his soul so much sighed after, to be interrupted by the multitudes that flocked, even from remote and infidel countries, to receive his benediction; by which many sick recovered their health. Some were not satisfied unless they also touched him. The saint, to remove these causes of distraction, projected for himself a new and unprecedented manner of life. In 423, he erected a pillar six cubits high, and on it he dwelt four years; on a second, twelve cubits high, he lived three years; on a third, twenty-two cubits high, ten years; and on a fourth, forty cubits high, built for him by the people, he spent the last twenty years of his life. Thus he lived thirty-seven years on pillars, and was called Stylites, from the Greek word Stylos, which signifies a pillar. This singularity was at first censured by all, as a mark of vanity or extravagance. To make trial of his humility, an order was sent him, in the name of the neighbouring bishops and abbots, to quit his pillar and new manner of life. The saint, ready to obey the summons, was for stepping down; which the messenger seeing, said, that as he had shown a willingness to obey, it was their desire that he might follow his vocation in God. His pillar exceeded not three feet in diameter on the top, which made it impossible for him to lie extended on it; neither would he allow a seat. He only stooped, or leaned to take a little rest, and often in the day bowed his body in prayer. A certain person once reckoned one thousand two hundred and forty-four such reverences of adoration made by him in one day. He made exhortations to the people twice a day. His garments were the skins of beasts and he wore an iron collar about his neck. He never suffered any woman to come within the enclosure where his pillar stood. His disciple Antony mentions, that he prayed most fervently for the soul of his mother after her decease.
God is sometimes pleased to conduct certain fervent souls through extraordinary paths, in which others would find only dangers of illusion, vanity, and self-will, which we cannot sufficiently guard ourselves against. We should notwithstanding consider, that the sanctity of these fervent souls does not consist in such wonderful actions, or miracles, but in the perfection of their unfeigned charity, patience, and humility; and it was the exercise of these solid virtues that rendered so conspicuous the life of this saint; these virtues he nourished, and greatly increased, by fervent and assiduous prayer. He exhorted people vehemently against the horrible custom of swearing; as also, to observe strict justice, to take no usury, to be assiduous at church and in holy prayer, and to pray for the salvation of souls. The great deference paid to his instructions, even by barbarians, is not to be expressed. Many Persians, Armenians, and Iberians, with the entire nation of the Lazi in Colchis, were converted by his miracles and discourses, which they crowded to hear. Princes and Queens of the Arabians came to receive his blessing. Vararanes V. king of Persia, though a cruel persecutor, respected him. The emperors Theodosius the younger, and Leo, often consulted him, and desired his prayers. The emperor Marcian visited him, disguised in the dress of a private man. By his advice the empress Eudoxia abandoned the Eutychian party a little before her death. His miracles and predictions are mentioned at large in Theodoret and others. By an invincible patience he bore all afflictions, austerities, and rebukes, without ever mentioning them. He long concealed a horrible ulcer in his foot, swarming with maggots. He always sincerely looked upon, and treated himself, as the outcast of the world, and the last of sinners; and he spoke to all with the most engaging sweetness and charity. Domnus, patriarch of Antioch, administered unto him the holy communion on his pillar; undoubtedly he often received that benefit from others. In 459, according to Cosmas, on a Wednesday, the 2nd of September, this incomparable penitent, bowing on a pillar, as if intent on prayer, gave up the ghost, in the sixty-ninth year of his age. On the Friday following his corpse was conveyed to Antioch, attended by the bishops and the whole country. Many miracles, related by Evagrius,
4
Antony, and Cosmas, were wrought on this occasion; and the people immediately, over all the East, kept his festival with great solemnity.
5
The extraordinary manner of life which the saint led, is a proof of the fervour with which he sought to live in the most perfect sequestration from creatures, and union with God and heaven. The most perfect accomplishment of the divine will was his only view, and the sole object of his desires; whence upon the least intimation of an order from a superior, he was ready to leave his pillar; nor did he consider this undertaking as any thing great or singular, by which he should appear distinguished from others. By humility he looked upon himself as justly banished from among men and hidden from the world in Christ. No one is to practise or aspire after virtue or perfection upon a motive of greatness, or of being exalted by it. This would be to fall into the snare of pride, which is to be feared under the cloak of sanctity itself. The foundation of christian perfection is a love of humiliation, a sincere spirit of humility. The heroic practice of virtue must be undertaken not because it is a sublime and elevated state, but because God calls us to it, and by it we do his will, and become pleasing to him. The path of the cross, or of contempt, poverty, and sufferings, was chosen by the Father for his divine Son, to repair his glory, and restore to man the spiritual advantages of which sin had robbed him. And the more perfectly we walk in his spirit, by the love and esteem of his cross, the greater share shall we possess in its incomparable advantages. Those who in the practice of virtue prefer great or singular actions, because they appear more shining, whatever pretexts of a more heroic virtue, or of greater utility to others they allege, are the dupes of a secret pride, and follow the corrupt inclinations of their own heart, whilst they affect the language of the saints. We are called to follow Christ by bearing our crosses after him, leading at least in spirit a hidden life, always trembling in a deep sense of our frailty, and humbled in the centre of our nothingness, as being of ourselves the very abstract of weakness, and an unfathomed abyss of corruption.
Note 1.
Act. Mart. T. 2. app. p. 229.
[
back
]
Note 2.
Lettres édifiantes et curieuses. [
back
]
Note 3.
Dora Claude Leauté, a Benedictin monk of the congregation of St. Maur, in 1731, when he was about fifty-one years of age, had fasted eleven years, without taking any food the whole forty days, except what he daily took at mass; and what added to the wonder is, that during Lent he did not properly sleep, but only dozed. He could not bear the open air; and towards the end of Lent he was excessively pale and wasted. This fact is attested by his brethren and superiors, in a relation printed at Sens, in 1731; and recorded by Dom L'Isle, in his History of Fasting; and by Feyjoo, in his Theatro Critico Universal.
[
back
]
Note 4.
Evagrius, l. 1. c. 13, 14. [
back
]
Note 5.
Monsignor Majelli, a domestic prelate to Pope Benedict XIV., in his dissertation on the Stylites, or religious men living on pillars, represents the pillar of St. Simeon enclosed with rails around the top. Whenever he slept a little, he leaned on them, or his staff. This author shows the order of the Stylites to have been propagated in the East from St. Simeon, down to the Saracen and Turkish empires. The inclemency of the air makes that manner of life impracticable in the West. However, St. Gregory of Tours mentions one (l. 8. c. 15.) Vulfilaick, a Lombard, and disciple of the abbot St. Yrier, who leaving Limousin, went to Triers, and lived some time on a pillar in that neighbourhood. He engaged the people of the villages to renounce the worship of idols, and to hew down the great statue of Diana at Ardens, that had been famous from the time of Domitian. The bishop ordered him to quit a manner of life too severe for this cold climate. He instantly obeyed, and lived afterwards in a neighbouring monastery. He seems to have been the only Stylite of the West.
See Fleury, l. 35. T. 8. p. 54. [back]
Rev. Alban Butler (1711–73). Volume I: January. The Lives of the Saints. 1866.
SOURCE :

http://www.bartleby.com/210/1/051.html
San Simeone Stilita il Vecchio
Sis, Cilicia, 390 circa – Qal'at Sim'an, Siria, 2 settembre 459
Viene chiamato il vecchio per distinguerlo da un omonimo stilita che visse più di un secolo dopo di lui. Nacque nel 389 al confine tra Cilicia e Siria. Trascorse l'infanzia pascolando il gregge di famiglia, quindi entrò nel monastero di Teleda, dove si fermò una decina d'anni sostenendo dure mortificazioni e digiuni. Invano i superiori invitarono il giovane alla moderazione e quando l'abate scoprì che portava sulla pelle un cilicio di palme così ruvido da procurare ferite e sanguinamenti, lo allontanò dal cenobio. Simeone si rifugiò allora per breve tempo in una cisterna prosciugata, poi si spostò in una minuscola cella a Telanissos a nordest di Antiochia, dove digiunò per l'intera Quaresima sopportando la fame e la sete. Salì poi su una montagna vicina, e per essere sicuro di non allontanarsi si fece legare il piede con una catena a una roccia. Solo l'intervento del vescovo di Antiochia riuscì a convincerlo a liberarsi da quel vincolo doloroso. L'ascesi straordinaria di Simeone piaceva alla gente dei dintorni, che accorreva numerosa. Il monaco si fece allora costruire una colonna che terminava in un podio con una balaustra di circa un metro di diametro. Lì egli passava il suo tempo assorto in preghiera. Due volte al giorno si rivolgeva poi ai visitatori dirimendo liti, operando guarigioni e altri miracoli. Una predicazione semplice che faceva grande impressione sulla gente, che accorreva sempre più numerosa. Lo straordinario carisma dello Stilita procurò numerose conversioni anche tra gli arabi. Morì nel 459 all'età di circa 70 anni. Era tanta la fama di questo campione dell'ascesi che diversi gruppi cercarono di trafugare la salma per venerarla.
Etimologia: Simeone = Dio ha esaudito, dall'ebraico
Martirologio Romano: Vicino ad Antiochia in Siria, san Simeone, monaco, che visse per lunghi anni su una colonna, assumendo per questo anche il nome di Stilita, uomo di vita e di condotta degne di ammirazione.
Notizie abbastanza dettagliate su questo santo stilita ci sono pervenute dalla testimonianza oculare di Teodoreto, vescovo di Ciro e storico imparziale, che fu suo intimo amico.
La sua strana forma di ascetismo, assai discussa sin dai suoi tempi, oggi non sarebbe assolutamente più compresa. Non si può tuttavia negare che tale specialissima vocazione si sia rivelata utile all'edificazione del popolo e per la difesa della fede.

Simeone nacque a Sis, in Cilicia, verso l'anno 380, da una famiglia di poveri pastori. Nell'infanzia sua unica occupazione fu la custodia del gregge. Un giorno, non essendo potuto andare al pascolo a causa della neve, si recò in chiesa ove rimase emozionato udendo la lettura delle beatitudini evangeliche. Chiese allora ad un vegliardo come fosse possibile conseguire la felicità che esse promettevano e questi gli suggerì di abbandonare senza esitazioni il mondo. Simeone entrò allora in un'altra chiesa e, prostrato per terra, pregò a lungo il Signore perché gli mostrasse la sua volontà. Addormentatosi, in sogno gli sembrò di scavare le fondamenta di una casa: tra una sosta e l'altra, una voce più volte lo ammonì: "Scava più a fondo". Quando le fondamenta raggiunsero una certa profondità, la medesima voce gli disse: "Adesso puoi costruire l'edificio all'altezza che vorrai".

Desiderando vincere se stesso e raggiungere la perfezione, Simeone decise di rinchiudersi in un monastero, dove condusse una vita innocente ed improntata ad una dura austerità, dedito agli uffici più umili. Siccome però aspirava ad una perfezione ancora più alta, due anni dopo si trasferì nella solitudine di Teleda per una decina d'anni. Qui i suoi compagni mangiavano ogni due giorni, egli invece passava tutta la settimana senza assumere cibo. I poveri erano i beneficiari della sua razione. L'abate Eliodoro, non approvando quella sua singolarità, tentò invano di moderarlo. Un giorno Simeone si strinse fortemente attorno al corpo una corda tessuta di mirto selvatico, tanto da provocare vistose piaghe e dopo alcuni giorni fu scoperto per il sangue che perdeva ed il fetore che emanava.
Furono necessarie varie cure e, appena guarì, l'abate lo congedò dal monastero, affinché quello straordinario fervore non inducesse altri ad imitarlo.

Simeone si rifugiò in un pozzo asciutto ed in esso pregò e pianse di continuo, credendosi un grande peccatore, finché l'abate cinque giorni dopo lo mandò a richiamare, pentito del cattivo trattamento che gli aveva riservato. Un anno dopo, però, uscì definitivamente dal monastero per stabilire la sua dimora in una capanna a Teli Nesim, nei pressi di Antiochia, sotto la direzione del sacerdote Basso.
Essendovi giunto al principio della quaresima, si propose di trascorrerla nel più assoluto digiuno, ma il suo maestro si oppose, considerando un simile progetto una tentato suicidio . Infine si fece murare nel tugurio con soli dieci pani ed una brocca d'acqua. Al termine della quaresima Simeone giaceva per terra senza voce e senza movimento, ma dopo aver ricevuto la comunione riacquistò le forze. Per ben ventotto anni puntualmente egli rinnovò questo terribile digiuno quaresimale.

Dopo aver trascorso tre anni in quella misera cella, Simeone salì sulla vicina montagna e, per darsi alla contemplazione, si fece legare una catena ad un piede, infissa nella roccia del recinto che si era fatto costruire a ridosso del monte. Melezio, vescovo di Antiochia, visitando Simeone nella volontaria prigione, si permise di fargli notare che in tale maniera atroce venivano legate soltanto le bestie feroci. Il santo si propose allora di tendere alla perfezione con la forza della volontà e nel rompere la catena, il cuoio villoso che gli proteggeva la carne apparve anche agli occhi di Teodoreto pieno di cimici: Simeone ne aveva sopportato i morsi con un'invincibile pazienza.

La vita straordinariamente penitente praticata dal santo, nonché i miracoli da lui operati, attirarono una folla immensa di pellegrini. Trovando esagerati gli atti venerazione nei suoi confronti, ritenne allora opportuno relegarsi sopra ad una colonna e successivamente altre tre di altezza sempre superiore. La colonna era sormontata da una balaustrata di un metro circa di diametro, sprovvista di alcun riparo dalla pioggia o dal sole. Lo stilita non poteva dunque né sdraiarsi, né sedersi. Ogni settimana riceveva la comunione ed ogni quaranta prendeva un po' di cibo. In tal modo rimase pur sempre esposto agli sguardi della folla, apparendo come un modello di sovrumana fortezza e di costanza. Simeone si rivolgeva con semplicità al popolo due volte al giorno, dopo nona, per rendere giustizia ai litiganti, per ricordare la necessità del distacco dai beni terreni ed i terribili castighi riservati agli ostinati peccatori. Il resto della giornata lo riservava alla preghiera. Convertì molti saraceni, persiani, georgiani e armeni. Sempre con dolcezza combatté inoltre gli errori dei giudei, degli eretici e dei pagani.

Simeone godette della fama di taumaturgo e di profeta. Nessuno si allontanò da lui senza essere consolato: fece scaturire una sorgente di acqua in una località che ne era priva, ottenne figli alle regine dei saraceni e degli israeliti, predisse guerre e carestie, ridonò la salute a tanti infermi. L'imperatore San Teodosio II il Giovane lo supplicò di lavorare per il bene della Chiesa e di fare in modo che Giovanni, patriarca di Antiochia, cessasse dal sostenere la causa dell'eretico Nestorio.
L'imperatore San Leone I il Grande gli scrisse invece riguardo al concilio di Calcedonia ed a Timoteo Eluro, impadronitosi del patriarcato di Alessandria uccidendo San Proterio.
Da parte sua Simeone rammentò ai prelati ed ai principi i loro doveri, pur considerando se stesso "un vile e abietto verme e l'aborto dei monaci". Alla vedova di Teodosio II, Santa Eudossia, che gli chiese un parere sull'eretico Eutiche e sul concilio di Calcedonia, egli consigliò di ricorrere a Sant'Eutimio il Grande.

Il disprezzo che Simeone aveva sempre nutrito per il proprio corpo, lo rese insensibile ai dolori cagionatigli dalle piaghe, ma ebbe comunque il presentimento della sua ultima ora. Ricevette l'ultima volta l'Eucaristia per mano di Domno, patriarca di Antiochia. Infine, il 2 settembre 459 l'eroico penitente rese la sua anima a Dio, mentre s'inchinava sulla sua colonna come era solito fare per iniziare la sua preghiera. Alla notizia del decesso, il patriarca di Antiochia ed altri sei vescovi, nonché il capo della milizia Ardaburio con ben seicento soldati, si recarono ai piedi della colonna. Tre vescovi vi salirono e baciarono le vesti dello stilita recitando salmi. Il suo corpo venne posto in una bara di piombo. I saraceni accorsero armati tentando d'impadronirsene, ma Ardaburio si oppose fermamente. Una enorme folla accorse attorno alla colonna con profumi, ceri e fiaccole. Il corpo di Simeone venne allora collocato sopra un altare di marmo, eretto dinnanzi alla colonna, e tutti i vescovi lo baciarono devotamente. Il feretro, deposto sopra un carro, fu poi trasferito ad Antiochia. L'imperatore Leone I avrebbe poi voluto fare trasportare le reliquie a Costantinopoli, ma dovette desistere dal suo progetto per le suppliche degli antiocheni. Sul sepolcro del santo iniziarono a verificarsi più miracoli di quanti non ne avesse compiuti in vita. Un magnifico tempio a forma di croce con un quadriportico, del quale rimangono le rovine, fu invece eretto a Qal'at Sim'an attorno alla colonna sulla quale Simeone aveva compiuto tante penitenze.

Discepolo ed imitatore di Simeone fu lo stilita San Daniele, che introdusse gli stiliti a Costantinopoli. Commemorato in data 27 luglio dal Martyrologium Romanum, San Simeone Stilita è detto "il Vecchio", onde distinguerlo dal santo omonimo vissuto nel secolo successivo, monaco in Siria, che visse per ben sessantotto anni su una colonna, tanto da meritarsi anch'egli il soprannome "stilita" ed è dunque noto come San Simeone Stilita il Giovane. Il santo odierno, solitamente festeggiato invece in oriente al 1° settembre, viene talvolta confuso od identificato con San Simeone di Egee.
SOURCE : http://www.santiebeati.it/dettaglio/92842
Théodoret, évêque de Cyr . Vie de Saint Syméon l'Ancien, Stylite
:
http://fr.scribd.com/doc/3037396/Vie-de-Symeon-Stylite
Voir aussi
:
http://www.clio.fr/bibliotheque/Saint_Symeon__Quarante_ans_sur_une_colonne.asp