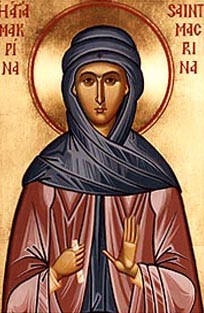 Sainte Macrine l'Ancienne
Mère de saint Basile l'Ancien (
✝
340)
Nous avons déjà entendu parler de cette extraordinaire famille. Sainte Macrine était la mère de
saint Basile l'Ancien
, grande-mère de quatre saints :
saint Basile le Grand
,
saint Grégoire de Nysse
,
saint Pierre de Sébaste
, et
sainte Macrine la jeune
.
Elle avait reçu une solide éducation chrétienne et la transmit à sa famille, selon les mots de saint Basile le Grand: "Elle façonna nos âmes par une piété fondée sur la saine doctrine." Pendant la persécution de Dioclétien, elle dut s'exiler pendant sept ans sur les bords de la Mer Noire.
À Néocésarée dans le Pont, vers 340, sainte Macrine. Matrone, aïeule de saint Basile, elle se retira dans la forêt avec son mari à l'époque des persécutions, pour se maintenir dans la foi du Christ, et façonna l'âme de son petit fils par une piété basée sur la saine doctrine.
Ste Macrine l'Ancienne (morte vers 340)
Cette sainte fut la mère d'un saint (Basile l'Ancien) et la grand-mère de quatre autres saints (Basile le Grand, Grégoire de Nysse, Pierre de Sébaste et Macrine la jeune)!
Sainte Macrine l'Ancienne
(270-340) fut à la tête d'une étonnante famille de saints :
- son fils saint Basile l'Ancien, évêque de Césarée, et sa bru sainte Emmélie ;
- ses petits-enfants sainte Macrine la Jeune, saint Basile le Grand, évêque de Césarée (sacré par son propre père), saint Grégoire, évêque de Nysse, époux de sainte Théosébie, et saint Pierre, évêque de Sébaste.
Née à Néocésarée, elle fut nourri des enseignements du grand évangélisateur et premier évêque de ce lieu qui avaient survécu à son martyre et qu'elle transmit à son tour. Saint Basile en a témoigné : « Elle façonna nos âmes d'enfant par une piété fondée sur la saine doctrine » - c'est-à-dire l'orthodoxie face aux hérésies qui foisonnaient alors.

St. Macrina the Elder


She was the mother of the elder Basil, the father of Basil,
Gregory
, and other children whose names are known to us, including
Macrina the Younger
. Her home was at Neocæsarea in
Pontus
. In her childhood she was acquainted with
St. Gregory Thaumaturgus
, first
bishop
of her native town. As this venerable doctor, who had won Neocæsarea almost completely for
Christianity
, died between 270 and 275, St. Macrina must have been born before 270. During the
Diocletian
persecution
she fled from her native town with her husband, of whose name we are
ignorant
, and had to endure many privations. She was thus a confessor of the Faith during the last violent storm that burst over the early Church. On the
intellectual
and religious training of St. Basil and his elder brothers and sisters, she exercised a great influence, implanting in their minds those seeds of
piety
and that ardent desire for Christisn perfection which were later to attain so glorious a growth. As St. Basil was probably born in 331, St. Macrina must have died early in the fourth decade of the fourth century. Her
feast
is celebrated on 14 January.
Kirsch, Johann Peter.
"St. Macrina the Elder."
The Catholic Encyclopedia.
Vol. 9.
New York: Robert Appleton Company,
1910.
13 Jan. 2016
<http://www.newadvent.org/cathen/09508b.htm>.
Saint Macrina the Elder: Another patron saint for grandmothers
"A house needs a grandma in it." —Louisa May Alcott
One of the lesser-known saints whose feast is observed today is Saint Macrina the Elder (ca. 270 to 340), the grandmother of siblings Saint Basil the Great, Saint Gregory of Nyssa, Saint Peter of Sebaste, and Saint Macrina the Younger.
Born during the late third century persecutions of the Church, Macrina, as a child, knew Saint Gregory Thaumaturgus (also known as Gregory the Wonderworker), the first bishop of Neocaesarea who is credited with bringing the Faith there. She later fled the area with her husband during the persecutions by Diocletian.
"Verbum sonat; exemplum tonat." (Words make a noise, but example thunders.) ~ Latin Maxim
It is said that she was a strong influence in the lives of her grandchildren and raised them in the Christian faith. She passed along a love for Christ and the Church, being faithful in prayer and worship, and ultimately planted the seeds for a lifetime of devotion. Imagine being the grandmother of four saints!!
Macrina was strongly influenced by the writings of Saint Gregory Thaumaturgus (Gregory the Wonderworker), and passed along the passion and zeal she learned from him to her family. Later, Saint Basil, her youngest grandchild, praised her for all the good she had done for him and his siblings. He expressed his gratitude for teaching him to love Christ in his writings.
The Role of Grandparents :
Reading about a saintly grandmother allows us time to reflect on those who pass the faith and their love of God and His Church down to their children and grandchildren. Our Church has thrived through the ages due to the grandparents and parents who teach and challenge, acting as role models of holiness and living examples of the Gospel message…
When asked to share about those who model the Faith in their lives, so often my high school students will speak about the influence of their grandparents. It is particularly important to the youth today that their grandparents don't preach at them, but rather offer witness by how they live their own lives. This modeling of the love of God and the accompanying peace and joy which their faith gives them makes grandparents tremendous assets in the passing on the Circle of Faith.
With another new grandbaby in my family, this theme promises to be repeated in future blog posts!!
Lord Jesus, you were born of the Virgin Mary, the daughter of Saints Joachim and Anne. Look with love on grandparents the world over. Protect them! They are a source of enrichment for families, for the Church and for all of society. Support them! As they grow older, may they continue to be for their families strong pillars of Gospel faith, guardian of noble domestic ideals, living treasuries of sound religious traditions. Make them teachers of wisdom and courage, that they may pass on to future generations the fruits of their mature human and spiritual experience.
Lord Jesus, help families and society to value the presence and roles of grandparents. May they never be ignored or excluded, but always encounter respect and love. Help them to live serenely and to feel welcomed in all the years of life which you give them. Mary, Mother of all the living, keep grandparents constantly in your care, accompany them on their earthly pilgrimage, and by your prayers, grant that all families may one day be reunited in our heavenly homeland, where you await all humanity for the great embrace of life without end.
The exact date of Macrina the Elder's birth is not known but since she studied under Gregory Thaumaturgos it must have been before 270.C.
She was known for her learning and good counsel. Since she and her family were Christians, both she and her husband suffered persecutions during the reigns of Galerius and Diocletian. They fled their estate at Neocasearea in Pontus and endured many privations during the persecution of Diocletian.
She is the mother of the elder Basil who was the father of Basil the Great, Gregory of Nyssa, Saint Peter of Sebaste and Saint Macrina the Younger.
Basil, whose works like those of his brother, Gregory are published in the complete works of the Father's of the Early Church says:
"I am speaking of the illustrious Macrina, by whom we were taught the words of the most blessed Gregory [Thaumaturgos], which, having preserved until her time by uninterrupted tradition, she also guarded, and she formed and molded me, still a child, in doctrines of piety." [Source: St. Basil. Letters]
. In the Christian church she is the patroness of widow and an intercessor against poverty. Her feast day in the Christian calendar is January 14.
SOURCE : http://www.women-philosophers.com/Macrina-the-Elder.html
Macrina the Elder, Widow (RM)

Died at Neocaesarea, c. 340. Saint Macrina was mother to Saint Basil the Elder and grandmother of Saint Basil, Saint Macrina the Younger, Saint Gregory of Nyssa, and Saint Peter of Sebastea. During her youth her spiritual director was Saint Gregory Thaumaturgus.
As if this isn't enough to qualify anyone to be a saint, Macrina was known for her great sense of justice and the faith with which she and her husband endured their sufferings during the persecutions under Galerius. During the persecution of Diocletian she and her husband were forced to remain in hiding in Pontus on the shores of the Black Sea for six or more years. They had much to suffer--hunger, deprivation, loss of property--then and under later persecutions. Nevertheless, they succeeded in rearing up one of the most saintly families in Cappadocia and, perhaps, in Christendom (Attwater, Benedictines, Delaney, Encyclopedia, Farmer). In art, Saint Macrina is portrayed as a recluse with two stags near her or with two hinds (Roeder).