Saint Éloi
Évêque de Noyon
(590-659)
Saint Éloi naquit à Chaptelat, à deux lieux de Limoges. Dès son enfance, il se montra si habile aux travaux manuels, que son père le plaça comme apprenti chez le maître de la Monnaie de Limoges. Ses premières oeuvres révélèrent son talent précoce, et, au bout de quelques années, Éloi n'avait pas de rival dans l'art de travailler les métaux. Ses sentiments religieux et ses vertus le rendirent plus recommandable encore que ses talents; on ne se lassait pas d'admirer sa franchise, sa prudence, sa douceur, sa charité.
Le roi Clotaire II, ayant entendu parler de lui, le fit venir à la cour, lui commanda un trône d'or orné de pierreries, et à cet effet lui donna une quantité d'or. Le travail fini, Éloi se présenta devant le roi et lui montra le trône. Clotaire s'extasiait devant ce chef-d'oeuvre; mais quelle ne fut pas sa stupéfaction, quand Éloi fit apporter un autre trône aussi beau que le premier, fait aussi avec l'or qu'il avait reçu! Sur-le-champ, Éloi fut nommé grand argentier du royaume, et le roi le garda près de lui.
Jusque là, notre Saint avait aimé le luxe; touché d'une grâce de choix, il se détacha des vanités du monde et vécut au milieu des richesses comme un pauvre de Jésus-Christ. Son plaisir était de faire de belles châsses pour les reliques des Saints. Mais surtout il aimait les pauvres. On ne saurait se figurer tous les trésors qui passèrent par ses mains dans le sein des indigents. Aussi, quand des étrangers demandaient à le voir, on leur répondait: "Allez en telle rue, et arrêtez-vous à la maison où vous verrez une foule de mendiants: c'est là sa demeure!" Éloi lavait les pieds des pauvres, les servait de ses propres mains, ne prenait que la dernière place et ne mangeait que leurs restes. Quelle leçon pour les hommes de notre temps, qui parlent tant de l'émancipation des classes ouvrières et vivent dans les jouissances égoïstes! Quand Éloi n'avait plus d'argent, il donnait ses meubles et jusqu'à sa ceinture, son manteau, ses souliers.
L'amitié d'Éloi avec le roi Dagobert, successeur de Clotaire II, est devenue légendaire. Un jour Éloi vint lui dire: "Mon prince, je viens vous demander une grâce; donnez-moi la terre de Solignac, afin que je fasse une échelle par laquelle, vous et moi, nous méritions de monter au Ciel." Le roi y consentit volontiers; le Saint y bâtit un monastère. Jamais in ne se fit moine; mais il aimait à visiter les moines et à vivre, de temps en temps, quelques jours avec eux, pour s'édifier de leur régularité.
Éloi se vit obligé d'accepter l'évêché de Noyon. Sa vie épiscopale fut la continuation de ses bonnes oeuvres.
Abbé L. Jaud, Vie des Saints pour tous les jours de l'année, Tours, Mame, 1950
Saint Eloi
Evêque de Noyon (+ 660)
Gallo-romain originaire de Chaptelat dans le Limousin, "le bon saint Eloi" appartenait à une famille de paysans aisés qui travaillaient eux-mêmes leur domaine, à la différence de tant de grands propriétaires qui les faisaient cultiver par de nombreux esclaves. Il laissa à l'un de ses frères le soin du domaine et entra comme apprenti orfèvre dans un atelier où l'on frappait la monnaie royale selon les méthodes romaines anciennes. Il gardait une partie des revenus venant de sa famille et il les employa au service de la charité des pauvres et des esclaves. Il était aussi habile dans les émaux que dans les ciselures d'or fin. Ces qualités professionnelles allaient de pair avec une scrupuleuse honnêteté. Lorsqu'on lui demanda d'exécuter un trône d'or pour le roi Clotaire II (613-629), il en fit un deuxième avec l'or en surplus qu'il ne voulait pas garder pour lui-même. Cet acte, étonnant pour l'époque, lui valut la confiance du roi qui lui demande de résider à Paris, comme orfèvre royal, fonctionnaire de la Trésorerie royale et conseiller à la cour. Nommé monétaire à Marseille, il rachètera de nombreux esclaves que l'on vendait sur le port. Lorsque Dagobert devint roi en 629, il est rappelé à Paris où il dirige les ateliers monétaires du royaume franc, qui se trouvait à Paris sur le quai des Orfèvres et près de l'actuelle rue de la Monnaie. Il reçoit, entre autres, la commande d'orner les tombes de sainte Geneviève et de saint Denis. Il réalise des châsses pour saint Germain, saint Séverin, saint Martin et sainte Colombe et de nombreux objets liturgiques pour la nouvelle abbaye de Saint-Denis. Pour son honnêteté, sa franchise sans flagornerie et la qualité de son jugement pacifique, il avait la confiance du roi qui le faisait souvent appeler près de lui et lui confia même une mission de paix après du roi breton Judicaël. Grande était la piété et la vie de prière de ce laïc qui allait souvent aux offices monastiques. En 632, il fonde le monastère de Solignac au sud de Limoges et, un an après, dans sa propre maison de l'île de la Cité, le premier monastère féminin de Paris dont il confiera la charge à sainte Aure. Un an après la mort de Dagobert qu'il avait assisté dans ses derniers moments, il quitte la cour en même temps que saint Ouen qui y était conseiller référendaire et chancelier. Comme lui, il entre dans la cléricature et est ordonné prêtre. Le même jour, le 13 mai 641, ils reçoivent l'épiscopat, saint Ouen comme évêque de Rouen et, lui, comme évêque de Noyon et Tournai, un diocèse qui s'étend jusqu'à Courtrai, Gand et la Frise néerlandaise. Il tente, sans grand succès, d'évangéliser la région d'Anvers. Au travers de ses sermons, nous connaissons la situation religieuse de cette époque et les superstitions païennes qu'il rencontre. Il fait sienne la spiritualité de saint Colomban, le moine irlandais, fonde des monastères et aime à se retirer dans l'oratoire d'Ourscamps-sur-Oise. Il voyage aussi. Nous le trouvons au concile de Châlon-sur-Saône et en Aquitaine, à Uzès et à Marseille. Il meurt en 660, à la veille de partir pour Cahors. La reine sainte Bathilde s'était déplacée pour le voir, mais arrivera trop tard. A Paris, une église lui est dédiée dans le quartier parisien des ferronniers d'art et des ébénistes, l'église Saint-Eloi reconstruite en 1967. Une église, détruite en 1793, lui était dédiée dans la rue des Orfèvres, près de l'hôtel de la Monnaie (rue de la Monnaie à Paris 4ème). A la cathédrale Notre-Dame, dans la chapelle Sainte-Anne, autrefois siège de leur confrérie, les orfèvres et joailliers de Paris ont placé sa statue et restauré son autel.
- Alors que meurt Saint Yrieix, naît Saint Eloi qui appartient à une famille chrétienne depuis longtemps. A Paris, il est remarqué par le roi Clotaire II qui le prend comme conseiller et comme trésorier. Puis le roi Dagobert le prend comme confident. Mais saint Eloi est attiré par la vie religieuse et veut fonder un monastère ce qu'il réalise à Solignac. De son vivant, le monastère compte déjà plus de 150 moines qui respectent les 2 règles de Saint Benoît et de Saint Colomban. Il est placé sous la protection du roi et non sous l'autorité de l'évêque. La ferveur religieuse, l'ardeur au travail qui y règnent en font un des monastères les plus prospères de l'époque. Saint Eloi crée ensuite un monastère identique pour les femmes à Paris. A la mort de Dagobert, il veut se retirer mais il devient évêque et continue à répandre la vie monastique. (Les origines monastiques - diocèse de Limoges)
- En 641, Éloi était ordonné prêtre et devenait évêque de Noyon-Tournai. Il travailla à la conversion des Frisons, ses diocésains du Nord. Il continua à fonder des abbayes et à se faire aimer. Lorsqu'elle apprit qu'il était mal, sainte Bathilde, la reine détrônée qu'il avait soutenue dans ses épreuves, accourut à son chevet; mais il était mort quand elle arriva. Saint Éloi est le patron des orfèvres, et par extension, des forgerons, métallurgistes, quincailliers, serruriers, protecteur des chevaux et, à ce titre, des cultivateurs, charretiers, mécaniciens et garagistes. Patron des cultivateurs et de ceux qui travaillent les métaux (métallurgie, orfèvrerie). (Saints du Pas-de-Calais, diocèse d'Arras)
- Né en Limousin vers 588, l'orfèvre Eloi devint monétaire de Clotaire II, puis trésorier de Dagobert 1er avant d'être élu évêque de Noyon (641). Fondateur de monastères à Solignac et à Paris, il accueillit sainte Godeberthe comme moniale à Noyon. (Diocèse de Beauvais)
- L'église Saint Eloi de Paris, réalisée en métal en 1967, comprend une statue du saint orfèvre réalisée en 1937 par Jean Puiforcat pour l'exposition universelle. (Saints parisiens - diocèse de Paris)
... et sur le site du diocèse aux Armées: Son habilité comme orfèvre le fit très tôt choisir comme saint patron par les orfèvres eux-mêmes, les métiers du fer, et les maréchaux-ferrants. C'est ainsi qu'Eloi devint également le saint protecteur des mécaniciens des Armées qu'il invite à la plus grande habilité et aussi à un dévouement intègre et sans faille.
À Noyon, en 660, saint Éloi, évêque. Orfèvre et conseiller du roi Dagobert, il fit construire un grand nombre de monastères et fabriqua aussi beaucoup de pièces d'orfèvrerie en l'honneur des saints avec un art et une beauté remarquables. Élevé au siège épiscopal de Noyon et Tournai, il mit tout son zèle à sa mission apostolique.
Martyrologe romain
Bien qu'une immense distance nous sépare l'un de l'autre et que nous ne puissions espérer nous revoir sur cette terre, soyons unis dans le Christ. Efforçons-nous de vivre de telle sorte qu'après si peu de temps, nous nous trouvions réunis, en corps et âme tout à la fois, pour l'éternité.
(Lettre à l'un de ses amis)
Une prière toujours d'une brûlante actualité...
Voici 26 ans, le Père Bommelaer, curé de St Eloi, composait cette prière... sur la feuille de semaine de Saint-Éloi du 15 décembre 1985
St Éloi, patron des horlogers, Priez pour nous!
Saint Éloi, tu as fort à faire! As-tu vu depuis ta place au ciel, que 80% des fidèles de ta paroisse parisienne, arrivent en retard à la messe chaque dimanche ?...
- s'ils n'ont pas de montre, fais-leur un beau cadeau pour Noël
- si leur horloge est cassée, guide-les chez un bon horloger...
- s'ils n'ont pas envie de se lever: allège leur sommeil
- s'ils ne veulent pas du salut du célébrant, donne leur un sourire bienveillant
- s'ils n'aiment pas les lectures de l'Ancien Testament ou de saint Paul, élargis un peu leur cœur..
- s'ils craignent la Parole de l'Evangile, aide-les à aimer Sa parole
- s'ils ont peur d'être là pour la quête, rends-les généreux
Toi, bon saint Éloi, patron des horlogers, donne-nous le goût de l'exactitude et rends-nous polis envers le Seigneur et envers nos frères.. notre prière n'en sera que plus belle.
(source: paroisse Saint-Eloi, Paris)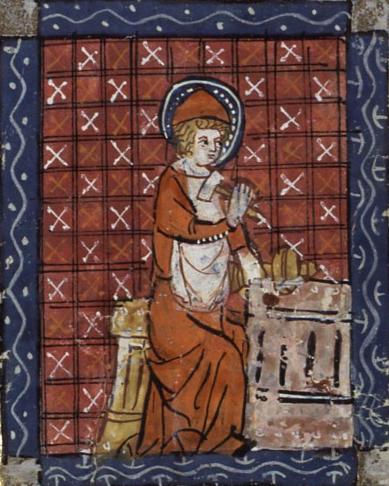 Saint-Eloi
Né vers 588 à Chaptelat près de Limoges, mort en 660, saint Eloi est issu d'une famille romaine relativement pauvre qui peut néanmoins vivre du revenu des ses terres. Très tôt, il est destiné à exercer le métier d'orfèvre. Il faut savoir qu'à cette époque le travail des métaux, des objets d'art et la frappe de la monnaie sont des activités prestigieuses.
Saint Eloi est placé en apprentissage chez Abbon, comte de Limoges et monétaire du roi. Ce dernier s'aperçoit très rapidement du talent exceptionnel de son élève. Saint Eloi est donc envoyé à Paris pour parfaire son apprentissage auprès de Bobon, monétaire de la Cour et trésorier de Clotaire II.
Depuis longtemps, Clotaire II a envie d'un trône bien précis, mais on ne trouve pas d'orfèvre compétent pour mener à bien cette réalisation. Bobon confie alors ce travail à saint Eloi. Le résultat est une merveille, Clotaire II est époustouflé. Ce n'est pas un trône que saint Eloi à fabriqué avec l'or qu'on lui a confié, mais deux strictement identiques. A partir de ce moment, Clotaire II accordera à saint Eloi une confiance sans faille.
Nommé Maître de la monnaie, saint Eloi devient un personnage important de la Cour. C'est à lui que s'adressent en premier lieu les évêques en mission à Paris et les ambassadeurs. Saint Ouen dit de lui : "C'est un homme capable d'en imposer aux plus grands tout en restant humble devant Dieu.
A la mort de Clotaire II, c'est Dagobert 1er qui devient roi. Ce dernier fait de saint Eloi un de ses principaux conseillers. Il le nomme Trésorier du roi et lui confie de nombreuses missions diplomatiques.
En 632, saint Eloi devient prêtre et fonde le monastère de Solignac. C'est en 641 qu'il est fait évêque de Noyon. A la mort de Dagobert 1er, saint Eloi quitte la Cour pour se consacrer exclusivement à sa charge ecclésiastique. Il fonde successivement les monastères de Noyon, Tournai, saint Quentin, les sanctuaires de saint Bon et de sainte Colombe (près de Sens). Il fait aussi construire un hôpital dans son évêché qui sera destiné aux pauvres. Il consacrera aussi une bonne partie de sa vie au rachat des esclaves.
Saint Eloi est le patron des orfèvres, des forgerons et des ferblantiers. Il est fêté le 1er décembre. Il meurt à Noyon le 1er décembre 660. il est enseveli dans l'abbaye, qui porte son nom et que la Révolution détruira entièrement. Ses reliques auraient été transférées en 1157 dans la cathédrale de Noyon qui était en cours d'achêvement.
Petrus Christus. Saint Éloi et les fiancés ou Saint Éloi à l'atelier,
1449. New York, collection Lehman. Giraudon
SAINT ÉLOI, ÉVÊQUE DE TOURNAI ET NOYON (588-660)
Saint Éloi est né à Chaptelat près de Limoges en 588. Ses parents Eucher et Terrigie étaient de petits propriétaires gallo-romains. Lorsqu'elle attendait l'enfant, Terrigie eut la vision d'un aigle qui l'appela à trois reprises, puis un prêtre prophétisa que l'enfant qu'elle portait serait l'élu de sa nation dans l'Église du Christ. Très tôt, Éloi se fit remarquer pour ses qualités manuelles et fréquenta les forges installées sur le domaine paternel. Tandis qu'il travaillait habilement sous les ordres de l'orfèvre Abbon, Éloi écoutait aussi assidument les Divines Écritures. Un jour, Abbon le présenta au trésorier du roi Clotaire II, appelé Bobbon. Pour le mettre à l'épreuve, celui-ci lui commanda un trône d'or pour le roi. Avec la quantité d'or qu'on lui remit Éloi fit non pas un trône mais deux. Édifié, le roi le prit à son service en tant qu'orfèvre royal. C'est à la cour du roi qu'il rencontra un fils de famille noble, Daddon, le futur saint Ouen qui devint son ami et son biographe.
En 629, Dagobert, fils de Clotaire, choisit Éloi comme conseiller et le fit monétaire attaché au palais. Il en tira une grande fortune personnelle qu'il utilisa pour aider les pauvres, racheter des esclaves qu'on vendait dans les ports, construire des églises et des monastères. Une de ses principales demandes fut, en 632, d'obtenir une terre à Solignac pour y établir un monastère sous la direction de Remacle. Pour convaincre le roi, il utilisa cette formule : « Que votre sérénité, dit-il au prince, daigne me céder ce domaine afin que j'y construise une échelle au moyen de laquelle nous puissions l'un et l'autre monter au ciel. » Puis il fonda Saint-Martial à Paris, sous la direction de sainte Aure. En 636, Dagobert l'envoya en mission en Bretagne qui n'avait jamais accepté la tutelle des francs, pour tenter de réparer les torts qu'ils avaient commis. La mission fut un succès et Judicael, roi de Domnonée accepta une rencontre avec Dagobert.
En 640, après la mort de Dagobert, Éloi quitte la cour pour être ordonné prêtre, puis évêque de Noyon et Tournai l'année suivante. Il prêcha en Flandres, en Frise et évangélisa toute la région de Boulogne à Anvers. Dans tous ses voyages, il cherchait les reliques des saints qui l'avaient précédé et édifiait des églises en leur honneur. Il obtint du roi le droit d'ensevelir les corps des condamnés exécutés. Sur son chemin fleurissaient les prodiges : guérisons de malades ou délivrances de possédés. Un jour, voulant donner une leçon à un maréchal-ferrant trop prétentieux, il lui aurait montré comment ferrer un cheval. Éloi trancha la patte de l'animal, la ferra puis la remit en place sans gêner aucunement le cheval.
Éloi meurt le 1er décembre 660 à Noyon. Son culte se répandit rapidement au Moyen-Âge. Ses reliques furent transférées le 25 juin à la cathédrale de Noyon. Il est le patron des orfèvres, des batteurs d'or, des forgerons… Il est invoqué contre les maladies des chevaux.
Saint Éloi est fêté le 1er décembre

St. Eligius
(
French
Eloi).
Bishop
of

Noyon-Tournai, born at Chaptelat near
Limoges
,
France
, c. 590, of

Roman
parents
,

Eucherius

and Terrigia; died at Noyon, 1 December, 660. His father, recognizing unusual talent in his son, sent him to the noted goldsmith

Abbo, master of the

mint

at
Limoges
. Later Eligius went to Neustria, where he worked under Babo, the royal treasurer, on whose recommendation Clotaire II commissioned him to make a

throne

of gold adorned with precious stones. His honesty in this so pleased the king that he appointed him master of the

mint

at
Marseilles
, besides taking him into his household. After the death of Clotaire (629), Dagobert appointed his
father's
friend his chief councillor. The fame of Eligius spread rapidly, and ambassadors first paid their respects to him before going to the king. His success in inducing the

Breton

King, Judicail, to submit to
Frankish
authority (636-37) increased his influence. Eligius took advantage of this to obtain
alms
for the

poor

and to ransom

Roman,
Gallic
,Breton,
Saxon
, and
Moorish
captives, who were arriving daily at
Marseilles
. He founded several
monasteries
, and with the king's

consent

sent his servants through towns and villages to take down the bodies of malefactors who had been

executed, and give them decent

burial. Eligius was a source of edification at court, where he and his friend

Dado

(Audoenus) lived according to the
Irish
monastic

rule, introduced into

Gaul

by

St. Columbanus. Eligius introduced this rule, either entirely or in part, into the
monastery
of

Solignac

which he founded in 632, and into the
convent
at
Paris
where three hundred

virgins

were under the guidance of the
Abbess
Aurea. He also built the
basilica of St. Paul
, and restored that of
St. Martial
in
Paris
. He erected several fine

churches

in
honour
of the
relics
of

St
Martin of Tours
, the national

saint

of the
Franks
, and

St. Denis, who was chosen
patron saint
by the king. On the death of Dagobert (639), Queen

Nanthilde

took the reins of government, and Eligius and

Dadoleft the court and entered the
priesthood
. On the death of

Acarius,
Bishop
of

Noyon-Tournai, 13 May, 640, Eligius was made his

successor

with the unanimous
approbation
of
clergy
and people. The inhabitants of his
diocese
were
pagans
for the most part. He undertook the

conversion

of the Flemings, Antwerpians, Frisians, Suevi, and the barbarian tribes along the coast. In 654 he approved the famous

privilege

granted to the

Abbey of Saint-Denis,

Paris,

exempting

it from the
jurisdiction
of the ordinary. In his own

episcopal

city of Noyon he built andendowed

a
monastery
for

virgins. After the finding of the body of

St. Quentin, Bishop Eligius erected in his
honour
a

church

to which was joined a
monastery
under the
Irish
rule. He also discovered the bodies of

St. Piatusand companions, and in 654 removed the remains of

St

Fursey, the celebrated
Irish
missionary (d. 650). Eligius was

buried

at Noyon. There is in

existence

a

sermon

written by Eligius, in which he combats the
pagan
practices of his time, a
homily
on the last

judgment, also a letter written in 645, in which he begs for the
prayers
of

Bishop
Desiderius of Cahors
. The fourteen other
homilies
attributed to him are of
doubtful
authenticity. His
homilies
have been edited by Krusch in "Mon. Germ. Hist." (loc. cit. infra).
St. Eligius is particularly
honoured
in
Flanders
, in the

province

of
Antwerp
, and at
Tournai
,

Courtrai

of
Ghent
,
Bruges
, and
Douai
. During the
Middle Ages
his
relics
were the object of special

veneration, and were often transferred to other resting-places, thus in 881, 1066, 1137, 1255, and 1306. He is the

patron

of goldsmiths, blacksmiths, and all workers in metal.

Cabmen have also put themselves under his protection. He is generally represented in
Christian art
in the garb of a
bishop
, a
crosier
in his right hand, on the open

palm

of his left a miniature

church

of chased gold.
Sources
Vita Eligii, ed. KRUSCH in
Mon. Germ. Hist.; Script. Rerum Merovingicarum
, IV, 2, 635 sqq.;
Vita metrica Eligii in Catalogus codicum hagiographicorum Bibliothecae regiae Bruxellensis
, ed. BOLLANDISTS, I, 470-83;
Inventio sancti Quintini in Analecta Bollandiana
, VIII, 429 sqq.; DE LINAS,
Orfèvrerie mérovingienne, les oeuvres de S. Eloi et la verroterie cloisonnée
(Arras, 1864); DE LAPORTE,
Un artiste du 7cme siecle, Eligius aurifaber, S. Eloi, patron des ouvriers en métaux
(s.l, 1865); BAPST, Tombeau et chasse de S. Germain, tombeau de Sainte Colombe, tombeau de S. Severin in
Revue archéologique
, Bk. III (1887); VAREMBERGH, Saint Eloi in
Biographie nationale de Belgique,
V, 555-58; HAUCK,
Kirchengeschichte Deutschland
s, I, 296 sqq.; DE VOS,
Leven van den heiligen Eligius, met aanteckeningen en bijzonderheden zopens eijnen alouden eeredienst in Vlaanderen
(BRUGES, 1900); VAN DER ESSEN, Les relations entre les sermons de Saint Cesaire d'Arles et la prédication de Saint Eloi in
Bulletin bibliographique du musée Belge
(1903), VII;
Annuaire de l'Universite de Louvain
(1904), 379-90; VAN DER ESSEN,
Étude critique et littéraire sur les Vitae de saints mérovingiens de l'ancienne Belgique
(Louvain, 1907), 324-36; PARSY, Saint Eloi in
Les Saints séries
(Paris, 1907); DE SMET, Analecia Eligiana in
Acta SS. Belgii
(Brussels, 1785), III, 311-31; KRUSCH, préface, in
Mon. Germ. Hist
., loc. cit., 635 sqq.
Van der Essen, Léon.
"St. Eligius."
The Catholic Encyclopedia.
Vol. 5.
New York: Robert Appleton Company,
1909.
1 Dec. 2015
<http://www.newadvent.org/cathen/05386a.htm>.
SOURCE :
http://www.newadvent.org/cathen/05386a.htm
Eligius of Noyon B (RM)
(also known as Eloi, Loy)

Born at Chaptelet (Chaptel or Chatelac), near Limoges, France, c. 588; died at Noyon, December 1, 660.
Saint Eligius's parents (Eucherius and Terrigia) were both of Gallo-Romans. Eucherius was a goldsmith and metalworker who lived near Limoges, and when his son showed similar talent, he apprenticed Eligius to Abbo, the master of the mint at Limoges. Eligius acquired great skill at working in precious metals, his handiwork can still be seen in the catalogue of Merovingian coins at the National Library in Paris).
When Eligius finished his apprenticeship, he decided to seek his fortune in Paris. There he came to the notice of Bobbo, treasurer to King Chlotar (Clotaire) II. The king needed a treasurer at Marseilles, and the post was given to Eligius. Chlotar gave Eligius an order to make him a chair of state, decorated with gold and precious stones. With the materials given to him, Eligius made two chairs, which impressed the king with the saint's honesty and skill. Chlotar took him into his household and made him master of the mint.
Soon Eligius's great talent for engraving and smithing made him a person of rank and wealth. He wore clothes embroidered with gold and adorned with precious stones; he sometimes wore nothing but silk, which was very rare in France then. But he was not corrupted by his good fortune. His wealth was devoted to the poor. Once a stranger asked the way to his home in Paris and was told to go to a certain street where he would recognize the house by the great concourse of poor persons outside. Eligius developed into a deeply religious man.
Eligius postponed swearing an oath of allegiance to Chlotar, which angered the king. Finally, Chlotar came to understand that conscience was the motive, and he assured Eligius that this was a more secure pledge of allegiance than the vows of others.
He held on to this post after Chlotar's death in 629, and gained considerable influence with Chlotar's son and successor, Dagobert I, who also valued Eligius and appointed him chief counsellor in 629. You can imagine the extent of his power when you realize that no ambassador visited the King of the Merovingians without arranging for an interview with Eligius.
The saint was pious, influential, and sought after as a counsellor. Desiderius (who later became bishop of Cahors) and young Dado (a.k.a. Ouen or Audenus, future bishop of Rouen) were his best friends. They formed a small, very religious society related to Saint Columbanus's monastery in Luxeuil, protecting the new monasteries and, with a munificence that became legendary, honoring the relics of the saints.
Eligius had accumulated sufficient wealth that when King Dagobert gave him land at Solignac in Limousin, he founded a monastery there, as well as setting up the first ever workshop for producing Limoges enamels. In 632 the monastery was filled with monks who followed a combination of the rules of Saint Columba and Saint Benedict.
Dagobert also gave Eligius a house in Paris, and the saint used his considerable resources to convert it into a convent for women under the supervision of Saint Aurea. Eligius asked for and received an additional piece of land to complete the construction; when he found he had gone over its border, he went to the king to apologize. Dagobert, taken aback at his honesty, said, "Some of my officers do not scruple to robe me of whole estates; whereas Eligius is afraid of having one inch of ground which is not his."
Dagobert selected Eligius to go on a diplomatic mission to the Bretons in 636, during which the saint convinced the Breton King Judicael to accept the authority of the Frankish king. (Dagobert I died in January 639.)
Saint Eligius was ordained in 640. In 641 Dagobert's successor, Clovis II, chose him to be bishop of Noyon and Tournai, at the same time his friend Saint Audoenus was named bishop of Rouen. During this period, bishoprics were often given as benefices to retiring ministers of state. But, Christians to the end, both Eligius and Audoenus decided to be real bishops rather than pensioners. And, so, Eligius discharged that office with vigor for 19 fruitful years.
With concentrated enthusiasm he spread the Gospel through his vast diocese and into Flanders among the heathen Frisians. He preached in Antwerp, Ghent, and Courtrai. The crude inhabitants shunned him as a foreigner, they couldn't understand him, but he persisted. After taking care of the sick, protecting them from oppression, and undertaking other charitable causes, he won them over, and some were converted. Where speech and acts of charity failed, miracles worked.
His sermons sprang from deep faith. They were direct, simple and straight forward. Of the surviving homilies attributed to Eligius, one is notable for his warnings against pagan superstitions such as fortune-telling, watching for omens, and keeping Thursdays holy in honor of Jupiter. His homilies revealed a modest man with sure learning.
At Noyon, he established a convent and brought his protege Saint Godebertha from Paris to govern it. He also wrote the rule for the sisters.
As bishop he also actively promoted the cultus of local saints; the beautiful reliquaries of Saint Martin of Tours, Saint Dionysius at Saint- Denis, Saint Germanus of Paris, Saint Geneviève, and others are attributed to his workmanship, in addition to the Great Cross of Saint Denis, and at least some of which still exist.
After Clovis II came to the throne, he became a friend and counsellor to the queen Saint Bathildis, in part, because they shared a concern for slaves (she had originally been brought to the court as a slave). Eligius ransomed many slaves, some of whom remained in his service for the rest of his life. One of them, a Saxon named Tillo, also became a saint. These men and women became Eligius's most loyal assistants. During the Council of Chalon, c. 677, the sale of slaves was forbidden in the kingdom, and it was decreed that slaves must be free to rest on Sundays and holidays.
He was generous to the poor and to the Church--founding many convents and churches.
Eligius had the gift of clairvoyance, which later became a gift of prophecy. He sometimes gave direct proof--about Mayor Flaochad, Mayor Erchinoald, some public disorders, and his own death. He prophesied it often enough with a patience and longing the people appreciated. As mentioned, Eligius foresaw his own death and told his clergy of it. Falling ill with a fever, on the sixth day he called together his household. As death approached in 659, Eligius said to his flock, 'Do not weep. Congratulate me instead. I have waited a long time for this release.' He commended his people to God and died a few hours later.
Hearing of his illness, Queen Bathildis set out from Paris, but she arrived the morning after his death. She prepared to carry the body to her monastery at Chelles, and others wished to take it to Paris, but the people of Noyons strongly opposed the removal, and so his body lies in Noyon cathedral. Eligius was widely respected during his own time and became one of the most beloved saints of the Middle Ages--one of the Fourteen Holy Helpers (Attwater, Benedictines, Bentley, Delaney, Encyclopedia, White).
Saint Eligius is a bishop with a hammer, anvil, and horseshoe. At times he is depicted (1) shoeing a horse; (2) holding a horse's leg, which he detached to shoe it more easily; (3) with a horse by him; (4) with hammer and crown, smithy in the background; (5) with hammer, anvil, and Saint Anthony; (6) holding a chalice and goldsmith's hammer; (7) working as a goldsmith; or (8) with Saint Godeberta, to whom he gives a ring. Sometimes he is shown as a bishop, at other times as a courtier (Roeder).
He is the patron of all smiths, farriers, jewelers, craftsmen, and metal workers (Attwater, Roeder). He is also patron of coin and metal collectors, horses and veterinarians, of blacksmiths, and garage or gas-station workers (White). To this list is added the patronage of harness makers, cartwrights, boilermakers, cutler, watchmakers, locksmiths, farmers, jockeys, gilders, and minters (Encyclopedia).
His association with horses originates from an episode occurring after his death. A horse that Eligius had been riding was inherited by a priest, but the new bishop liked the horse and took it for himself. The horse became ill as soon as he was stabled under the bishop's roof and nothing could cure him. Meanwhile the priest prayed for the horse's return. The bishop gave back the useless horse, and the animal promptly recovered, a cure attributed to Saint Eligius. Since that time Eligius is invoked on behalf of sick horses and, in some places, are blessed on his feast day. By extension Eligius gains patronage of gas stations and garages, which can be considered modern versions of stables (White).