Le Verbe de Dieu s'est fait homme pour que nous devenions Dieu ;
il s'est rendu visible dans le corps pour que nous ayons une idée du Père invisible,
et il a lui-même supporté la violence des hommes pour que nous héritions de l'incorruptibilité


Saint Athanase. Sur l'Incarnation du Verbe, 54,3.
Saint Athanase, évêque et docteur de l'Église
Evêque d'Alexandrie de 328 à 373, Athanase n'eut qu'un objectif : défendre la foi en la divinité du Christ, qui avait été définie à Nicée, mais se trouvait battue en brèche de partout. Ni la pusillanimité des évêques, ni les tracasseries policières, ni cinq exils ne vinrent à bout de son caractère et surtout de son amour pour le Seigneur Jésus, Dieu fait homme.
SOURCE :
http://www.paroisse-saint-aygulf.fr/index.php/prieres-et-liturgie/saints-par-mois/icalrepeat.detail/2015/05/02/624/-/saint-athanase-eveque-et-docteur-de-l-eglise
SAINT ATHANASE
Docteur de l'Église
(296-375)
Saint Athanase naquit à Alexandrie, métropole de l'Égypte. Sa première éducation fut excellente; il ne quitta le foyer paternel que pour être élevé, nouveau Samuel, dans le temple du Seigneur, par l'évêque d'Alexandrie.
Athanase était simple diacre, quand son évêque le mena au concile de Nicée, dont il fut à la fois la force et la lumière. Cinq mois après, le patriarche d'Alexandrie mourut, et Athanase, malgré sa fuite, se vit obligé d'accepter le lourd fardeau de ce grand siège. Dès lors, ce fut une guerre acharnée contre lui. Les accusations succèdent aux accusations, les perfidies aux perfidies; Athanase, inébranlable, invincible dans la défense de la foi, fait à lui seul trembler tous ses ennemis.
La malice des hérétiques ne servit qu'à faire ressortir l'énergie de cette volonté de fer, la sainteté de ce grand coeur, les ressources de cet esprit fécond, la splendeur de ce fier génie. Exilé par l'empereur Constantin, il lui fit cette réponse:
"Puisque vous cédez à mes calomniateurs, le Seigneur jugera entre vous et moi."
Avant de mourir, Constantin le rappela, et Athanase fut reçu en triomphe dans sa ville épiscopale. Le vaillant champion de la foi eut à subir bientôt un nouvel exil, et deux conciles ariens ne craignirent pas de pousser la mauvaise foi et l'audace jusqu'à le déposer de son siège.
Toujours persécuté et toujours vainqueur, voilà la vie d'Athanase; il vit périr l'infâme Arius d'une mort honteuse et effrayante et tous ses ennemis disparaître les uns après les autres. Jamais les adversaires de ce grand homme ne purent le mettre en défaut, il déjoua toutes leurs ruses avec une admirable pénétration d'esprit. En voici quelques traits.
En plein concile, on le fit accuser d'infamie par une courtisane; mais il trouve le moyen de montrer que cette femme ne le connaissait même pas de vue, puisqu'elle prit un de ses prêtres pour lui.
Au même concile, on l'accusa d'avoir mis à mort un évêque nommé Arsène, et coupé sa main droite; comme preuve on montrait la main desséchée de la victime; mais voici qu'à l'appel d'Athanase, Arsène paraît vivant et montre ses deux mains.
Une autre fois, Athanase, poursuivi, s'enfuit sur un bateau; puis bientôt il rebrousse chemin, croise ses ennemis, qui lui demandent s'il a vu passer l'évêque d'Alexandrie: "Poursuivez, leur dit-il, il n'est pas très éloigné d'ici."
Ses dernières années furent les seules paisibles de sa vie. Enfin, après avoir gouverné pendant quarante-six ans l'Église d'Alexandrie, après avoir soutenu tant de combats, il alla recevoir au Ciel la récompense de "ceux qui souffrent persécution pour la justice".
Abbé L. Jaud,
Vie des Saints pour tous les jours de l'année
, Tours, Mame, 1950.
SOURCE :
http://magnificat.ca/cal/fr/saints/saint_athanase.html
BENOÎT XVI
AUDIENCE GÉNÉRALE
Mercredi 20 juin 2007


Saint Athanase


Chers frères et sœurs,
En poursuivant notre évocation des grands Maîtres de l'Eglise antique, nous voulons aujourd'hui tourner notre attention vers saint Athanase d'Alexandrie. Cet authentique protagoniste de la tradition chrétienne, déjà quelques années avant sa mort, fut célébré comme "la colonne de l'Eglise" par le grand théologien et Evêque de Constantinople Grégroire de Nazianze (Discours 21, 26), et il a toujours été considéré comme un modèle d'orthodoxie, aussi bien en Orient qu'en Occident. Ce n'est donc pas par hasard que Gian Lorenzo Bernini en plaça la statue parmi celles des quatre saints Docteurs de l'Eglise orientale et occidentale - avec Ambroise, Jean Chrysostome et Augustin -, qui dans la merveilleuse abside la Basilique vaticane entourent la Chaire de saint Pierre.
Athanase a été sans aucun doute l'un des Pères de l'Eglise antique les plus importants et les plus vénérés. Mais ce grand saint est surtout le théologien passionné de l'incarnation, du Logos, le Verbe de Dieu, qui - comme le dit le prologue du quatrième Evangile - "se fit chair et vint habiter parmi nous" (Jn 1, 14). C'est précisément pour cette raison qu'Athanase fut également l'adversaire le plus important et le plus tenace de l'hérésie arienne, qui menaçait alors la foi dans le Christ, réduit à une créature "intermédiaire" entre Dieu et l'homme, selon une tendance récurrente dans l'histoire et que nous voyons en œuvre de différentes façons aujourd'hui aussi. Probablement né à Alexandrie vers l'an 300, Athanase reçut une bonne éducation avant de devenir diacre et secrétaire de l'Evêque de la métropole égyptienne, Alexandre. Proche collaborateur de son Evêque, le jeune ecclésiastique prit part avec lui au Concile de Nicée, le premier à caractère œcuménique, convoqué par l'empereur Constantin en mai 325 pour assurer l'unité de l'Eglise. Les Pères nicéens purent ainsi affronter diverses questions et principalement le grave problème né quelques années auparavant à la suite de la prédication du prêtre alexandrin Arius.
Celui-ci, avec sa théorie, menaçait l'authentique foi dans le Christ, en déclarant que le Logos n'était pas le vrai Dieu, mais un Dieu créé, un être "intermédiaire" entre Dieu et l'homme, ce qui rendait ainsi le vrai Dieu toujours inaccessible pour nous. Les Evêques réunis à Nicée répondirent en mettant au point et en fixant le "Symbole de la foi" qui, complété plus tard par le premier Concile de Constantinople, est resté dans la tradition des différentes confessions chrétiennes et dans la liturgie comme le Credo de Nicée-Constantinople. Dans ce texte fondamental - qui exprime la foi de l'Eglise indivise, et que nous répétons aujourd'hui encore, chaque dimanche, dans la célébration eucharistique - figure le terme grec homooúsios, en latin consubstantialis: celui-ci veut indiquer que le Fils, le Logos est "de la même substance" que le Père, il est Dieu de Dieu, il est sa substance, et ainsi est mise en lumière la pleine divinité du Fils, qui était en revanche niée par le ariens.
A la mort de l'Evêque Alexandre, Athanase devint, en 328, son successeur comme Evêque d'Alexandrie, et il se révéla immédiatement décidé à refuser tout compromis à l'égard des théories ariennes condamnées par le Concile de Nicée. Son intransigeance, tenace et parfois également très dure, bien que nécessaire, contre ceux qui s'étaient opposés à son élection épiscopale et surtout contre les adversaires du Symbole de Nicée, lui valut l'hostilité implacable des ariens et des philo-ariens. Malgré l'issue sans équivoque du Concile, qui avait clairement affirmé que le Fils est de la même substance que le Père, peu après, ces idées fausses prévalurent à nouveau - dans ce contexte, Arius lui-même fut réhabilité -, et elles furent soutenues pour des raisons politiques par l'empereur Constantin lui-même et ensuite par son fils Constance II. Celui-ci, par ailleurs, qui ne se souciait pas tant de la vérité théologique que de l'unité de l'empire et de ses problèmes politiques, voulait politiser la foi, la rendant plus accessible - à son avis - à tous ses sujets dans l'empire.
La crise arienne, que l'on croyait résolue à Nicée, continua ainsi pendant des décennies, avec des événements difficiles et des divisions douloureuses dans l'Eglise. Et à cinq reprises au moins - pendant une période de trente ans, entre 336 et 366 - Athanase fut obligé d'abandonner sa ville, passant dix années en exil et souffrant pour la foi. Mais au cours de ses absences forcées d'Alexandrie, l'Evêque eut l'occasion de soutenir et de diffuser en Occident, d'abord à Trèves puis à Rome, la foi nicéenne et également les idéaux du monachisme, embrassés en Egypte par le grand ermite Antoine, à travers un choix de vie dont Athanase fut toujours proche. Saint Antoine, avec sa force spirituelle, était la personne qui soutenait le plus la foi de saint Athanase. Réinstallé définitivement dans son Siège, l'Evêque d'Alexandrie put se consacrer à la pacification religieuse et à la réorganisation des communautés chrétiennes. Il mourut le 2 mai 373, jour où nous célébrons sa mémoire liturgique.
L'oeuvre doctrinale la plus célèbre du saint Evêque alexandrin est le traité Sur l'incarnation du Verbe, le Logos divin qui s'est fait chair en devenant comme nous pour notre salut. Dans cette œuvre, Athanase dit, avec une affirmation devenue célèbre à juste titre, que le Verbe de Dieu "s'est fait homme pour que nous devenions Dieu; il s'est rendu visible dans le corps pour que nous ayons une idée du Père invisible, et il a lui-même supporté la violence des hommes pour que nous héritions de l'incorruptibilité" (54, 3). En effet, avec sa résurrection le Seigneur a fait disparaître la mort comme "la paille dans le feu" (8, 4). L'idée fondamentale de tout le combat théologique de saint Athanase était précisément celle que Dieu est accessible. Il n'est pas un Dieu secondaire, il est le vrai Dieu, et, à travers notre communion avec le Christ, nous pouvons nous unir réellement à Dieu. Il est devenu réellement "Dieu avec nous".
Parmi les autres œuvres de ce grand Père de l'Eglise - qui demeurent en grande partie liées aux événements de la crise arienne - rappelons ensuite les autres lettres qu'il adressa à son ami Sérapion, Evêque de Thmuis, sur la divinité de l'Esprit Saint, qui est affirmée avec netteté, et une trentaine de lettres festales, adressées en chaque début d'année aux Eglises et aux monastères d'Egypte pour indiquer la date de la fête de Pâques, mais surtout pour assurer les liens entre les fidèles, en renforçant leur foi et en les préparant à cette grande solennité.
Enfin, Athanase est également l'auteur de textes de méditation sur les Psaumes, ensuite largement diffusés, et d'une œuvre qui constitue le best seller de la littérature chrétienne antique: la Vie d'Antoine, c'est-à-dire la biographie de saint Antoine abbé, écrite peu après la mort de ce saint, précisément alors que l'Evêque d'Alexandrie, exilé, vivait avec les moines dans le désert égyptien. Athanase fut l'ami du grand ermite, au point de recevoir l'une des deux peaux de moutons laissées par Antoine en héritage, avec le manteau que l'Evêque d'Alexandrie lui avait lui-même donné. Devenue rapidement très populaire, traduite presque immédiatement en latin à deux reprises et ensuite en diverses langues orientales, la biographie exemplaire de cette figure chère à la tradition chrétienne contribua beaucoup à la diffusion du monachisme en Orient et en Occident. Ce n'est pas un hasard si la lecture de ce texte, à Trèves, se trouve au centre d'un récit émouvant de la conversion de deux fonctionnaires impériaux, qu'Augustin place dans les Confessions (VIII, 6, 15) comme prémisses de sa conversion elle-même.
Du reste, Athanase lui-même montre avoir clairement conscience de l'influence que pouvait avoir sur le peuple chrétien la figure exemplaire d'Antoine. Il écrit en effet dans la conclusion de cette œuvre: "Qu'il fut partout connu, admiré par tous et désiré, également par ceux qui ne l'avaient jamais vu, est un signe de sa vertu et de son âme amie de Dieu. En effet, ce n'est pas par ses écrits ni par une sagesse profane, ni en raison de quelque capacité qu'Antoine est connu, mais seulement pour sa piété envers Dieu. Et personne ne pourrait nier que cela soit un don de Dieu. Comment, en effet, aurait-on entendu parler en Espagne et en Gaule, à Rome et en Afrique de cet homme, qui vivait retiré parmi les montagnes, si ce n'était Dieu lui-même qui l'avait partout fait connaître, comme il le fait avec ceux qui lui appartiennent, et comme il l'avait annoncé à Antoine dès le début? Et même si ceux-ci agissent dans le secret et veulent rester cachés, le Seigneur les montre à tous comme un phare, pour que ceux qui entendent parler d'eux sachent qu'il est possible de suivre les commandements et prennent courage pour parcourir le chemin de la vertu" (Vie d'Antoine 93, 5-6).
Oui, frères et soeurs! Nous avons de nombreux motifs de gratitude envers Athanase. Sa vie, comme celle d'Antoine et d'innombrables autres saints, nous montre que "celui qui va vers Dieu ne s'éloigne pas des hommes, mais qu'il se rend au contraire proche d'eux" (Deus caritas est, n. 42).
* * *
Rencontre avec des groupes dans la Basilique Saint-Pierre
Chers pèlerins de langue française,
je vous accueille avec joie auprès de la tombe de Pierre. Que la démarche spirituelle que vous accomplissez ici affermisse votre foi au Christ et votre lien avec l'Église.
En vous confiant à l'intercession de la Bienheureuse Vierge Marie, je vous assure de ma prière pour vous, pour vos familles et à toutes vos intentions.
* * *
Aula Paolo VI
Je salue cordialement les pèlerins de langue française. À la lumière de l'enseignement et de la vie des saints, puissiez-vous découvrir que ceux qui vont vers Dieu ne s'éloignent pas des hommes, mais qu'ils se rendent au contraire vraiment proches d'eux.
________________________________________
Appel du Pape Benoît XVI pour la Journée mondiale des Réfugiés
On célèbre aujourd'hui la Journée mondiale des Réfugiés, promue par les Nations unies pour que l'attention de l'opinion publique ne manque pas à ceux qui ont été obligés de fuir de leurs pays à la suite de réels dangers pour leur vie. Accueillir les réfugiés et leur accorder l'hospitalité représente pour tous un geste juste de solidarité humaine, afin que ces derniers ne se sentent pas isolés à cause de l'intolérance et du manque d'intérêt. En outre, il s'agit pour les chrétiens de manifester l'amour évangélique d'une manière concrète. Je souhaite de tout cœur que soient garantis l'asile et la reconnaissance de leurs droits à nos frères et sœurs durement éprouvés par la souffrance, et j'invite les responsables des nations à offrir leur protection à ceux qui se trouvent dans une situation de besoin aussi délicate.
© Copyright 2007 - Libreria Editrice Vaticana
SOURCE :
http://www.vatican.va/holy_father/benedict_xvi/audiences/2007/documents/hf_ben-xvi_aud_20070620_fr.html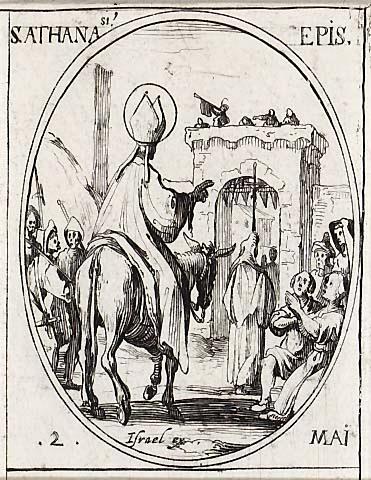 Saint Athanase naquit vers l'an 295 et très probablement à Alexandrie. Il est certain qu'il reçut une excellente éducation classique, et plus tard, il dut étudier dans une école chrétienne, sans doute à Césarée. Jeune homme, il enseigna comme lecteur ou didascalos, à l'école catéchétique d'Alexandrie. Avant sa vingt-cinquième année, il se rendit au désert et y connut saint Antoine le Grand ; sans doute même essaya-t-il de vivre en ermite, car il semble avoir été durant toute sa vie un contemplatif. Vers l'an 320, Athanase était diacre d'Alexandre, évêque d'Alexandrie. Il fut le véritable auteur, tant pour la forme que pour le contenu, de l'encyclique publiée en 322 par l'évêque Alexandre contre la doctrine d'Arius, prêtre de Baucalis. Conseiller de ce même Alexandre, trois ans plus tard, au concile de Nicée, Athanase collabora certainement à la définition qui y fut finalement formulée et selon laquelle le Fils est de la même substance que le Père. De retour en Égypte, Athanase succéda à Alexandre sur le siège épiscopal d'Alexandrie durant l'été 328. Au cours des sept premières années de son épiscopat, Athanase, tout en dispensant son enseignement, visita et administra la vallée du Nil de plus en plus loin vers le Sud ; il envoya la première mission en Afrique centrale, et sous la direction de saint Frumence, elle assura la conversion du royaume d'Axoum, en Éthiopie. Partout, il établit d'étroites relations avec les moines et les ermites, et ceux-ci devaient le révérer comme un faiseur de prodiges et lui décerner les titres de « Père de la Vérité » et de « Porte-Christ ». Aucun évêque d'Alexandrie n'avait, avant lui, disposé d'un tel pouvoir. Aussi est-ce sans doute une intrigue politique autant que théologique qui amena l'empereur Constantin à le convoquer à Byzance, puis à le bannir à Trèves, sur la frontière de la Germanie, en 335. Athanase ne retourna en Égypte que deux ans plus tard, quand il put constater que les factions ariennes ne bénéficiaient plus que d'un patronage hésitant de la part du nouvel empereur d'Orient, Constance, fils de Constantin. De 337 à 366, sa vie fut avant tout un combat, au cours duquel il se trouva par moments presque seul, contre toutes les tendances qui auraient conduit à la destruction de l'œuvre accomplie par le concile de Nicée. Par sa résistance, saint Athanase ne devint pas seulement le champion de la substance unique de la Trinité, mais aussi de l'autonomie de l'Église. Fidèle aux décisions du concile de Nicée, il demeura toute sa vie un farouche opposant à l'arianisme en dépit des persécutions et des cinq exils successifs entre 335 et 366. Trois fois encore, il fut arrêté et envoyé en exil – chaque fois il revint. De 356 à 361, il dut se cacher en Égypte, tantôt dans les ermitages du désert et tantôt dans les citernes et les tombeaux. Il y eut de courts moments d'accalmie, puis, durant les dernières années de sa vie, il put demeurer sans trouble à Alexandrie ; sa sécurité, toutefois, ne fut jamais assurée, et quand il mourut, un peu avant l'aube du 2 mai 373, l'issue du combat semblait encore indécise. En effet, Valens, alors empereur d'Orient, était anti-nicéen et de nombreux évêques soutenaient sa politique ; mais cinq années plus tard, Valens mourut et la cause défendue par le concile de Nicée triompha définitivement. En Occident, il est devenu le docteur de la Trinité. Mais il fut avant tout le docteur de l'Incarnation et de la grâce. Il est l'auteur de trois Discours contre les Ariens et d'une Vie de saint Antoine écrite peu après la mort de celui-ci et traduite en latin dès 388. L'église S. Zaccaria de Venise abrite le corps de saint Athanase d'Alexandrie. Saint Athanase est fêté en Occident le 2 mai et en Orient le 18 janvier.
SOURCE :
http://www.martyretsaint.com/athanase-dalexandrie/
St Athanase, évêque, confesseur et docteur
Mort à Alexandrie le 2 mai 373. Sa fête apparaît dans le nord de la France au milieu du XIIe siècle mais elle n'est pas reçue à Rome avant le XVIe siècle. Simple au bréviaire de 1550, elle devient double avec la réforme de St Pie V en 1568.
Leçons des Matines avant 1960
Quatrième leçon. Athanase, l'énergique défenseur de la religion catholique, était né à Alexandrie ; ordonné Diacre par l'Évêque de cette ville, nommé Alexandre, il devint dans la suite son successeur. Il avait accompagné ce Prélat au concile de Nicée, où, ayant confondu l'impiété d'Arius, il s'attira tellement la haine des Ariens que, depuis lors, ils ne cessèrent jamais de lui dresser des embûches. Dans un concile réuni à Tyr, et composé en grande partie d'Évêques ariens, ils subornèrent une femme pour qu'elle accusât Athanase, d'avoir par violence, porté atteinte à son honneur, abusant de son hospitalité. Athanase fut donc introduit, et avec lui un Prêtre nommé Timothée, qui, feignant d'être Athanase, dit à cette femme : « C'est donc moi qui ai logé chez vous, moi qui vous ai outragée ? — Oui, répondit-elle effrontément, c'est vous qui m'avez fait violence » ; et elle affirmait le fait avec serment, invoquant l'autorité des juges, pour qu'ils "vengeassent une telle infamie. La fourberie étant découverte, l'impudence de cette femme fut confondue.
Cinquième leçon. Les Ariens firent aussi courir le bruit qu'un Évêque, nommé Arsène, avait été assassiné par Athanase. Tandis qu'Arsène était secrètement détenu, ils produisirent devant les juges la main d'un mort, accusant Athanase d'avoir coupé cette main à Arsène, pour s'en servir dans des opérations magiques. Mais Arsène s'enfuit la nuit et vint se présenter devant tout le concile, ce qui dévoila la scélératesse des ennemis d'Athanase. Ils attribuèrent néanmoins la justification d'Athanase à des artifices de magie, et ne cessèrent pas de conspirer contre sa vie. Condamné à l'exil, il fut relégué à Trêves, dans les Gaules. Sous le règne de l'empereur Constance, qui favorisait les Ariens, il vit se soulever contre lui de longues et violentes tempêtes, souffrit d'incroyables épreuves, et parcourut de nombreuses contrées, souvent expulsé de son Église, souvent aussi rétabli sur son siège, et par l'autorité du Pape Jules, et par la protection de l'empereur Constant, frère de Constance, ou encore en vertu des décrets des conciles de Sardique et de Jérusalem. Pendant ce temps les Ariens continuaient à lui demeurer hostiles ; pour se soustraire à leur fureur opiniâtre et éviter la mort, il demeura caché pendant cinq ans dans une citerne desséchée, sans que personne connût sa retraite, sauf un de ses amis qui lui apportait en secret sa nourriture.
Sixième leçon. Constance étant mort, Julien l'Apostat, son successeur, permit aux Évêques exilés de rentrer dans leurs Églises. Athanase revint donc à Alexandrie, où il fut reçu avec les plus grands honneurs. Mais bientôt les intrigues des mêmes Ariens le firent persécuter par Julien, et il fut de nouveau forcé à s'éloigner Les satellites de ce prince le cherchant pour le mettre à mort, Athanase fit retourner le bateau sur lequel il s'enfuyait, et vint à la rencontre des émissaires lancés à sa poursuite. Ceux-ci demandant à quelle distance se trouvait Athanase, il leur répondit qu'il n'était pas loin. Il échappa ainsi à ses ennemis qui continuèrent leur route et, rentrant à Alexandrie, il y demeura caché jusqu'à la mort de Julien. Quelque temps après, une nouvelle tempête s'étant élevée contre lui à Alexandrie, il resta enfermé quatre mois dans le tombeau de son père. Enfin, délivré par le secours divin de tant de périls de tous genres, il mourut dans son lit, à Alexandrie, sous Valens. Sa vie et sa mort furent illustrées par de grands miracles, il a écrit beaucoup d'ouvrages pleins de piété et de clarté pour expliquer la foi catholique, et il a gouverné très saintement l'Église d'Alexandrie durant quarante-six ans, au milieu des plus grandes vicissitudes.
Dom Guéranger, l'Année Liturgique
Le cortège de notre divin Roi, qui s'accroît chaque jour d'une manière si brillante, se renforce aujourd'hui par l'arrivée de l'un des plus valeureux champions qui aient jamais combattu pour sa gloire. Est-il un nom plus illustre que celui d'Athanase parmi les gardiens de la Parole de vérité que Jésus a confiée à la terre ? ce nom n'exprime-t-il pas à lui seul le courage indomptable dans la garde du dépôt sacré, la fermeté du héros en face des plus terribles épreuves, la science, le génie, l'éloquence, tout ce qui peut retracer ici-bas l'idéal de la sainteté du Pasteur unie à la doctrine de l'interprète des choses divines ? Athanase a vécu pour le Fils de Dieu ; la cause du Fils de Dieu fut la même que celle d'Athanase ; qui bénissait Athanase bénissait le Verbe éternel, et celui-là maudissait le Verbe éternel qui maudissait Athanase.
Jamais notre sainte foi ne courut sur la terre un plus grand péril que dans ces tristes jours qui suivirent la paix de l'Église, et furent témoins de la plus affreuse tempête que la barque de Pierre ait jamais essuyée. Satan avait en vain espéré éteindre dans des torrents de sang la race des adorateurs de Jésus ; le glaive de Dioclétien et de Galérius s'était émoussé dans leurs mains, et la croix paraissant au ciel avait proclamé le triomphe du christianisme. Tout à coup l'Église victorieuse se sent ébranlée jusque dans ses fondements ; dans son audace l'enfer a vomi sur la terre une hérésie qui menace de dévorer en peu de jours le fruit de trois siècles de martyre. L'impie et obscur Arius ose dire que celui qui fut adoré comme le Fils de Dieu par tant de générations depuis les Apôtres, n'est qu'une créature plus parfaite que les autres. Une immense défection se déclare jusque dans les rangs de la hiérarchie sacrée ; la puissance des Césars se met au service de cette épouvantable apostasie ; et si le Seigneur lui-même n'intervient, les hommes diront bientôt sur la terre que la victoire du christianisme n'a eu d'autre résultat que de changer l'objet de l'idolâtrie, en substituant sur les autels une créature à d'autres qui avaient reçu l'encens avant elle.
Mais celui qui avait promis que les portes de l'enter ne prévaudraient jamais contre son Église, veillait à sa promesse. La foi primitive triompha ; le concile de Nicée reconnut et proclama le Fils consubstantiel au Père ; mais il fallait à l'Église un homme en qui la cause du Verbe consubstantiel fut, pour ainsi dire, incarnée, un homme assez docte pour déjouer tous les artifices de l'hérésie, assez fort pour attirer sur lui tous ses coups, sans succomber jamais. Ce fut Athanase ; quiconque adore et aime le Fils de Dieu doit aimer et glorifier Athanase. Exilé jusqu'à cinq fois de son Église d'Alexandrie, poursuivi à mort par les ariens, il vint chercher tantôt un refuge, et tantôt un lieu d'exil dans l'Occident, qui apprécia l'illustre confesseur de la divinité du Verbe. Pour prix de l'hospitalité que Rome s'honora de lui accorder, Athanase lui fit part de ses trésors. Admirateur et ami du grand Antoine, il cultivait avec une tendre affection l'élément monastique, que la grâce de l'Esprit-Saint avait fait éclore dans les déserts de son vaste patriarcat ; il porta à Rome cette précieuse semence, et les moines qu'il y amena furent les premiers que vit l'Occident. La plante céleste s'y naturalisa ; et si sa croissance fut lente d'abord, elle y fructifia dans la suite au delà de ce qu'elle avait fait en Orient.
Athanase, qui avait su exposer avec tant de clarté et de magnificence dans ses sublimes écrits le dogme fondamental du christianisme, la divinité de Jésus-Christ, a célébré le mystère de la Pâque avec une éloquente majesté dans les Lettres festales qu'il adressait chaque année aux Églises de son patriarcat d'Alexandrie. La collection de ces lettres, que l'on regardait comme perdues sans retour, et qui n'étaient connues que par quelques courts fragments, a été retrouvée presque tout entière, dans le monastère de Sainte-Marie de Scété, en Égypte. La première, qui se rapporte à l'année 329, débute par ces paroles qui expriment admirablement les sentiments que doit réveiller chez tous les chrétiens l'arrivée de la Pâque : « Venez, mes bien-aimés, dit Athanase aux fidèles soumis à son autorité pastorale, venez célébrer la fête ; l'heure présente vous y invite. En dirigeant sur nous ses divins rayons, le Soleil de justice nous annonce que l'époque de la solennité est arrivée. A cette nouvelle, faisons fête, et ne laissons pas l'allégresse s'enfuir avec le temps qui nous l'apporte, sans l'avoir goûtée. » Durant ses exils, Athanase continua d'adresser à ses peuples la Lettre pascale ; quelques années seulement en furent privées. Voici le commencement de celle par laquelle il annonçait la Pâque de l'année 338 ; elle fut envoyée de Trêves à Alexandrie. « Bien qu'éloigné de vous, mes Frères, je n'ai garde de manquer à la coutume que j'ai toujours observée à votre égard, coutume que j'ai reçue de la tradition des Pères. Je ne resterai pas dans le silence, et je ne manquerai pas de vous annoncer l'époque de la sainte Fête annuelle, et le jour auquel vous en devez célébrer la solennité. En proie aux tribulations dont vous avez sans doute entendu parler, accablé des plus graves épreuves, placé sous la surveillance des ennemis de la vérité qui épient tout ce que j'écris, afin d'en faire une matière d'accusation et d'accroître par là mes maux, je sens néanmoins que le Seigneur me donne de la force et me console dans mes angoisses. J'ose donc vous adresser la proclamation annuelle, et c'est au milieu de mes chagrins, à travers les embûches qui m'environnent, que je vous envoie des extrémités de la terre l'annonce de la Pâque qui est notre salut. Remettant mon sort entre les mains du Seigneur, j'ai voulu célébrer avec vous cette fête : la distance des lieux nous sépare, mais je ne suis pas absent de vous. Le Seigneur qui accorde les fêtes, qui est lui-même notre fête, qui nous fait don de son Esprit, nous réunit spirituellement par le lien de la concorde et de la paix. »
Qu'elle est magnifique, cette Pâque célébrée par Athanase exilé sur les bords du Rhin, en union avec son peuple qui la fêtait sur les rives du Nil ! Comme elle révèle le lien puissant de la sainte Liturgie pour unir les hommes et leur faire goûter au même moment, et en dépit des distances, les mêmes émotions saintes, pour réveiller en eux les mêmes aspirations de vertu ! Grecs ou barbares, l'Église est notre patrie commune ; mais la Liturgie est, avec la Foi, le milieu dans lequel nous ne formons tous qu'une même famille, et la Liturgie n'a rien de plus expressif dans le sens de l'unité que la célébration de la Pâque. Les malheureuses Églises de l'Orient et de l'empire russe, en s'isolant du reste du monde chrétien pour fêter à un jour qui n'est qu'à elles la Résurrection du Sauveur, montrent déjà par ce seul fait qu'elles ne font pas partie de l'unique bergerie dont il est l'unique pasteur.
L'Église grecque, qui célèbre dans une autre saison la fête du saint Docteur, exprime son admiration pour lui dans des chants remplis d'enthousiasme dont nous extrairons, selon notre usage, quelques strophes.
(DIE XVIII JANUARII.)
Salut, ô Athanase, la règle des vertus, le vaillant défenseur de la foi ! C'est toi qui, par tes paroles dignes de tout respect, as dissous sans retour l'impiété d'Anus ; tu nous as enseigné quelle est la puissance de la divinité unique en trois personnes , qui dans sa bonté a tiré du néant les êtres spirituels et les êtres sensibles, et tu nous as expliqué les profonds mystères de l'opération divine ; daigne prier le Christ d'accorder à nos âmes sa grande miséricorde.
Salut, toi qui as servi d'appui aux patriarches mêmes, trompette résonnante, génie admirable, langue éloquente, œil lumineux, illustrateur de la saine doctrine, pasteur véritable, flambeau éclatant, cognée par laquelle a été abattue la forêt entière des hérésies, toi qui l'as incendiée par le feu de l'Esprit-Saint : très ferme colonne, tour inébranlable, toi qui enseignes la puissance supersubstantielle de la Trinité, daigne la supplier d'accorder à nos âmes sa grande miséricorde.
Tu as armé l'Église, ô Père, des dogmes divins de l'orthodoxie ; par ta science l'hérésie a été tranchée : tu as achevé ta sainte carrière, et comme Paul tu as conservé la foi ; de même, ô glorieux Athanase, une juste couronne t'est préparée pour prix de tes travaux.
Semblable à un astre qui n'a pas de coucher, tu éclaires encore après ta mort la multitude des fidèles par les rayons de ta doctrine, ô Athanase, Pontife rempli de sagesse.
Guidé par le Saint-Esprit, tu as conduit ta pensée dans les hauteurs de la contemplation, o saint Pontife ! Tu as cherché les trésors de vérité caches sous les divins oracles, et tu as fait part au monde des richesses que tu as découvertes.
Tu as été le phare élevé et lumineux de la divine doctrine, et tu as dirigé ceux qui étaient battus sur l'océan de l'erreur, les conduisant, par la sérénité de tes paroles, au tranquille port de la grâce.
Général de l'armée de Dieu, tu as défait les bataillons des adversaires du Seigneur ; avec le glaive du Saint-Esprit tu les as vaillamment taillés en pièces. Père saint, tu as arrosé la terre entière des eaux vives dont la source était dans ton cœur.
Père saint, par les persécutions que tu as souffertes pour son Église, tu as complète en ta chair les souffrances du Seigneur.
Habitants de la terre, venez apprendre la doctrine de justice dans les enseignements sacrés d'Athanase : la pureté de sa foi a fait de lui comme la bouche du Verbe qui est avant tous les siècles.
Par toi, ô bienheureux, l'Église du Christ est devenue un paradis véritable ; tu y as semé la parole sainte et tu en as arraché les épines de l'hérésie.
Tu nous as apparu comme un fleuve de grâce, comme un Nil spirituel, ô toi qui portes Dieu ! Tu as apporte aux fidèles les fruits de la doctrine de piété, tu as arrosé toutes les campagnes et nourri au loin la terre. Par le bâton de tes enseignements tu as chasse les loups de l'hérésie loin de l'Église du Christ : tu l'as entourée et protégée du rempart de tes paroles, et tu l'as présentée saine et sauve au Christ ; prie-le donc, le Christ Dieu, qu'il daigne nous délivrer de la séduction et de tout péril, nous qui célébrons avec foi ta mémoire digne de vénération.
Vous vous êtes assis, ô Athanase, sur la chaire de Marc dans Alexandrie, et vous brillez non loin de lui sur le Cycle sacre. Il partit de Rome, envoyé par Pierre lui-même, pour aller fonder le second siège patriarcal ; et trois siècles après, vous arriviez vous-même à Rome, successeur de Marc, pour obtenir du successeur de Pierre que l'injustice et l'hérésie ne prévalussent pas contre ce siège auguste. Notre Occident vous a contemplé, sublime héros de la foi ; il vous a possédé dans son sein ; il a vénéré en vous le noble exilé, le courageux confesseur ; et votre séjour dans nos régions est demeuré l'un de leurs plus chers et de leurs plus glorieux souvenirs. Soyez l'intercesseur des contrées sur lesquelles s'étendit autrefois votre juridiction de Patriarche, ô Athanase ! Mais ayez souvenir aussi du secours et de l'hospitalité que vous offrit l'Occident. Rome vous protégea, elle prit en main votre cause, elle rendit la sentence qui vous justifiait et vous rétablissait dans vos droits ; du haut du ciel, rendez-lui ce qu'elle fit pour vous ; soutenez et consolez son Pontife, successeur de Jules qui vous secourut il y a quinze siècles. Une tempête affreuse s'est déchaînée contre le roc qui porte toutes les Églises, et l'arc-en-ciel ne paraît pas encore sur les nuées. Priez, ô Athanase, afin que ces tristes jours soient abrégés, et que le siège de Pierre cesse bientôt d'être en butte à ces attaques de mensonge et de violence qui sont en même temps un sujet de scandale pour les peuples.
Vos efforts, ô grand Docteur, étouffèrent l'odieux arianisme ; mais en nos temps et dans nos régions occidentales, cette audacieuse hérésie a levé de nouveau la tête. Elle étend ses ravages à la faveur de cette demi-science qui s'unit à l'orgueil, et qui est devenue le péril principal de nos jours. Le Fils éternel de Dieu, consubstantiel au Père, est blasphémé par les adeptes d'une pernicieuse philosophie, qui consent à voir en lui le plus grand des hommes, à la condition qu'on leur accordera qu'il fut seulement un homme. En vain la raison et l'expérience démontrent que tout est surnaturel en Jésus ; ils s'obstinent à fermer les yeux, et contre toute bonne foi ils osent mêler au langage d'une admiration hypocrite le dédain pour la foi chrétienne, qui reconnaît dans le fils de Marie le Verbe éternel incarné pour le salut des hommes. Confondez les nouveaux ariens, ô Athanase ! Mettez à nu leur faiblesse superbe et leur artifice ; dissipez l'illusion de leurs malheureux adeptes ; qu'il soit enfin reconnu que ces prétendus sages qui osent blasphémer la divinité du Christ, vont se perdre les uns après les autres dans les abîmes honteux du panthéisme, ou dans le chaos d'un désolant scepticisme, au sein duquel expire toute morale et s'éteint toute intelligence.
Conservez en nous, ô Athanase, par l'influence de vos mérites et de vos prières, le précieux don de la foi que le Seigneur a daigné nous confier ; obtenez-nous de confesser et d'adorer toujours Jésus-Christ comme notre Dieu éternel et infini, Dieu de Dieu, lumière de lumière, vrai Dieu de vrai Dieu, engendré et non fait, qui pour notre salut, à nous hommes, a daigné prendre chair en Marie. Révélez-nous ses grandeurs jusqu'au jour où nous les contemplerons avec vous dans le séjour de gloire. En attendant, nous converserons avec lui par la foi sur cette terre témoin des splendeurs de sa résurrection. Vous l'avez aimé, ô Athanase ! ce Fils de Dieu, notre Créateur et notre Sauveur. Son amour a été l'âme de votre vie, le mobile de votre dévouement héroïque à son service. Cet amour vous a soutenu dans les luttes colossales où le monde entier semblait se soulever contre vous ; il vous a rendu plus fort que toutes les tribulations ; obtenez-le pour nous, cet amour qui ne craint rien parce qu'il est fidèle, cet amour que nous devons à Jésus, qui, étant la splendeur éternelle du Père, sa Sagesse infinie, a daigné « s'humilier jusqu'à prendre la forme d'esclave , et se rendre pour nous obéissant jusqu'à la mort, et la mort de la Croix [1] ». Comment paierons-nous son dévouement, si ce n'est en lui donnant tout notre amour, à votre exemple, ô Athanase ! Et en exaltant d'autant plus ses grandeurs qu'il s'est lui-même plus abaissé pour nous sauver ?
[1] Philip. II, 8.
Bhx Cardinal Schuster, Liber Sacramentorum
La fête de cet invincible champion de la consubstantialité du Logos n'entra dans les Bréviaires romains que durant le bas moyen âge, et elle fut enrichie de leçons propres et du rite double seulement au temps de saint Pie V. Cela s'explique parfaitement. Le Calendrier romain primitif avait un caractère local tranché ; les anciens Pères orientaux n'eurent jamais une grande popularité en terre latine ; si bien qu'aujourd'hui encore on ne célèbre aucun office liturgique d'un grand nombre de ces antiques flambeaux de sagesse. Saint Grégoire de Nysse, saint Denys d'Alexandrie, saint Épiphane, etc. n'ont, dans le Bréviaire romain, aucune commémoraison. Toutefois saint Athanase a des mérites spéciaux pour avoir quasi-droit de cité dans la Ville éternelle, puisque, condamné par les Ariens, déposé de son siège et fugitif dans le monde entier qui s'était comme mis d'accord pour se coaliser contre lui, il chercha un asile assuré à Rome où il trouva, en la personne du pape Jules, un vengeur autorisé de la sainteté de sa cause. Ce fut là, sur l'Aventin, dans le palais de la noble Marcella, dont il était l'hôte, que l'évêque exilé décrivit pour la première fois aux Romains la vie merveilleuse d'Antoine et de Pacôme en Égypte. La première semence de vertus monastiques, jetée par Athanase sur le mont Aventin, fut suivie rapidement d'une abondante floraison de moines et de monastères qui, au dire de saint Jérôme, changea l'insouciante capitale du monde romain en une nouvelle Jérusalem.
Il convient de rappeler que ce fut le pape Jules qui, ayant cassé l'injuste déposition d'Athanase, le rendit à son trône patriarcal.
Socrate [2] et Sozomène, racontant le fait, l'attribuent expressément à la primauté du Pape sur toute l'Église : Parce qu'à lui, à cause de la dignité du siège, appartenait le soin de tous, il restitua à l'un et à l'autre (Athanase d'Alexandrie et Paul de Constantinople) leur propre Église [3].
Sous Grégoire XIII, on érigea à Rome, en l'honneur de saint Athanase, une église qui est annexée au Collège pontifical grec, et où, pour cette raison, les offices sont célébrés en rit byzantin.
La messe est en partie du Commun des Confesseurs, en partie celle des Docteurs, et elle fait allusion aux persécutions et aux bannissements dont Athanase fut victime.
Dans la lecture, il est question des souffrances de l'Apôtre et de leur ultime raison d'être dans la vie chrétienne, car l'âme, avant d'arriver à la vie glorieuse, doit revivre la vie du Christ affligé et souffrant (II Cor., IV, 5-14). C'est pourquoi, quelque grandes que soient les tribulations, et bien que l'esprit se sente incapable de vaincre la tempête, la foi cependant le soutient, parce qu'elle lui montre que l'adversité n'est pas destinée, dans les conseils de Dieu, à l'abattre, mais à l'entraîner à la victoire, puisque, comme le dit l'Apôtre : Virtus in infirmitate perficitur.
Le premier verset alléluiatique est tiré du psaume 109 : Tu es sacerdos, etc... Cette divine promesse est appliquée fort gracieusement à saint Athanase, qui fut plusieurs fois déposé de son trône patriarcal grâce aux manœuvres des Ariens, en sorte que, dans tout le monde, il n'y avait plus un pouce de terre où il fût à l'abri de leurs représailles. A cause de lui furent aussi persécutés des papes et de nombreux et saints évêques qui ne voulaient pas participer à ces manœuvres. Et pourtant, seul contre tous, il réussit finalement à rentrer à Alexandrie, et, comme le dit le Bréviaire : mortuus est in suo lectulo.
Le second verset alléluiatique est le même que pour la fête d'un autre saint évêque persécuté et exilé, saint Jean Chrysostome, le 27 janvier.
L'Évangile (Matth., X, 23-28) trace, pour ainsi dire, le programme de vie d'Athanase dans les persécutions, et il a été magnifiquement illustré par lui dans sa propre apologie De fuga sua. Même durant la persécution, on ne doit pas être prodigue de sa vie, pas plus que d'aucun autre bien reçu de Dieu. La vie d'un évêque appartient moins à lui qu'à l'Église, et il ne peut l'exposer inutilement si cela doit porter préjudice aux âmes et être pour lui d'un faible avantage. En ce cas, le fait de se soustraire par la fuite à la haine des ennemis est aussi méritoire que de prolonger son martyre pour l'amour du troupeau de Jésus-Christ, et c'est le signe d'une âme sage et généreuse que de savoir endurer l'épreuve.
L'antienne pour la Communion, tirée de la lecture évangélique de ce jour, est empruntée à la messe Salus, de plusieurs martyrs. En voici le sens : Quand il ne peut faire plus, le monde voudrait du moins nous réduire au silence, pour que nous ne prêchions pas aux peuples cette parole évangélique qui est la condamnation de ses principes. Mais cela même ne nous est pas permis, comme le déclarèrent au sanhédrin Pierre et Jean : Non enim possumus quae vidimus et audivimus non loqui [4] Voilà vraiment l'instrument de notre victoire sur le monde : la foi. Toute la terre avait conspiré contre Athanase, et pourtant, pendant près d'un demi-siècle, il tint tête à ses adversaires ; patriarche invisible, car il paraissait à Alexandrie et en disparaissait sans que les Ariens pussent arriver à s'emparer de lui, il gouverna son Église avec tant d'autorité qu'être en communion avec lui équivalait alors à être catholique, c'est-à-dire fidèle à la consubstantialité du Verbe définie à Nicée.
Nous ne saurions renoncer à rapporter aujourd'hui, en l'honneur d'un si grand docteur, son énergique proposition sur l'indépendance de l'Église vis-à-vis du pouvoir laïque.
« S'il s'agit d'une décision des évêques, en quoi cela regarde-t-il l'empereur ? Quand a-t-on jamais entendu parler d'une chose pareille ? Quand un décret ecclésiastique a-t-il jamais reçu son autorité de l'empereur ou obtenu de lui sa reconnaissance ? De nombreux conciles ont été célébrés jusqu'ici ; beaucoup de décrets ecclésiastiques ont été rendus ; mais jamais les Pères n'ont sollicité de telles approbations de l'empereur ; jamais celui-ci ne s'est immiscé dans les affaires ecclésiastiques. » [5]
[2] Hist. Eccl. II, c. 15, P. Gr., LXVII, col. 211-212.
[3] Hist. Eccl. III, VIII, P. Gr., LXVII, col. 1051-52.
[4] Act., IV, 20.
[5] Hist. Arian. ad Monachos. n. 54 (P. Gr. XXV, col. 755-756).
Dom Pius Parsch, le Guide dans l'année liturgique
Si l'on vous poursuit dans une ville, fuyez dans l'autre.
Saint Athanase. — Jour de mort : 2 mai 373. Tombeau : Actuellement dans l'église de Sainte-Croix, à Venise. Image : On le représente en évêque grec, avec un livre à la main. Vie : Nous sommes en présence d'un héros de la foi, né vers 295. Sans doute il ne fut pas martyr, mais sa vie fut un martyre au vrai sens du mot. Athanase le Grand, le père de l'orthodoxie (de la vraie foi), mena le combat de l'Église contre l'arianisme — une hérésie qui niait la divinité du Christ. Jeune diacre, il avait déjà été, au Concile de Nicée (325), le « plus intrépide champion contre les Ariens et le principal soutien de la foi de l'Église ». A la mort de son évêque (328), « tout le peuple de l'Église catholique se réunit comme un corps et une âme et cria, à mainte reprise, qu'Athanase devait être évêque. C'était d'ailleurs le désir de l'évêque Alexandre, à son lit de mort. Tout le monde appelait Athanase un homme vertueux et saint, un chrétien, un ascète, un véritable évêque » ; Ce fut alors un combat de 50 ans. Sous cinq empereurs différents, le saint évêque fut exilé cinq fois. Au prix de ces épreuves incessantes, il rendit témoignage à la vérité de la foi catholique. Jamais son attachement à l'Église ne fut ébranlé ; jamais son courage ne faiblit. Au milieu des horribles calomnies et des terribles persécutions dont il était l'objet, il trouva sa principale consolation dans l'amour indéfectible du peuple catholique. Mais la haine des Ariens était implacable. Pour échapper à leur rage et au péril continuel de mort, il dut se cacher pendant cinq ans dans une citerne desséchée. Seul un ami fidèle connaissait sa retraite et lui apportait de la nourriture. Mais quand il fuyait devant ses persécuteurs, Dieu le protégeait visiblement. Un jour que les satellites de l'empereur le poursuivaient pour le tuer, il tourna son bateau, lui fit remonter le courant et alla ainsi à la rencontre de ceux qui le poursuivaient. Les soldats lui demandèrent si Athanase était loin. Il répondit bravement : . Il n'est pas loin d'ici ». Les soldats continuèrent la poursuite dans le sens opposé et le saint gagna du temps pour se mettre en sûreté. Il échappa ainsi à plusieurs dangers par la protection divine. Il mourut enfin à Alexandrie, dans son lit, sous le règne de l'empereur Valens (373). Saint Athanase laissa plusieurs écrits remarquables tant pour l'édification des fidèles que pour la défense de la foi catholique. Il avait gouverné l'Église d'Alexandrie pendant 46 ans.
La messe (In medio). — La messe décrit, dans ses différentes parties, la vie mouvementée du grand évêque. A l'Introït, le saint docteur se tient « au milieu » de nous et nous prêche la parole de Dieu. Dans l'Épître, saint Athanase nous dépeint, en empruntant les mots de l'Apôtre des nations, les fatigues et les peines qu'il a endurées pour l'Évangile du Seigneur : « Nous portons toujours la mort du Christ dans notre corps afin que la vie de Jésus se manifeste en nous ». L'Alléluia chante sa dignité sacerdotale qui est un reflet du sacerdoce suprême du Christ. « Si l'on vous persécute dans une ville, fuyez dans une autre » ; ces paroles de l'Évangile, le saint docteur les a réalisées. Sa vie fut un enchaînement de fuites et de bannissements. Mais le saint trouva dans la visite intime du Seigneur, dans l'Eucharistie, la consolation et la force. Il doit en être de même pour nous (Comm.).
Symbolum Athanasianum
Quicúmque vult salvus esse, * ante ómnia opus est, ut téneat cathólicam fidem :
Quam nisi quisque íntegram inviolatámque serváverit, * absque dúbio in ætérnum períbit.
Fides autem cathólica hæc est : * ut unum Deum in Trinitáte, et Trinitátem in unitáte venerémur.
Neque confundéntes persónas, * neque substántiam separántes.
Alia est enim persóna Patris, ália Fílii, * ália Spíritus Sancti :
Sed Patris, et Fílii, et Spíritus Sancti una est divínitas, * æquális glória, coætérna maiéstas.
Qualis Pater, talis Fílius, * talis Spíritus Sanctus.
Increátus Pater, increátus Fílius, * increátus Spíritus Sanctus.
Imménsus Pater, imménsus Fílius, * imménsus Spíritus Sanctus.
Ætérnus Pater, ætérnus Fílius, * ætérnus Spíritus Sanctus.
Et tamen non tres ætérni, * sed unus ætérnus.
Sicut non tres increáti, nec tres imménsi, * sed unus increátus, et unus imménsus.
Simíliter omnípotens Pater, omnípotens Fílius, * omnípotens Spíritus Sanctus.
Et tamen non tres omnipoténtes, * sed unus omnípotens.
Ita Deus Pater, Deus Fílius, * Deus Spíritus Sanctus.
Ut tamen non tres Dii, * sed unus est Deus.
Ita Dóminus Pater, Dóminus Fílius, * Dóminus Spíritus Sanctus.
Et tamen non tres Dómini, * sed unus est Dóminus.
Quia, sicut singillátim unamquámque persónam Deum ac Dóminum confitéri christiána veritáte compéllimur : * ita tres Deos aut Dóminos dícere cathólica religióne prohibémur.
Pater a nullo est factus : * nec creátus, nec génitus.
Fílius a Patre solo est : * non factus, nec creátus, sed génitus.
Spíritus Sanctus a Patre et Fílio : * non factus, nec creátus, nec génitus, sed procédens.
Unus ergo Pater, non tres Patres : unus Fílius, non tres Fílii : * unus Spíritus Sanctus, non tres Spíritus Sancti.
Et in hac Trinitáte nihil prius aut postérius, nihil maius aut minus : * sed totæ tres persónæ coætérnæ sibi sunt et coæquáles.
Ita ut per ómnia, sicut iam supra dictum est, * et únitas in Trinitáte, et Trínitas in unitáte veneránda sit.
Qui vult ergo salvus esse, * ita de Trinitáte séntiat.
Sed necessárium est ad ætérnam salútem, * ut Incarnatiónem quoque Dómini nostri Iesu Christi fidéliter credat.
Est ergo fides recta ut credámus et confiteámur, * quia Dóminus noster Iesus Christus, Dei Fílius, Deus et homo est.
Deus est ex substántia Patris ante sǽcula génitus : * et homo est ex substántia matris in sæculo natus.
Perféctus Deus, perféctus homo : * ex ánima rationáli et humána carne subsístens.
Æquális Patri secúndum divinitátem : * minor Patre secúndum humanitátem.
Qui licet Deus sit et homo, * non duo tamen, sed unus est Christus.
Unus autem non conversióne divinitátis in carnem, * sed assumptióne humanitátis in Deum.
Unus omníno, non confusióne substántiæ, * sed unitáte persónæ.
Nam sicut ánima rationális et caro unus est homo : * ita Deus et homo unus est Christus
Qui passus est pro salúte nostra : descéndit ad ínferos : * tértia die resurréxit a mórtuis.
Ascéndit ad cælos, sedet ad déxteram Dei Patris omnipoténtis : * inde ventúrus est iudicáre vivos et mórtuos.
Ad cuius advéntum omnes hómines resúrgere habent cum corpóribus suis ; * et redditúri sunt de factis própriis ratiónem.
Et qui bona egérunt, ibunt in vitam ætérnam : * qui vero mala, in ignem ætérnum.
Symbole de Saint Athanase
Quiconque veut être sauvé doit, avant tout, tenir la foi catholique :
s'il ne la garde pas entière et pure, il périra sans aucun doute pour l'éternité.
Voici la foi catholique : nous vénérons un Dieu dans la Trinité et la Trinité dans l'Unité,
sans confondre les Personnes ni diviser la substance :
autre est en effet la Personne du Père, autre celle du Fils, autre celle du Saint-Esprit ;
mais une est la divinité du Père, du Fils et du Saint-Esprit, égale la gloire, coéternelle la majesté.
Comme est le Père, tel est le Fils, tel est aussi le Saint-Esprit :
incréé est le Père, incréé le Fils, incréé le Saint-Esprit ;
infini est le Père, infini le Fils, infini le Saint-Esprit ;
éternel est le Père, éternel le Fils, éternel le Saint-Esprit ;
et cependant, ils ne sont pas trois éternels, mais un éternel ;
tout comme ils ne sont pas trois incréés, ni trois infinis, mais un incréé et un infini.
De même, tout-puissant est le Père, tout-puissant le Fils, tout-puissant le Saint-Esprit ;
et cependant ils ne sont pas trois tout-puissants, mais un tout-puissant.
Ainsi le Père est Dieu, le Fils est Dieu, le Saint-Esprit est Dieu ;
et cependant ils ne sont pas trois Dieux, mais un Dieu.
Ainsi le Père est Seigneur, le Fils est Seigneur, le Saint-Esprit est Seigneur ;
et cependant ils ne sont pas trois Seigneurs, mais un Seigneur ;
car, de même que la vérité chrétienne nous oblige à confesser que chacune des personnes en particulier est Dieu et Seigneur, de même la religion catholique nous interdit de dire qu'il y a trois Dieux ou trois Seigneurs.
Le Père n'a été fait par personne et il n'est ni créé ni engendré ;
le Fils n'est issu que du Père, il n'est ni fait, ni créé, mais engendré ;
le Saint-Esprit vient du Père et du Fils, il n'est ni fait, ni créé, ni engendré, mais il procède.
Il n'y a donc qu'un Père, non pas trois Pères ; un Fils, non pas trois Fils ; un Saint-Esprit, non pas trois Saint-Esprit.
Et dans cette Trinité il n'est rien qui ne soit avant ou après, rien qui ne soit plus grand ou plus petit, mais les Personnes sont toutes trois également éternelles et semblablement égales.
Si bien qu'en tout, comme on l'a déjà dit plus haut, on doit vénérer, et l'Unité dans la Trinité, et la Trinité dans l'Unité.
Qui donc veut être sauvé, qu'il croie cela de la Trinité.
Mais il est nécessaire au salut éternel de croire fidèlement aussi en l'incarnation de notre Seigneur Jésus-Christ.
C'est donc la foi droite que de croire et de confesser que notre Seigneur Jésus-Christ, Fils de Dieu, est Dieu et homme.
Il est Dieu, de la substance du Père, engendré avant les siècles, et il est homme, de la substance de sa mère, né dans le temps ;
Dieu parfait, homme parfait composé d'une âme raisonnable et de chair humaine,
égal au Père selon la divinité, inférieur au Père selon l'humanité.
Bien qu'il soit Dieu et homme, il n'y a pas cependant deux Christ, mais un Christ ;
un, non parce que la divinité a été transformée en la chair, mais parce que l'humanité a été assumée en Dieu ;
un absolument, non par un mélange de substance, mais par l'unité de la personne.
Car, de même que l'âme raisonnable et le corps font un homme, de même Dieu et l'homme font un Christ.
Il a souffert pour notre salut, il est descendu aux enfers, le troisième jour il est ressuscité des morts,
il est monté aux cieux, il siège à la droite du Père, d'où il viendra juger les vivants et les morts.
A sa venue, tous les hommes ressusciteront avec leurs corps et rendront compte de leurs propres actes :
ceux qui ont bien agi iront dans la vie éternelle, ceux qui ont mal agi, au feu éternel.
Telle est la foi catholique : si quelqu'un n'y croit pas fidèlement et fermement, il ne pourra être sauvé.
Évêque et docteur de l'Église
Saint Athanase, né vers 295, connut dans son enfance les dernières persécutions. Il était sans doute déjà diacre de l'évêque Alexandre d'Alexandrie lorsqu'il écrivit le « Contra gentes et de incanatione Verbi » qui est à la fois une apologie contre les païens et un exposé des motifs de l'Incarnation. Diacre, il accompagna au concile de Nicée (325) son évêque auquel il succèda en juin 328.
Energique, intelligent et instruit, il visita entièrement tout son diocèse fort agité par les hérétiques ariens et mélitiens. Après avoir deux fois refusé à l'empereur Constantin de recevoir Arius, il dut se disculper des accusations des mélétiens à Nicomédie (332) et à Césarée de Palestine (333). Refusant une troisième fois de réconcilier Arius, Athanase fut cité à comparaître devant le concile de Tyr (335) d'où, n'ayant trouvé que des ennemis, il s'enfuit à Constantinople pour plaider sa cause devant l'Empereur qui le condamna à l'exil.
Pendant qu'Athanase, déposé par le concile de Tyr, était en exil à Trêves, les troubles étaient si forts à Alexandrie qu'on n'osa pas lui nommer un successeur. Après la mort de Constantin I° (22 mai 337), Constantin II le rendit à son diocèse (17 juin 337) où il arriva le 23 novembre 337. Les ariens élirent Grégoire de Cappadoce qui, avec l'appui du préfet d'Egypte, s'empara des églises d'Alexandrie qu'Athanase dut quitter (mars 339). Réfugié à Rome, il fut réhabilité par un concile réuni sous la pape Jules I° mais il dut attendre la mort de son compétiteur et l'amnistie de l'empereur Constance pour rentrer dans son diocèse (21 octobre 346). Constance reprit les hostilités contre Athanase qui fut de nouveau chassé d'Alexandrie (356) et dut se réfugier dans la campagne égyptienne jusqu'à la mort de l'Empereur dont le successeur, Julien, rappela immédiatement les exilés (361). Rentré le 21 février 362, Athanase fut encore condamné à l'exil le 23 octobre 362 mais Julien ayant été tué dans la guerre contre les Perses (26 juin 363), son successeur, Jovien, vrai catholique, le rappela. Jovien mourut accidentellement (février 364) et son successeur, Valens, arien, chassa de nouveau Athanase d'Alexandrie le 5 octobre 365 où il l'autorisera à revenir le 1° février 366. Athanase mourut dans la nuit du 2 au 3 mai 373.
Contre les Païens, (32 – 33)
Comment, puisque le corps est naturellement mortel, l'homme raisonne-t-il sur l'immortalité, et désire-t-il souvent la mort pour la vertu ? Ou encore, comment, puisque le corps est éphémère, l'homme se représente-t-il les réalités éternelles au point de mépriser les choses présentes, et de tourner son désir vers les autres ? Le corps ne saurait de lui-même raisonner ainsi sur lui-même, ni sur ce qui est extérieur à lui : il est mortel et éphémère ; il faut donc nécessairement qu'il y ait autre chose qui raisonne sur ce qui est opposé au corps et contraire à sa nature. Qu'est cela encore une fois, sinon l'âme raisonnable et immortelle ? Et elle n'est pas extérieure au corps, mais lui est intérieure — comme le musicien qui avec sa lyre fait entendre les meilleurs sons. Comment encore, l'œil étant naturellement fait pour voir et l'oreille pour entendre, se détournent-ils de ceci et préfèrent-ils cela ? Qu'est-ce qui détourne l'œil de voir ? ou qui empêche l'oreille d'entendre, alors qu'elle est faite naturellement pour entendre ? Et le goût, naturellement fait pour goûter, qu'est-ce qui souvent l'arrête dans son élan naturel ? La main, naturellement faite pour agir, qui l'empêche de toucher tel objet ? L'odorat, fait pour sentir les odeurs, qui le détourne de les percevoir ? Qui agit ainsi à l'encontre des propriétés naturelles des corps ? Comment le corps se laisse-t-il détourner de sa nature, et conduire par les avis d'un autre, et diriger par un signe de lui ? Tout cela montre que seule l'âme raisonnable mène le corps. Le corps n'est point fait pour se mouvoir lui-même, mais il se laisse conduire et mener par un autre, comme le cheval ne s'attelle pas lui-même, mais se laisse diriger par celui qui l'a maîtrisé. Aussi y a-t-il des lois chez les hommes, pour leur faire faire le bien et éviter le mal ; mais les êtres sans raison ne peuvent ni raisonner ni discerner le mal, puisqu'il sont étrangers à la rationalité et à la réflexion raisonnable. Ainsi les hommes possèdent une âme raisonnable ; je pense l'avoir montré par ce qui vient d'être dit.
Que l'âme soit aussi immortelle, la doctrine de l'Eglise ne peut l'ignorer, pour trouver là un argument capable de réfuter l'idolâtrie. On parviendra de plus près à cette notion, si l'on part de la connaissance du corps et de sa différence d'avec l'âme. Si notre raisonnement a montré qu'elle est autre que le corps, et si le corps est naturellement mortel, il s'ensuit nécessairement que l'âme est immortelle, puisqu'elle est différente du corps. De plus, si, comme nous l'avons montré, c'est l'âme qui meut le corps, sans être elle-même mue par d'autres, il s'ensuit que l'âme se meut elle-même, et qu'après que le corps a été mis en terre, elle se meut encore par elle-même. Car ce n'est pas l'âme qui meurt, mais c'est quand elle se sépare de lui que meurt le corps. Si donc elle était mue par le corps, il s'ensuivrait que, le moteur s'éloignant, elle mourrait ; mais si c'est l'âme qui meut le corps, à plus forte raison elle se meut elle-même. Et si elle se meut elle-même, nécessairement elle vit après la mort du corps. Car le mouvement de l'âme n'est pas autre chose que sa vie, de même aussi que nous disions que le corps vit quand il est en mouvement, et que c'est la mort pour lui quand il cesse de se mouvoir. On verra cela encore plus clairement à partir de l'activité de l'âme dans le corps. Quand l'âme est venue dans le corps et lui est enchaînée, elle n'est pas resserrée et mesurée par la petitesse du corps, mais bien souvent, alors que celui-ci est couché dans son lit, immobile, et comme endormi dans la mort, l'âme, selon sa propre vertu, est éveillée, et s'élève au-dessus de la nature du corps; comme si elle s'en allait loin de lui, bien que restant dans le corps, elle se représente et contemple des êtres supra-terrestres ; souvent même elle rencontre ceux qui sont au-dessus des corps terrestres, les saints et les anges, et s'en va vers eux, se confiant dans la pureté de l'esprit. Comment donc, à plus forte raison, détachée du corps quand le voudra Dieu qui l'avait liée à lui, n'aura-t-elle pas une connaissance plus claire de l'immortalité ? Si, quand elle était liée au corps, elle vivait une vie étrangère au corps, à plus forte raison, après la mort du corps, elle vivra et ne cessera de vivre, parce que Dieu l'a ainsi créée par son Verbe, notre Seigneur Jésus-Christ. C'est pourquoi elle pense et réfléchit aux choses immortelles et éternelles, puisqu'elle aussi est immortelle. De même que, le corps étant mortel, ses sens contemplent des choses mortelles, ainsi l'âme qui contemple des réalités immortelles et raisonne sur elles, doit-elle nécessairement être immortelle et vivre éternellement. Les pensées et considérations sur l'immortalité ne la quittent jamais, mais demeurent en elle comme un foyer qui assure l'immortalité. C'est pourquoi elle a la pensée de la contemplation de Dieu, et devient à elle-même sa propre voie ; ce n'est pas du dehors, mais d'elle-même qu'elle reçoit la connaissance et la compréhension du Verbe de Dieu.
Saint Athanase
SOURCE :
http://missel.free.fr/Sanctoral/05/02.php
Athanase d'Alexandrie
a été le « roc » qui s'est dressé contre Arius et les non nicéens. Son double traité Contra Gentes et De Incarnatione, de même que son ouvrage dogmatique fondamental, Contre les ariens, défendent une vision traditionnelle de l'Incarnation insistant sur la pleine divinité et la réelle humanité du Christ. Son argumentation est tirée de la Bible et de la tradition de l'Église. Athanase est l'évêque le plus dynamique de l'Égypte chrétienne au IVe siècle
44. Certains parlent même du « siècle d'Athanase ». Grégoire de Nazianze le nomme « le champion et le défenseur de la foi de Nicée » et « le pilier de l'Église »
46. Accédant au siège épiscopal d'Alexandrie après la mort d'Alexandre en 328, il n'a qu'un seul but : défendre la foi proclamée à Nicée. Ses convictions et sa lutte pour la vérité le mènent au milieu des plus grands combats pour la foi, où il se montre tolérant et modéré.
1. Jusqu'à l'épiscopat
Athanase d'Alexandrie naît vers 298-29947, dans une famille probablement chrétienne au sein de laquelle il reçoit une bonne éducation religieuse. Grégoire de Nazianze écrit qu'il avait une excellente connaissance de la Bible, et le compare aux grands personnages qui ont marqué l'histoire biblique : Noé, Abraham, Moïse, Aaron, David, Salomon, etc48. Ses ouvrages, en raison des citations scripturaires qu'ils renferment, sont un témoignage éclairant de sa familiarité avec les livres saints. Au temps des dernières persécutions, il était trop jeune pour garder un souvenir de scènes sanglantes, mais il en avait entendu parler et il ressentait une grande admiration pour ses prédécesseurs, voyant jusqu'où ils étaient allés par amour du Christ, le Logos de Dieu fait chair pour nous.
Son enfance reste plutôt inconnue. Rufin d'Aquilée50 raconte toutefois la fameuse histoire de la rencontre entre Alexandre d'Alexandrie et Athanase. L'évêque donnait un festin en l'honneur de la fête de saint Pierre Apôtre, quand il aperçut par la fenêtre quelques garçons en train de jouer sur la plage. Le « chef de la bande », Athanase, alors âgé de 15-16 ans, reproduisait sur ses camarades de jeu le rite du baptême chrétien. Alexandre envoya un de ses prêtres pour faire venir ce jeune homme auprès de l'évêque. Dans le dialogue, il constata la piété de l'adolescent et déclara valides les baptêmes qu'il avait effectués. À la suite de cet épisode, Alexandre le prit avec lui et s'occupa de sa formation théologique et spirituelle. Dans l'ouvrage de jeunesse d'Athanase, Contre les Païens et Sur l'Incarnation du Logos, transparaît l'influence théologique d'Alexandre et des grands noms de l'École d'Alexandrie, Clément et Origène. Cependant, sa manière de penser la foi chrétienne a quelque chose d'original grâce à l'empreinte pastorale qui domine son oeuvre et sa réflexion théologique.
En 318, au moment où éclate l'arianisme, Athanase est ordonné diacre par Alexandre. Celui-ci en fait son secrétaire. Cependant, Athanase porte en lui un grand désir de perfection et d'idéal de vie chrétienne. Il entre en contact avec les moines de la Thébaïde et noue des relations profondes avec le « patriarche des solitaires », Antoine le Grand : « Je fus son disciple, et, comme Élisée, je versais l'eau sur les mains de cet autre Élie »
51. Pendant plusieurs de ses exils, Athanase trouve un bon accueil chez les moines du désert pour lesquels il écrit la Vie d'Antoine, une sorte de règle monastique pour tous ceux qui veulent suivre le Christ selon le modèle de vie du grand Antoine.
En qualité de secrétaire de son évêque, Athanase participe au concile de Nicée de 325. Comme simple diacre, il est peu probable qu'il ait pris la parole en public, mais il a dû jouer un important rôle dans les coulisses du concile. Dans l'affaire de Mélèce de Lycopolis, Athanase prend le parti d'Alexandre, c'est-à-dire qu'il soutient son choix de remplacer, à sa mort, un évêque nommé par Alexandre par un évêque mélétien après élection et approbation par Alexandre. Seul Mélèce reste privé du droit d'exercer ses fonctions épiscopales. À Nicée, Athanase trouve le vrai sens de sa vie : devenir le champion et le défenseur de la foi signée par les pères conciliaires. De plus, il a probablement eu l'occasion de rencontrer à Nicée les principaux partisans de la doctrine d'Arius et les principaux théologiens anti-ariens, Eustathe d'Antioche et Marcel d'Ancyre
52. Après cette « victoire apparente de l'orthodoxie » sur l'arianisme, la vie d'Athanase va connaître des moments de « gloire » entremêlés de temps d'exil et d'excommunication.
2. Un épiscopat mouvementé
Dans ses
Lettres festales
, Athanase dit qu'au moment de son élection pour la plus haute charge ecclésiastique en Égypte, en l'année 328, il n'avait pas l'âge requis, c'est-à dire 30 ans. Cela provoqua des ennuis avec les mélétiens
53. Autant le peuple était dans la joie et la satisfaction pour le nouvel évêque, autant ses adversaires, ariens et mélétiens, cherchaient à lui opposer d'autres candidats. Épiphane
54 rapporte que les mélétiens avaient choisi un certain Théonas, mais qu'il est mort au bout de trois mois.
Après sa consécration, Athanase commence ses visites pastorales — Thébaïde, Pentapole, Ammoniaca —, dans le but de grouper tous les évêques « nicéens » et de les encourager dans la défense de la foi contre toute doctrine erronée. Comme évêque, il noue davantage de relations avec les moines du désert. Il trouve un grand plaisir à fréquenter ce lieu où il s'y rend souvent. Selon la tradition, il aurait conféré le sacerdoce
55 à Pacôme lors de l'une de ses visites. En qualité d'évêque, Athanase entre en contact avec ses fidèles par des visites, mais surtout par ses Lettres festales
56. Dans les deux premières lettres, il donne un message de paix et de joie ; dans la troisième, il se plaint de ceux qui enseignent une autre doctrine et troublent la paix de l'Église.
L'empereur Constantin remarque très vite le jeune évêque qui se distingue par sa foi, son ascèse, sa piété et son zèle pour l'Église d'Alexandrie. Il lui donne le nom d'« homme de Dieu ». Arius, resté silencieux après Nicée, écrit en 327 une lettre à Constantin où il exprime sa profession de foi. Le mot « hypostase » était soigneusement évité. À la suite de cette lettre, l'empereur oblige Athanase à recevoir Arius et ses partisans dans la communion de l'Église. Le refus de l'évêque entraîne, en 335, la convocation d'un synode à Tyr, où il est caractérisé comme un homme violent, irascible, non obéissant aux ordres impériaux. Athanase quitte le synode pour aller trouver l'empereur et s'expliquer, mais le synode profite de sa fuite pour le condamner.
L'empereur convoque un nouveau synode à Constantinople. Celui-ci approuve la condamnation. Athanase est exilé à Trèves en Gaule où il est accueilli par l'évêque Maximin. Il passe deux ans dans cette ville d'où, par l'intermédiaire des Lettres festales, il entretient le contact avec son Église d'Alexandrie afin d'encourager ses fidèles à se garder de la doctrine arienne. Seule la mort de Constantin, en 337, lui permet de revenir dans son diocèse à la demande de Constance II.
En novembre 337, Athanase rentre dans son diocèse pour la plus grande joie des prêtres et des fidèles. Les Ariens avaient ordonné évêque Pistus, fidèle compagnon d'Arius. Mais Athanase fit appel au pape Jules afin d'éclaircir une fois pour toutes la question arienne. Il gagne l'estime du pape et devint le défenseur acharné de la divinité du Sauveur
58. Entre temps, Pistus est remplacé par Grégoire de Cappadoce qui s'impose par la force comme évêque d'Alexandrie. Il chasse Athanase de son palais épiscopal.
Après quelque temps passé aux environs de la ville, Athanase se dirige vers Rome où il arrive en 339. Avec Ossius de Cordoue, il va à Sardique où se tient un synode : Orientaux et Occidentaux y sont invités. Le synode débat de questions dogmatiques. Les participants envisagent une nouvelle formule de foi pour remplacer celle de Nicée.
Toutefois, Athanase exerce une grande influence sur l'assemblée qui se range de son côté pour maintenir la formule de foi nicéenne. Cependant, Grégoire de Cappadoce est toujours l'évêque d'Alexandrie soutenu par l'empereur. D'où l'indignation d'Athanase qui ne cesse de proclamer le droit de l'Église à se gouverner elle-même :
Où y a-t-il un canon stipulant qu'un évêque doit être nommé par la cour ? Où se trouve le canon qui permet aux soldats d'envahir les églises ? Quelle tradition accorde à des comtes et à des eunuques ignorants une autorité dans les questions ecclésiastiques et le droit de faire connaître par des édits les décisions de ceux qui portent le nom d'évêques ?… Montrez-moi encore une Église qui jouisse encore du privilège d'adorer le Christ en toute liberté ? […] Tandis que l'empereur est le protecteur de l'hérésie et désire pervertir la vérité, tout comme Achab voulut changer la vigne de Nabot en jardin potager, complaît à toutes les requêtes des hérétiques, car leurs suggestions rejoignent ses propres désirs.
À la mort de Grégoire en 345, Constance II rappelle Athanase sur son siège60. Prenant la route d'Alexandrie, l'évêque passe par Rome et le pape Jules lui confie une lettre pour le clergé d'Égypte. Le 21 octobre 346, Athanase rentre à Alexandrie et se fait acclamer par des foules venues à sa rencontre. Reprenant ses fonctions d'évêque, il commence ses visites pastorales, rencontre et réconforte les moines de la Thébaïde. De grands écrits théologiques et dogmatiques datent de cette période : la Lettre sur les décrets du concile de Nicée, L'Épître sur la pensée de Denis, l'Apologie contre les Ariens, le traité Sur la virginité. Très vite, sa renommée dépasse les frontières d'Égypte
61. Après la mort du pape Jules, Athanase envoie une lettre à son successeur, Libère, pour le mettre au courant des questions théologiques en Orient
62. Cependant, sur l'insistance de l'empereur, favorable à l'arianisme, le pape convoque un concile à Milan en 355, où tous les évêques, à l'exception de trois, Lucifer de Cagliari, Eusèbe de Verceil et Denis de Milan, condamnent Athanase qui s'étonnait de toutes ces années de paix. Suite à cette condamnation, l'évêque quitte sa ville sans but précis et devient un « fuyard ».
Quand les fidèles apprennent la nouvelle du départ d'Athanase, ils font de leur mieux pour convaincre le pouvoir impérial de faire revenir leur évêque. Tous ces efforts sont vains : Athanase est considéré comme un ennemi public. Les églises sont donc remises aux mains des Ariens
63. Voyant toute son oeuvre détruite et la doctrine nicéenne menacée, le grand docteur se retire au désert auprès des moines, ses fidèles amis. Il profite de cette occasion pour visiter les monastères de son diocèse et s'entretenir avec ces solitaires sur la foi chrétienne reçue des Apôtres et transmise par l'Église. Du désert, il continue à écrire des oeuvres dogmatiques : les Lettres à Sérapion de Thmuis (sur la divinité de l'Esprit-Saint), La lettre à Sérapion (encouragements pour garder la foi de l'Église), l'Apologie à Constance, l'Apologie pour la fuite, l'Histoire des Ariens adressée aux moines, Synodes de Rimini et de Séleucie
64. En 361, Julien succède à Constance, Grégoire de Cappadoce est emprisonné, et le retour d'Athanase est possible. Il rentre à Alexandrie en février 362 après six ans d'absence. Pour sa plus grande joie, il constate, une fois de plus, la fidélité de ses ouailles à son enseignement et à la foi de Nicée. Dans son panégyrique Grégoire de Nazianze décrit ce troisième retour d'Athanase :
Ensuite l'Athlète revient de son vigoureux voyage, car c'est ainsi que j'appelle un exil subi à cause de la Trinité et en même temps qu'elle. Ainsi il est accueilli par les citadins en liesse et à peu près par tous les Égyptiens rassemblés de toutes parts, accourus même des coins les plus reculés, les uns pour se rassasier ne fût-ce que d'entendre ou de voir Athanase, les autres, comme l'Écriture le raconte aussi, on le sait, au sujet des Apôtres, uniquement pour être sanctifiés par son ombre (cf. Ac 5, 15) et même par l'imagerie qui représente de nouveau son portrait. De sorte que, de mémoire d'homme, parmi les nombreuses manifestations et réceptions organisées bien souvent déjà dans tous les temps en l'honneur non seulement de beaucoup d'autorités publiques ou religieuses mais encore en l'honneur de beaucoup de particulier très distingués, pas une seule n'attira une foule plus nombreuse et plus brillante.
Reprenant ses fonctions, Athanase travaille au rétablissement du symbole nicéen là où la doctrine arienne avait gagné du terrain. Au printemps de 362, il réunit un concile à Alexandrie dans le dessein d'accorder le pardon aux prêtres et aux évêques qui ont adhéré à la théologie arienne par crainte ou séduction impériale. La formule de Nicée est réaffirmée, bien que l'influence de Mélèce laisse des traces difficiles à effacer. Le concile traite aussi d'une question dogmatique nouvelle posée par Apollinaire de Laodicée : l'existence d'une âme rationnelle dans le Christ. Les décisions du concile triomphent sur tout l'Orient et elles sont aussi acceptées par Rome. L'empereur Julien, jaloux du succès d'Athanase, réagit avec violence contre lui :
Je n'apprendrais rien de ce que tu fais qui me fût plus agréable que l'expulsion, hors de tous les points de l'Égypte, de cet Athanase, de ce misérable qui a osé, sous mon règne, baptiser des femmes grecques de distinction .
L'évêque d'Alexandrie quitte ainsi la ville pour la quatrième fois, mais il prononce ces paroles prophétiques : « ne vous inquiétez pas, mes enfants, c'est un petit nuage, et il passe vite ». Athanase reprend la route du désert de Thébaïde où les moines saluent son arrivée par des acclamations. En été 363, Julien meurt pendant la guerre contre les Perses, et Jovien, un nicéen convaincu, rappelle l'évêque sur son siège à Alexandrie après 14 mois de désert. Malheureusement, Jovien meurt subitement dans un accident survenu sur la route de Constantinople. Son successeur, Valentinien, donne à son frère Valens le gouvernement de l'Empire d'Orient. Celui-ci, un arien convaincu, ordonne l'exil des nicéens. Ainsi, Athanase reprend la route de l'exil pour la cinquième fois. Cet exil ne va durer que quatre mois. Dès février 366, les autorités impériales le remettent solennellement en possession du siège d'Alexandrie. Athanase entreprend alors des initiatives de réconciliation avec ceux qui ont obéi à la doctrine arienne par crainte, peur ou ignorance. Il fait connaître au pape Libère ses démarches et le met au courant de l'état de la doctrine en Orient :
La faute commise par l'ignorance est effacée par le repentir. On ne doit pas refuser le pardon à ceux qui, à Rimini, ont agi par ignorance. Mais on doit condamner les auteurs de l'hérésie, ceux qui, par leurs sophismes, ont égaré les esprits simples et jeté un voile sur la vérité.
3. Une fin de vie tranquille
Après tant de luttes, de souffrances et d'exclusions, Athanase voit ses efforts enfin couronnés. Le peuple est dans la joie et jouit d'avoir un si digne évêque, dans la lignée de Denis et d'Alexandre d'Alexandrie. Pendant la dernière période de sa vie, Athanase se consacre à l'administration de son diocèse. Malgré la vieillesse, il reste toujours jeune d'âme, prêt à lutter jusqu'au bout afin de défendre l'héritage de la foi chrétienne. Ses derniers livres sont sereins. Ce sont des ouvrages ascétiques, biographiques, exégétiques. La Vie d'Antoine, ouvrage écrit à la demande des moines, connaît un grand succès en Orient auprès des gens qui, par amour du Christ, le Logos de Dieu Incarné, veulent tout quitter pour le suivre, selon l'exemple du grand Antoine.
Avec l'aide de l'empereur, Athanase entreprend un énorme travail de construction d'églises. Ainsi, avec l'autorisation du préfet d'Alexandrie, il commence la reconstruction du Caesarion. En 369, Athanase fait construire dans un quartier d'Alexandrie, Mendinion, une église qui porte son nom. Il l'inaugure le 7 août 370. Il intervient également en faveur de l'unité des chrétiens, surtout dans l'Église d'Antioche où apparaît la querelle théologique sur la divinité de l'Esprit-Saint. C'est aux évêques d'Antioche qu'Athanase donne des explications concernant la formule de foi signée à Nicée dans le Tomus ad Antiochenos. Après 75 ans de vie, dont 45 comme patriarche d'Égypte, sans n'avoir jamais manqué à son devoir, d'abord de chrétien puis d'évêque, Athanase rend son âme à Dieu dans la nuit du 2 au 3 mai 373. Avant de mourir, il désigne Pierre « un ancien du presbytérium qui, après l'avoir suivi partout, administra l'épiscopat » pour lui succéder sur le siège d'Alexandrie.
Athanase d'Alexandrie reste pour ses contemporains un homme de contradiction. Dur avec ses adversaires, charitable et vrai pasteur pour ses fidèles, il laisse le souvenir d'un grand évêque convaincu et zélé, ayant le grand souci de transmettre le plus fidèlement possible la foi selon l'Écriture, l'enseignement des Apôtres et la Tradition de l'Église. Il est un symbole, une doctrine, une force suprême de l'amour du Christ, celui qui incarne la foi de Nicée et la défense de la divinité du Logos. Sans jamais se lasser, seul parfois contre tous, il espère toujours la victoire de Dieu. Prudent et souple, il sait à la fois attaquer l'adversaire, lui résister et le fuir. Pour lui, « le propre de la religion chrétienne n'est pas d'imposer mais de persuader ». Athanase est l'homme qui ne se laisse pas convaincre par les subtilités, et pour montrer la fausseté de ses adversaires, il expose ses convictions le plus clairement possible, même si parfois il doit utiliser des néologismes qu'il explique par la suite. Athanase le Grand reste avant tout un chrétien, un évêque, un homme de Dieu dévoué totalement au service de la plus grande cause : la vérité sur le Christ, le Logos de Dieu fait homme, pour notre salut73. Toute la vie d'Athanase d'Alexandrie est un lien cohérent entre foi et conviction, ascèse et mission au nom de l'unité et de la paix dans l'Église, l'épouse immaculée du Christ.
SOURCE :
http://www.coptipedia.com/patriarches-a-eveques/saint-athanase-le-grand-dalexandrie-legal-des-apotres.html
L'Incarnation restaure notre connaissance de Dieu
Dieu avait créé les hommes pour que les hommes puissent le connaître, mais les hommes se sont détournés de lui :
« Et pourquoi donc Dieu aurait-il fait les hommes, s'il n'avait voulu être connu d'eux ? Aussi, il les crée selon son image et ressemblance. [...]
Mais les hommes méprisèrent le don qui leur était fait ; ils se détournèrent de Dieu et souillèrent à ce point leur âme qu'ils n'oublièrent pas seulement l'idée de Dieu, mais se forgèrent toutes sortes d'autres dieux à sa place. » (1)
En s'incarnant, le Seigneur fixe sur soi les sens de tous les hommes afin que partout où les hommes étaient attirés, il les ramène et leur enseigne son véritable Père :
« Puis donc que les hommes s'étaient détournés de la contemplation de Dieu et, enfoncés comme dans un abîme, gardaient les yeux fixés en bas, cherchant Dieu dans la création et dans les objets des sens, d'hommes mortels et de démons se faisant des dieux, pour cette raison le Verbe de Dieu, ami des bommes et commun sauveur de tous, prend pour lui un corps, et vint en homme parmi les hommes, et fixe sur soi les sens de tous les hommes. Ainsi ceux qui se représentaient Dieu dans des êtres corporels connaîtraient la vérité à partir des oeuvres que le Seigneur accomplirait dans le corps, et par lui considéreraient le Père. » (2)
Saint Athanase donne quelques exemples ; les hommes en voyant le Christ, se détournent du culte de la nature, des démons ou des morts.
« En hommes ne pensant que choses humaines, partout où ils appliqueraient leurs sens, ils se verraient attirés et ils apprendraient la vérité en tous lieux.
Car ils étaient ou bien saisis d'un transport sacré pour la création, mais ils la voyaient confesser le Christ Seigneur ; ou bien leur pensée était prévenue en faveur des hommes, au point de les prendre pour des dieux, mais s'ils les comparaient avec les oeuvres du Sauveur, ils voyaient que parmi les hommes seul le Sauveur est Fils de Dieu, aucune oeuvre chez ceux-là valent celles que réalisait le Verbe de Dieu.
Même pour les démons ils étaient prévenus, mais en les voyant chassés par le Seigneur, ils découvraient que lui est le Verbe de Dieu, et que les démons ne sont pas des dieux.
Et si leur esprit se trouvait alors possédé par la pensée des morts, de sorte qu'ils rendaient un culte aux héros et à ceux que les poètes appellent des dieux, voyant la résurrection du Sauveur ils confessaient que c'étaient des mensonges, et que le seul vrai Seigneur était le Verbe du Père, qui dominait aussi la mort.
Voilà pourquoi il est né, est apparu comme un homme, est mort, est ressuscité, émoussant et obscurcissant par ses propres oeuvres tout ce que les hommes avaient fait, afin que partout où les hommes étaient attirés, il les ramène et leur enseigne son véritable Père, comme lui-même le dit : « Je suis venu sauver et trouver ce qui était perdu. »
Le Sauveur, durant tout le temps de son Incarnation, est pour nous une lumière qui nous renouvelle :
« 16,1. Car une fois l'esprit des hommes tombé dans le sensible, le Verbe s'abaissa jusqu'à paraître dans un corps, afin de centrer les hommes sur lui-même en tant qu'homme et de détourner vers lui leurs sens ; désormais ils le verraient comme un homme ; par ses oeuvres il les persuaderait qu'il n'est pas un homme seulement, mais Dieu, Verbe et Sagesse du Dieu véritable.
2. C'est ce que veut indiquer Paul :
"Enracinés et fondés dans l'amour, pour que vous receviez la faveur de comprendre, avec tous les saints, ce qu'est la largeur et la longueur, la hauteur et la profondeur, et de connaître l'amour du Christ qui surpasse toute connaissance, pour que vous entriez par votre plénitude dans toute la Plénitude de Dieu." [Eph 3, 17-19] »
[...]
4. C'est pourquoi il n'a pas dès sa venue offert son sacrifice pour tous, en livrant le corps à la mort et en le ressuscitant, quitte à se rendre invisible de ce fait même.
Il s'est au contraire montré visible par ce corps, en y demeurant, accomplissant des oeuvres et présentant des signes, qui le font connaître non plus comme un homme, mais comme Dieu Verbe.
5. Des deux côtés, le Sauveur par son incarnation a témoigné de sa philanthropie :
d'une part, il faisait disparaître la mort de chez nous et nous renouvelait (4) ;
d'autre part, étant sans apparence et invisible, il apparaissait à travers ses oeuvres et se faisait connaître comme le Verbe du Père, le chef et le roi de l'univers. » (5)
(1) ATHANASE D'ALEXANDRIE, De Incarnatione 11, 2-3 ; traduction ans Sources chrétiennes n° 199, par Charles KANNENGIESSER, Cerf 1973, p. 305.
(2) ATHANASE D'ALEXANDRIE, De Incarnatione 15,2
(3) ATHANASE D'ALEXANDRIE, De Incarnatione 15, 3-7
(4) Sur ce point, il faudrait lire d'autres textes de saint Athanase, par exemple, De Incarnatione, 10.
(5) ATHANASE D'ALEXANDRIE, De Incarnatione 16, 1-5.
F. Breynaert
SOURCE :
http://www.mariedenazareth.com/16483.0.html?&L=0
St. Athanasius
Bishop
of
Alexandria
;
Confessor
and
Doctor of the Church
; born c. 296; died 2 May, 373.
Athanasius was the greatest champion of
Catholic
belief
on the subject of the
Incarnation
that the
Church
has ever
known
and in his lifetime earned the characteristic title of "Father of Orthodoxy", by which he has been distinguished every since. While the
chronology
of his career still remains for the most part a
hopelessly
involved problem, the fullest material for an account of the main achievements of his life will be found in his collected writings and in the contemporary records of his time. He was born, it would seem, in
Alexandria
, most probably between the years 296 and 298. An earlier date, 293, is sometimes assigned as the more
certain
year of his birth; and it is supported apparently by the authority of the "Coptic Fragment" (published by Dr. O. von
Lemm
among theMémoires
de l'académie
impériale
des
sciences
de S. Péterbourg, 1888) and corroborated by the undoubted maturity of
judgement
revealed
in the two treatises "Contra Gentes" and "De Incarnatione", which were admittedly written about the year 318 before
Arianism
as a movement had begun to make itself felt. It must be remembered, however, that in two distinct passages of his writings (Hist. Ar., lxiv, and De
Syn., xviii)Athanasius shrinks from speaking as a
witness
at first hand of the
persecution
which had broken out under
Maximian
in 303; for in referring to the events of this period he makes no direct
appeal
to his own personal recollections, but falls back, rather, on
tradition. Such reserve would scarcely be intelligible, if, on the hypothesis of the earlier date, the
Saint
had been then a boy fully ten years old. Besides, there must have been some semblance of a foundation in fact for the charge brought against him by his accusers in after-life (Index to the
Festal
Letters) that at the times of his
consecration
to the
episcopate
in 328 he had not yet attained the
canonical age
of thirty years. These considerations, therefore, even if they are found to be not entirely convincing, would seem to make it likely that he was born not earlier than 296 nor later than 298.
Sources
All the essential materials for the Saint's biography are to be found in his writings, especially in those written after the year 350, when the
Apologia contra Arianos
was composed. Supplementary information will be found in ST. EPIPHANIUS,
Hoer
., loc. cit.; in ST. GREGORY OF NAZIANZUS,
Orat
., xxi; also RUFINUS, SOCRATES, SOZMEN, and THEODORET.
The Historia Acephala, or Maffeian Fragment
(discovered by Maffei in 1738, and inserted by GALLANDI in
Bibliotheca Patrum
, 1769), and the
Chronicon Athanasianum, or Index to the Festal Letters
, give us data for the chronological problem. All the foregoing sources are included in MIGNE, P.G. and P.L. The great PAPEBROCH'S Life is in the
Acta SS
., May, I. The most important authorities in English are: NEWMAN,
Arians of the Fourth Century, and Saint Athanasius
; BRIGHT,
Dictionary of Christian Biography
; ROBERTSON, Life, in the Prolegomena to the
Select Writings and Letters of Saint Athanasius
(re-edited in Library of the Nicene and post-Nicene Fathers, New York, 1903); GWATKIN,
Studies of Arianism
(2d ed., Cambridge, 1900); MOHLER,
Athanasius der Grosse
; HERGENROTHER and HEFELE.
Clifford, Cornelius.
"St. Athanasius."
The Catholic Encyclopedia.
Vol. 2.
New York: Robert Appleton Company,
1907.
16 Apr. 2018
<http://www.newadvent.org/cathen/02035a.htm>.
Transcription.
This article was transcribed for New Advent by David Joyce.
Ecclesiastical approbation.
Nihil Obstat.

1907. Remy Lafort, S.T.D., Censor.

Imprimatur.

+John M. Farley, Archbishop of New York.
St. Athanasius
St. Athanasius, the great champion of the Faith was born at Alexandria, about the year 296, of Christian parents. Educated under the eye of Alexander, later Bishop of his native city, he made great progress in learning and virtue. In 313, Alexander succeeded Achillas in the Patriarchal See, and two years later St. Athanasius went to the desert to spend some time in retreat with St. Anthony.
In 319, he became a deacon, and even in this capacity he was called upon to take an active part against the rising heresy of Arius, an ambitious priest of the Alexandrian Church who denied the Divinity of Christ. This was to be the life struggle of St. Athanasius.
In 325, he assisted his Bishop at the Council of Nicaea, where his influence began to be felt. Five months later Alexander died. On his death bed he recommended St. Athanasius as his successor. In consequence of this, Athanasius was unanimously elected Patriarch in 326.
His refusal to tolerate the Arian heresy was the cause of many trials and persecutions for St. Athanasius. He spent seventeen of the forty-six years of his episcopate in exile. After a life of virtue and suffering, this intrepid champion of the Catholic Faith, the greatest man of his time, died in peace on May 2, 373. St. Athanasius was a Bishop and Doctor of the Church.
SAINT ATHANASIUS, BISHOP
FEAST DAY: MAY 2ND
ATHANASIUS was born in Egypt towards the end of the third century, and was from his youth pious, learned, and deeply versed in the sacred writings, as befitted one whom God had chosen to be the champion and defender of His Church against the Arian heresy. Though only a deacon, he was chosen by his bishop to go with him to the Council of Nicaea, A.D. 325, and attracted the attention of all by the learning and ability with which he defended the Faith. A few months later, he became Patriarch of Alexandria, and for forty-six years he bore, often well-nigh alone, the whole brunt of the Arian assault. On the refusal of the Saint to restore Arius to Catholic communion, the emperor ordered the Patriarch of Constantinople to do so. The wretched heresiarch took an oath that he had always believed as the Church believes; and the patriarch, after vainly using every effort to move the emperor, had recourse to fasting and prayer, that God would avert from the Church the frightful sacrilege. The day came for the solemn entrance of Arius into the great church of Sancta Sophia. The heresiarch and his party set out glad and in triumph. But before he reached the church, death smote him swiftly and awfully, and the dreaded sacrilege was averted. St. Athanasius stood unmoved against four Roman emperors; was banished five times; was the butt of every insult, calumny, and wrong the Arians could devise, and lived in constant peril of death. Though firm as adamant in defence of the Faith, he was meek and humble, pleasant and winning in converse, beloved by his flock, unwearied in labors, in prayer, in mortifications, and in zeal for souls. In the year 373 his stormy life closed in peace, rather that his people would have it so than that his enemies were weary of persecuting him. He left to the Church the whole and ancient Faith, defended and explained in writings rich in thought and learning, clear, keen, and stately in expression. He is honored as one of the greatest of the Doctors of the Church.
REFLECTON.—The Catholic Faith, says St. Augustine, is more precious far than all the riches and treasures of earth; more glorious and greater than all its honors, all its possessions. This it is which saves sinners, gives light to the blind, restores penitents, perfects the just, and is the crown of martyrs.
SOURCE :
http://jesus-passion.com/saint_athanasius_bishop.htm
Athanasius of Alexandria B Doctor (RM) Born in Alexandria, Egypt, in c. 295-297; died May 2, 373; Doctor of the Church (one of the four great Greek Doctors); in the East he is venerated as one of the three Holy Hierarchs.
"All of us are naturally frightened of dying and the dissolution of our bodies, but remember this most startling fact: that those who accept the faith of the cross despise even what is normally terrifying, and for the sake of Christ cease to fear even death. When He became man, the Savior's love put away death from us and renewed us again; for Christ became man that we might become God." --Athanasius
"He became what we are that He might make us what He is."
--Athanasius
Saint Athanasius Athanasius was a deacon when he led the battle for orthodoxy against Arianism at the Council of Nicaea, which resulted in his being exiled five times. Nothing is known of his family, except that they were Christians and that he had a brother named Peter. So the story really begins on the sands of Alexandria with a group of children who attracted the attention of their bishop, Saint Alexander. From his house overlooking the shore, Alexander watched them at their play and, curious to know what game it was, sent for them. They told him they were playing at 'baptisms,' one of them acting the part of the bishop, another being dipped, in imitation of a church ceremony. Impressed by their innocence and seriousness, he added to their simple game the Confirmation, and years afterwards the boy who had played the part of the bishop became his archdeacon. He was Athanasius, who himself later became bishop of Alexandria.
The saint received an excellent education at the catechetical school of Alexandria that encompassed Greek literature and philosophy, rhetoric, law, and Christian doctrine. His intimacy with Biblical texts is extraordinary. In his own writings, he tells us that he learned theology from teachers who had been confessors during the Maximian persecution. From early youth, he formed a close relationship with the hermits of the desert, which was to prove providential during his exiles because they protected him during several of them.
Athanasius lived at a time when the Church, having survived the fires of persecution and all the ruthless fury of the pagan world, was torn and imperilled by internal heresy and division. The arch- heretic was priest of Baukalis named Arius, who disputed the truth of our Lord's divinity, and who commanded a popular following. He claimed that Christ was not eternal, that He was created in time by the Eternal Father and, therefore, could not be described as co- equal with the Father.
Alexander demanded a written statement from Arius about his teaching to be discussed first with the Alexandrian clergy and then at a synod of Egyptian bishops. With only two dissidents, the bishops denounced Arius and the eleven priests and deacons who followed his teaching. Arius then spread his heresy in Caesarea, where he enlisted the support of Eusebius of Nicomedia and other Syrian prelates.
In Egypt he had won over the Meletians, a disaffected body, and many of the so-called intellectuals. Meanwhile, his doctrines were embodied in hymns set to popular tunes that were carried into the marketplaces and by sailors to all parts of the Mediterranean. So widespread became the influence of this pallid and persuasive priest that the famous Council of Nicaea was called in 325, presided over by Emperor Constantine.
At the time, Athanasius, who had just composed the treatise De Incarnatione expounding on the redemptive work of Christ in restoring fallen man to the image of God in which he was created, was an under-sized, 25-year-old deacon serving as secretary to Bishop Alexander. He accompanied the bishop to the council, probably not thinking that he would play any important role in its outcome. But upon him rested the fate of Christendom; for he more than any other perceived the gravity of the points at issue, and by his clear and powerful arguments disconcerted the heretics.
Thus, the battle of faith was won, and the letter sent out by the council confirming the excommunication of Arius, concluded with the words: "Pray for us all, that what we have thought good to determine may remain inviolate, through God Almighty, and through our Lord Jesus Christ, with the Holy Spirit, to whom be glory for evermore." The Creed, formulated there and confirmed by the Council of Constantinople in 381, is still used in the liturgy of the Catholic Church.
But, as the Venerable John Henry Newman declared, in the period after the Council of Nicaea, the laity were the firm champions of Catholic orthodoxy, while the bishops floundered on many sides. This, of course, is an exaggeration, but not entirely without merit. In the reaction that followed, the discontented faction gained the ear of the emperor, brought false charges against Athanasius, and continually sought his ruin.
Upon the death of Patriarch Alexander, Athanasius became bishop, though he was only about 30 (in 328). Almost immediately Athanasius began a visitation of his entire diocese. As bishop of Alexandria Athanasius also took responsibility for the welfare of the desert monks and fathers. He became their spiritual head for 40 years. He aided the ascetic movement in Egypt, counted Saints Pachomius and Serapion among his friends, and was the first to introduce the knowledge of monasticism in the West. About this time he was also appointed bishop of Ethiopia, where the Christian faith had recently found a footing.
The Arians were well-represented at the imperial court of Constantinople. So the battles began with many of the powerful, including the two Eusebii (of Caesarea and of Nicomedia). Eusebius of Nicomedia, an Arian bishop who returned from exile in 330, tried to force Athanasius to admit Arius to communion, even going so far as to enlist Emperor Constantine to pressure the saint. Athanasius replied to the emperor's letter that the Catholic Church could hold no communion with heretics who attacked Christ's divinity. Eusebius then tried to justify Arius in a letter to Athanasius.
Eusebius next moved to enlist the dissident Meletians. They tried to impeach Athanasius on trumped up charges. The Meletians claimed that the bishop had exacted a tribute of linen for use in his church, sent gold to someone named Philomenus who was suspected of treason, and authorized one of his deputies to destroy a chalice that was being used for the Eucharist by a Meletian priest named Iskhyras. Athanasius was cleared by the emperor of all these accusations. Next he was charged with the murder of a Meletian bishop, Arsenius. Everyone knew that the bishop was in hiding, and he ignored the summons to court.
Athanasius was compelled to appear before a council convened at Tyre in 335. The panel was packed with enemies and Arians, who made further charges and brought up old ones such as the broken chalice. Athanasius is credited with a keen sense of humor, which helped him in confronting his adversaries. After his accusers produced a hand that they said Athanasius had cut off the murdered Arsenius, Athanasius is said to have produced the living Arsenius in court. First pointing out his face, he then drew out from the bishop's cloak first one, then the other hand, and said, "Let no one now ask for a third, for God has only given a man two hands."
Realizing that his condemnation was a foregone conclusion, Athanasius abruptly left the assembly and travelled to Constantinople. Upon his arrival he accosted the emperor in the street in the attitude of a suppliant, and obtained an interview. So completely did he vindicate himself that Constantine, in reply to a letter from the Council of Tyre announcing that Athanasius had been condemned and deposed, wrote to the signatories a severe reply summoning them to Constantinople for a retrial of the case. But before the first letter could reach its destination, a second one was dispatched that confirmed the sentences of Tyre and banished Athanasius to Trier (Germany).
Thus, they succeeded in keeping Athanasius from his see, but, when he was recalled and reinstated by Constantine's successor in 338, he was welcomed back by the citizens in the crowded streets with tumults of applause. The great Athanasius had returned!
The Arian controversy, however, continued to darken and distract the life of the Church, Eusebius of Nicomedia continued his attack with fresh charges against the saintly bishop. This time Athanasius was accused of sedition, promoting violence, and withholding his tithe of corn from the widows and orphans to which it belonged. One by one, old and loyal companions deserted him or were driven from office. During a council at Antioch, he was condemned for the second time and exiled. An Arian bishop was intruded into the see.
The assembly wrote to Pope Saint Julius seeking his confirmation of the condemnation. At the same time the orthodox bishops of Egypt drew up an encyclical in defense of the patriarch, which they sent to the Holy See and to other Catholic bishops in the West. In reply the pope announced that a synod should be called to settle the question. Athanasius took refuge among the monks of the desert, and became an ascetic, renowned for his sanctity, beloved by his followers.
In the meantime, when a Cappadocian named Gregory was installed as patriarch, supplanting Athanasius, riots broke out in Alexandria. Athanasius, seeking to allow peace to prevail, left for Rome to await the hearing of his case. This was his most fruitful period during which he composed his most important works. While in Rome, Athanasius established close contact with the Western bishops who supported him in his struggles.
The synod was duly summoned, but as the Eusebians who had demanded it failed to appear, it was held without them. The saint, of course, was completely vindicated; a declaration later endorsed by the Council of Sardica (Sofia). Nevertheless, Athanasius was unable to return to his see until the death of its incumbent. Then he was allowed to return only because Constantius, on the verge of war with Persia, believed it politic to propitiate his brother Constans by reinstating Athanasius. Thus, for the second time Athanasius was recalled and welcomed home by a cheering multitude.
For the next few years he was left in peace because the secular powers were engaged in war and other disturbances. The murder of Constans, however, eliminated the most powerful support for orthodoxy, leaving Constantius free to crush the man he had come to regard as a personal enemy. Constantius packed councils at Arles in 353 and Milan in 355 with Arians and semi-Arians in order to obtain the condemnation of the saint from self-serving prelates. Constantius also exiled Pope Liberius to Thrace, where he forced him to agree to censures against the bishop of Alexandria.
For a time, Athanasius maintained the support of his clergy and people. But one night, when he was celebrating a vigil in church, soldiers forced open the doors, killed some of the congregation, and wounded others. Athanasius escaped and disappeared into the desert, where his faithful monks hid him for six years. Again, his exile proved to be fruitful for his theological writings.
The death of Constantius in 361 was followed by the murder of Arius, who had usurped the see of Alexandria. The new emperor Julian the Apostate recalled all the exiled bishops; thus, Athanasius returned to his see for a few months until Julian realized that it would be difficult to reinstate paganism while the champion of Catholicism ruled in Egypt. Julian therefore banished Athanasius as a "disturber of the peace and an enemy of the gods." So, the saint retired again to the desert. He was at Antinopolis when he was informed by two hermits of the death of Julian, who had at that moment died in Persia from an arrow wound.
At once he returned to Alexandria, and some months later he proceeded to Antioch at the invitation of Emperor Jovian, who had revoked his sentence of banishment. Jovian's reign, however, was short. In May 365, Emperor Valens banished all the orthodox bishops, including Athanasius, who had been reinstated by the successors of Constantius. Four months later Valens relented-- possibly because he feared an uprising of the Egyptians who had become devoted to their much persecuted bishop.
Five times altogether he was exiled (335-338 to Trier, Germany; 341-346 to Rome, Italy; 356-362 to the desert; 362-363 and a second time for four months in 363 again to the desert), but out of his exile came the Athanasian Creed, said to have been composed in a cave. He did not really write the creed (it was probably written by Saint Eusebius of Vercelli), but it was based upon his writings. The supreme achievement of the 'mean little fellow,' as Julian the Apostate called him, was that in a critical hour, by his courage and tenacity, God used him to save the faith of Christendom.
Even in exile Athanasius managed to tend his flock. It was primarily for them that he wrote the most illuminating theological treatises on Catholic dogma. He authored Against the Heathen (c. 318), Contra Arianos (c. 358 ?), Apologia to Constantius, History of the Arians (primary historical source), Defense of Flight, many letters, The Life of Antony (c. 357), and other pieces. In Against the Arians, Athanasius drew on the work of Saints Justin and Irenaeus, who interpreted Scripture in an orthodox tradition, to insist that the Nicene term homoousios, although not Scriptural itself, was necessary to formulate correctly the truth of Christ's Scriptural revelation. His Life of Saint Antony showed his friend as singularly devoted to combatting the powers of evil. It became a widely diffused classic. From the time of Saint Bede, it inspired other monastic hagiographers. An 8th-century monk wrote, "If you find a book by Athanasius and have no paper on which to copy it, write it on your shirts."
All his thinking was soteriologically determined, hence 'the Word could never have divinized us if He were merely divine by participation and were not himself the essential Godhead.' Athanasius defended the oneness of God, yet the separateness of the three Divine Persons. He also went forward to add the Holy Spirit to the Godhead to counter Tropici. His theology of the Holy Spirit is found in his letters to Serapion. In his enlightening treatises on Catholic dogma, Athanasius showed that asceticism and virginity were effective ways to restore the divine image in man. Several of his works were addressed to monks, to whom he also gave repeated practical help.
When he returned to Alexandria after his final exile, Athanasius spent the last seven years of his life helping to build the Nicene party. Upon his death, his body was taken first to Constantinople and then to Venice. Although Athansius was an intense man, he was also known for his not-so-gentle humor, which he also used as a weapon in his arsenal to support the Catholic faith.
Athanasius has been called "the Father of Orthodoxy," "the Pillar of the Church," and "Champion of Christ's Divinity." Cardinal Newman described Athanasius as "a principal instrument after the apostles by which the sacred truths of the Church have been conveyed and secured to the world." When Saint Antony, whose biography was written by Athanasius, died, he bequeathed "a garment and a sheep skin to the bishop Athanasius." It is said that Athanasius treasured this garment. (Athanasius is another saint for whom much information is easily available.) (Attwater, Attwater2, Barr, Benedictines, Bentley, Davies, Delaney, Farmer, Gill, Walsh, White).
Textes de Saint Athanase et sur Saint Athanase
:
http://www.patristique.org/+-Athanase-d-Alexandrie,55
-+