SAINT PATRICE
Apôtre de l'Irlande
(373-464)

Saint Patrice naquit probablement près de Boulogne-sur-Mer; on croit qu'il était le neveu de saint Martin de Tours, du côté maternel. Quoi qu'il en soit, ses parents l'élevèrent dans une haute piété. Il avait seize ans, quand il fut enlevé par des brigands et conduit providentiellement dans le pays dont il devait être l'apôtre. Patrice profita des cinq ou six ans de sa dure captivité pour apprendre la langue et les usages de l'Irlande, tout en gardant des troupeaux.

Un jour qu'il vaquait à ses occupations ordinaires, un ange lui apparut sous la forme d'un jeune homme, lui ordonnant de creuser la terre, et le jeune esclave y trouva l'argent nécessaire au rachat de sa liberté. Il passa alors en France sur un navire et se rendit au monastère de Marmoutier, où il se prépara, par l'étude, la mortification et la prière, à la mission d'évangéliser l'Irlande. Quelques années plus tard, il alla, en effet, se mettre, dans ce but, à la disposition du Pape, qui l'ordonna évêque et l'envoya dans l'île que son zèle allait bientôt transformer.

Son apostolat fut une suite de merveilles. Le roi lutte en vain contre les progrès de l'Évangile; s'il lève son épée pour fendre la tête du Saint, sa main demeure paralysée; s'il envoie des émissaires pour l'assassiner dans ses courses apostoliques, Dieu le rend invisible, et il échappe à la mort; si on présente à Patrice une coupe empoisonnée, il la brise par le signe de la Croix.

La foi se répandait comme une flamme rapide dans ce pays, qui mérita plus tard d'être appelée l'île des saints. Patrice avait peu d'auxiliaires; il était l'âme de tout ce grand mouvement chrétien; il baptisait les convertis, guérissait les malades, prêchait sans cesse, visitait les rois pour les rendre favorables à son oeuvre, ne reculant devant aucune fatigue ni aucun péril.

La prière était sa force; il y passait les nuits comme les jours. Dans la première partie de la nuit, il récitait cent psaumes et faisait en même temps deux cents génuflexions; dans la seconde partie de la nuit, il se plongeait dans l'eau glacée, le coeur, les yeux, les mains tournés vers le Ciel, jusqu'à ce qu'il eût fini les cinquante derniers psaumes.

Il ne donnait au sommeil qu'un temps très court, étendu sur le rocher, avec une pierre pour oreiller, et couvert d'un cilice, pour macérer sa chair même en dormant. Est-il étonnant qu'au nom de la Sainte Trinité, il ait ressuscité trente-trois morts et fait tant d'autres prodiges? Il mourut plus que nonagénaire, malgré ses effrayantes pénitences.

Abbé L. Jaud, Vie des Saints pour tous les jours de l'année, Tours, Mame, 1950.
A 16 ans, Patrick, jeune gallois d'une famille chrétienne, est enlevé par des pirates et vendu comme esclave en Irlande. Il y passe six ans puis s'enfuit et retrouve ses parents. Après un séjour en France où il est consacré évêque, il se sent appelé à revenir dans cette Irlande de sa servitude pour l'évangéliser. Il y débarque en 432 et multiplie prédications et conversions dans une population dont, par force, il connaît bien les coutumes et la langue. Au Rock de Cashel, lors d'un sermon demeuré célèbre, il montra une feuille de trèfle : voilà la figure de la Sainte Trinité. Les figures de triades étaient familières à la religion celtique : le trèfle deviendra le symbole de l'Irlande. Lorsque meurt Patrick, à Armagh en 464, l'Irlande est chrétienne sans avoir compté un seul martyr et les monastères y sont déjà très nombreux.
SOURCE :
http://www.paroisse-saint-aygulf.fr/index.php/prieres-et-liturgie/saints-par-mois/icalrepeat.detail/2015/03/17/5625/-/saint-patrick-eveque
SAINT PATRICE
*
Patrice, qui vécut vers l'an du Seigneur 280, prêchait la passion, de J.-C. au roi des Scots, et comme, debout devant ce prince, il s'appuyait sur le bourdon qu'il tenait à la main et qu'il avait mis par hasard sur le pied du roi, il l'en perça avec la pointe. Or, le roi croyant que le saint évêque faisait cela volontairement et qu'il ne pouvait autrement recevoir la foi de J.-C. s'il ne souffrait ainsi, il supporta cela patiemment. Enfin le saint, s'en apercevant, en fut dans la stupeur, et par ses prières, il guérit le roi et obtint qu'aucun animal venimeux ne put vivre dans son pays. Ce ne fut pas la seule chose qu'il obtint; il y a plus : on prétend que les bois et les écorces de cette province servent de contre-poisons. Un homme avait dérobé à son voisin une brebis et l'avait mangée; le saint homme avait exhorté. le voleur, quel qu'il fut, à satisfaire pour le dommage,, et personne ne s'était présenté : au moment où tout le peuple était rassemblé à l'église, il commanda, au nom de J.-C., que la brebis poussât en présence de,tous un bêlement dans le ventre de celui qui l'avait mangée. Ce qui arriva : le coupable fit pénitence, et tous, se gardèrent bien de voler à l'avenir. Patrice avait la coutume de témoigner une profonde vénération devant toutes les croix qu'il voyait; mais ayant passé devant une grande et belle croix sans l'apercevoir; ses compagnons lui demandèrent pourquoi il ne l'avait ni vue ni saluée : il demanda à Dieu, dans ses prières à qui était cette croix et entendit une voix de dessous terre qui disait: « Ne vois-tu pas que je suis un païen qu'on a enterré ici et qui est indigne du signe de la croix? » Alors il fit enlever la croix de ce lieu.
En prêchant dans l'Irlande, saint Patrice y opérait très peu de bien ; alors il pria le Seigneur de montrer un signe qui portât les pécheurs effrayés à faire pénitence. Par l'ordre donc du Seigneur, il traça quelque part un grand cercle avec son bâton; la terre s'ouvrit dans toute la circonférence et il y apparut un puits très grand et très profond. Il fat révélé au bienheureux Patrice que c'était là le lieu du Purgatoire où quiconque voudrait descendre n'aurait plus d'autre pénitence à faire et n'aurait plus souffrir pour ses péchés un autre purgatoire : Que la plupart n'en sortiraient pas, mais que:ceux qui en reviendraient, devraient y être restés depuis un matin jusqu'à l'autre. Or ,beaucoup de ceux qui entraient n'en revenaient pas **. Longtemps après la mort de saint Patrice, un homme noble, appelé Nicolas, qui avait commis beaucoup de péchés, en, fit pénitence et voulut endurer le Purgatoire de saint Patrice. Après s'être mortifié, comme tous le faisaient, par quinze jours de jeûne, et avoir ouvert la porte avec une clef qui se gardait dans une abbaye, il descendit dans le puits en question et trouva, à son côté, une entrée par laquelle il s'avança. Il y rencontra une chapelle, où entrèrent des moines revêtus d'aubes qui y célébraient l'office. Ils dirent à Nicolas d'avoir de la constance, parce que le diable le ferait passer par bien des épreuves. Il demanda quel aide il pourrait avoir contre cela : les moines lui dirent : « Quand vous vous sentirez atteint par les peines, écriez-vous à l'instant et dites : J.-C., fils du Dieu vivant, ayez pitié de moi qui suis un pécheur. » Les moines s'étant retirés, aussitôt apparurent des démons qui lui dirent de retourner sur ses pas et de leur obéir, s'efforçant d'abord de le convaincre par ses promesses pleines de douceur, l'assurant qu'ils auront soin de lui, et qu'ils le ramèneront sain et sauf en sa maison. Mais comme il ne voulut leur obéir en rien, tout aussitôt il entendit des cris terribles poussés par différentes bêtes féroces, et des mugissements comme si tous les éléments fussent ébranlés. Alors plein d'effroi et tremblant d'une peur horrible, il eut hâte de s'écrier: « J.-C., fils du Dieu vivant, ayez pitié, de moi qui suis un pécheur. » Et à l'instant ce tumulte terrible de bêtes féroces s'apaisa, tout à fait. Il passa outre et arriva en un lieu où il trouva; une foule de démons qui lui dirent : «Penses-tu nous échapper ? Pas du tout; mais c'est l'heure où tu vas commencer à être affligé et tourmenté. » Et voici apparaître un feu énorme et terrible; alors les démons lui dirent : « Si tu ne te mets à notre disposition, nous te jetterons dans ce feu pour y brûler. » Sur son refus, ils le prirent et le jetèrent dans ce brasier affreux ; et quand il s'y sentit torturé, il s'écria de suite : « J.-C., fils... etc. » et aussitôt le feu s'éteignit. De là il vint en un endroit où il vit des hommes être brûlés vifs et flagellés parles démons avec des lames de fer rouge jusqu'au point de découvrir leurs, entrailles, tandis que d'autres, couchés à plat ventre; mordaient la terre de douleur, en criant : « Pardon! Pardon ! » et les diables les battaient plus cruellement encore. Il en vit d'autres dont les membres étaient dévorés par des serpents et auxquels des bourreaux *** arrachaient les entrailles avec des crochets enflammés. Comme Nicolas ne voulait pas céder à leurs suggestions, il fut jeté dans le même feu pour endurer de semblables supplices et il fut flagellé avec des lames pareilles et ressentit les mêmes tourments. Mais quand il se fut écrié : «J.-C., fils du Dieu vivant, etc. » il fut incontinent délivré de ces angoisses. On le conduisit ensuite en un lieu où les hommes étaient frits dans une poêle; où se trouvait une roue énorme garnie de pointes de fer ardentes sur lesquelles les hommes étaient suspendus par différentes parties du corps ; or, cette roue tournait avec une telle rapidité qu'elle jetait des étincelles. Après quoi, il vit une `immense maison où étaient creusées des fosses pleines de métaux en ébullition, dans lesquelles l'un avait un pied et l'autre deux. D'autres y étaient enfoncés jusqu'aux genoux, d'autres jusqu'au ventre, ceux-ci jusqu'à la poitrine, ceux-là jusqu'au col, quelques-uns enfin jusqu'aux yeux. Mais en parcourant ces endroits, Nicolas invoquait le nom. de Dieu. Il s'avança encore; et vit un puits très large d'où s'échappait une fumée horrible accompagnée d'une puanteur insupportable de là sortaient des hommes rouges comme du fer qui jette des étincelles; mais les démons les ressaisissaient. Et ceux-ci lui, dirent : « Ce lieu que tu vois, c'est l'enfer, qu'habite notre maître Beelzébut. Si tu ne te mets à notre disposition, nous te jetterons dans ce puits or, quand tu y auras été jeté, tu n'auras aucun moyen d'échapper. » Comme il les écoutait avec mépris, ils le saisirent et le jetèrent dans ce trou : mais il fut abîmé d'une si véhémente douleur qu'il oublia presque d'invoquer le nom du Seigneur cependant en revenant à lui : « J.-C, fils, etc.., » s'écria-t-il du fond du coeur (il n'avait plus de voix), aussitôt il en sortit sans aucun mal; et toute la multitude dés démons s'évanouit comme réellement vaincue. Il s'avança et vit en un autre endroit un pont sur lequel il devait passer. Ce pont était très étroit, poli et glissant comme une glace, au-dessous coulait un fleuve immense de soufre et de feu. Comme il désespérait absolument de pouvoir le traverser, toutefois il se rappela la parole qui l'avait délivré de tant de maux; il s'approcha avec confiance et eu posant un pied sur le pont, il se mit à dire : « J.-C., fils, etc...» Mais un cri violent l'effraya au point qu'il put à peine se soutenir; mais il récita sa prière accoutumée et il demeura rassuré ; après quoi il posa l'autre pied en réitérant les mêmes paroles et passa sans accident. Il se trouva donc dans une prairie très agréable à la vue; embaumée par l'odeur suave de différentes fleurs. Alors lui apparurent deux fort beaux jeunes gens qui le conduisirent jusqu'à une ville de magnifique apparence et merveilleusement éclatante d'or et de pierres précieuses. La porte en laissait transpirer une odeur délicieuse. Elle le délassa si bien qu'il ne paraissait avoir ressenti ni douleur ni puanteur d'aucune sorte; et les jeunes gens lui dirent que, cette ville était le paradis. Comme Nicolas voulait y entrer, ils lui dirent encore qu'il devait d'abord retourner chez ses parents ; que toutefois les démons ne lui causeraient point de mal, mais qu'à sa vue ils s'enfuiraient effrayés; que trente jours après, il mourrait en paix, et qu'alors il entrerait en cette cité comme citoyen à toujours. Nicolas monta donc par où il était descendu, se trouva sur la terre et raconta tout ce qui lui était arrivé. Trente jours après, il reposa heureusement dans le Seigneur.
* Les éditions latines que nous possédons; ne nous donnent pas l'interprétation du nom de ce saint; voici celle que nous trouvons dans une traduction française du XVe siècle :
« Patrice est dict ainsi comme saichant. Car par la voulente de nostre Seigneur, il sceut les secretz de paradis et d'enfer. »
** Thomas de Massingham a publié dans le Florilegium insulae sanctorum, seu vitae et acta sanctorum Hiberniae (Paris, 1624, in-4°) un Traité de Henri de Saltery, moine cistercien irlandais (en 1150) sur le Purgatoire de saint Patrice. Thomas de Massingham ne s'est pas contenté de donner le texte entier de cet auteur, il l'a augmenté en intercalant lies récits d'un certain nombre d'auteurs: anciens et modernes qui ont parlé du Purgatoire de saint Patrice. Il cite des livres liturgiques anciens, Mathieu Paris, Denys le Chartreux, Raoul Hygedem, Césaire d'Hirsterbach, Jean Camers, et un primat d'Irlande nommé David Rotho, ainsi que bien d'autres, qui ont écrit des relations plus ou moins étendues, ou bien encore des appréciations sur ce sujet. La Patrologie de Migne contient cet opuscule, tome CLXXX. Bellarmin parle du Purgatoire de saint Patrice dans ses controversés.
*** Bufo veut dire crapaud, Buffones au moyen âgé signifiait bouffons ; on ne saurait concevoir comment des crapauds pourraient arracher des entrailles avec des instruments aigus.
La Légende dorée de Jacques de Voragine nouvellement traduite en français avec introduction, notices, notes et recherches sur les sources par l'abbé J.-B. M. Roze, chanoine honoraire de la Cathédrale d'Amiens, Édouard Rouveyre, éditeur, 76, rue de Seine, 76, Paris mdcccci
SOURCE :
http://www.abbaye-saint-benoit.ch/voragine/tome01/052.htm
Saint Patrice (Patrick), évêque et confesseur
Mort en Irlande vers 461. La date du 17 mars est attestée dans la vie de Ste Gertrude de Nivelles.
Sa fête est répandue au VIIIe siècle en Irlande, gagne l'Angleterre au Xe. C'est le Pape Urbain VIII qui l'inscrivit comme mémoire au calendrier romain en 1632, Innocent XI en fit une fête semi double en 1687, et Pie IX un double en 1859.
Leçons des Matines avant 1960
Quatrième leçon. Patrice, appelé l'Apôtre de l'Irlande, naquit dans la Grande-Bretagne ; il était fils de Calphurnius et de Conchessa, que l'on dit avoir été parente de saint Martin, Évêque de Tours. Dans sa jeunesse, il fut à plusieurs reprises emmené en captivité par les barbares, qui l'employèrent à garder les troupeaux, et dès lors il donna des indices de sa sainteté future. En effet, l'âme remplie de foi, de crainte de Dieu et d'amour, il se levait diligemment avant l'aube, pour aller, malgré la neige, la gelée et les pluies, offrir à Dieu ses prières : il avait coutume de le prier cent fois durant le jour et cent fois la nuit. Délivré de sa troisième servitude, il embrassa la cléricature, et s'appliqua longtemps à l'étude de l'Écriture sainte. Après avoir parcouru, non sans beaucoup de fatigues, les Gaules, l'Italie et les îles de la mer Tyrrhénienne, il fut divinement inspiré d'aller travailler au salut des Irlandais ; ayant reçu du Pape saint Célestin le pouvoir d'annoncer l'Évangile, il fut sacré évêque, et se rendit en Hibernie.
Cinquième leçon. Il est admirable de voir combien cet homme apostolique souffrit de tribulations dans l'accomplissement de sa mission, que de fatigues et de peines il supporta, que d'obstacles il eut à surmonter. Mais par le secours de la divine bonté, cette terre, qui auparavant adorait les idoles, porta bientôt de si heureux fruits à la prédication de Patrice, qu'elle fut dans la suite appelée l'île des Saints. Il régénéra des peuples nombreux dans les eaux saintes du baptême ; il ordonna des Évêques et un grand nombre de clercs ; il donna des règles aux vierges et aux veuves qui voulaient vivre dans la continence. Par l'autorité du Pontife romain, il établit l'Église d'Armach métropolitaine de toute l'île, et l'enrichit de saintes reliques apportées de Rome. Les visions d'en haut, le don de prophétie, de grands miracles et des prodiges dont Dieu le favorisa, jetèrent un tel éclat, que la renommée de Patrice se répandit au loin.
Sixième leçon. Malgré la sollicitude quotidienne que demandaient ses Églises, Patrice persévérait, avec une ferveur infatigable, dans une oraison continuelle. On rapporte qu'il avait coutume de réciter chaque jour tout le Psautier, avec les Cantiques et les Hymnes, et deux cents oraisons ; en outre, il adorait Dieu trois cents fois, les genoux en terre, et à chaque Heure canoniale, il se munissait cent fois du signe de la croix. Partageant la nuit en trois parties, il employait la première à réciter cent Psaumes et à faire deux cents génuflexions ; il passait la deuxième à réciter les cinquante autres Psaumes, plongé dans l'eau froide, et le cœur, les yeux, les mains élevées vers le ciel ; il consacrait la troisième à un léger repos, étendu sur la pierre nue. Plein de zèle pour la pratique de l'humilité, il travaillait de ses mains, comme avait fait l'Apôtre. Enfin, épuisé par des fatigues continuelles endurées pour l'Église, illustre par ses paroles et par ses œuvres, parvenu à une extrême vieillesse, et fortifié par les divins mystères, il s'endormit dans le Seigneur ; il fut enseveli à Down, dans l'Ultonie, au Ve siècle de l'ère chrétienne.
Dom Guéranger, l'Année Liturgique
C'est l'Apôtre de tout un peuple que l'Église propose aujourd'hui à nos hommages : le grand Patrice, l'illuminateur de l'Irlande, le père de ce peuple fidèle dont le martyre dure depuis trois siècles. En lui resplendit le don de l'apostolat que le Christ a déposé dans son Église, et qui doit s'y perpétuer jusqu'à la consommation des temps. Les divins envoyés du Seigneur se partagent en deux classes. Il en est qui ont reçu la charge de défricher une portion médiocre de la gentilité, et d'y répandre la semence qui germe avec plus ou moins d'abondance, selon la malice ou la docilité des hommes ; il en est d'autres dont la mission est comme une conquête rapide qui soumet à l'Évangile des nations entières Patrice appartient à cette classe d'Apôtres ; et nous devons vénérer en lui un des plus insignes monuments de la miséricorde divine envers les hommes.
Admirons aussi la solidité de son œuvre. C'est au Ve siècle, tandis que l'île des Bretons était encore presque tout entière sous les ombres du paganisme ; que la race franque n'avait pas encore entendu nommer le vrai Dieu ; que l'immense Germanie ignorait profondément la venue du Christ sur la terre, que toutes les régions du Nord dormaient dans les ténèbres de l'infidélité ; c'est avant le réveil successif de tant de peuples, que l'Hibernie reçoit la nouvelle du salut. La parole divine, apportée par le merveilleux apôtre, prospère dans cette île plus fertile encore selon la grâce que selon la nature. Les saints y abondent et se répandent sur l'Europe entière ; les enfants de l'Irlande rendent à d'autres contrées le même service que leur patrie a reçu de son sublime initiateur. Et quand arrive l'époque de la grande apostasie du XVIe siècle, quand la défection germanique est tour à tour imitée par l'Angleterre et par l'Écosse, par le Nord tout entier, l'Irlande demeure fidèle ; et aucun genre de persécution, si habile ou atroce qu'il soit, n'a pu la détacher de la sainte foi que lui enseigna Patrice.
Honorons l'homme admirable dont le Seigneur a daigné se servir pour jeter la semence dans une terre si privilégiée.
Votre vie, ô Patrice, s'est écoulée dans les pénibles travaux de l'Apostolat ; mais qu'elle a été belle, la moisson que vos mains ont semée, et qu'ont arrosée vos sueurs ! Aucune fatigue ne vous a coûté, parce qu'il s'agissait de procurer à des hommes le précieux don de la foi ; et le peuple à qui vous l'avez confié l'a gardé avec une fidélité qui fera à jamais votre gloire. Daignez prier pour nous, afin que cette foi, « sans laquelle l'homme ne peut plaire à Dieu [1] », s'empare pour jamais de nos esprits et de nos cœurs. C'est de la foi que le juste vit [2], nous dit le Prophète ; et c'est elle qui, durant ces saints jours, nous révèle les justices du Seigneur et ses miséricordes, afin que nos cœurs se convertissent et offrent au Dieu de majesté l'hommage du repentir. C'est parce que notre foi était languissante, que notre faiblesse s'effrayait des devoirs que nous impose l'Église. Si la foi domine nos pensées, nous serons aisément pénitents. Votre vie si pure, si pleine de bonnes œuvres, fut cependant une vie mortifiée ; aidez-nous à suivre de loin vos traces. Priez, ô Patrice, pour l'Ile sainte dont vous êtes le père et qui vous honore d'un culte si fervent. De nos jours, elle est menacée encore ; plusieurs de vos enfants sont devenus infidèles aux traditions de leur père. Un fléau plus dangereux que le glaive et la famine a décimé de nos jours votre troupeau ; ô Père ! Protégez les enfants des martyrs, et défendez-les de la séduction. Que votre œil aussi suive jusque sur les terres étrangères ceux qui, lassés de souffrir, sont allés chercher une patrie moins impitoyable. Qu'ils y conservent le don de la foi, qu'ils y soient les témoins de la vérité, les dociles enfants de l'Église ; que leur présence et leur séjour servent à l'avancement du Royaume de Dieu. Saint Pontife, intercédez pour cette autre Ile qui fut votre berceau ; pardonnez-lui ses crimes envers vos enfants ; avancez par vos prières le jour où elle pourra rentrer dans la grande unité catholique. Enfin souvenez-vous de toutes les provinces de l'Église ; voire prière est celle d'un Apôtre ; elle trouvera accès auprès de celui qui vous a envoyé.
[1] Heb. XI, 6.
Bhx Cardinal Schuster, Liber Sacramentorum
Cet apôtre de l'Irlande (+ 464), à la vie si austère et si merveilleuse, sema en ces régions lointaines le grain évangélique avec un si heureux succès que, à cause de l'innombrable armée de saints qu'elle produisit, la verte Erin mérita au moyen âge le beau titre d'Ile des Saints, gloire que trois siècles de dures persécutions contre la foi catholique de la part de l'Église anglicane ne purent éclipser. En considération de la foi vigoureuse de ce peuple de héros, Pie IX, en 1859, éleva la fête de saint Patrice (qui apparaît toutefois dans les bréviaires romains dès le XVe siècle) au rite double.
Patrice peut être vraiment regardé comme le patriarche de l'épiscopat et du monachisme irlandais, monachisme dont l'histoire eut une répercussion sur toute l'Europe médiévale, partout où les Scots errants plantèrent leurs tentes et importèrent leurs traditions. Rome chrétienne a dédié, près de la voie Salaria, une église nouvelle à ce grand Apôtre des Irlandais. Mais même anciennement, l'hospice irlandais Scottorum, devenu par la suite l'abbaye SS. Trinitatis, près du Titre de Saint-Laurent in Damaso, attestait l'élan de foi et d'amour pour Rome catholique que la prédication de saint Patrice avait imprimé au sentiment religieux des Irlandais.
La messe est celle du Commun des Confesseurs Pontifes, Státuit, mais la première collecte est propre.
Si la sainteté est nécessaire à tous, elle l'est principalement aux supérieurs ecclésiastiques et à tous ceux qui, dans les desseins de la Providence, sont appelés à fonder ou à constituer une société quelconque. Ceux qui viennent par la suite doivent se garder d'en changer l'esprit et les traditions, mais pour cela, il faut que les fondateurs aient transmis à leur œuvre un feu si puissant de vie intérieure et de sainteté, que celui-ci enflamme le cœur des lointaines générations de leurs disciples. C'est en ce sens qu'on peut entendre la parole de l'apôtre, disant que ce sont les parents qui sont obligés d'amasser un patrimoine pour leurs enfants, et non pas ceux-ci pour leurs parents.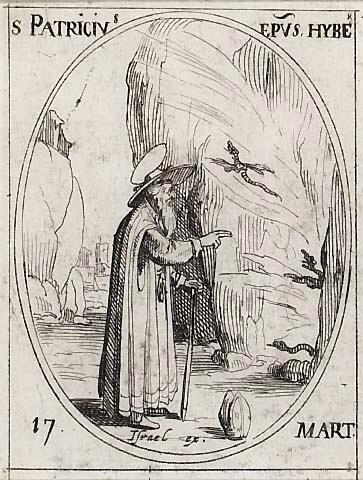 Dom Pius Parsch, le Guide dans l'année liturgique
Saint Patrice, délivrez l'île de notre âme de tous les reptiles venimeux et faites-en une véritable « île de saints ».
Saint Patrice : Jour de mort : 17 mars 464. — Tombeau : à Down, en Irlande. Image : On le représente en évêque, avec des serpents à ses pieds, ou bien avec un trèfle à trois feuilles. Vie : Saint Patrice est l'apôtre de l'Irlande. « La vie de ce grand homme, qui unissait à l'obstination celtique une profondeur étonnante de foi, est riche en événements merveilleux dont on ne peut nier le caractère historique. Ce qui est encore plus merveilleux, c'est la reconnaissance de la postérité qui a transformé la biographie du saint en entourant sa personne d'une couronne de légendes, comme on ne l'a fait que pour peu de saints. On connaît la légende d'après laquelle il aurait expulsé et fait jeter dans la mer tous les serpents et toutes les bêtes dangereuses de l'Irlande. Quoi qu'il en soit, c'est un fait qu'aujourd'hui encore, on ne trouve en Irlande ni serpents, ni taupes, ni mulots. Aussi cette légende indique sans doute que Patrice, en introduisant le christianisme, transforma aussi la culture de la terre (Kaulen). Le saint adopta l'antique usage païen d'allumer un feu sacré dans la nuit de Pâques et christianisa cet usage. Les moines irlandais l'apportèrent à Rome. De là, il se répandit dans toute l'Église sous la forme de bénédiction du feu, le Samedi-Saint.
Pratique. Le saint a fait de la verte Erin, où dominait le culte des idoles, une île des saints. Qu'il daigne continuer cette œuvre dans nos âmes !
SOURCE :
http://www.introibo.fr/17-03-St-Patrice-Patrick-eveque-et#nh1

St. Patrick, the Apostle of Ireland, born at Kilpatrick, near Dumbarton, in Scotland, in the year 387; died at Saul, Downpatrick, Ireland, 17 March, 461. His parents were Calpurnius and Conchessa, who were Romans living in Britian in charge of the colonies. As a boy of fourteen or so, he was captured during a raiding party and taken to Ireland as a slave to herd and tend sheep. Ireland at this time was a land of Druids and pagans. He learned the language and practices of the people who held him.
During his captivity, he turned to God in prayer. He wrote:"The love of God and his fear grew in me more and more, as did the faith, and my soul was rosed, so that, in a single day, I have said as many as a hundred prayers and in the night, nearly the same." "I prayed in the woods and on the mountain, even before dawn. I felt no hurt from the snow or ice or rain."
Patrick's captivity lasted until he was twenty, when he escaped after having a dream from God in which he was told to leave Ireland by going to the coast. There he found some sailors who took him back to Britian, where he reunited with his family.
He had another dream in which the people of Ireland were calling out to him "We beg you, holy youth, to come and walk among us once more." He began his studies for the priesthood. He was ordained by St. Germanus, the Bishop of Auxerre, whom he had studied under for years.
Later, Patrick was ordained a bishop, and was sent to take the Gospel to Ireland. He arrived in Ireland March 25, 433, at Slane. One legend says that he met a chieftain of one of the tribes, who tried to kill Patrick. Patrick converted Dichu (the chieftain) after he was unable to move his arm until he became friendly to Patrick.
Patrick began preaching the Gospel throughout Ireland, converting many. He and his disciples preached and converted thousands and began building churches all over the country. Kings, their families, and entire kingdoms converted to Christianity when hearing Patrick's message.
Patrick by now had many disciples, among them Beningnus, Auxilius, Iserninus, and Fiaac, (all later canonized as well).
Patrick preached and converted all of Ireland for 40 years. He worked many miracles and wrote of his love for God in Confessions. After years of living in poverty, traveling and enduring much suffering he died March 17, 461.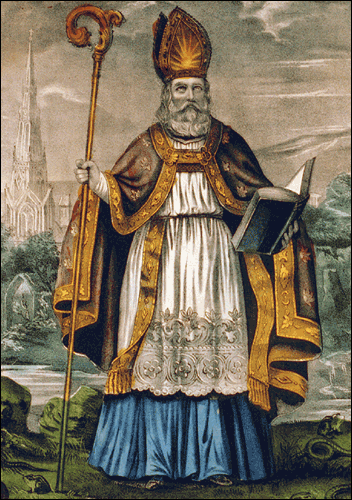 St.Patrick's Breastplate

I bind unto myself today
the strong Name of the Trinity,
by invocation of the same,
the Three in One, and One in Three.

I bind this day to me for ever,by power of faith, Christ's Incarnation ;
his baptism in Jordan river ;
his death on cross for my salvation ;
his bursting from the spicèd tomb ;
his riding up the heavenly way;
his coming at the day of doom:
I bind unto myself today.
I bind unto myself the powerof the great love of cherubim ;
the sweet "Well done" in judgment hour ;
the service of the seraphim ;
confessors' faith, apostles' word,the patriarchs' prayers, the prophets' scrolls ;
all good deeds done unto the Lord,
and purity of virgin souls.
I bind unto myself todaythe virtues of the starlit heaventhe glorious sun's life-giving ray,
the whiteness of the moon at even,
the flashing of the lightning free,
the whirling wind's tempestuous shocks,
the stable earth, the deep salt sea,
around the old eternal rocks.

I bind unto myself today
the power of God to hold and lead,
his eye to watch, his might to stay,
his ear to hearken, to my need ;
the wisdom of my God to teach
his hand to guide, his shield to ward ;
the word of God to give me speech,
his heavenly host to be my guard.
Christ be with me,
Christ within me,
Christ behind me,
Christ before me,
Christ beside me,
Christ to win me,
Christ to comfortand restore me.
Christ beneath me,
Christ above me,
Christ in quiet,
Christ in danger,
Christ in hearts ofall that love me,
Christ in mouth offriend and stranger.
I bind unto myself today
the strong Name of the Trinity,
by invocation of the same,
the Three in One, and One in Three.
Of whom all nature hath creation,
eternal Father, Spirit, Word :
praise to the Lord of my salvation,
salvation is of Christ the Lord.
attributed to St. Patrick (372-466); 
trans. Cecil Frances Alexander (1818-1895), 1889
SOURCE :
http://www.ucatholic.com/catholicprayers/st-patricks-breastplate/
St. Patrick
Apostle of
Ireland
, born at Kilpatrick, near Dumbarton, in
Scotland
, in the year 387; died at Saul, Downpatrick,
Ireland
, 17 March, 493.
Some sources say 460 or 461. --
Ed.
and His
fear
increased in me more and more, and the
faith
grew in me, and the
spirit
was roused, so that, in a single day, I have said as many as a hundred
prayers
, and in the night nearly the same, so that whilst in the woods and on the mountain, even before the dawn, I was roused to
prayer
and felt no hurt from it, whether there was snow or ice or rain; nor was there any
slothfulness
in me, such as I see now, because the
spirit
was then fervent within me.
The strong
virtue
of the Invocation of the
Trinity
:
I
believe
the
Trinity
in the Unity
The Creator of the
Universe.
I bind to myself today
The
virtue
of the
Incarnation
of
Christ
with His
Baptism
,
The
virtue
of His
crucifixion
with His
burial
,
The
virtue
of His
Resurrection
with His
Ascension
,
The
virtue
of His coming on the
Judgement Day.
I bind to myself today
The
virtue
of the
love
of
seraphim
,
In the
obedience
of
angels
,
In the
hope
of
resurrection
unto
reward
,
In
prayers
of
Patriarchs
,
In predictions of
Prophets
,
In preaching of
Apostles
,
In
faith
of
Confessors
,
In purity of
holy
Virgins
,
In deeds of righteous men.
I bind to myself today
The power of
Heaven
,
The light of the sun,
The brightness of the moon,
The splendour of fire,
The flashing of lightning,
The swiftness of wind,
The depth of sea,
The stability of earth,
The compactness of rocks.
I bind to myself today
God's
Power to guide me,
God's
Might to uphold me,
God's
Wisdom to teach me,
God's
Eye to watch over me,
God's
Ear to hear me,
God's
Word to give me speech,
God's
Hand to guide me,
God's
Way to lie before me,
God's
Shield to shelter me,
God's
Host
to secure me,
Against the snares of
demons
,
Against the seductions of
vices
,
Against the
lusts
of
nature
,
Against everyone who meditates injury to me,
Whether far or near,
Whether few or with many.
I invoke today all these
virtues
Against every hostile merciless power
Which may assail my body and my
soul
,
Against the incantations of
false
prophets
,
Against the black
laws
of
heathenism
,
Against the
false
laws
of
heresy
,
Against the deceits of
idolatry
,
Against the spells of
women
, and smiths, and
druids
,
Against every
knowledge
that binds the
soul
of
man
.
Christ
, protect me today
Against every poison, against burning,
Against drowning, against death-wound,
That I may receive abundant reward.
Christ
with me,
Christ
before me,
Christ
behind me,
Christ
within me,
Christ
beneath me,
Christ
above me,
Christ
at my right,
Christ
at my left,
Christ
in the fort,
Christ
in the chariot seat,
Christ
in the poop [deck],
Christ
in the heart of everyone who thinks of me,
Christ
in the mouth of everyone who speaks to me,
Christ
in every eye that
sees me,
Christ
in every ear that hears me.
I bind to myself today
The strong
virtue
of an invocation of the
Trinity
,
I
believe
the
Trinity
in the Unity
The Creator of the
Universe.
God
?"
"And where is
God
?"
"Where is His dwelling?"
"Has He sons and daughters?"
"Is He rich in silver and gold?"
"Is He everlasting? is He beautiful?"
"Are His daughters dear and lovely to the men of this world?"
"Is He on the heavens or on earth?"
"In the sea, in rivers, in mountains, in valleys?"
"Make Him
known
to us. How is He to be seen?"
"How is He to be
loved
? How is He to be found?"
"Is it in youth or is it in old age that He may be found?"
God
, whom we announce to you, is the Ruler of all things."
"The
God
of heaven and earth, of the sea and the rivers."
"The
God
of the sun, and the moon, and all the stars."
"The
God
of the high mountains and of the low-lying valleys."
"The
God
who is above heaven, and in heaven, and under heaven."
"His dwelling is in
heaven
and earth, and the sea, and all therein."
"He gives breath to all."
"He gives
life
to all."
"He is over all."
"He upholds all."
"He gives light to the sun."
"He imparts splendour to the moon."
"He has made wells in the dry land, and islands in the ocean."
"He has appointed the stars to serve the greater lights."
"His
Son
is co-eternal and co-equal with Himself."
"The
Son
is not younger than the Father."
"And the Father is not older than the
Son."
"And the
Holy Ghost
proceeds from them."
"The Father and the
Son
and the
Holy Ghost
are undivided."
"But I desire by
Faith
to unite you to the
Heavenly King
, as you are daughters of an earthly king."
blessing
on the Munster people —
Men, youths, and
women
;
A
blessing
on the land
That yields them fruit.
A
blessing
on every treasure
That shall be produced on their plains,
Without any one being in want of help,
God's
blessing
be on Munster.
A
blessing
on their peaks,
On their bare flagstones,
A
blessing
on their glens,
A
blessing
on their ridges.
Like the sand of the sea under ships,
Be the number in their hearths;
On slopes, on plains,
On mountains, on hills, a
blessing
.
Sources
The Trias thaumaturga
(gol., Louvain, 1647) of of the Franciscan COLGAN is the most completecollection of the ancient Lives of the saint.
The Kemare Life of Saint Patrick
(CUSACK, Dublin, 1869) presents from the pen of HENNESSY the translation of the Irish Tripartite Life, with copious notes. WHITLEY STOKES, in the
Rolls Series
(London, 1887), has given the textand translation of the
Vita Tripartita
, together with many original documents from the
Book of Amragh
and other sources. The most noteworthy works of later years are SHEARMAN,
Loca Patriciana
(Dublin, 1879); TODD,
St. Patrick, Apostle of Ireland
(Dublin, 1864); BURY,
Life of St. Patrick
(London, 1905); HEALY,
The Life and Writings of St. Patrick
(Dublin, 1905).
SOURCE :
http://www.newadvent.org/cathen/11554a.htm
ST. PATRICK, BISHOP, APOSTLE OF IRELAND.
IF the virtue of children reflects an honor on their parents, much more justly is the name of St. Patrick rendered illustrious by the innumerable lights of sanctity with which the Church of Ireland shone during many ages, and by the colonies of Saints with which it peopled many foreign countries; for, under God, its inhabitants derived from their glorious apostle the streams of that eminent sanctity by which they were long conspicuous to the whole world. St. Patrick was born towards the close of the fourth century, in a village called Bonaven Taberniae, which seems to be the town of Kilpatrick, on the mouth of the river Clyde, in Scotland, between Dumbarton and Glasgow. He calls himself both a Briton and a Roman, or of a mixed extraction, and says his father was of a good family named Calphurnius, and a denizen of a neighboring city of the Romans, who not long after abandoned Britain, in 409. Some writers call his mother Conchessa, and say she was niece to St. Martin of Tours.
In his sixteenth year he was carried into captivity by certain barbarians who took him into Ireland, where he was obliged to keep cattle on the mountains and in the forests, in hunger and nakedness, amidst snows, rain, and ice. Whilst he lived in this suffering condition, God had pity on his soul, and quickened him to a sense of his duty by the impulse of a strong interior grace. The young man had recourse to Him with his whole heart in fervent prayer and fasting; and from that time faith and the love of God acquired continually new strength in his tender soul. After six months spent in slavery under the same master, St. Patrick was admonished by God in a dream to return to his own country, and informed that a ship was then ready to sail thither. He went at once to the sea coast, though at a great distance, and found the vessel; but could not obtain his passage, probably for want of money. The Saint returned towards his hut, praying as he went, but the sailors, though pagans, called him back, and took him on board. After three days sail they made land, but wandered twenty-seven days through deserts, and were a long while distressed for want of provisions, finding nothing to eat. Patrick had often spoken to the company on the infinite power of God, they therefore asked him why he did not pray for relief. Animated by a strong faith, he assured them that if they would address themselves with their whole hearts to the true God, He would hear and succor them. They did so, and on the same day met with a herd of swine. From that time provisions never failed them, till on the twenty-seventh day they came into a country that was cultivated and inhabited.
Some years afterward he was again led captive, but recovered his liberty after two months. When he was at home with his parents, God manifested to him, by divers visions, that he destined him to the great work of the conversion of Ireland. The writers of his life say that after his second captivity he travelled into Gaul and Italy, and saw St. Martin, St. Germanus of Auxerre, and Pope Celestine, and that he received his mission and the apostolical benediction from this Pope, who died in 432. It is certain that he spent many years in preparing himself for his sacred calling. Great opposition was made against his episcopal consecration and mission, both by his own relations and by the clergy. These made him great offers in order to detain him among them, and endeavored to affright him by exaggerating the dangers to which he exposed himself amidst the enemies of the Romans and Britons, who did not know God. All these temptations threw the Saint into great perplexities, but the Lord, whose will he consulted by earnest prayer, supported him, and he persevered in his resolution. He forsook his family, sold his birthright and dignity, to serve strangers, and consecrated his soul to God, to carry His name to the ends of the earth. In this disposition he passed into Ireland, to preach the Gospel, where the worship of idols still generally reigned. He devoted himself entirely to the salvation of these barbarians. He travelled over the whole island, penetrating into the remotest corners, and such was the fruit of his preachings and sufferings that he baptized an infinite number of people. He ordained everywhere clergymen, induced women to live in holy widowhood and continence, consecrated virgins to Christ, and instituted monks. He took nothing from the many thousands whom he baptized, and often gave back the little presents which some laid on the altar, choosing rather to mortify the fervent than to scandalize the weak or the infidels. He gave freely of his own, however, both to Pagans and Christians, distributed large alms to the poor in the provinces where he passed, made presents to the kings, judging that necessary for the progress of the Gospel, and maintained and educated many children, whom he trained up to serve at the altar. The happy success of his labors cost him many persecutions.
A certain prince named Corotick, a Christian in name only, disturbed the peace of his flock. This tyrant, having made a descent into Ireland, plundered the country where St. Patrick had been just conferring confirmation on a great number of neophytes, who were yet in their white garments after baptism. Corotick massacred many, and carried away others, whom he sold to the infidel Picts or Scots. The next day the Saint sent the barbarian a letter entreating him to restore the Christian captives, and at least part of the booty he had taken, that the poor people might not perish for want; but was only answered by railleries. The Saint, therefore, wrote with his own hand a letter. In it he styles himself a sinner and an ignorant man; he declares, nevertheless, that he is established bishop of Ireland, and pronounces Corotick and the other parricides and accomplices separated from him and from Jesus Christ, whose place he holds, forbidding any to eat with them, or to receive their alms, till they should have satisfied God by the tears of sincere penance, and restored the servants of Jesus Christ to their liberty. This letter expresses his most tender love for his flock, and his grief for those who had been slain, yet mingled with joy, because they reign with the prophets, apostles, and martyrs. Jocelin assures us that Corotick was overtaken by the divine vengeance.
St. Patrick held several councils to settle the discipline of the Church which he had planted. St. Bernard and the tradition of the country testify that St. Patrick fixed his metropolitan see at Armagh. He established some other bishops, as appears by his Council and other monuments. He not only converted the whole country by his preaching and wonderful miracles, but also cultivated this vineyard with so fruitful a benediction and increase from heaven, as to render Ireland a most flourishing garden in the Church of God, and a country of Saints.
Many particulars are related of the labors of St. Patrick, which we pass over. In the first year of his mission he attempted to preach Christ in the general assembly of the kings and states of all Ireland, held yearly at Tara, the residence of the chief king, styled the monarch of the whole island, and the principal seat of the Druids or priests, and their paganish rites. The son of Neill, the chief monarch, declared himself against the preacher; however, Patrick converted several, and, on his road to that place, the father of St. Benignus, his immediate successor in the see of Armagh. He afterward converted and baptized the kings of Dublin and Munster, and the seven sons of the king of Connaught, with the greatest part of their subjects, and before his death almost the whole island. He founded a monastery at Armagh; another called Domnach-Padraig, or Patrick's Church; also a third, named Sabhal-Padraig, and filled the country with churches and schools of piety and learning, the reputation of which, for the three succeeding centuries, drew many foreigners into Ireland. He died and was buried at Down, in Ulster. His body was found there in a church of his name in 1185, and translated to another part of the same church.
Ireland is the nursery whence St. Patrick sent forth his missionaries and teachers. Glastonbury and Lindisfarne, Ripon and Malmesbury, bear testimony to the labors of Irish priests and bishops for the conversion of England. Iona is to this day the most venerated spot in Scotland. Columban, Fiacre, Gall, and many others evangelized the "rough places" of France and Switzerland. America and Australia, in modern times, owe their Christianity to the faith and zeal of the sons and daughters of St. Patrick.
REFLECTION.-By the instrumentality of St. Patrick the faith is now as fresh in Ireland, even in this cold twentieth century, as when it was first planted. Ask him to obtain for you the special grace of his children, to prefer the loss of every earthly good to the least compromise in matters of faith.
SOURCE :
http://jesus-passion.com/Saint_Patrick.htm
Patrick of Ireland B (RM)

Born in Scotland, c. 385-390; died in Ireland c. 461.
"I bind to myself today
The strong virtue of the Incarnation of Christ with his Baptism,
The virtue of His Crucifixion with his burial,
The virtue of His Resurrection with His Ascension,
The virtue of His coming on the Judgment Day.
I bind to myself today
The virtue of the love of the seraphim,
In the obedience of angels,
In the hope of resurrection unto reward,
In prayers of Patriarchs,
In predictions of Prophets,
In preaching of Apostles,
In faith of Confessors,
In purity of holy Virgins,
In deeds of righteous men.
I bind to myself today
The power of Heaven,
The light of the sun,
The brightness of the moon,
The splendor of fire,
The flashing of lightning,
The swiftness of wind,
The depth of the sea,
The stability of the earth,
The compactness of rocks.
I bind to myself today.
God's power to guide me,
God's might to uphold me,
God's wisdom to teach me,
God's eye to watch over me,
God's ear to hear me,
God's word to give me speech,
God's hand to guide me,
God's way to lie before me,
God's shield to shelter me,
God's host to secure me,
Against the snares of demons,
Against the seductions of vices,
Against the lusts of nature,
Against everyone who meditates injury to me,
Whether far or near,
Whether few or many.
I invoke today all these virtues
Against every hostile, merciless power
Which may assail my body and my soul,
Against the incantations of false prophets,
Against the black laws of heathenism,
Against the false laws of heresy,
Against the deceits of idolatry,
Against every knowledge that binds the soul of man and woman.
Christ, protect me today
Against poison,
Against burning,
Against drowning,
Against death-wound,
That I may receive abundant reward.
Christ be with me,
Christ be before me,
Christ behind me,
Christ be with me,
Christ beside me,
Christ to win me,
Christ to comfort and restore me.
Christ beneath me,
Christ above me,
Christ at my right,
Christ at my left,
Christ be in the fort,
Christ be in the chariot,
Christ be in the ship,
Christ in quiet,
Christ in danger,
Christ in hearts of all that love me,
Christ in mouth of friend and stranger,
Christ in every eye that sees me,
Christ in every ear that hears me.
I bind to myself today
The strong virtue of the Invocation of the Trinity.
I believe the Trinity in the Unity,
The Creator of the Universe. Amen."
--Saint Patrick's Breastplate or Faeth Fiadha (deer's cry).
Note that there are several different versions of this prayer, which is alleged to be the invocation that led Patrick and his party safely to the confrontation with the Druids at Tara. It's Irish name, the Deer's Cry, is based on the legend that Patrick and his eight companions were miraculously turned into deer to be able to pass unnoticed by the king's guards sent to intercept them.
"I was like a stone lying in the deep mire; and He that is mighty came, and in His mercy lifted me up, and verily raised me aloft and placed me on the top of the wall."
--Saint Patrick
The historical Patrick is much more attractive than the Patrick of legend. It is unclear exactly where Patricius Magonus Sucatus (Patrick) was born--somewhere in the west between the mouth of the Severn and the Clyde--but this most popular Irish saint was probably born in Scotland of British origin, perhaps in a village called Bannavem Taberniae. (Other possibilities are in Gaul or at Kilpatrick near Dumbarton, Scotland.) His father, Calpurnius, was a deacon and a civil official, a town councillor, and his grandfather was a priest.
About 405, when Patrick was in his teens (14-16), he was captured by Irish raiders and became a slave in Ireland. There in Ballymena (or Slemish) in Antrim (or Mayo), Patrick first learned to pray intensely while tending his master's sheep in contrast with his early years in Britain when he "knew not the true God" and did not heed clerical "admonitions for our salvation." After six years, he was told in a dream that he should be ready for a courageous effort that would take him back to his homeland.
He ran away from his owner and travelled 200 miles to the coast. His initial request for free passage on a ship was turned down, but he prayed, and the sailors called him back. The ship on which he escaped was taking dogs to Gaul (France). At some point he returned to his family in Britain, then seems to have studied at the monastery of Lérins on the Côte d'Azur from 412 to 415.
He received some kind of training for the priesthood in either Britain or Gaul, possibly in Auxerre, including study of the Latin Bible, but his learning was not of a high standard, and he was to regret this always. He spent the next 15 years at Auxerre were he became a disciple of Saint Germanus of Auxerre and was possibly ordained about 417.
The cultus of Patrick began in France, long before Sucat received the noble title of Patricius, which was immediately before his departure for Ireland about 431. The center of this cultus is a few miles west of Tours, on the Loire, around the town of St- Patrice, which is named after him. The strong, persistent legend is that Patrick not only spent the twenty years after his escape from slavery there, but that it was his home. The local people firmly believe that Patrick was the nephew of Saint Martin of Tours and that he became a monk in his uncle's great Marmoutier Abbey.
Patrick's cultus there reverts to the legend of Les Fleurs de St- Patrice which relates that Patrick was sent from the abbey to preach the Gospel in the area of Bréhémont-sur-Loire. He went fishing one day and had a tremendous catch. The local fishermen were upset and forced him to flee. He reached a shelter on the north bank where he slept under a blackthorn bush. When he awoke the bush was covered with flowers. Because this was Christmas day, the incident was considered a miracle, which recurred each Christmas until the bush was destroyed in World War I. The phenomenon was evaluated many times and verified by various observers, including official organizations. His is now the patron of the fishermen on the Loire and, according to a modern French scholar, the patron of almost every other occupation in the neighborhood. There is a grotto dedicated to him at Marmoutier, which contains a stone bed, alleged to have been his.
It is said that in visions he heard voices in the wood of Focault or that he dreamed of Ireland and determined to return to the land of his slavery as a missionary. In that dream or vision he heard a cry from many people together "come back and walk once more among us," and he read a writing in which this cry was named 'the voice of the Irish.' (When Pope John Paul II went to Ireland in 1979, among his first words were that he, too, had heard the "voice of the Irish.")
In his Confessio Patrick writes: "It was not my grace, but God who overcometh in me, so that I came to the heathen Irish to preach the Gospel . . . to a people newly come to belief which the Lord took from the ends of the earth." Saint Germanus consecrated him bishop about 432, and sent him to Ireland to succeed Saint Palladius, the first bishop, who had died earlier that year. There was some opposition to Patrick's appointment, probably from Britain, but Patrick made his way to Ireland about 435.
He set up his see at Armagh and organized the church into territorial sees, as elsewhere in the West and East. While Patrick encouraged the Irish to become monks and nuns, it is not certain that he was a monk himself; it is even less likely that in his time the monastery became the principal unit of the Irish Church, although it was in later periods. The choice of Armagh may have been determined by the presence of a powerful king. There Patrick had a school and presumably a small familia in residence; from this base he made his missionary journeys. There seems to have been little contact with the Palladian Christianity of the southeast.
There is no reliable account of his work in Ireland, where he had been a captive. Legends include the stories that he drove snakes from Ireland, and that he described the Trinity by referring to the shamrock, and that he singlehandedly--an impossible task--converted Ireland. Nevertheless, Saint Patrick established the Catholic Church throughout Ireland on lasting foundations: he travelled throughout the country preaching, teaching, building churches, opening schools and monasteries, converting chiefs and bards, and everywhere supporting his preaching with miracles.
At Tara in Meath he is said to have confronted King Laoghaire on Easter Eve with the Christian Gospel, kindled the light of the paschal fire on the hill of Slane (the fire of Christ never to be extinguished in Ireland), confounded the Druids into silence, and gained a hearing for himself as a man of power. He converted the king's daughters (a tale I've recounted under the entry for Saints Ethenea and Fidelmia. He threw down the idol of Crom Cruach in Leitrim. Patrick wrote that he daily expected to be violently killed or enslaved again.
He gathered many followers, including Saint Benignus, who would become his successor. That was one of his chief concerns, as it always is for the missionary Church: the raising up of native clergy.
He wrote: "It was most needful that we should spread our nets, so that a great multitude and a throng should be taken for God. . . . Most needful that everywhere there should be clergy to baptize and exhort a people poor and needy, as the Lord in the Gospel warns and teaches, saying: Go ye therefore now, and teach all nations. And again: Go ye therefore into the whole world and preach the Gospel to every creature. And again: This Gospel of the Kingdom shall be preached in the whole world for a testimony to all nations."
In his writings and preaching, Patrick revealed a scale of values. He was chiefly concerned with abolishing paganism, idolatry, and sun-worship. He made no distinction of classes in his preaching and was himself ready for imprisonment or death for following Christ. In his use of Scripture and eschatological expectations, he was typical of the 5th-century bishop. One of the traits which he retained as an old man was a consciousness of his being an unlearned exile and former slave and fugitive, who learned to trust God completely.
There was some contact with the pope. He visited Rome in 442 and 444. As the first real organizer of the Irish Church, Patrick is called the Apostle of Ireland. According to the Annals of Ulster, the Cathedral Church of Armagh was founded in 444, and the see became a center of education and administration. Patrick organized the Church into territorial sees, raised the standard of scholarship (encouraging the teaching of Latin), and worked to bring Ireland into a closer relationship with the Western Church.
His writings show what solid doctrine he must have taught his listeners. His Confessio (his autobiography, perhaps written as an apology against his detractors), the Lorica (or Breastplate), and the "Letter to the Soldiers of Coroticus," protesting British slave trading and the slaughter of a group of Irish Christians by Coroticus's raiding Christian Welshmen, are the first surely identified literature of the British or Celtic Church.
What stands out in his writings is Patrick's sense of being called by God to the work he had undertaken, and his determination and modesty in carrying it out: "I, Patrick, a sinner, am the most ignorant and of least account among the faithful, despised by many. . . . I owe it to God's grace that so many people should through me be born again to him."
Towards the end of his life, Patrick made that 'retreat' of forty days on Cruachan Aigli in Mayo from which the age-long Croagh Patrick pilgrimage derives. Patrick may have died at Saul on Strangford Lough, Downpatrick, where he had built his first church. Glastonbury claims his alleged relics. The National Museum at Dublin has his bell and tooth, presumably from the shrine at Downpatrick, where he was originally entombed with Saints Brigid and Columba.
The high veneration in which the Irish hold Patrick is evidenced by the common salutation, "May God, Mary, and Patrick bless you." His name occurs widely in prayers and blessings throughout Ireland. Among the oldest devotions of Ireland is the prayer used by travellers invoking Patrick's protection, An Mhairbhne Phaidriac or The Elegy of Patrick. He is alleged to have promised prosperity to those who seek his intercession on his feast day, which marks the end of winter. A particularly lovely legend is that the Peace of Christ will reign over all Ireland when the Palm and the Shamrock meet, which means when St. Patrick's Day fall on Passion Sunday.
Most unusual is Well of Saint Patrick at Orvieto, Italy, which was built at the order of Pope Clement VII in 1537 to provide water for the city during its periodic sieges. The connection with Saint Patrick comes from the fact that the project was completed and dedicated by a member of the Sangallo family, a name derived from the Irish Saint Gall. A common Italian proverb refers to this exceptionally deep (248 steps to the surface) well: liberal spenders are said to have pockets as deep as the Well of Patrick (Attwater, Benedictines, Bentley, Bieler, Bury, Delaney, Encyclopedia, Farmer, MacNeill, Montague, White).
We are told that often Patrick baptized hundreds on a single day. He would come to a place, a crowd would gather, and when he told them about the true God, the people would cry out from all sides that they wanted to become Christians. Then they would move to the nearest water to be baptized.
On such a day Aengus, a prince of Munster, was baptized. When Patrick had finished preaching, Aengus was longing with all his heart to become a Christian. The crowd surrounded the two because Aengus was such an important person. Patrick got out his book and began to look for the place of the baptismal rite but his crozier got in the way.
As you know, the bishop's crozier often has a spike at the bottom end, probably to allow the bishop to set it into the ground to free his hands. So, when Patrick fumbled searching for the right spot in the book so that he could baptize Aengus, he absent-mindedly stuck his crosier into the ground just beside him--and accidentally through the foot of poor Aengus!
Patrick, concentrating on the sacrament, never noticed what he had done and proceeded with the baptism. The prince never cried out, nor moaned; he simply went very white. Patrick poured water over his bowed head at the simple words of the rite. Then it was completed. Aengus was a Christian. Patrick turned to take up his crozier and was horrified to find that he had driven it through the prince's foot!
"But why didn't you say something? This is terrible. Your foot is bleeding and you'll be lame. . . ." Poor Patrick was very unhappy to have hurt another.
Then Aengus said in a low voice that he thought having a spike driven through his foot was part of the ceremony. He added something that must have brought joy to the whole court of heaven and blessings on Ireland:
"Christ," he said slowly, "shed His blood for me, and I am glad to suffer a little pain at baptism to be like Our Lord" (Curtayne).
Saint PATRICK. Confession et Lettre à Coroticus
:
http://remacle.org/bloodwolf/eglise/patrick/table.htm
Voir aussi
: Jean Guiffan (Chargé d'enseignement à l'université de Nantes).
Saint Patrick et la christianisation de l'Irlande
:
http://www.clio.fr/BIBLIOTHEQUE/saint_patrick_et_la_christianisation_de_l_irlande.asp