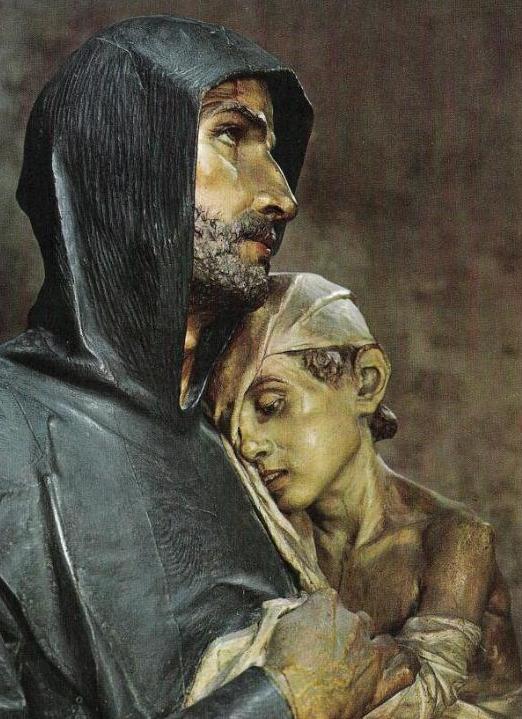 Saint Jean de Dieu, religieux
A huit ans, pour des raisons que l'on ignore, le petit portugais Joao Ciudad fait une fugue et se retrouve, vagabond, sur les routes. Pendant 33 ans, il va mener une vie d'errance : enfant-volé puis abandonné par un prêtre-escroc, il parcourt l'Espagne. Tour à tour berger, soldat, valet, mendiant, journalier, infirmier, libraire... Le vagabond, un moment occupé à guerroyer contre les Turcs en Hongrie, se retrouve à Gibraltar. Et c'est là qu'un sermon de saint Jean d'Avila le convertit. Il en est si exalté qu'on le tient pour fou et qu'on l'enferme. Puis son dévouement éclot en œuvres caritatives. Tout ce qu'il a découvert et souffert, va le faire devenir bon et miséricordieux pour les misérables. Il collecte pour eux, ouvre un hôpital, crée un Ordre de religieux, l'Ordre de la Charité. L'hôpital qu'il a fondé à Grenade donnera naissance aux Frères Hospitaliers de Saint Jean de Dieu. Au moment de mourir, en 1550, il dira: "Il reste en moi trois sujets d'affliction : mon ingratitude envers Dieu, le dénuement où je laisse les pauvres, les dettes que j'ai contractées pour les soutenir."
Saint Jean de Dieu
Fondateur des Frères de la Charité (+ 1550)
A huit ans, pour des raisons que l'on ignore, le petit portugais Joao Ciudad fait une fugue et se retrouve, vagabond, sur les routes. Pendant 33 ans, il va mener une vie d'errance: enfant-volé puis abandonné par un prêtre-escroc, il parcourt l'Espagne. Tour à tour berger, soldat, valet, mendiant, journalier, infirmier, libraire... Le vagabond, un moment occupé à guerroyer contre les Turcs en Hongrie, se retrouve à Gibraltar. Et c'est là qu'un sermon de saint Jean d'Avila le convertit. Il en est si exalté qu'on l'enferme avec les fous. Puis son dévouement éclot en œuvres caritatives. Tout ce qu'il a découvert et souffert, va le faire devenir bon et miséricordieux pour les misérables. Il collecte pour eux, ouvre un hôpital, crée un Ordre de religieux, l'Ordre de la Charité. L'hôpital qu'il a fondé à Grenade donnera naissance aux Frères Hospitaliers de Saint Jean de Dieu. Au moment de mourir, il dira: "Il reste en moi trois sujets d'affliction : mon ingratitude envers Dieu, le dénuement où je laisse les pauvres, les dettes que j'ai contractées pour les soutenir."
- vidéo Saint Jean de Dieu - l'hospitalité (WebTv de la CEF)
- site internet de l'Ordre Hospitalier de Saint Jean de Dieu - Province de France.
- site de la Fondation Saint Jean de Dieu, en 2016, cette fête a pris un sens tout particulier du fait qu'elle coïncidait avec l'Année de la miséricorde voulue par le pape François.
- Un internaute nous signale que St Jean de Dieu, a été déclaré Protecteur des hôpitaux et des malades, en même temps que St Camille de Lellis, par Léon XIII le 22 juin 1886. Pie XI les proclame, tous deux, patrons du personnel des hôpitaux.
Mémoire de saint Jean de Dieu, religieux. Né au Portugal, après une vie pleine d'aventures et de périls, où il fut tour à tour en Espagne berger, régisseur, soldat, pèlerin et marchand d'images, mais avec le désir d'une vie meilleure, il construisit à Grenade un hôpital où il servit et soigna avec une constante charité les pauvres et les malades, et s'adjoignit des compagnons qui constituèrent plus tard l'Ordre des Hospitaliers de Saint Jean de Dieu. Il s'en alla vers le repos éternel en 1550.
Martyrologe romain
SOURCE : https://nominis.cef.fr/contenus/saint/772/Saint-Jean-de-Dieu.html
SAINT JEAN de DIEU
Il commença par mener une vie des plus aventureuses : enlevé enfant par un inconnu, puis abandonné, il devint berger puis, en 1523 s'engagea dans l'armée et participa à de nombreuses guerres, la dernière en 1532 avec Charles Quint contre les Turcs. Ce fut pour lui une dure expérience.
En 1535 il se mit à travailler comme tailleur de pierre pour la fortification de la ville de Ceuta. Il aida, avec ses maigres revenus une noble famille portugaise qui vivait ruiné. Plus tard il alla à Gibraltar, où il se dit vendeur ambulant de livres et de timbres. Il déménagea définitivement à Grenade en 1538 et ouvrit une petite librairie.
C'est là qu'il eut ses premiers contacts avec des livres religieux.
Le 20 janvier 1539, à l'âge de 42 ans il se rendit à un sermon de Jean d'Avila, au cours duquel il eut sa conversion. Les propos de Jean d'Avila provoquèrent en lui un si grand choc qu'il se mit à détruire les livres qu'il vendait, se mit à traverser nu la ville sous les huées des enfants qui le suivaient. Son comportement fut considéré comme celui d'un aliéné et il fut incarcéré dans l'hôpital psychiatrique de l'Hopital Real, avec les fous et les mendiants. Il prend alors la résolution de s'occuper et de servir les malades. Jean d'Avila fut son directeur spirituel, et le poussa faire un pèlerinage au sanctuaire de la Vierge de Guadeloupe, en Estrémadure.
Sorti de l'asile, il fonde à Grenade en Espagne, en 1537, son premier hôpital, selon des conceptions très hardies pour son temps. Des disciples se joignent à lui ; ensemble, ils posent les fondements d'un ordre hospitalier au service des pauvres malades : les Frères de la Charité, appelé de nos jours l'Ordre hospitalier de Saint Jean de Dieu.
Il a été proclamé par Léon XIII patron des malades et des hôpitaux en 1886, et par Pie XI, patron des infirmiers et infirmières en 1930.
Saint Jean de Dieu naquit le 8 mars 1495 à Montemor-O-Novo, au diocèse d'Evora, dans la province portugaise d'Alemtéjo, des artisans André et Thérèse Ciudad. Ses parents l'élevèrent dans des sentiments chrétiens. Jean avait huit ans lorsque ses parents donnèrent l'hospitalité à un prêtre qui se rendait à Madrid ; ce prêtre dit tant de bien des œuvres de bienfaisances qui s'accomplissaient en Espagne, que l'enfant s'enfuit en secret de la maison paternelle pour le rejoindre. Ses parents le rechèrent sans succès puis sa mère tomba malade. Un soir, elle dit à son mari : « André, ne le cherche plus, nous ne reverrons pas notre enfant en ce monde ; son ange gardien m'est apparu pour me dire : Ne vous désespérez pas, mais bénissez le Seigneur, je suis chargé de le garder et il est en lieu sûr. » Thérèse ajouta : « Pour moi, je quitte ce monde sans regret ; lorsque je ne serai plus, André, pense à assurer ton salut, consacre-toi à Dieu. » Vingt jours après la disparition de son fils, Thérèse mourut et André, renonçant au monde, entra dans un couvent franciscain de Lisbonne.
Cependant, Jean avait rejoint le prêtre sur la route de Madrid mais, arrivé à Oropeza (Nouvelle-Castille), il fut incapable d'aller plus loin ; le prêtre le confia au mayoral du comte dont il devint l'un des bergers. Dix ans plus tard, Jean qui avait appris à lire, à écrire et à calculer se vit confier l'administration de la ferme du mayoral qui prospéra au delà de toute attente ; son maître fut si content de lui qu'il lui proposa d'épouser sa fille. Or, comme Jean avait fait le vœu de se consacrer uniquement à Dieu et que, malgré ses refus, le mayoral revenait à la charge, il prit la fuite pour s'engager dans les armées de Charles Quint.
Le comte d'Oropeza avait reçu l'ordre de lever des troupes pour débloquer Fontarabie qu'assiégeait une armée française. Pendant cette campagne, sans imiter les mauvais exemples des soudards espagnols, Jean perdit tout de même un peu des pratiques spéciale de la dévotion qu'il avait pour la Sainte Vierge. Alors qu'il était tombé de cheval et laissé sans connaissance sur le bord du chemin où les Français avaient bien des chances de le faire prisonnier, réveillé, il invoqua Marie qui lui apparut pour le ramener sain et sauf dans le camp espagnol. Après avoir été faussement accusé d'avoir volé le butin dont il avait la garde, Jean, sauvé de la pendaison par un officier supérieur, quitta l'armée espagnole. Il passa deux jours à genoux, au bord de la route, à méditer au pied d'un calvaire et se résolut à revenir dans la maison du mayoral qui l'accueillit comme un fils et lui rendit l'administration de ses biens.
S'avisant que les animaux de la ferme étaient mieux traités que les hommes et que l'on n'hésitait pas à dépenser pour eux tandis que les mendiants étaient renvoyés, Jean pensa que son temps serait mieux employé à soigner les pauvres qu'à engraisser les bêtes, sans pour autant savoir comment s'y prendre. Le mayoral étant revenu à ses anciens projets de mariage, Jean s'enrôla de nouveau dans les armées. En 1522, après avoir participé à la défense victorieuse de Vienne contre Soliman II, il quitta l'armée et, après avoir fait un pèlerinage à Saint-Jacques de Compostelle, retourna au Portugal où il apprit d'un vieil oncle maternel, dernier survivant de sa famille, la mort de ses parents. Il résolut d'aller en Afrique pour soulager les chrétiens que les musulmans retenaient en esclavage. A Gibraltar, il se fit serviteur bénévole du comte Sylva que Jean III venait d'exiler à Ceuta (Afrique). Il passa en Afrique où il soigna jusqu'à la mort le comte Sylva.
Jean se proposait de ramener à l'Eglise les chrétiens qui avaient apostasié, mais un franciscain de Ceuta lui ordonna de retourner en Espagne où Dieu lui communiquerait ses volontés. Jean se fit alors marchand d'images pieuses. Dans une de ses tournées, il rencontra un petit garçon misérable qu'il chargea sur ses épaules ; au repos, le petit garçon se transforma en Enfant Jésus qui lui tendit une grenade entr'ouverte d'où sortait une croix, et lui dit : « Jean de Dieu, Grenade sera ta croix ! »
Jean s'en fut donc à Grenade où, le 20 janvier 1537, il entendit prêcher Jean d'Avila ; il s'imposa une telle pénitence publique qu'on l'enferma avec les fous de l'hôpital royal. Libéré sur les instances de Jean d'Avila, il resta comme infirmier, puis fit un pèlerinage à Notre-Dame de Guadalupe d'Estramadure. Tandis qu'il priait devant une image de la Vierge, Marie daigna se pencher vers lui pour déposer sur ses bras l'Enfant Jésus avec des langes et des vêtements pour le couvrir. Il alla en Andalousie, chercher les conseils de saint Jean d'Avila qui le conforta dans l'idée de se consacrer au service des miséreux et lui donna une règle de conduite.
De retour à Grenade, il se fit marchand de bois pour entretenir une maison qu'il avait louée pour la transformer en hôpital (1538). Les dons lui vinrent et aussi les disciples, avec lesquels il fonda une congrégation d'hospitaliers que Pie V mettra sous la règle de saint Augustin (1572). Jean de Dieu mourut à Grenade, le 8 mars 1550 ; il fut béatifié par Urbain VIII, en 1630, et canonisé par Alexandre VIII, en 1690 ; il a été proclamé patron des hôpitaux par Léon XIII, à quoi Pie XI ajouta les infirmiers et les malades, le 28 août 1930.
Jean de Dieu, de son vrai nom Joao Ciudad, est né en 1495 à Montémor o Novo au Portugal. A l'âge de huit ans, il quitte brusquement sa famille pour suivre un mystérieux gyrovague et commence une vie errante. Les raisons de ce départ restent un mystère. Il arrive assez rapidement en Espagne, à Oropesa (Tolède) où il est accueilli dans la famille de Francisco Cid, dénommé « el Mayoral ». La famille du Mayoral fait de l'élevage, et jusqu'à l'âge de 20 ans Jean se consacre au métier de berger. Il est apprécié de tous.
A la recherche d'aventures, il décide ensuite de s'enrôler dans les troupes que lève Charles Quint pour combattre François 1er. Après cette expérience militaire, il redevient berger mais très vite, nous le retrouvons aux portes de Vienne en Autriche avec l'armée impériale qui entend stopper l'invasion des turcs de Soliman le Magnifique. Il ira même jusqu'aux Pays Bas avec sa compagnie.
Quittant définitivement l'armée, il se met au service d'une noble famille espagnole condamnée à l'exil à Ceuta, sur la côte marocaine. De retour en Espagne après un passage sur sa terre natale, il erre sur les routes d'Andalousie, s'installe à Grenade et se fait marchand ambulant de livres de piété et de chevalerie.
Un jour de 1539, il écoute une prédication du célèbre Jean d'Avila qu'on surnomme l'apôtre de l'Andalousie. Et c'est la conversion. Bouleversé par ce qu'il vient d'entendre, il parcourt les rues de la ville en criant « Miséricorde ! Miséricorde ! », il arrache ses vêtements, se roule dans la boue. Les enfants le poursuivent en criant « el loco ! el loco ! », « le fou ! le fou ! ». Il est alors enfermé à l'hôpital Royal de Grenade. Il connaît le sort des malades mentaux de l'époque : jeûne, coups fouets, jets d'eau glacée… pour chasser le mal. C'est à ce moment que naît sa vocation. Il décide de passer le reste de sa vie à secourir ceux qu'il a côtoyés à l'hôpital Royal : paralytiques, vagabonds, prostituées, et surtout malades mentaux.
Il fonde une première « maison de Dieu » qui s'avère très vite trop petite, il en fonde donc une deuxième plus grande. Pour subvenir aux besoins de sa « maison de Dieu », il quête chaque jour en criant : « Frères, faites-vous du bien à vous-mêmes en donnant aux pauvres ! » Très vite, les habitants de Grenade le surnomment Jean de Dieu. Cinq compagnons, gagnés par son exemple, le rejoignent.
Il meurt le 8 mars 1550, laissant derrière lui une renommée de sainteté qui traverse les frontières. Ses compagnons vont très vite se réunir pour fonder l'Ordre Hospitalier des frères de Saint Jean de Dieu, grâce au pape saint Pie V qui, le 1er janvier 1572, approuve la congrégation et lui donne la règle de saint Augustin, et au pape Sixte V qui, le 1er octobre 1586, l'élève au rang d'Ordre religieux.
Six lettres manuscrites de saint Jean de Dieu ont été conservées précieusement. Parmi les nombreuses citations, on peut y lire notamment « Dieu avant tout et par-dessus tout ce qui est au monde ! », « Je suis endetté et captif pour Jésus-Christ seul ! », ou encore, « Mettez votre confiance en Jésus-Christ seul ! »
Jean de Dieu est canonisé en 1690, déclaré patron des malades et des hôpitaux en 1886 et protecteur des infirmiers et infirmières en 1930.
Aujourd'hui, l'Ordre Hospitalier est présent sur les cinq continents, les frères y ont fondés des hôpitaux, des maisons de santé, des centres de réhabilitation, des accueils de nuit, des écoles de formation…
Mort le 8 mars 1550. Canonisé en 1690. Fête en 1714.
Quatrième leçon. Jean de Dieu naquit de parents catholiques et pieux, dans la ville de Monte-Mayor, au royaume de Portugal. Au moment de sa naissance une clarté extraordinaire parut sur sa maison, et une cloche sonna d'elle-même ; ces prodiges firent clairement présager que le Seigneur avait choisi cet enfant pour de glorieuses destinées. Dans sa jeunesse il fut retiré, par la puissance de la grâce divine, d'une vie trop relâchée et il commença à donner l'exemple d'une grande sainteté. Un jour, entendant la parole de Dieu, il se sentit tellement excité au bien, que dès lors il sembla avoir atteint une perfection consommée, quoiqu'il ne fût encore qu'au début d'une vie très sainte. Après avoir donné tout ce qu'il avait aux pauvres prisonniers, il devint pour tout le peuple un spectacle de pénitence, et de mépris de soi-même, ce qui lui attira les plus mauvais traitements de la part de beaucoup de personnes qui le regardaient comme un fou, et on alla jusqu'à l'enfermer dans une maison de santé. Mais Jean, enflammé de plus en plus d'une charité céleste, parvint à faire construire dans la ville de Grenade, avec les aumônes des personnes pieuses, deux vastes hôpitaux, et jeta les fondements d'un nouvel Ordre, donnant à l'Église l'institut des Frères hospitaliers, qui servent les malades au grand profit des âmes et des corps, et qui se sont répandus dans le monde entier.
Cinquième leçon. Il ne négligeait rien pour procurer le salut de l'âme et du corps aux pauvres malades, que souvent il portait chez lui sur ses épaules. Sa chanté ne se renfermait pas dans les limites d'un hôpital : il procurait secrètement des aliments à de pauvres veuves, à des jeunes filles dont la vertu était en danger, et mettait un soin infatigable à délivrer du vice ceux qui en étaient souillés. Un grand incendie s'étant déclaré dans l'hôpital de Grenade, Jean se jeta intrépidement au milieu du feu, courant ça et là dans l'enceinte embrasée jusqu'à ce qu'il eût transporté sur ses épaules tous les malades, et jeté les lits par les fenêtres pour les préserver du feu. Il resta ainsi pendant une demi-heure au milieu des flammes qui s'étendaient avec une rapidité extraordinaire ; il en sortit sain et sauf par le secours divin, à l'admiration de tous les habitants de Grenade ; montrant par cet exemple de charité que le feu qui le brûlait au dehors était moins ardent que celui qui l'embrasait intérieurement.
Sixième leçon. Jean de Dieu pratiqua, dans un degré éminent de perfection, des mortifications de tous genres, la plus humble obéissance, une extrême pauvreté, le zèle de la prière, la contemplation des choses divines ainsi que la dévotion à la sainte Vierge ; il fut aussi favorisé du don des larmes. Enfin, atteint d'une grave maladie, il reçut, selon l'usage, tous les sacrements de l'Église dans tes plus saintes dispositions, puis, malgré sa faiblesse, il se leva de son lit, couvert de ses vêtements, se jeta à genoux, et, pressant sur son cœur l'image de Jésus-Christ crucifié, il mourut ainsi dans le baiser du Seigneur, le huit des ides de mars, l'an mil cinq cent cinquante. Même après son dernier soupir, ses mains retinrent encore le crucifix, et son corps resta dans la même position pendant environ six heures, répandant une odeur merveilleusement suave jusqu'à ce qu'on l'eût enlevé de ce lieu. La ville entière fut témoin de ces prodiges. Illustre par de nombreux miracles, pendant sa vie et après sa mort, Jean de Dieu a été mis au nombre des Saints par le souverain Pontife Alexandre VIII. Léon XIII, agissant selon le désir des saints Évêques de l'Univers catholique et après avoir consulté la Congrégation des Rites, l'a déclaré le céleste Patron de tous les hospitaliers et des malades du monde entier, et il a ordonné qu'on invoquât son nom dans les Litanies des agonisants.
Le même esprit qui avait inspire Jean de Matha se reposa sur Jean de Dieu, et le porta à se faire le serviteur de ses frères les plus délaissés. Tous deux, dans ce saint temps, se montrent à nous comme les apôtres de la charité fraternelle. Ils nous enseignent, par leurs exemples, que c'est en vain que nous nous flatterions d'aimer Dieu, si la miséricorde envers le prochain ne règne pas dans notre cœur, selon l'oracle du disciple bien-aimé qui nous dit : « Celui qui aura reçu en partage les biens de ce monde, et qui, voyant son frère dans la nécessité, tiendra pour lui ses entrailles fermées, comment la charité de Dieu demeurerait-elle en lui [1] ? » Mais, s'il n'est point d'amour de Dieu sans l'amour du prochain, l'amour des hommes, quand il ne se rattache pas à l'amour du Créateur et du Rédempteur, n'est aussi lui-même qu'une déception. La philanthropie, au nom de laquelle un homme prétend s'isoler du Père commun, et ne secourir son semblable qu'au nom de l'humanité, cette prétendue vertu n'est qu'une illusion de l'orgueil, incapable de créer un lien entre les hommes, stérile dans ses résultats. Il n'est qu'un seul lien qui unisse les hommes : c'est Dieu, Dieu qui les a tous produits, et qui veut les réunir à lui. Servir l'humanité pour l'humanité même, c'est en faire un Dieu ; et les résultats ont montré si les ennemis de la charité ont su mieux adoucir les misères auxquelles l'homme est sujet en cette vie, que les humbles disciples de Jésus-Christ qui puisent en lui les motifs et le courage de se vouer à l'assistance de leurs frères. Le héros que nous honorons aujourd'hui fut appelé Jean de Dieu, parce que le saint nom de Dieu était toujours dans sa bouche. Ses œuvres sublimes n'eurent pas d'autre mobile que celui de plaire à Dieu, en appliquant à ses frères les effets de cette tendresse que Dieu lui avait inspirée pour eux. Imitons cet exemple ; et le Christ nous assure qu'il réputera fait à lui-même tout ce que nous aurons fait en faveur du dernier de nos semblables.
Le patronage des hôpitaux a été dévolu par l'Église à Jean de Dieu, de concert avec Camille de Lellis que nous retrouverons au Temps après la Pentecôte.
Qu'elle est belle, ô Jean de Dieu ! Votre vie consacrée au soulagement de vos frères ! Qu'elle est grande en vous, la puissance de la charité ! Sorti, comme Vincent de Paul, de la condition la plus obscure, ayant comme lui passé vos premières années dans la garde des troupeaux, la charité qui consume votre cœur arrive à vous faire produire des œuvres qui dépassent de beaucoup l'influence et les moyens des puissants selon le monde. Votre mémoire est chère à l'Église ; elle doit l'être à l'humanité tout entière, puisque vous l'avez servie au nom de Dieu, avec un dévouement personnel dont n'approchèrent jamais ces économistes qui savent disserter, sans doute, mais pour qui le pauvre ne saurait être une chose sacrée, tant qu'ils ne veulent pas voir en lui Dieu lui-même. Homme de charité, ouvrez les yeux de ces aveugles, et daignez guérir la société des maux qu'ils lui ont faits. Longtemps on a conspiré pour effacer du pauvre la ressemblance du Christ ; mais c'est le Christ lui-même qui l'a établie et déclarée, cette ressemblance ; il faut que le siècle la reconnaisse, ou il périra sous la vengeance du pauvre qu'il a dégradé. Votre zèle, ô Jean de Dieu, s'exerça, avec une particulière prédilection, sur les infirmes ; protégez-les contre les odieux attentats d'une laïcisation qui poursuit leurs âmes jusque dans les asiles que leur avait préparés la charité chrétienne. Prenez pitié des nations modernes qui, sous prétexte d'arriver à ce qu'elles appelaient la sécularisation, ont chassé Dieu de leurs mœurs et de leurs institutions : la société, elle aussi, est malade, et ne sent pas encore assez distinctement son mal ; assistez-la, éclairez-la, et obtenez pour elle la santé et la vie. Mais comme la société se compose des individus, et qu'elle ne reviendra à Dieu que par le retour personnel des membres qui la composent, réchauffez la sainte charité dans le cœur des chrétiens : afin que, dans ces jours où nous voulons obtenir miséricorde, nous nous efforcions d'être miséricordieux, comme vous l'avez été, à l'exemple de celui qui, étant notre Dieu offensé, s'est donné lui-même pour nous, en qui il a daigné voir ses frères. Protégez aussi du haut du ciel le précieux institut que vous avez fondé, et auquel vous avez donné votre esprit, afin qu'il s'accroisse et puisse répandre en tous lieux la bonne odeur de cette charité de laquelle il emprunte son beau nom.
[1] I Johan. III, 17.
Ce fut Clément XI qui introduisit dans le Missel, sous le rite semi-double, la fête de cet insigne patron des hôpitaux catholiques (+ 1550) et de tous ceux qui, dans les douleurs de la maladie et de l'agonie, accomplissent ici-bas les dernières phases de leur purification avant de comparaître au tribunal divin. Plus tard, Innocent XIII accorda à la fête de saint Jean de Dieu le rite double, et Léon XIII prescrivit d'insérer son nom dans les litanies des agonisants, avec celui de saint Camille de Lellis.
La messe est celle du Commun des Confesseurs non Pontifes, sauf la première collecte et l'Évangile, qui sont propres. La collecte fait allusion non seulement à la fondation de .l'Ordre des Hospitaliers, mais aussi au miracle de saint Jean de Dieu, alors que, l'hôpital de Grenade étant la proie des flammes, il circula près d'une demi-heure, intrépide, dans cette fournaise, transportant en lieu sûr les malades et jetant les lits par les fenêtres pour les soustraire au feu.
Le culte particulier de ce Saint est assuré à Rome chrétienne par les religieux de son Ordre, qui desservent l'antique église de Saint-Jean de Insula, dans l'île Tibérine. Il est en outre dans les traditions de la cour papale que la pharmacie des Palais apostoliques soit administrée par un religieux de l'Ordre de Saint-Jean de Dieu, qui remplit aussi les fonctions d'infirmier du Souverain Pontife.
La lecture de l'Évangile est celle du XVIIe dimanche après la Pentecôte (Matth., XXII, 34-36) où Jésus promulgue le grand précepte de la perfection chrétienne, qui consiste essentiellement dans l'amour. A la vérité, étant donné le caractère historique de l'inspiration liturgique moderne, on se serait plutôt attendu à trouver ici le récit du bon Samaritain, prototype de l'infirmier chrétien. Néanmoins la péricope choisie s'adapte bien, elle aussi, à notre Saint, puisque en lui l'amour du prochain, et plus encore l'amour de Dieu, s'élevèrent à des hauteurs si vertigineuses qu'ils atteignirent la sublime folie de la Croix, jusqu'à le pousser à se faire passer pour fou, à subir des coups et à se laisser enfermer dans un hôpital d'aliénés. Ce fut le bienheureux Maître Jean d'Avila qui pénétra le mystère et rappela le Saint de ce singulier genre de vie à une règle plus discrète, telle que Dieu l'exigeait de lui, pour qu'il arrivât à constituer une nouvelle et stable congrégation religieuse.
« Dieu est amour. Celui qui demeure dans l'amour, demeure en Dieu et Dieu en lui. » (Devise de son Ordre).
Saint Jean : Jour de mort : 8 mars 1550. — Tombeau : à Grenade. Image : On le représente avec une couronne d'épines et avec une corne autour du cou à laquelle sont suspendus deux vases (pour recueillir les aumônes). Vie : Saint Jean de Dieu naquit en 1493. A l'âge de huit ans, il s'enfuit de la maison paternelle pour une raison inconnue. Dans sa jeunesse, il fut successivement bouvier et libraire et mena une vie chrétienne assez tiède. Un sermon du bienheureux Jean d'Avila le convertit soudain. Sa conversion fut si complète qu'on le prit pour un fou. Il sauva, au péril de sa vie, dans un incendie, les malades d'un hôpital (Oraison). Cette action manifesta sa vertu et lui révéla à lui-même la grande tâche de sa vie. Il fonda l'Ordre des Frères de la miséricorde (approuvé en 1572 par Saint Pie V). Le but de cet Ordre est la charité miséricordieuse pour les malades. Les membres de cet Ordre s'engagent, par un quatrième vœu, à se consacrer toute leur vie au soin des malades. Le saint est le patron des hôpitaux et des mourants. Son nom est invoqué dans les litanies dés agonisants.
Pratique : Notre temps ne sait plus, comme l'ancienne Église, unir harmonieusement, dans une vie intime et organique, ces deux choses : la liturgie et le soin des malades. Notre saint peut nous en indiquer les moyens. — Nous prenons la messe du Carême et faisons mémoire du saint.
Quelques traits de sa vie. — Dans le grand hôpital de Grenade fondé par les souverains Ferdinand et Isabelle, un incendie avait éclaté. Parti de la cuisine, le feu avait gagné les autres pièces. Il menaçait d'envahir aussi les grandes salles dans lesquelles étaient couchés des centaines de malades. On sonna le tocsin. De toutes parts, le peuple se précipita : Jean était en tête. Les pompiers et les charpentiers étaient impuissants. Personne n'osait se lancer dans la maison en feu. On entendait les gémissements désespérés des pauvres malades. Ceux qui pouvaient se lever, se tenaient auprès des fenêtres, se tordant les mains. C'était à devenir fou. Jean, alors, ne peut plus se contenir. Sans tenir compte de la fumée et des flammes, il se précipite dans ces salles qu'il connaît bien, arrache portes et fenêtres, donne quelques indications, quelques ordres brefs à ceux qui peuvent se sauver eux-mêmes, puis guidant, poussant et traînant les autres, en portant souvent deux à la fois, dans ses bras, sur ses épaules, montant et descendant les escaliers, il met tous les malades dehors, à l'abri. Quand tous sont sauvés, il s'occupe du mobilier ; il jette, par la fenêtre, les couvertures et les lits, les habits et les chaises, les autres meubles et arrache ainsi au feu le bien sacré des pauvres. Puis, il prend une hache et monte sur le toit. Tout là-haut, on le voit frapper avec acharnement. Soudain, une gerbe de flammes jaillit à côté de lui. Il s'enfuit et cherche à se sauver dans l'édifice adjacent. Mais là aussi une vague de flammes jaillit en face de lui. Il est entre deux feux. Quelques instants et il disparaît dans le brasier et la fumée. L'incendie se limite à son foyer. On déplore à haute voix la mort de l'homme courageux quand, soudain, il se précipite hors de la maison, noir de fumée, mais sain et sauf, n'ayant que les sourcils brûlés. La foule l'entoure en poussant des cris d'allégresse et félicite le sauveur des malades et de l'hôpital. Mais Jean chercha modestement à s'arracher aux remerciements et à la reconnaissance.
NOTHING in John's early life foreshadowed his future sanctity. He ran away as a boy from his home in Portugal, tended sheep and cattle in Spain, and served as a soldier against the French, and afterwards against the Turks. When about forty years of age, feeling remorse for his wild life, he resolved to devote himself to the ransom of the Christian slaves in Africa, and went thither with the family of an exiled noble, which he maintained by his labor. On his return to Spain he sought to do good by selling holy pictures and books at low prices. At. length the hour of grace struck. At Granada a sermon by the celebrated John of Avila shook his soul to its depths, and his expressions of self-abhorrence were so extraordinary that he was taken to the asylum as one mad. There he employed himself in ministering to the sick. On leaving he began to collect homeless poor, and to support them by his work and by begging. One night St. John found in the streets a poor man who seemed near death, and, as was his wont, he carried him to the hospital, laid him on a bed, and went to fetch water to wash his feet. When he had washed them, he knelt to kiss them, and started with awe: the feet were pierced, and the print of the nails bright with an unearthly radiance. He raised his eyes to look, and heard the words, "John, to Me thou doest all that thou doest to the poor My name: I reach forth My hand for the alms thou givest; Me dost thou clothe, Mine are the feet thou dost wash." And then the gracious vision disappeared, leaving St. John filled at once with confusion and consolation. The bishop became the Saint's patron, and gave him the name of John of God. When his hospital was on fire, John was seen rushing about uninjured amidst the flames until he had rescued all his poor. After ten years spent in the service of the suffering, the Saint's life was fitly closed. He plunged into the river Xenil to save a drowning boy, and died A.D. 1550 of an illness brought on by the attempt, at the age of fifty-five.
Reflection.--God often rewards men for works that are pleasing in His sight by giving them grace and opportunity to do other works higher still. St. John of God used to attribute his conversion, and the graces which enabled him to do such great works, to his self-denying charity in Africa.
St. John of God

St. John of God (1495-1550) having given up active Christian belief while a soldier, was 40 before the depth of his sinfulness began to dawn on him. He decided to give the rest of his life to God's service, and headed at once for Africa, where he hoped to free captive Christians and, possibly, be martyred.
He was soon advised that his desire for martyrdom was not spiritually well based, and returned to Spain and the relatively prosaic activity of a religious goods store. Yet he was still not settled. Moved initially by a sermon of Blessed John of Avila, he one day engaged in a public beating of himself, begging mercy and wildly repenting for his past life.

 Committed to a mental hospital for these actions, John was visited by Blessed John, who advised him to be more actively involved in tending to the needs of others rather than in enduring personal hardships. John gained peace of heart, and shortly after left the hospital to begin work among the poor.
He established a house where he wisely tended to the needs of the sick poor, at first doing his own begging. But excited by the saint's great work and inspired by his devotion, many people began to back him up with money and provisions. Among them were the archbishop and marquis of Tarifa.
Behind John's outward acts of total concern and love for Christ's sick poor was a deep interior prayer life which was reflected in his spirit of humility. These qualities attracted helpers who, 20 years after John's death, formed the Brothers Hospitallers, now a worldwide religious order.

 One mark of honor to his labors is that this order has been officially entrusted with the medical care of the Popes.
John became ill after 10 years of service but tried to disguise his ill health. He began to put the hospital's administrative work into order and appointed a leader for his helpers. He died on March 8, 1550, his 55th birthday. He was canonized by Pope Alexander VIII on October 16, 1690, and later named the patron saint of hospitals, the sick, nurses, firefighters, alcoholics, and booksellers. St. John's feast day is commemorated on March 8.
Voir aussi :http://communio.stblogs.org/2010/03/saint-john-of-god.html
http://www.saintjeandedieu.com/ewb_pages/b/biographie.php

http://www.radio-silence.org/Sons/2013/LSM/pdf/lsm20130308.pdf