Saint Pétroc, Évangéliste Celte, Higoumène, (564)
Saint Petroc (parfois orthographié Petrock en anglais, Pedrog en gallois et Perreux en français) (natalice en 564) est un chrétien celte du 6ème siècle. Il est né au Pays de Galles, mais il exerça surtout son ministère pour les Britons de Domnonée qui comprenait les comtés modernes du Devon (Dewnans), de la Cornouailles (Kernow), et des parties du Somerset (Gwlas an Hav) et du Dorset. Il est également connu pour avoir exercé son ministère pour la population de Bretagne.
Les anciennes généalogies galloises rapportent qu'il était fils cadet du roi Glywys Cernyw de Glywysing (maintenant Glamorgan), et il y a des lieux qui lui sont consacrés à St Petrox près de Pembroke et à Ferwig près de Cardigan. Il a également donné son nom à Llanbedrog, un village situé sur la péninsule de Lleyn. Il étudia en Irlande (où il fut le maître de Saint Kevin).
Après ses études, il commença sa mission en Cornouailles, où il fonda des monastères à Padstow et Bodmin. Padstow, qui porte son nom ("Pedroc-Stowe", ou "le lieu de Petrock"), semble avoir été sa base pendant un certain temps. Il existe de nombreux autres lieux qui lui sont dédiés tout au long de la Cornouailles et on dit même qu'il convertit son roi, Constantin de Domnonée, au christianisme. Après trente ans, la légende dit qu'il était allé en pèlerinage à Rome en passant par la Bretagne.
À son retour, Petroc traversa le Devon, où les lieux anciens à lui dédiés, sont encore plus nombreux: probablement dix-sept d'entre eux (plus Timberscombe un peu plus au-delà de la frontière du Somerset), comparativement à la Cornouailles où il y en a cinq. La position des églises qui portent son nom, presque toujours près de la côte, nous rappelle qu'en ce temps-là les voyages se faisaient principalement par voie maritime. Les villes du Nord du Devon Petrockstow et Newton Saint Petroc sont aussi nommées ainsi d'après saint Petroc et le drapeau officieux du Devon adopté par le peuple lui est dédié.
Les récits légendaires autour de saint Petroc sont exceptionnellement vivants et imaginatifs (lui attribuant un second pèlerinage, des voyages en Inde, le don d'apprivoiser les loups) et ils peuvent représenter une interpolation à partir de contes païens.
En iconographie, saint Petroc est généralement représenté avec un cerf. Son grand sanctuaire était toujours en l'église Saint Petroc, à Bodmin. En 1177, un Breton vola ses reliques de Bodmin et les donna à l'abbaye de Saint-Méen. Cependant, Henri II les rendit et, bien que les reliques aient été jetées au cours de la Réforme anglaise, leur beau coffret-reliquaire en ivoire est toujours exposé au public dans l'église. Avec saint Piran et saint Michel, il est le saint patron de Cornouailles.
Sa fête est au 4 juin.
Version française Claude Lopez-Ginisty d'après
St. Petroc
St. Petroc was the younger son of the King Glywys. On his father's death, the people of Glywysing called for Petroc to take the crown of one the country's sub-divisions, but Petroc wanted a religious life, and went to study in Ireland.
Several years later he returned to Britain, landing on the River Camel in Cornwall. Directed by Saint Samson to the hermitage of Saint Wethnoc. Wethnoc agreed to give his cell to Petroc in order that he could found a monastery on the site.
After 30 years as abbot, Petroc made a pilgrimage to Rome, Italy. On his return, just as he reached Newton Saint Petroc, it began to rain. Petroc predicted it would soon stop, but it rained for three days. In penance for presuming to predict God's weather, Petroc returned to Rome, then to Jerusalem, then to India where he lived seven years on an island in the Indian Ocean.
Petroc returned to Britain with a wolf companion he had met in India. Founded churches at Saint Petrox and Llanbedrog. In Cornwall, with the help of Saint Wethnoc and Saint Samson, he defeated a mighty serpent that King Teudar of Penwith had used to devour his enemies. He then left his monastery at Llanwethinoc to live as a hermit in the woods at Nanceventon, some fellow monks following his example at Vallis Fontis.
While in the wilderness, a hunted deer sought shelter in Saint Petroc's cell. Petroc protected it from the hunter, King Constantine of Dumnonia, and converted the king to Christianity in the bargain.
St. Petroc later moved deep into the Cornish countryside, encountering the hermit Saint Guron. Guron moved south allowing Petroc, with the backing of King Constantine, to establish a monastery called Bothmena (the Abode of Monks) at the site of the hermitage.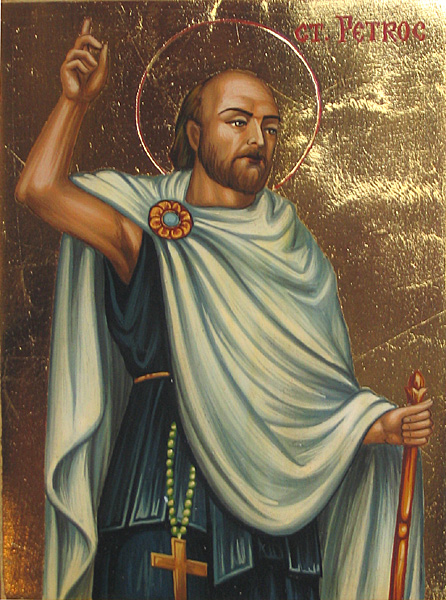 June 4
St. Petroc, in French Perreuse, Abbot and Confessor
HAVING laid the foundation of a virtuous education in Wales, his native country, he passed into Ireland, and there spent twenty years in sacred studies, and in the most fervent exercises of devotion and penance. For his further improvement he made a pilgrimage to Rome, and returning to Cornwall, shut himself up in a monastery of which he was himself the founder, at a place since called from him Petrocs-Stow, now Padstow, which stands at the mouth of the river Alan or Camel on the Bristol Channel: it is a good sea-port, much frequented by Irish, who make up a considerable part of the inhabitants. 1
Bodmin, a flourishing town almost in the centre of Cornwall, about twelve miles from each of the two seas, was also illustrious for having been some time the dwelling-place of St. Petroc, whom some distinguish from St. Petroc of Padstow, because Dugdale calls him a bishop. But it was not uncommon in Ireland at that time, for eminent abbots to be raised to the episcopal dignity in their own monasteries by the neighbouring bishops. And Sir James Ware and Mr. Harris find, in some Irish legends, the title of bishop promiscuously used for that of abbot. At least, neither in the registers or archives of Exeter, nor in Godwin, Le Neve, or any others is his name found in the lists of the bishops of Cornwall. 1 And all accounts in Leland and others suppose the same St. Petroc to have retired from Padstow to Bodmin, and there founded a second monastery and a great church which king Athelstan afterwards favoured with great benefactions and singular privileges. In this place, St. Petroc ended his mortal course about the year 564, on the 4th of June. His shrine and tomb in Leland's time, in the reign of Henry VIII. remained in the eastern part of the church of Bodmin, not far from the high altar. At Padstow he had, among others, three eminent holy disciples, Credan, Medan, and Dachan. From his numerous monastery at Bodmin, that place was anciently called Bosmana, or Bodmanachie, that is, the mansion of monks. This great church was originally served by monks: after king Athelstan's munificent benefactions by secular clergy, and in the reign of Henry I., it became a flourishing monastery of regular canons of St. Austin. The relics of St. Petroc were carried privately to St. Meen's monastery in Brittany in 1178; but upon the complaint of Roger, prior of the regular canons at Bodmin, the king of England procured them to be brought back and restored to the great church of Bodmin the year following, where it was still standing in Leland's time. 2
St. Petroc is titular saint of a church in Nivernois in France, Bodmin, and several other churches and chapels in Cornwall, Devonshire, &c. In the calendars of some churches and monasteries of Brittany the feast of St. Petroc is ordered to be kept of the first class with an octave. See Lobineau, p. 1, &c. On St. Petroc, see Leland in his Itinerary, second edition, vol. 8, p. 52; vol. 3, p. 2; vol. 2, p. 84; in his Collectanea, vol. 1, p. 75; vol. 3, p. 188, and 209; Capgrave, Chatelain, Colgan in MSS. ad 4 Junii, and Borlase, Antiquities of Cornwall. 3
Note 1. Devonshire and Cornwall, being part of Wessex, were long subject to the bishop of that kingdom, who resided first at Dorchester, and after 600 at Winchester. A bishopric being erected at Shirburne in 705, (which was removed to Sarum in the eleventh century,) these counties belonged to it, till at the request of King Ina, a bishop was placed at Bodmin for Cornwall, about the year 720, whose name was Conan, whose ten successors are enumerated by Godwin and Le Neve. In 905, Werstan, called also Adulphe, was consecrated bishop for Devonshire, and resided at Bishop's Tawton in that county: but Eadulph, the third from him, removed his see to Crediton or Kirton, seven miles from Exeter. His eleventh successor Leofric was also bishop of Cornwall, and in 1050 removed both these sees to Exeter.
That of Cornwall had been translated in the reign of King Athelstan by Bishop Sydenham, the seventh from Werstan, from Bodmin to the town of St. German's, the cathedral of St. Petroc's and the bishop's palace, with the greater part of the town, having been burnt down by the Danes when they plundered the countries of Devonshire and Cornwall. Three bishops of Cornwall resided at St. German's till the union of these sees at Exeter. See Leland's Collectanea, t. 1, p. 75; Le Neve, Fusti, &c.
Rev. Alban Butler (1711–73). Volume VI: June. The Lives of the Saints. 1866.
Saint Petroc (sometimes spelt Petrock in English, Pedrog in Welsh and Perreux in French) (d. 564) is a 6th century Celtic Christian saint. He was born in Wales but primarily ministered to the Britons of Dumnonia which included the modern counties of Devon (Dewnans), Cornwall (Kernow), and parts of Somerset (Gwlas an Hav) and Dorset. He is also known to have ministered to the people of Brittany.
Old Welsh genealogies record that he was a younger son of King Glywys Cernyw of Glywysing (now Glamorgan), and there are local dedications to him at St Petrox near Pembroke and Ferwig near Cardigan. He has also given his name to Llanbedrog, a village on the Lleyn peninsula. He studied in Ireland (where he was the teacher of Saint Kevin).
After studying, he began his mission to Cornwall, where he founded monasteries at Padstow and Bodmin. Padstow, which is named after him (Pedroc-stowe, or 'Petrock's Place'), appears to have been his base for some time. There are numerous other dedications to him throughout Cornwall and he is even said to have converted its king, Constantine of Dumnonia, to Christianity. After thirty years, legend says that he went on the pilgrimage to Rome by way of Brittany.
Upon his return, Petroc passed through Devon, where ancient dedications to him are even more numerous: a probable seventeen (plus Timberscombe just over the border in Somerset), compared to Cornwall's five. The position of churches bearing his name, nearly always near the coast, reminds us that in those days travelling was done mainly by sea. The North Devon towns of Petrockstow and Newton St Petroc are also named after Saint Petroc and the popularly-adopted unofficial flag of Devon is dedicated to him.
The legendary tales surrounding Petroc are exceptionally vivid and imaginative (giving him a second pilgrimage, travels to India, taming wolves) and may represent interpolation from pagan tales.
In iconography, Petroc is usually shown with a stag. His major shrine was always at St Petroc's Church, Bodmin. In 1177, a Breton stole his relics from Bodmin and gave to the Abbey of St Meen. However, Henry II restored them and, though the relics were thrown out during the English Reformation, their beautiful ivory casket is still on public display in the church. With Saint Piran and Saint Michael, he is patron saint of Cornwall.
His feast day is June 4.
St. Pedrog,
Abbot of Lanwethinoc
(c.468-564)
(Latin: Petrocus; English: Petrock)
The name Pedrog is probably a variant of modern Patrick. Petroc, as he is generally known in Cornwall where he was patron saint, was a younger son of King Glywys Cernyw of Glywysing. (He may be identical to, or confused with, the legendary King Petroc Baladrddellt (Splintered Spear) of Cerniw). Upon his father's death, the people of Glywysing called for Pedrog to take on the crown of one the country's sub-divisions like his brothers. Petroc, however wished to pursue a religious life and left, with several followers, to study in Ireland.
Some years later, Petroc and his band returned to Britain, landing on the shores of the River Camel in Cerniw (Cornwall). They were directed, by St. Samson, to the hermitage of St. Wethnoc who, seeing Petroc's superior piety agreed to give him his cell in return for Petroc naming the place Llanwethinoc (now Padstow - Petroc's Stow) in his honour. Petroc founded a monastery on the site but, after thirty years there, he decided to go on a pilgrimage to Rome, via Brittany. On his return journey, just as he reached Newton St. Petrock (Devon), it began to rain. Petroc predicted that this would soon stop, but it continued to rain for three days. In penance for such presumption, Petroc returned to Rome, travelled on to Jerusalem and finally settled in India where he lived for seven years on an island in the Indian Ocean.
Petroc eventually returned to Britain (with a wolf companion he had met in India), but may have gone on a further pilgrimage to Ynys Enlli (Bardsey), founding churches at St. Petrox (Dyfed) and Llanbedrog (Lleyn) on the way. Back in Cerniw, with the help of Saints Wethnoc and Samson, he defeated a mighty serpent which the late King Teudar of Penwith had used to devour his enemies. This done, he departed from his monastery at Llanwethinoc (Padstow) to live as a hermit in the woods at Nanceventon (Little Petherick). Some of his fellow monks followed his example at Vallis Fontis (St. Petroc Minor). It was while in the wilderness that a hunted deer saught shelter in St. Petroc's cell. Petroc protected it from the hungry grasp of King Constantine of Dumnonia and managed to convert him to Christianity into the bargain.
Petroc later moved still deeper into the Cornish countryside, where he discovered St. Guron living in a humble cell. Guron gave up his hermitage and moved south, allowing Petroc, with the backing of King Constantine, to establish a second monastery called Bothmena (Bodmin - the Abode of Monks) after the monks who lived there. Petroc eventually died at Treravel, while travelling between Nanceventon (Little Petherick) and Llanwethinoc (Padstow), and was buried at Padstow. The monks there later removed themselves, along with Petroc's body, to Bodmin where his beautiful Norman casket reliquary can still be seen today.
SOURCE :
http://www.earlybritishkingdoms.com/bios/pedrogg.html
Petroc of Cornwall, Abbot (AC)
(also known as Petrock, Pedrog, Perreux)

Died at Treravel, Wales, c. 594. Cornwall's most famous saint was the son of a prince from southern Wales. Petroc studied theology in Ireland. He settled at Haylesmouth in Cornwall, had an active apostolate, and founded a monastery at Lanwethinoc (later called Petrocston, now Padstow). After 30 years there, Petroc made a pilgrimage to Rome and Jerusalem, at which time he is also reputed to have reached the Indian Ocean and lived for a time on an island as a hermit. Returning to Cornwall, he founded another monastery at Little Petherick (Nanceventon) with a mill and chapel, and a hermitage at Bodmin, where Saint Goran met him. After meeting the hermit, Petroc travelled south. He built a cell for himself by the river and a monastery on the hilltop for his twelve disciples, among which were Saints Croidan, Medan, and Degan. Like several other hermit saints, Petroc had a special affinity with wild animals.
Petroc was buried at Padstow, which became the center of his cultus. There are 18 churches dedicated to him in Devon, plus others in Cornwall and south Wales. About 1000, his shrine and relics, including his staff and bell, were translated to Bodmin. In 1178, his relics were stolen by a disgruntled priest named Martin and given to Saint-Méen's Abbey near Rennes, Brittany, but were returned to Bodmin the next year at the request of its Prior Roger after the intervention of Bishop Bartholomew of Exeter and King Henry II. A rib was left at Saint-Méen's. During the reign of Henry VIII, his shrine and tomb were in the church of Bodmin on the eastern side of the high altar. During the Reformation the fine Sicilian-Islamic reliquary containing Petroc's head was hidden. It was rediscovered in the 19th century and remains in the parish church at Bodmin.
Petroc may also have evangelized in Brittany, where more than 30 churches are dedicated to him under the name Perreux. His is also the titular saint of a church in the Nivernais. It is possible, however, that his many disciples carried his cultus across the Channel. The extant vita of Saint Petroc are unreliable (Attwater, Benedictines, Delaney, Farmer, Encyclopedia, Husenbeth).
In art, Petroc is generally portrayed with a stag--a reminder of one he sheltered from hunters.