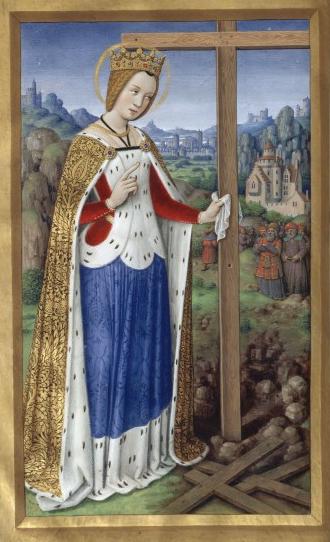 Invention (trouvaille) miraculeuse de la sainte Croix par sainte Hélène, impératrice,
mère de Constantin premier empereur romain converti au Christianisme.
« Les Grandes Heures d'Anne de Bretagne », 1508
Sainte Hélène
Impératrice byzantine (
✝
329)
Fille de domestiques et servante d'auberge, elle avait été choisie comme épouse de second rang par le centurion Constance Chlore qui la répudia vingt ans plus tard lorsqu'il devint César. Il la laissa dans un exil doré à Trèves avec son fils, né en Serbie à Nish. Il épousa une princesse impériale, mais se montra toujours bon pour sainte Hélène. Quand ce fils fut porté au trône impérial de Rome par ses légions stationnées en Gaule sous le nom de Constantin, le nouvel empereur ne cessa de combler d'honneurs sa mère et la fit venir à Rome, lui construisant un palais magnifique, lui conférant des monnaies frappées à son effigie, couronnée du diadème royal. Chrétienne, elle se rendit en pèlerinage en Palestine où elle veut recueillir les précieuses reliques de la Passion et où elle lance la construction de trois basiliques pour protéger les Lieux Saints et les 'grottes mystiques' chères aux chrétiens: celle de Bethléem, celle où le Christ fut déposé dans l'attente de la Résurrection, celle des enseignements. Elle meurt à Nicomédie au retour de la Terre Sainte. Elle fut transportée à Rome où l'on voit encore au Vatican le sarcophage de porphyre qui contient ses reliques.
À Rome, sur la voie Labicane, vers 329, sainte Hélène, mère de l'empereur Constantin le Grand. Elle subvenait aux besoins de toute sorte de personnes et, mêlée à la foule, aimait à visiter pieusement les églises. Elle fit le pèlerinage de Jérusalem pour rechercher les lieux de la Nativité, de la Passion et de la Résurrection du Christ et fit construire des basiliques pour honorer la crèche et la croix du Seigneur.
Sainte Hélène
Impératrice
(† 328)
Sainte Hélène naquit vers le milieu du IIIe siècle. Voici ce que dit saint Ambroise:
"Hélène, première femme de Constance Chlore, qui ceignit depuis la couronne impériale, était, paraît-il, une humble fille d'étable. Noble fille d'étable, qui sut mettre tant de sollicitude dans la recherche de la Crèche sacrée! Noble fille d'étable, à qui fut réservé de connaître l'Étable de Celui qui guérit les blessures de l'humanité déchue! Noble fille d'étable, qui préféra les abaissements du Christ aux dignités trompeuses du monde! Aussi le Christ l'a-t-Il élevée de l'humilité de l'étable au sommet des grandeurs humaines."
La gloire de sainte Hélène c'est d'avoir été la mère du grand Constantin. "Constantin, dit saint Paulin de Nole, doit plus à la piété de sa mère qu'à la sienne d'avoir été le premier empereur chrétien." Contrairement aux autres empereurs, Constance Chlore reconnaissait le vrai Dieu. Les prêtres chrétiens étaient admis à sa cour et y vivaient en paix. Une telle bienveillance ne peut être attribuée qu'à l'influence de l'impératrice sur le coeur de son époux. Sainte Hélène a donc joué un grand rôle dans la fin des persécutions, puisqu'elle fut l'épouse et la mère des deux hommes qui, sous son influence, protégèrent le christianisme. Qui sait même si les prières d'Hélène ne méritèrent point à Constantin l'apparition miraculeuse de la Croix, par laquelle il remporta la victoire et devint seul maître de l'empire?
Un autre événement remarquable dans la vie de sainte Hélène, c'est la découverte de la vraie Croix du Sauveur, dont l'Église célèbre le souvenir le 3 mai.
Hélène vivait sans étalage de grandeurs. Nourrir les pauvres, donner aux uns de l'argent, aux autres des vêtements, à d'autres une maison ou un coin de terre, c'était son bonheur. Sa bonté s'étendait aux prisonniers, aux exilés, à tous les malheureux. Le peuple ne pouvait voir sans une joie mêlée de larmes son impératrice venir en habits simples et communs prendre sa place à l'église dans les rangs des fidèles: une telle conduite n'a sa source que dans l'Évangile. Hélène eut, avant sa mort, la consolation de voir Constantin, non seulement protecteur de la religion de Jésus-Christ, mais chrétien lui-même.
Abbé L. Jaud, Vie des Saints pour tous les jours de l'année, Tours, Mame, 1950
SOURCE :
http://magnificat.ca/cal/fr/saints/sainte_helene.html
Sainte Hélène interrogeant les Juifs sur le lieu ou pouvait se trouver la sainte Croix.
Speculum historiale
. V. de Beauvais. XVe.
Sainte Hélène, née vers 248 probablement dans la grande Bretagne, vivait à Drepanum, près de Nicomédie, dans une condition des plus humbles, lorsqu'elle attira l'attention de Constance Chlore, jeune officier de l'armée, qui revenait de son ambassade chez les Perses. Il l'épousa, en eut un fils, Constantin, mais fut obligé de la répudier pour devenir empereur. Lorsque Constantin monta sur le trône (en 306), il fit venir sa mère près de lui et la combla de marques de respect ; elle eut le titre d'Auguste et son nom fut gravé sur les monnaies.
On ne sait à quel moment elle est devenue chrétienne ; peut-être l'était-elle de naissance, peut-être n'abandonna-t-elle le culte des idoles que plus tard. Mais saint Paulin nous apprend qu'elle contribua à la conversion de Constantin. Elle n'intervint qu'assez tard dans les affaires religieuses de l'État.
Constantin, trompé par les fausses accusations de sa femme Fausta, ayant fait périr son fils Crispus, sainte Hélène en conçut un grand chagrin ; et lorsque l'empereur, dans un mouvement de sauvagerie païenne, eut cru devoir sacrifier Fausta aux mânes de son fils, elle résolut, bien qu'âgée de soixante-dix-neuf ans, d'aller faire aux Lieux saints un pèlerinage d'expiation, avec le secret désir d'y retrouver la vraie Croix.
Munie des pleins pouvoirs de Constantin, elle partit à la fin de l'année 326. Rien n'était triste et désolé comme l'état où la dernière conquête romaine avait laissé Jérusalem : on n'y voyait que des ruines ou des temples païens élevés par Adrien, superbes, mais vides ; la ville ne contenait presque plus de Chrétiens. Lorsque l'impératrice demanda à être conduite au Calvaire, on ne put lui en indiquer l'endroit. Enfin, après de longues recherches, on commença des fouilles et, quelques jours plus tard, on trouva en terre, à côté les unes des autres, trois croix de bois conservées intactes. Celle qui avait porté le Sauveur fut reconnue, ainsi que le rapporte saint Ambroise, à l'inscription placée autrefois par Pilate en trois langues différentes, et que l'on put encore parfaitement distinguer :
« À la nouvelle de cette découverte, un cri de joie s'échappa de toutes les familles chrétiennes. Dieu venait de consacrer par un dernier miracle le triomphe déjà merveilleux de Son Église. » Quel spectacle pour tous ces persécutés de la veille « que l'instrument du supplice divin sortant tout d'un coup des entrailles de la terre, et devenant comme un signe de domination et de victoire » !
Sainte Hélène, dont on avait peu parlé jusqu'alors, devint l'héroïne du monde chrétien. On s'entretint partout de ses vertus, on s'aperçut qu'au milieu des honneurs elle avait toujours mené une vie humble et sainte. Constantin mit à sa disposition toutes ses richesses pour bâtir un monument digne de renfermer les reliques sacrées. Après avoir commencé la construction de trois églises, sur le Saint-Sépulcre, à Bethléem et au jardin des Oliviers, elle quitta les Lieux saints et mourut en allant rejoindre l'empereur, qui se trouvait alors en Illyrie. C'était l'an 328, saint Sylvestre Ier étant pape et Constantin empereur.
Jan van Eyck.
Ritrovamento della Vera Croce
,
Très Belles Heures de Notre-Dame
, 1424,
28 X 19, Turin,
Museo Civico.
Sainte Hélène et la Vraie Croix
Née vers l'an 250, dans la province romaine de Bithynie, au nord-ouest de l'Asie Mineure, au sein d'une famille modeste, Hélène devient la concubine de l'empereur Flavius Constantius, surnommé Chlore. Elle sera la mère de Constantin qui deviendra empereur à la suite de son père et proclamera le christianisme religion officielle de l'empire romain. Avec Constantin, Hélène devint la puissante protectrice des chrétiens, puisant largement dans le trésor impérial pour construire ou doter de nombreuses églises, tout en secourant les pauvres, protégeant les opprimés et s'efforçant d'améliorer le sort des prisonniers, ce qui la fit vénérer du petit peuple.
Hélène partit vers la Terre sainte au lendemain du meurtre de son petit-fils Crispus, victime de complots dans la Rome impériale. Elle avait alors près de 80 ans. Quittant Rome avec Constantin pour Milan, elle gagna probablement la Thrace, s'embarqua à Alexandria Troas afin de passer en Asie Mineure, puis suivit la route la plus proche des côtes, pour s'embarquer à nouveau afin de gagner Chypre. Elle a dû y rester tout l'hiver, à attendre un temps plus favorable pour continuer sa route. On suppose que, le printemps venu, elle s'est embarquée pour Tyr, et de là, a atteint Jérusalem où, après avoir fait faire des fouilles sur le lieu du Calvaire, elle découvrit la Sainte Croix.
À part quelques détails secondaires, des auteurs dont l'enfance est contemporaine du voyage de l'Impératrice ou ceux de la génération qui suit, attestent de la découverte de la Sainte Croix par sainte Hélène et de son culte ; ainsi peut-on se référer à saint Cyrille de Jérusalem (mort en 386), à saint Paulin de Nole (mort en 431), à saint Sulpice Sévère (mort en 420), à saint Ambroise de Milan (mort en 397), à saint Jean Chrysostome (mort en 407), à Rufin d'Aquilée (mort en 410), à Théodoret de Cyr ou à l'avocat de Constantinople, Socrate.
Le récit de saint Ambroise
Elle commença par visiter les Lieux saints ; l'Esprit lui souffla de chercher le bois de la croix. Elle s'approcha du Golgotha et dit "Voici le lieu du combat ; où est la victoire ? Je cherche l'étendard du salut et ne le vois pas." Elle creuse donc le sol, en rejette au loin les décombres. Voici qu'elle trouve pêle-mêle trois gibets sur lesquels la ruine s'était abattue et que l'ennemi avait cachés. Mais le triomphe du Christ peut-il rester dans l'oubli ? Troublée, Hélène hésite, elle hésite comme une femme. Mue par l'Esprit-Saint, elle se rappelle alors que deux larrons furent crucifiés avec le Seigneur. Elle cherche donc la croix du milieu. Mais, peut-être, dans la chute, ont-elles été confondues et interverties. Elle revient à la lecture de l'Évangile et voit que la croix du milieu portait l'inscription "Jésus de Nazareth, Roi des Juifs". Par là fut terminée la démonstration de la vérité et, grâce au titre, fut reconnue la croix du salut.
Le récit de Rufin d'Aquilée
Elle apprit, par révélation, que la croix avait été enfouie dans un des caveaux du sépulcre de Notre Seigneur, et les anciens de la ville, qu'elle consulta avec grand soin, lui marquèrent le lieu où ils croyaient, selon la tradition de leurs pères, qu'était ce précieux monument ; elle fit creuser en ce lieu avec tant d'ardeur et de diligence, qu'elle découvrit enfin ce trésor que la divine Providence avait caché dans les entrailles de la terre durant tout le temps des persécutions, afin qu'il ne fût point brûlé par les idolâtres, et que le monde, étant devenu chrétien, lui pût rendre ses adorations.
Dieu récompensa cette sainte impératrice beaucoup plus qu'elle n'eût osé l'espérer : car, outre la Croix, elle trouva encore les autres instruments de la Passion, à savoir les clous dont Notre Seigneur avait été attaché, et le titre qui avait été mis au-dessus de sa tête. Cependant, une chose la mit extrêmement en peine les croix des deux larrons, crucifiés avec Lui, étaient aussi avec la sienne, et l'Impératrice n'avait aucune marque pour distinguer l'une des autres. Mais saint Macaire, alors évêque de Jérusalem, qui l'assistait dans cette action, leva bientôt cette nouvelle difficulté. Ayant fait mettre tout le monde en prière, et demandé à Dieu qu'il lui plût de découvrir à son Église quel était le véritable instrument de sa Rédemption, il le reconnut par le miracle suivant une femme, prête à mourir, ayant été amenée sur le lieu, on lui fit toucher inutilement les deux croix des larrons ; mais dès qu'elle approcha de celle du Sauveur du monde, elle se sentit entièrement guérie, quoique son mal eût résisté jusqu'alors à tous les remèdes humains et qu'elle fût entièrement désespérée des médecins. Le même jour, Macaire rencontra un mort qu'une grande foule accompagnait au cimetière. Il fit arrêter ceux qui le portaient et toucha inutilement le cadavre avec deux des croix ; aussitôt qu'on eut approché celle du Sauveur, le mort ressuscita.
Sainte Hélène, ravie d'avoir trouvé le trésor qu'elle avait tant désiré, remercia Dieu d'une grande ferveur, et fit bâtir au même lieu une église magnifique ; elle y laissa une bonne partie de la Croix, qu'elle fit richement orner ; une autre partie fut donnée à Constantinople ; enfin le reste fut envoyé à Rome, pour l'église que Constantin et sa mère avaient fondée dans le palais Sessorien (demeure de l'Impératrice) près du Latran qui a toujours depuis le nom de Sainte-Croix-de-Jérusalem.
Le récit de la Légende Dorée
Arrivée à Jérusalem, Hélène fit mander devant elle tous les savants juifs de la région. Et ceux-ci, effrayés, se disaient l'un à l'autre : "Pour quel motif la reine peut-elle bien nous avoir convoqués ?"
Alors l'un d'eux, nommé Judas, dit : "Je sais qu'elle veut apprendre de nous où se trouve le bois de la croix sur laquelle a été crucifié Jésus. Or mon aïeul Zachée a dit à mon père Simon, qui me l'a répété en mourant : "Mon fils, quand on t'interrogera sur la croix de Jésus, ne manque pas à révéler où elle se trouve, faute de quoi on te fera subir mille tourments ; et cependant ce jour-là sera la fin du règne des Juifs, et ceux-là règneront désormais qui adoreront la croix, car l'homme qu'on a crucifié était le Fils de Dieu !" Et j'ai dit à mon père : "Mon père, si nos aïeux ont su que Jésus était le fils de Dieu, pourquoi l'ont-ils crucifié ?" Et mon père m'a répondu "Le Seigneur sait que mon père Zachée s'est toujours refusé à approuver leur conduite. Ce sont les Pharisiens qui ont fait crucifier Jésus, parce qu'il dénonçait leurs vices. Et Jésus est ressuscité le troisième jour, et est monté au ciel en présence de ses disciples. Et mon oncle Étienne a cru en lui ; ce pourquoi les Juifs, dans leur folie, l'ont lapidé. Vois donc, mon fils, à ne jamais blasphémer Jésus ni ses disciples."
Ainsi parla Judas ; et les Juifs lui dirent "Jamais nous n'avons entendu rien de pareil." Mais lorsqu'ils se trouvèrent devant la reine, et que celle-ci leur demanda en quel lieu Jésus avait été crucifié, tous refusèrent de la renseigner si bien qu'elle ordonna qu'ils fussent jetés au feu. Alors les Juifs, épouvantés, lui désignèrent Judas, en disant "Princesse, cet homme-ci, fils d'un prophète sait toutes choses mieux que nous, et te révèlera ce que tu veux connaître !"
Alors la reine les congédia tous à l'exception de Judas, à qui elle dit "Choisis entre la vie et la mort ! Si tu veux vivre, indique-moi le lieu qu'on appelle Golgotha, et dis-moi où je pourrai découvrir la croix du Christ !" Judas lui répondit "Comment le saurais-je puisque deux cents ans ses sont écoulés depuis lors, et qu'à ce moment, je n'étais pas né ?" Et la reine "Je te ferai mourir de faim, si tu ne veux pas me dire la vérité !" Sur quoi elle fit jeter Judas dans un puits à sec, et défendit qu'on lui donnât aucune nourriture.
Le septième jour, Judas, épuisé par la faim, demanda à sortir du puits, promettant de révéler où était la croix. Et comme il arrivait à l'endroit où elle était cachée, il sentit dans l'air un merveilleux parfum d'aromates ; de telle sorte que, stupéfait, il s'écria "En vérité, Jésus, tu es le sauveur du monde !"
Or, il y avait en ce lieu un temple de Vénus qu'avait fait construire l'empereur Adrien, de façon que quiconque y viendrait adorer le Christ parût en même temps adorer Vénus. Et, pour ce motif, les chrétiens avaient cessé de fréquenter ce lieu. Mais Hélène fit raser le temple ; après quoi Judas commença lui-même à fouiller le sol et découvrit, à vingt pas sous terre, trois croix qu'il fit aussitôt porter à la reine.
Restait seulement à connaître celle de ces croix où avait été attaché le Christ. On les posa toutes trois sur une grande place, et Judas, voyant passer le cadavre d'un jeune homme qu'on allait enterrer, arrêta le cortège, et mit sur le cadavre l'une des croix, puis une autre. Le cadavre restait toujours immobile. Alors Judas mit sur lui la troisième croix ; et aussitôt le mort revint à la vie.
D'autres historiens racontent que c'est Macaire, évêque de Jérusalem, qui reconnut la vraie croix, en ravivant par elle une femme déjà presque morte. Et saint Ambroise affirme que Macaire reconnut la croix à l'inscription placée jadis par Pilate au-dessus d'elle.
Judas se fit ensuite baptiser, prit le nom de Cyriaque, et, à la mort de Macaire, fut ordonné évêque de Jérusalem. Or sainte Hélène, désirant avoir les clous qui avaient transpercé Jésus, demanda à l'évêque de les rechercher. Cyriaque se rendit de nouveau sur le Golgotha, et se mit en prière ; et aussitôt, étincelants comme de l'or, se montrèrent les clous, qu'il s'empressa de porter à la reine. Et celle-ci, s'agenouillant et baissant la tête, les adora pieusement.
Jacques de Voragine - La Légende Dorée
[La Légende dorée rédigée en latin au XIIIe siècle par le dominicain italien Jacques de Voragine, fut, après la Bible, le texte le plus largement diffusé au Moyen Âge. Cette 'légende des saints' (son titre originel) constitue en fait une encyclopédie de la vie chrétienne - le terme 'légende' devant être compris comme 'ce qui doit être lu' (par les prédicateurs, dans les écoles ou pendant les repas dans les monastères). Néanmoins, le merveilleux s'y fait très présent, selon la tradition des apocryphes chrétiens, friands de fantastique et de miraculeux. Outre les vies des saints, l'ouvrage s'attache à expliciter le sens des grandes fêtes chrétiennes.
L'ouvrage doit son titre actuel à son succès, les tranches dorées étant précisément réservées, au Moyen Âge, aux livres les plus importants.
Les bénédictins de Port-Valais ont mis en ligne une traduction française de la Légende dorée.
SOURCE :
http://www.villemagne.net/site_fr/jerusalem-sainte-helene.php
L'

INVENTION

DE LA SAINTE CROIX
Cette fête est appelée l'Invention de la Sainte Croix, parce qu'on rapporte que la sainte croix fut trouvée à pareil jour. Mais auparavant, elle avait été trouvée par Seth, fils d'Adam, dans le paradis. terrestre, comme il est raconté plus bas; par Salomon, sur le Liban ; par la reine de Saba, dans le temple, de Salomon ; par les Juifs, dans l'eau de la piscine ; et en ce Jour par sainte Hélène, sur le mont du Calvaire.
L'

Invention

de la Sainte Croix eut lieu plus de deux cents ans après la résurrection de J.-C. On lit dans l'évangile de Nicodème (ch. XIX) qu'Adam étant devenu malade, Seth, son fils, alla à la porte du paradis et demanda de l'huile du bois de la miséricorde pour oindre le corps de son père afin qu'il recouvrât la santé. L'archange Michel lui apparut et lui dit : « Ne pleure pas et ne te mets point en peine d'obtenir de l'huile du bois de la miséricorde, car il te sera absolument impossible d'en obtenir, avant que cinq mille cinq cents ans soient révolus. Cependant on croit, que d'Adam jusqu'à la passion du Seigneur il s'écoula seulement 5099 ans. On lit encore ailleurs que l'ange lui offrit un, petit rameau et lui ordonna de le planter sur le mont Liban. Mais ou lit, dans une histoire apocryphe des Grecs, que l'ange lui donna du bois de l'arbre par le fruit duquel Adam avait péché, en l'informant que sole père serait guéri. quand ce bois porterait du fruit. A son retour, Seth trouva son père mort et il planta ce rameau sur sa tombe. Cette branche plantée devint en croissant un grand arbre qui subsista jusqu'au, temps de Salomon. (Mais il faut laisser au lecteur à juger si ces choses sont vraies, puisqu'on n'en fait mention dans aucune chronique, ni dans aucune histoire authentique.) Or, Salomon considérant la beauté de cet arbre le fit couper et mettre dans la maison du Bois (1).
Cependant, ainsi que le dit Jean

Beleth

. (ch. CLI), On ne pouvait le mettre nulle part, et il n'y avait pas moyen de lui trouver un endroit où il

pût

être employé convenablement : car il était tantôt trop long, tantôt trop court : si on l'avait raccourci dans les proportions qu'exigeait la place où on le voulait employer, il paraissait si court qu'on ne le regardait plus comme bon à rien. En conséquence, les ouvriers, de dépit, le rejetèrent et le mirent sur une pièce d'eau pour qu'il servît de pont aux passants. Or, quand la reine de Saba vint entendre la Sagesse de Salomon, et voulut passer sur cette pièce, elle vit en esprit que le Sauveur du monde devait être suspendu à ce bois, et pour cela elle ne voulut point passer dessus, mais aussitôt elle l'adora. Cependant dans l'Histoire scholastique (liv. III Rois, c. XXVI), on lit que la reine de Saba vit cette pièce dans la maison du Bois, et en revenant à son palais elle communiqua à Salomon que sur ce bois devait être suspendu celui dont la mort devrait être la cause de la destruction du royaume des Juifs. C'est pourquoi Salomon le fit ôter du lieu où il était, et enterrer dans les entrailles les plus profondes de la terre. Dans la suite on y établit la Piscine Probatique où les

Nathinéens

(2) lavaient les victimes, et ce n'est pas seulement à la descente de l'ange, mais
encore à la vertu de ce. bois que l'on attribue que l'eau en était troublée et que les infirmes y étaient guéris. Or, quand approcha le temps de la passion de J.-C., on rapporte que cette pièce surnagea, et les Juifs, en la voyant, la prirent pour en fabriquer la croix du Seigneur. On dit encore que cette croix fut faite de quatre essences de bois, savoir de palmier, de cyprès, d'olivier et de cèdre. De là ce vers :
Ligna

Crucis

palma,

cedrus

, cupressus, oliva.
Car dans la croix, il y avait le bois qui servait de montant droit, la traverse,la tablette de dessus, et le tronc où était fixée la croix, ou bien, selon Grégoire de Tours (3), la tablette qui servait de support, sous les pieds de J.-C. Par là on, peut voir que chacune des pièces pouvait être d'une de ces essences de bois dont on vient de parler. Or, l'apôtre paraît avoir eu en vue ces différentes sortes de bois quand il dit : « Afin que vous puissiez comprendre avec tous. les saints quelle est la largeur, la longueur, la hauteur et la profondeur » (

Ep

. aux

Ephés

., c. II, 18). Ces paroles sont expliquées comme il suit par l'illustre docteur saint Augustin : « La largeur de la croix du Seigneur, dit-il, c'est la traverse, sur laquelle on a étendu ses mains sa longueur allait depuis la terre jusqu'à cette traverse en largeur sur quoi tout le corps de J.-C. fut attaché, moins les mains; sa hauteur, c'est à partir de cette largeur jusqu'à l'endroit de dessus où se trouvait la tête; sa profondeur, c'était la partie
cachée et enfoncée dans la terre. Dans la croix on trouve décrites toutes les actions d'un homme chrétien, qui sont de faire de bonnes oeuvres en J.-C., de lui être persévéramment attaché, d'espérer les biens célestes, et ne pas profaner les sacrements.
Ce bois précieux de la croix resta caché sous terre deux cents ans et plus : mais il fut découvert ainsi qu'il suit par Hélène, mère de l'empereur Constantin. En ce temps-là, sur les rives du Danube, se rassembla une multitude innombrable de barbares voulant passer le fleuve, et soumettre à leur domination tous les pays jusqu'à l'occident. Dès que l'empereur Constantin le

sut

, il décampa et vint se placer avec son. armée sur le Danube. Mais la multitude des barbares s'augmentant, et passant déjà le fleuve, Constantin fut, frappé d'une grande terreur, en considérant qu'il aurait à livrer bataille le lendemain. Or, la nuit suivante, il est réveillé par un ange qui l'avertit de regarder en l'air. Il tourne les veux vers le ciel et voit le signe de la croix formée par une lumière fort resplendissante, et portant écrite en lettres d'or cette inscription : « In hoc signo vinces, par ce signe tu vaincras. » Réconforté par cette vision céleste, il fit faire une croix semblable qu'il ordonna de porter à la tête de son armée: se précipitant alors sur les ennemis, il les mit en fuite et en tua une multitude immense. Après quoi Constantin convoqua tous les pontifes des temples et s'informa avec beaucoup de soin de quel Dieu c'était le signe. Sur leur réponse qu'ils l'ignoraient, vinrent plusieurs chrétiens qui lui firent connaître le mystère de la sainte croix et la foi de la Trinité. Constantin crut alors parfaitement en J.-C. et reçut le saint baptême des mains d'Eusèbe, pape, ou selon quelques livres, évêque de Césarée. Mais dans ce récit, il y a beaucoup de points contredits par l'Histoire tripartite et par l'Ecclésiastique, par la Vie de saint Silvestre et les Gestes des pontifes romains. D'après certains auteurs, ce ne fut pas ce Constantin que le pape Silvestre baptisa après sa conversion à la foi, comme paraissent l'insinuer plusieurs histoires, mais ce fut Constantin, le père de ce Constantin, ainsi qu'on le voit dans des historiens. En effet ce Constantin reçut la foi d'une autre manière rapportée dans la légende de saint Silvestre, et ce n'est pas Eusèbe de Césarée qui le baptisa, mais bien saint Silvestre. Après la mort de son père, Constantin, qui n'avait pas perdu le souvenir de la victoire remportée par la vertu de la sainte croix, fit passer Hélène, sa mère, à Jérusalem pour trouver cette croix, ainsi que nous le dirons plus bas.
Voici maintenant un récit tout différent de cette victoire, d'après l'Histoire Ecclésiastique (ch. IX). Elle rapporte donc que Maxence ayant envahi l'empire romain, l'empereur Constantin. vint lui présenter la bataille vis-à-vis le pont Albin. Comme il était dans une grande anxiété, et qu'il levait souvent les yeux au ciel pour implorer son secours, il vit en songe, du côté de l'orient dans le ciel, briller une croix, couleur. de feu : des anges se présentèrent devant lui et lui dirent : « Constantin, par cela tu vaincras. » Et, selon le témoignage de l'Histoire tripartite (4), tandis que Constantin s'étonnait de ce prodige, la nuit suivante, J.-C. lui apparut avec le signe vu dans le ciel; il lui ordonna de faire des images pareilles qui lui, porteraient bonheur dans les combats. Alors Constantin fut rendu à la joie et assuré de la victoire ; il se marqua le front du signe qu'il avait vu dans le ciel, fit transformer les enseignes militaires sur le modèle de la croix et prit à la main droite une croix d'or. Après quoi il sollicita du Seigneur que cette droite, qu'il avait munie du signe salutaire de la croix, ne fût ni ensanglantée, ni souillée du sang romain, mais qu'il remportât la victoire sur le tyran sans effusion de sang. Quant à Maxence, dans l'intention de tendre un piège, il fit disposer des vaisseaux, fit couvrir le fleuve de faux ponts. Or, Constantin s'étant approché du fleuve, Maxence accourut à sa rencontre avec peu de monde, après avoir donné ordre aux autres corps de le suivre; mais il oublia lui-même qu'il avait fait construire un faux pont, et s'y engagea avec une poignée de soldats. Il fut pris au piège qu'il avait tendu lui-même, car il tomba dans le fleuve qui était profond; alors Constantin fut acclamé empereur à l'unanimité. D'après ce qu'on lit dans une chronique assez authentique, Constantin ne crut pas parfaitement d'ès ce moment; il n'aurait même pas alors reçu le baptême; mais peu de temps après, il eut une vision de saint Pierre et de saint Paul; et quand il eut reçu la vie nouvelle du baptême et obtenu la guérison de sa lèpre, il crut parfaitement dans la suite en J.-C. Ce fut alors qu'il envoya sa mère Hélène à Jérusalem pour chercher la croix du Seigneur. Cependant saint Ambroise; dans la lettre où il rapporte la mort de Théodose, et l'Histoire tripartite (5), disent que Constantin reçut le baptême seulement dans ses derniers moments; s'il le différa jusque-là, ce fut pour pouvoir le recevoir dans le fleuve du Jourdain. Saint Jérôme en dit autant dans sa chronique. Or, il est certain qu'il fut fait chrétien sous le pape saint Silvestre, quant à savoir s'il différa son baptême, c'est douteux ; ce qui fait qu'en la légende de saint Silvestre, il y a là-dessus, comme en d'autres points, bien peu de certitude. Or, l'histoire de l'Invention de la sainte croix, telle qu'on la lit dans les histoires ecclésiastiques conformes en cela aux chroniques, paraît plus authentique de beaucoup que celle qu'on récite dans les églises. Il est en effet constant qu'il s'y trouve des endroits peu' conformes à la vérité, si ce n'est qu'on veuille dire, comme ci-dessus, que ce ne fut pas Constantin, mais son père qui portait le même nom : ce qui du reste né paraît pas très plausible, quoique ce soit le récit de certaines histoires d'outre-mer.
Hélène arrivée à Jérusalem fit réunir autour d'elle les savants qu'on trouva dans toute la contrée. Or, cette Hélène était d'abord restée dans une hôtellerie (6), mais épris de sa beauté, Constantin se l'attacha, selon que saint Ambroise l'avance en disant : « On assure qu'elle fut hôtelière, mais elle fut unie à Constantin l'ancien qui, dans la suite, posséda l'empire. Bonne hôtelière, qui chercha avec tant de soin la crèche du Seigneur! Bonne hôtelière, qui connut cet hôtelier dont les soins guérirent cet homme blessé parles brigands (7) ! Bonne hôtelière, qui a regardé toutes choses comme des ordures afin de gagner J.-C. (8) ! Et pour cela Dieu l'a tirée de l'ordure pour l'élever sur un trône » (saint Ambroise). D'autres affirment, et c'est l'opinion émise dans une chronique assez authentique, que cette Hélène. était fille de

Clohel

, roi des Bretons ;Constantin en venant dans la Bretagne la prit pour femme, parce qu'elle était fille unique. Delà vient qui• l'île de Bretagne échut à Constantin après la mort clé

Clohel

. Les Bretons eux-mêmes (attestent; on lit pourtant ailleurs qu'elle était de Trèves. Or, les Juifs, remplis de crainte, se disaient les uns aux autres : « Pour quel motif pensez-vous que la Reine nous ait convoqués auprès d'elle? » L'un d'eux nommé Judas, dit : « Je sais, moi, qu'elle veut apprendre de nous. l'endroit oit se trouve le bois de la croix sur lequel le Christ a été crucifié. Gardez-vous bien d'être assez présomptueux pour le lui découvrir. Sinon tenez pour très certain que notre loi sera détruite et que toutes les traditions de nos pères seront totalement. abolies : car Zachée mon aïeul l'a prédit à mon père Siméon et mon père

m'a dit avant de mourir : « Fais attention, mon fils, à l'époque où l'on cherchera la croix du Christ : dis où elle se trouve, avant d'être mis à la torture; car à dater de cet instant le pouvoir des Juifs, à Jamais aboli, passera entre les mains de ceux qui adorent le crucifié, parce que ce Christ était le fils de Dieu.» Alors j'ai répondu : «Mon père, si vraiment nos ancêtres ont su que ce Christ était le fils de Dieu, pourquoi l'ont-ils attaché au gibet de la croix? » « Le Seigneur est témoin, répondit-il, que je n'ai jamais fait partie de leur conseil; mais que souvent je me suis opposé à leurs projets : or, c'est parce que le Christ reprochait les vices des Pharisiens qu'ils le firent crucifier : mais il est ressuscité le troisième jour et il a monté au ciel à la vue de ses disciples. Mon frère Etienne, que les Juifs en démence ont lapidé, a cru en lui. Prends garde donc, mon fils, de n'oser jamais blasphémer le Christ ni ses disciples. » — « Il ne paraît cependant pas, très probable que le père de ce Judas ait existé au temps de la Passion de J.-C., puisque de la passion jusqu'au temps d'Hélène, sous laquelle vécut Judas, il s'écoula plus de 270 ans; à moins qu'on ne veuille dire qu'alors les hommes vivaient plus longtemps qu'à présent. » Cependant les Juifs dirent à Judas : « Nous n'avons jamais entendu dire choses semblables. Quoi. qu'il. en soit, si: la Reine t'interroge, aie soin de ne lui faire aucun aveu.» Lors donc qu'ils furent en présence, de la Reine, et qu'elle leur eut demandé le lieu où le Seigneur avait été crucifié, pas un d'eux ne consentit à le lui indiquer alors elle les condamna tous à être brûlés. Ils furent saisis d'effroi et signalèrent Judas, en disant : « Princesse, voici le fils d'un juste et d'un prophète qui a connu parfaitement la loi ; demandez-lui tout ce que vous voulez, il vous l'indiquera. » Alors elle les congédia tous à l'exception de Judas qu'elle retint et auquel elle dit : « Je te propose la vie ou la mort; choisis ce que tu préfères. Montre-moi donc le lieu qui s'appelle Golgotha, où le Seigneur a été crucifié, afin que je puisse trouver sa croix. » Judas répondit
« Comment puis-je le savoir, puisque deux cents ans et plus se sont écoulés et que je n'étais pas né à cette époque ? » La Reine lui dit : « Par le crucifié, je te ferai mourir de faim, si tu ne me dis la vérité. » Elle ordonna donc qu'il fût jeté dans tin puits desséché pour y endurer les horreurs de la faim. Or, après y être resté six jours sans nourriture, le septième il demanda à sortir, en promettant de découvrir la croix. On le retira. Quand il fut arrivé à l'endroit, après avoir fait une prière, tout à coup la terre tremble, il se répandit une fumée d'aromates d'une admirable odeur; Judas lui-même, plein d'admiration, applaudissait des deux mains et disait : « En vérité, ô Christ, vous êtes le Sauveur du monde ! » Or, d'après l'
Histoire ecclésiastique
, il y avait, en ce lieu, un temple de Vénus construit, autrefois par l'empereur Hadrien, afin que si quelque chrétien eût voulu y adresser ses adorations, il parût adorer Vénus : et, pour ce motif, ce lieu avait cessé d'être fréquenté et était presque entièrement délaissé, mais la Reine fit détruire ce temple jusque dans ses fondements et en fit labourer la place. Après quoi Judas se ceignit et se mit à creuser avec courage. Quand il eut atteint à la profondeur de vingt pas, il trouva trois croix enterrées, qu'il porta incontinent à la reine. Or, comme l'on ne savait pas (63) distinguer celle de J.-C. d'avec celles des larrons; on les plaça au milieu de la ville pour attendre que la gloire de Dieu se manifestât. Sur la onzième heure, passa le corps d'un jeune homme qu'on portait en terre : Judas arrêta le cercueil, mit une première et nue seconde croix sur le cadavre du défunt, qui ne ressuscita pas, alors on approcha la troisième croix dit corps et à l'instant il revint à la vie.
On lit cependant, dans les histoires ecclésiastiques (9), qu'une femme des premiers rangs de la ville gisait demi-morte, quand Macaire, évêque de Jérusalem, prit la première et la deuxième croix, ce qui ne produisit aucun résultat : mais quand il posa sur elle la troisième,, cette femme rouvrit les yeux et fut guérie à l'instant. Saint Ambroise dit, de son côté, que Macaire distingua la croix du Seigneur, par le titre qu'avait fait mettre Pilate, et dont l'évêque lut l'inscription qu'on trouva aussi. Alors le diable se mit à vociférer en l'air : « O Judas, disait-il, pourquoi as-tu fait cela? Le Judas qui est le mien a fait tout le contraire : car celui-ci, poussé par moi, fit la trahison, et toi, en me reniant, tu as trouvé la croix de Jésus. Par lui, j'ai Bagué les âmes d'un grand nombre; par toi, je parais perdre celles que j'ai gagnées : par lui, je régnais sar le peuple; par toi, je suis chassé de mon royaume. Toutefois je te rendrai la pareille, et je susciterai contre toi un autre roi qui, abandonnant la foi dit crucifié, te fera renier dans les tourments le crucifié. »
Ceci paraît se rapporter à l'empereur Julien : celui-ci, lorsque Judas fut devenu évêque de Jérusalem, l'accabla de nombreux tourments et le fit mourir martyr de J.-C. En entendant les vociférations du diable, Judas ne craignit rien, mais il ne cessa de maudire le diable en disant : « Que le Christ te damne dans l'abîme du feu éternel! » Après quoi Judas est baptisé, reçoit le nom de Cyriaque, puis est ordonné évêque de Jérusalem, quand le titulaire fut mort. (Belette, c. XXV). Mais comme la bienheureuse Hélène ne possédait pas les clous du Seigneur, elle pria l'évêque Cyriaque d'aller au Golgotha et de les chercher. Il y vint et aussitôt après avoir adressé des prières à Dieu, les clous apparurent brillants dans la terre, comme de l'or. Il les prit et les porta à la reine. Or, celle-ci se mit à genoux par terre et, après avoir incliné la tête, elle les adora avec grande révérence. Hélène porta une partie de la croix à son fils, et renferma l'autre dans des châsses d'argent qu'elle laissa à Jérusalem ; quant aux clous avec lesquels le corps du Seigneur avait été attaché, elle les porta à son fils. Au rapport d'Eusèbe de Césarée, elle en fit deux freins dont Constantin se servait dans les batailles, et elle mit les autres à son casque en guise d'armure. Quelques auteurs, comme Grégoire de Tours(10), assurent que le corps du Seigneur fut attaché avec quatre clous Hélène en mit deux au frein du cheval de l'empereur, le troisième à la statue de Constantin qui domine la ville de Rome, et elle jeta le quatrième dans la mer Adriatique qui jusque-là avait été un gouffre pour les navigateurs. Elle ordonna que cette fête de l'Invention de la sainte croix fût célébrée chaque année solennellement. Voici ce que dit saint Ambroise (11) : « Hélène chercha les clous du Seigneur et les trouva. De l'un elle fit faire des freins ; elle incrusta l'autre dans le diadème : belle place que la tête pour ce clou ; c'est une couronne sur le front, c'est une bride à la main : c'est l'emblème de la prééminence du sentiment, de la lumière de la foi, et de la puissance impériale. » Quant à l'évêque saint Cyriaque, Julien l'apostat le fit mourir plus tard, pour avoir trouvé la sainte croix dont partout il prenait à tâche de détruire le signe. Avant de partir contre les Perses, il fit inviter Cyriaque à sacrifier aux idoles : sur le refus du saint, Julien lui fit couper le bras en disant : « Avec cette main il a écrit beaucoup de lettres qui ont détourné bien du monde de sacrifier aux dieux. » Cyriaque lui répondit : « Chien insensé, tu

m'as bien rendu service ; car avant de croire à J.-C., trop souvent j'ai écrit des lettres que j'adressais aux synagogues des Juifs afin que personne ne crût en J.-C. et voilà que tu viens de retrancher de mon corps ce qui en avait été le scandale. » Alors Julien fit fondre du plomb qu'il ordonna de lui verser dans la bouche ; ensuite il fit apporter un lit en fer sur lequel Cyriaque fut étendu et au-dessous on mit des charbons ardents et. de la graisse. Comme Cyriaque restait immobile, Julien lui dit : « Si tu ne veux pas sacrifier aux idoles, dis au moins que tu n'es pas chrétien. » L'évêque s'y refusa avec horreur. Julien fit creuser une fosse profonde qu'on fit remplir de serpents venimeux. Cyriaque y fut jeté, mais les serpents moururent aussitôt. Julien ordonna alors que Cyriaque fût jeté dans une chaudière pleine d'huile bouillante. Or, comme le saint voulait y entrer spontanément, il se signa, et pria le Seigneur de le baptiser une seconde fois dans l'eau du martyre, mais Julien furieux lui fit percer la poitrine avec une épée. Ce fut ainsi que saint Cyriaque mérita de consommer son martyre dans le Seigneur.
La grandeur de la vertu de la Croix est manifeste dans ce notaire fidèle, trompé par un magicien qui le conduisit en un lieu où il avait fait venir des démons, en lui promettant des richesses immenses. Il vit un Ethiopien de haute stature, assis sur un trône élevé, et entouré d'autres Ethiopiens- debout, armés de lances et de bâtons. Alors l'Ethiopien demanda à ce magicien : « Quel est cet enfant ? » Le magicien répondit: « Seigneur, c'est votre serviteur. » Le démon dit au notaire : « Si tu veux

m'adorer, être mon serviteur, et renier ton Christ, je te ferai asseoir à ma droite. » Mais le notaire se hâta de faire le signe de la croix et s'écria qu'il était de toute son âme le serviteur du Sauveur J.-C. Il n'eut pas plutôt fait le signe de la croix que toute cette multitude de démons disparut. Peu de temps après, ce même notaire entra un jour avec son maître dans le temple de Sainte-Sophie; se trouvant ensemble devant une image du Sauveur, le maître remarqua que cette image avait les yeux fixés sur le notaire qu'elle regardait attentivement (67). Plein de surprise, le maître fit passer le jeune homme à droite et vit que l'image avait encore tourné les veux de ce côté, en les dirigeant sur le notaire. I1 le fit de nouveau revenir à gauche, et voici que l'image tourna encore les yeux et se mit à regarder le notaire comme auparavant. Alors le maître le conjura de lui dire ce qu'il avait fait à Dieu pour mériter que l'image le regardât, ainsi. Il répondit qu'il n'avait la conscience d'aucune bonne action, si ce n'est qu'il n'avait pas voulu renier le Sauveur devant le diable.
(1) Au
IIIe
livre des Rois, ch. VII, il est question de cette maison qui. fut construite par Salomon. Elle reçut le nom de maison du Bois, saltus, à cause de la quantité de cèdres qui entra dans sa construction.
(2) C'étaient des Gabaonites qui étaient attachés au service du temple depuis Josué. Cf.
Paralipomènes
, IX, 2;
Sigonius
, De
Repub
.
Hebraeor
., liv. IX, ch.
VII

.
(3)
Miracul

.,

liv

. I, c. VI.
(6), Le mot latin
stabularia
voudrait dire servante de cour. Saint Ambroise paraît l'indiquer quelques lignes plus loin. Nous avons mieux aimé donner un féminin au mot,
hôtelier
, hôtelière est un mot qui a vieilli.
(7) Allusion à la parabole du Samaritain de l'Evangile.
(8) Expression de saint Paul dans l'Epître aux
Philippiens
, c. III, 8.
(9)
Sozomène

. —

Hist

.

eccl

., l. II, c. I ; —

Nicéph

. cal., l. XVII, c. XIV, XV ; —

Evagr

., IV, 26.
(10)
Miracul

., lib. I,

ch

. VI.
(11) De

obitu

Theod

., nos 47-48.
La Légende dorée
de Jacques de Voragine
nouvellement traduite en français avec introduction, notices, notes et recherches sur les sources par l'abbé J.-B. M. Roze, chanoine honoraire de la Cathédrale d'Amiens, Édouard Rouveyre, éditeur, 76, rue de
Seine, 76, Paris mdcccci
St. Helena
Empress mother of Constantine the Great. She was a native of Bithynia, who married the then Roman general Constantius I Chlorus about 270. Constantine was born soon after, and in 293, Constantius was made Caesar, or junior emperor.
He divorced Helena to marry co Emperor Maximian's stepdaughter. Constantine became emperor in 312 after the fateful victory at Milvian Bridge, and Helena was named Augusta, or empress.
She converted to Christianity and performed many acts of charity, including building churches in Rome and in the Holy Land, including the Church of the Holy Sepulcher and the Church of the Nativity. On a pilgrimage to the Holy Land, Helena discovered the True Cross. She is believed to have died in Nicomedia. Her porphyry sarcophagus is in the Vatican Museum. In liturgical art Helena is depicted as an empress, holding a cross.
SOURCE : http://www.ucatholic.com/saints/saint-helena/
St. Helena
The mother of
Constantine the Great
, born about the middle of the third century, possibly in Drepanum (later known as Helenopolis) on the Nicomedian Gulf; died about 330. She was of
humble
parentage;
St. Ambrose
, in his "Oratio de obitu Theodosii", referred to her as a stabularia, or inn-keeper. Nevertheless, she became the lawful wife of Constantius Chlorus. Her first and only son, Constantine, was born in Naissus in Upper Moesia, in the year 274. The statement made by English chroniclers of the
Middle Ages
, according to which Helena was supposed to have been the daughter of a British prince, is entirely without historical foundation. It may arise from the misinterpretation of a term used in the fourth chapter of the panegyric on Constantine's marriage with Fausta, that Constantine, oriendo (i.e., "by his beginnings," "from the outset") had
honoured
Britain, which was taken as an allusion to his birth, whereas the reference was really to the beginning of his reign.
In the year 292 Constantius, having become co-Regent of the West, gave himself up to considerations of a political nature and forsook Helena in order to marry Theodora, the step-daughter of
Emperor Maximinianus
Herculius, his patron, and well-wisher. But her son remained faithful and loyal to her. On the death of Constantius Chlorus, in 308, Constantine, who succeeded him, summoned his mother to the imperial court, conferred on her the title of
Augusta
, ordered that all
honour
should be paid her as the mother of the sovereign, and had
coins
struck bearing her effigy. Her son's influence caused her to embrace
Christianity
after his victory over
Maxentius
. This is directly attested by
Eusebius
(Vita Constantini, III, xlvii): "She (his mother) became under his (Constantine's) influence such a devout servant of
God
, that one might believe her to have been from her very childhood a disciple of the Redeemer of
mankind
". It is also clear from the declaration of the contemporary historian of the
Church
that
Helena
, from the time of her
conversion
had an earnestly
Christian
life and by her influence and liberality favoured the wider spread of
Christianity
. Tradition links her name with the building of
Christian
churches in the cities of the West, where the imperial court resided, notably at
Rome
and
Trier
, and there is no reason for rejecting this tradition, for we
know
positively through
Eusebius
that
Helena
erected churches on the hallowed spots of Palestine. Despite her advanced age she undertook a journey to Palestine when Constantine, through his victory over Licinius, had become sole master of the Roman Empire, subsequently, therefore, to the year 324. It was in Palestine, as we learn from
Eusebius
(loc. cit., xlii), that she had resolved to bring to
God
, the King of kings, the homage and tribute of her devotion. She lavished on that land her bounties and good deeds, she "explored it with remarkable discernment", and "visited it with the care and solicitude of the emperor himself". Then, when she "had shown due veneration to the footsteps of the Saviour", she had two churches erected for the worship of
God
: one was raised in Bethlehem near the Grotto of the Nativity, the other on the Mount of the Ascension, near
Jerusalem
. She also embellished the sacred grotto with rich ornaments. This sojourn in
Jerusalem
proved
the starting-point of the legend first recorded by Rufinus as to the discovery of the Cross of Christ.
Her princely munificence was such that, according to
Eusebius
, she assisted not only
individuals
but entire communities. The poor and destitute were the special objects of her charity. She visited the churches everywhere with
pious
zeal
and made them rich donations. It was thus that, in fulfilment of the Saviour's precept, she brought forth abundant fruit in word and deed. If Helena conducted herself in this manner while in the Holy Land, which is indeed testified to by
Eusebius
,
Bishop
of
Caesarea
in Palestine, we should not
doubt
that she manifested the same
piety
and benevolence in those other cities of the empire in which she resided after her
conversion
. Her memory in
Rome
is chiefly identified with the church of S. Croce in Gerusalemme. On the present location of this church formerly stood the Palatium Sessorianum, and near by were the Thermae Helenianae, which baths derived their name from the empress. Here two inscriptions were found composed in
honour
of
Helena
. The Sessorium, which was near the site of the Lateran, probably served as Helena's residence when she stayed in
Rome
; so that it is quite possible for a
Christian
basilica to have been erected on this spot by Constantine, at her suggestion and in
honour
of the
true Cross
.
Helena was still living in the year 326, when Constantine ordered the execution of his son Crispus. When, according to
Socrates'
account (
Church History
I.17
), the emperor in 327 improved Drepanum, his mother's native town, and decreed that it should be called Helenopolis, it is probable that the latter returned from Palestine to her son who was then residing in the Orient. Constantine was with her when she died, at the advanced age of eighty years or thereabouts (
Eusebius
,
Life of Constantine
III.46
). This must have been about the year 330, for the last
coins
which are known to have been stamped with her name bore this date. Her body was brought to Constantinople and laid to rest in the imperial vault of the church of the
Apostles
. It is presumed that her remains were transferred in 849 to the Abbey of Hautvillers, in the
French
Archdiocese of Reims
, as recorded by the
monk
Altmann in his "Translatio". She was revered as a
saint
, and the veneration spread, early in the ninth century, even to Western countries. Her feast falls on 18 August. Regarding the finding of the Holy Cross by St. Helena, see CROSS AND CRUCIFIX.
Kirsch, Johann Peter.
"St. Helena."
The Catholic Encyclopedia.
Vol. 7.
New York: Robert Appleton Company,
1910.
18 Aug. 2015
<http://www.newadvent.org/cathen/07202b.htm>.
Transcription.
This article was transcribed for New Advent by Michael C. Tinkler.
Ecclesiastical approbation.
Nihil Obstat.

June 1, 1910. Remy Lafort, S.T.D., Censor.

Imprimatur.

+John Cardinal Farley, Archbishop of New York.