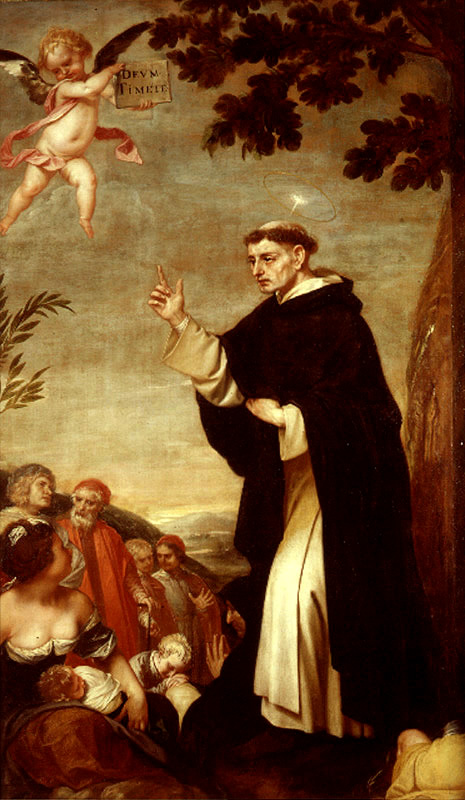 Saint Vincent Ferrier, prêtre
En vrai fils de Saint Dominique, Vincent Ferrier fut avant tout un prêcheur. De Valence (Espagne) où il naquit (1350) à Vannes où il mourut (1419), il chemina sans cesse à travers la France, l'Italie, la Suisse, exhortant les foules à la conversion, dans l'attente du retour du Christ que semblaient annoncer les calamités de son temps, la guerre et le schisme.
SOURCE : http://www.paroisse-saint-aygulf.fr/index.php/prieres-et-liturgie/saints-par-mois/icalrepeat.detail/2015/04/05/5895/-/saint-vincent-ferrier-pretre
Saint Vincent Ferrier
Frère dominicain (+ 1419)
"En janvier 1418, il arrive en Bretagne. Il parcourt le duché à dos d'âne ; il prêche à Nantes d'abord, puis, entre autres villes, à à Pontivy, Quimperlé, Saint-Pol de Léon et Morlaix. Partout la foule est si dense qu'il lui faut prêcher sur les places publiques. D'après Albert Le Grand, il prêchait en sa langue maternelle, "néanmoins nos bas-bretons l'entendaient aussi bien que s'il eût parlé à chacun d'eux en son propre langage." Le périple de Vincent Ferrier se termine à Vannes. Il y tombe malade; la duchesse de Bretagne elle-même accourt à son chevet. Vincent s'éteint le 5 avril 1519, son corps est inhumé dans la cathédrale. On y vénère toujours ses reliques." (
diocèse de Quimper et Léon - Saint Vincent Ferrier
)
Né en Espagne à Valence, le 23 janvier 1346 ou 1347, il entre à 17 ans au couvent des dominicains de sa ville et c'est là qu'il exerce son apostolat dans l'enseignement et la prédication jusqu'en 1390. Il commence alors un itinéraire de Prêcheur qui le mène d'abord près du pape d'Avignon, puis, à partir de 1399, à travers le midi de la France, la Lombardie, le Piémont, la Suisse et la Savoie. Il visite ainsi le Dauphiné, notamment trois vallées : L'Argentière, Freissinières et la Vallouise, où les Vaudois attentent plusieurs fois à sa vie. Il arrive à transformer le pays en obtenant de très nombreuses abjurations et un retour général à la foi catholique. En 1408, il revient à Valence mais, après quelques années, il regagne la France qu'il parcourt en tous sens, convertissant les foules. Il meurt en Bretagne, au terme d'un carême prêché à Vannes, le 5 avril 1419. Il est canonisé en 1455. (Sanctoral du diocèse de Gap et d'Embrun, page 24)
Mémoire de saint Vincent Ferrier, prêtre de l'Ordre des Prêcheurs. Né à Valence en Espagne, il ne cessa de parcourir les diverses régions de l'Occident, soucieux de la paix de l'Église et de son unité, prêchant inlassablement, à travers villes et routes, l'Évangile de la pénitence et la venue du Seigneur à des foules innombrables, remuées par sa parole véhémente et simple, accompagnée de miracles et de prodiges, jusqu'à sa mort à Vannes, en 1419, au terme d'un carême qu'il prêchait dans cette ville.
Martyrologe romain
SOURCE : https://nominis.cef.fr/contenus/saint/922/Saint-Vincent-Ferrier.html
S
AINT VINCENT FERRIER
Missionnaire


Pour la gloire de Notre-Seigneur Jésus-Christ je vous indiquerai les remèdes contre quelques tentations spirituelles que Dieu permet très communes en ce temps pour la purification et l'épreuve des élus. Elles n'attaquent ouvertement aucun des principaux articles de la foi, mais l'homme clairvoyant comprend vite quelles vont tout de même à détruire ces fondements de notre religion et qu'elles préparent à l'Antéchrist sa chaire et son trône.
Je ne les exposerai pas en détail pour n'être à personne une occasion de scandale ou de chute, mais je vous dirai de quelle prudence vous devez user pour en triompher.
C'est tentations surgissent de deux côtés : d'abord des suggestions et illusions du diable qui trompe l'homme dans ses relations avec Dieu et dans tout ce qui se rapporte à Dieu ; ensuite de la doctrine corrompue et des mœurs de ceux qui sont déjà tombés dans ces tentations. Je vous indiquerai donc quelle doit être votre conduite à l'égard des hommes, de leur doctrine et de leur manière de vivre.
Voici donc les remèdes contre les tentations spirituelles que le diable soulève dans quelques âmes.
Ne pas désirer les grâces extraordinaires.
Premier remède. Ceux qui veulent vivre dans la volonté de Dieu ne doivent pas désirer obtenir par l'oraison, contemplation ou autres œuvres de perfection, des visions, des révélations ou des sentiments surnaturels dépassant l'état ordinaire de ceux qui ont pour dieu une crainte et un amour très sincères. Car un pareil désir ne peut venir que d'un fonds d'orgueil et de présomption, d'une curiosité vaine à l'égard de Dieu et d'une foi trop fragile. La grâce de Dieu abandonne l'âme prise de ce désir et la laisse tomber dans ces illusions et ces tentations du diable qui la séduit en des visions et des révélations trompeuses. C'est la tentation la plus commune de notre temps.
Deuxième remède. Quand vous priez ou que vous contemplez, ne supportez jamais dans votre âme aucune consolation, même la moindre, si vous voyez qu'elle se fonde sur la présomption et l'estime de vous-même, si elle vous porte à désirer honneur et réputation et à vous croire digne de louange et de gloire en ce monde ou des joies du paradis.
L'âme qui prend plaisir à pareille consolation tombe dans plusieurs erreurs funestes. Par un juste jugement Dieu permet au démon d'accroître ces consolations, de les renouveler et de faire naître dans cette âme des sentiments tout à fait faux et dangereux qu'elle prend pour des communications divines.
Troisième remède. Tout sentiment, même très élevé, toute vision même sublime, du moment qu'ils vous disposent contre un article de foi, contre les bonnes mœurs, surtout contre l'humilité et la pureté, ayez-les en horreur : certainement ils sont l'œuvre du diable.
Même si votre vision ne vous inspire rien de semblable et vous apporte la certitude qu'elle est de Dieu et vous pousse à faire la volonté divine, cependant, ne vous appuyez pas sur elle.
Quatrième remède. Quelle que soit la piété, la sainteté de vie, l'élévation d'intelligence et autres qualités d'une personne, ne suivez jamais ses conseils ou ses exemples, si vous avez des raisons de croire que ses conseils ne sont pas selon Dieu ou la prudence chrétienne et qu'ils ne vous engageraient pas dans la voie tracée par Jésus-Christ et les saints et éclairée par les Saintes Écritures.
Cinquième remède. Fuyez la société et la familiarité de ceux qui sèment et répandent ces tentations comme de ceux qui les défendent et les louent. N'écoutez ni leurs récits ni leurs explications. Ne cherchez pas à voir ce qu'ils font. Car le démon ne manquerait pas de vous faire voir en leurs paroles et leurs gestes des signes de perfection auxquels peut-être vous ajouteriez foi pour tomber et vous perdre avec eux.
Je vais vous indiquer aussi les remèdes à employer contre la doctrine et les exemples de quelques personnes qui propagent ces tentations.
Premier remède. Ne faites pas grand cas de leurs visions, de leurs sentiments extraordinaires ni de leurs extases. Bien plus, si elles vous disent quelque chose contre la foi, la Sainte Ecriture ou les bonnes mœuvrs, ayez-en horreur : toutes ces visions et extases sont de pures folies, des fureurs diaboliques.
Mais si elles sont conformes à la foi, à la Sainte Écriture, aux exemples des saints et aux bonnes mœurs, ne les méprisez pas : vous vous exposeriez à mépriser ce qui vient de Dieu. Ne vous y fiez pas non plus sans réserve, car souvent, surtout dans les tentations spirituelles, les faux se cache sous l'apparence du vrai, le mal sous l'apparence du bien : le diable peut ainsi répandre son venin mortel dans un plus grand nombre d'âmes sans défiance.
Deuxième remède. Si quelque révélation ou mouvement extraordinaire vous pousse à accomplir une œuvre, surtout une œuvre importante sortant de vos habitudes, et dont vous vous demandez si elle plaira à Dieu, attendez avant d'agir jusqu'à ce que vous ayez examiné toutes les circonstances, en particulier le but et que vous ayez la certitude d'être agréable à Dieu.
Toutefois n'en jugez pas par vous-même, amis autant que possible en suivant les règles tirées de la Sainte Ecriture et des exemples des saints que nous pouvons imiter. Je dis : exemples que nous pouvons imiter, car saint Grégoire nous enseigne que plusieurs saints ont fait des choses qui ne sont pas imitables, quoique bonnes en elles-mêmes. Il suffit d'avoir pour elles respect et admiration.
Et si vous n'arrivez pas à connaître la volonté de Dieu, demandez à des personnes de vie et de doctrine sûres un conseil sincère.
Troisième remède. Si vous êtes exempt de ces tentations au point de ne les avoir pas éprouvées, ou si les ayant éprouvées vous en avez triomphé, élevez votre cœur et votre esprit vers Dieu pour reconnaître humblement ce grand bienfait. Remerciez souvent ou plutôt ne cessez de remercier de cette grâce. Prenez bien garde de ne pas attribuer à vos forces, à votre sagesse, à vos mérites, à votre conduite ou au hasard ce que vous avez gratuitement de la bonté de Dieu. Les saints enseignent que c'est surtout pour cela que Dieu nous retire sa grâce, et nous laisse en proie aux tentations et aux illusions du diable.
Quatrième remède. Lorsque vous éprouvez quelque tentation spirituelle qui vous jette dans le doute, n'entreprenez de votre propre initiative rien de grave que vous n'ayez déjà coutume de faire. Réprimez l'impulsion de votre cœur et de votre volonté : attendez humblement dans la crainte et le respect de Dieu qu'Il daigne vous éclairer. Tenez pour certain que si dans le doute vous entrepreniez de vous-même une chose grave et inaccoutumée, vous n'aboutiriez à rien de bon. Je ne veux parler que des choses graves et sortant de l'ordinaire sur lesquelles vous avez un doute.
Cinquième remède. Pour toutes ces choses extraordinaires ne laissez jamais un bien que vous avez entrepris avant qu'elles se produisent. Surtout gardez-vous d'abandonner la prière, la confession, la communion, les jeûnes et autres œuvres de piété et d'humilité, quand même vous n'y trouveriez aucune consolation.
Sixièmes remède. Dans ces occasions, élevez votre cœur et votre esprit vers Dieu en Le priant humblement de faire ce qui sera le plus utile à sa gloire et au salut de votre âme. Soumettez votre volonté à sa divine volonté. Si sa volonté est de vous laisser dans ces tentations, que la vôtre soit de ne jamais L'offenser.
Saint Vincent Ferrier
Vincent Ferrier, ou Ferrer en catalan, est né à Valence en Espagne en janvier 1350. Il entre à 17 ans dans l'Ordre des Frères Prêcheurs, où il poursuit ses études jusqu'en 1378, date à laquelle il reçoit la prêtrise et commence la phase active de son existence : professorat, prédication, politique. De 1395 à 1398, il est à Avignon le conseiller et le confesseur du pape Benoît XIII. C'est là qu'il tombe malade et que le Christ lui apparaît en songe, escorté de saint Dominique et de saint François. Il reçoit l'ordre d'aller prêcher par le monde. Il se relève guéri.
Pour la fête de sainte Cécile 1399, il est investi par le pape de pouvoirs extraordinaires et de la charge de « plénipotentiaire du Seigneur ». Il approche alors de la cinquantaine et part vers son destin. Vingt ans durant, il ne connaît ni trêve ni repos. Il parcourt à pied d'abord, puis, lorsque la fatigue de l'âge l'aura épuisé, monté sur une bourrique, l'Espagne, l'Italie et la France. Sa renommée, son éloquence, sa vertu, son pouvoir de thaumaturge, ébranlent l'Europe. Il met fin au grand schisme d'Occident, prépare l'unité espagnole, pacifie la chrétienté. Il est l'Ange de paix de l'Europe et l'Ange du Jugement comme il se désigne lui-même, jusqu'au jour où, épuisé par son labeur quotidien auprès des foules qu'il entraîne, des infidèles qu'il convertit, des rois et des princes qu'il conseille et concilie, il meurt à Vannes en Bretagne, le 5 avril 1419, vénéré comme un saint.
Il est canonisé en 1455 par le pape Callixte III. Il est le grand saint national des Catalans et le second patron du diocèse de Vannes. Apôtre du Grand Retour pendant sa vie, il continue de l'être après sa mort. On l'invoque afin de pouvoir par son intercession vivre de telle façon qu'on soit digne de paraître avec confiance au redoutable Jugement.
Formé aux meilleures écoles dominicaines de son temps – Lérida, Barcelone, Toulouse – Vincent Ferrier hérita de la vocation et de l'esprit de son Ordre. Créé et conçu par saint Dominique comme une milice de prêtres entièrement au service du Saint-Siège et de la vérité catholique, il imposait à ses moines une étude théologique approfondie. Celle-ci faisait confiance aux deux éléments qui s'intègrent admirablement dans la sagesse chrétienne : la Raison et la Foi. Penseur admirable, Vincent Ferrier s'enthousiasma pour cette sagesse. Tout au long de son œuvre de chrétienté, il servit loyalement les droits de l'intelligence et de l'orthodoxie religieuse. Il est intellectuel et on le retrouve tel dans sa pensée philosophique, sa sagesse théologique, sa doctrine spirituelle, son apostolat.
Sa lutte commencée contre Occam à propos de la philosophie, se prolonge dans la théologie. En 1378 le schisme d'Occident se produit. Urbain VI se dit successeur de saint Pierre à Rome, Clément VII à Avignon. Chaque nation prend parti pour l'un ou l'autre. Dans les deux camps, il y a des hommes éminents, des saints. Une grande dominicaine, sainte Catherine de Sienne, tient pour Rome ; un grand dominicain, notre Vincent Ferrier, tient pour Avignon. Qui a raison, qui a tort ?
C'est alors que maître Vincent écrit son Traité du Schisme, dont la première partie est un véritable exposé didactique en faveur de la papauté. Les idées maîtresses en sont : le caractère monarchique de l'Église : il ne peut y avoir deux papes parce qu'il n'y a qu'une seule Église fondée par le Christ. C'est un devoir de rechercher le pape légitime et de lui obéir sans réticence, parce qu'il n'y a qu'une seule foi. Enfin, le Souverain Pontife est au-dessus des conciles. En affirmant si nettement cette primauté du pape, maître Vincent apparaît comme un lointain précurseur de l'infaillibilité pontificale.
Il n'est aucunement besoin de parcourir toute l'œuvre de Vincent pour composer sa doctrine spirituelle. Nous la trouvons toute faite dans son Traité de la vie spirituelle, qu'il nous suffira de traduire et de commenter. Écrit en latin avant l'Imitation, mais contenant la même doctrine, ce livre fit les délices des religieux, surtout dans l'Ordre des Frères Prêcheurs où il s'intitula : Speculum fratrum praedicatorum. L'édition de 1886, parue à Malines, a servi de base à notre travail. Plusieurs traductions ont paru en diverses langues. Notons seulement les traductions françaises de la Vén. Mère Julienne Morell avec de longs commentaires (Paris, 1619) maintes fois reproduites entre autres par M. J. Rousset (Paris, 1899) ; Sœur Lucie de Maisons (Paris, 1704) ; le P. Bernadot (Saint-Maximin, 1918) dont toutes les notes ont été reprises dans la bonne traduction espagnole de A. Sinues Ruiz (Valencia, 1950).
On ne sait à quel moment de sa vie Vincent l'a écrit. Mais la maturité et la perfection de jugement dont il fait preuve présupposent une expérience religieuse déjà longue. L'auteur est en pleine vigueur intellectuelle. Ce qui frappe dès l'abord, ce ne sont pas les divers éléments de la vie spirituelle énumérés, c'est le tout vivant et vécu qu'ils composent. Homme d'action, presque continuellement hors du couvent, il est foncièrement religieux, attaché aux disciplines de son état et à la culture intérieure quelles doivent réaliser. Il divise son traité en trois parties. La première traite des idées-bases qui sont : la pauvreté volontaire, l'amour du silence, la pureté de cœur et ses effets, l'union divine ou la paix en Dieu.
La seconde considère cette même vie dans sa pratique et sous l'angle social : c'est le directeur de conscience, l'obéissance aux supérieurs, la mortification dans le boire et le manger, la vie studieuse et la vie liturgique, l'exercice du saint ministère et les tentations. Finalement les exigences de cette vie consistent dans l'aspiration à la perfection. Enfin le tout se clôt par quelques saisissants aperçus sur les sept formes du culte de Dieu, du mépris de soi, de l'amour du prochain, et une grande vision d'avenir pour l'Église.
Telle est en bref la lettre de ce traité, très court mais substantiel et éminemment pratique. Ce n'est pas un simple vademecum ascétique, mais une véritable théologie de l'apostolat, œuvre de grande puissance intellectuelle, qui évoque l'éminente figure de son guide et prototype, saint Thomas d'Aquin. On peut y relever trois notes caractéristiques de sa spiritualité.
Saint Vincent Ferrier est un écrivain ascétique de tendance mystique : il oriente les pratiques ascétiques au parfait dépouillement de l'âme pour la disposer à l'action de la grâce et de l'union avec Dieu dans l'oraison.
Sa piété est Christocentrique selon la grande, simple et droite tradition dominicaine. Elle part du principe : Nous pour Dieu par le Christ.
Elle est intellectualiste et sociale, Il n'y est pas question de dichotomie contemplation-action, mais elle concilie dans un idéal unique la vie de sainteté intérieure et la vie d'apostolat. Par cet intellectualisme sage, précis et positif, opposé au sentimentalisme trouble et à l'illusionnisme, et tout orienté au bien de la société par sa théorétisation de la sainteté apostolique, ce joyau de la spiritualité du bas moyen âge garde une grande valeur d'actualité. Il peut être utilisé avec fruit par tous ceux qui ont charge d'âmes ou qui se consacrent à l'apostolat.
C'est surtout en prêchant que maître Vincent enseigna la chrétienté et l'évangélisa « semblable à un ange volant au milieu du ciel ». La bulle de canonisation emploie cette expression imagée et délicate, qui symbolise fort bien comment il se dévoua sans relâche à l'apostolat de la parole. L'iconographie s'est emparée de cette image, et a représenté saint Vincent Ferrier des ailes à l'épaule et une trompette aux lèvres. Ce dernier détail parce que notre apôtre se serait cru l'ange apocalyptique annonçant la fin du monde. Il est vrai qu'il l'a affirmé en quelques occasions et qu'en ces circonstances il a cru la parousie imminente. Est-ce à dire que ce fut là l'idée force de sa vie ?
Certains biographes l'ont affirmé, ajoutant toutefois que s'il prêchait la fin du monde comme toute proche, c'était sous forme comminatoire : Si vous ne faites pénitence ; que de plus il se serait interposé comme un nouveau Jonas et en aurait retardé l'exécution par sa sainteté, sa pénitence, les résultats de sa prédication. D'autres affirment que ce thème d'horreur n'occupe qu'une place infime dans sa pensée, et que situé dans l'ensemble de son enseignement, ce rôle eschatologique n'a que fort peu d'importance : il n'occupe qu'un, deux, au maximum cinq pour cent de ses thèmes de prédication et ne représente par conséquent pas la vraie mission de maître Vincent. Cette solution mise en avant par le P. Gorce nous semble la plus plausible et trouve son appui dans les écrits mêmes de saint Vincent. Signalons sa lettre au pape Benoît XIII où il donne cette pensée, qu'il développe souvent en chaire : « Dieu seul connaît la date de la parousie et ce n'est pas à l'homme d'en connaître le temps et le moment ». Qu'on lise aussi à la fin du Traité de la vie spirituelle sa prophétie sur la prospérité future de l'Église.
Quoiqu'il en soit, il est bien évident que maître Vincent joua un rôle considérable dans la société du XIVe-XVe S. Pendant les vingt dernières années de sa vie, il prêchait tous les jours deux ou trois heures, parfois plus. Toute circonstance lui était bonne, tout auditoire lui convenait. Il prêchait à la ville, il prêchait à la compagne, dans les églises, plus souvent encore sur les places publiques, car on venait de loin pour l'entendre : les artisans quittaient leur atelier, les laboureurs leurs champs, les magistrats le palais, les officiers publics leur étude, maîtres et élèves les écoles, les Universités. Le peuple affluait sur la place par milliers, attendant durant des heures, parfois toute la nuit, l'arrivée du grand prédicateur. Depuis les temps de saint Bernard, aucune parole humaine n'attira de telles foules et ne plut tant à l'âme française ou espagnole que celle de maître Vincent. « Telle était son éloquence, dit Henri Ghéon, qu'elle ébranlait les pierres mêmes, par violence sans doute, mais aussi par persuasion ». Il prêchait dans sa langue maternelle, le valencien, dialecte proche du catalan, la langue des anciens troubadours, qui pouvait être comprise par les peuples de langue d'oc et de langue romane. Des sténographes recueillaient les paroles de l'orateur, des auditeurs prenaient des notes ou faisaient des résumés. Tout cela a été imprimé et publié, non sans que les rédacteurs n'aient mis quelque chose d'eux-mêmes dans leurs manuscrits catalans ou traductions latines, retranchant ou ajoutant quelque détail, amplifiant quelque anecdote ou parabole rapportée en chaire. Ces compilations plus ou moins fidèles ont été données au public comme les Sermons du saint. Elles ont en effet pour origine sa prédication, mais on ne peut dire qu'elles soient sa parole authentique. On peut toutefois, avec quelque profit, glaner dans ces recueils, même dans l'état d'imperfection où ils sont arrivés jusqu'à nous. C'est ce que nous avons fait en consultant les Canevas de sermons latins publiés par le P. Fages, certains extraits d'après des écrits catalans reproduits par le même auteur ou qu'on retrouve de ci, de là dans les bonnes biographies du P. Gorce, de H. Ghéon, dans les narrations pieuses de Bayle, Mouillard, Pradel, ou dans la revue Bona gent publiée à Valence lors du cinquième centenaire de la canonisation de saint Vincent Ferrier (texte catalan et traduction espagnole). Nous avons consulté la sélection des 25 discours de St Vincent Ferrier parue aux Blackfriars Publications, qui forment un commentaire remarquable sur la vie de Notre-Seigneur. L'auteur de cette sélection-traduction intitule très judicieusement son beau travail : une Christologie. Nous y renvoyons : A Christology from the sermons of St Vincent Ferrer of the Order of preachers, Blackfriars Publications, London, 1954. Cette même maison d'édition annonce pour l'année 1957 la traduction anglaise du Treatise on the spiritual life, suivie du commentaire de Mère Julienne Morell. Elle note la haute renommée dont jouit cet ouvrage, qui fut pendant toute une époque l'équivalent de L'Imitation de Notre Seigneur Jésus-Christ.
On pourra consulter l'article de Emmanuel Garcia Miralles : Los tratados « De suppositionibus terminorum » y « De universitata universalis », de San Vicente Ferrer, dans Estudios filosificos, IV (1955), pages 279-284. Du même auteur l'article San Vincente Ferrer, Anotador de santo Tomas, dans Revista espanola de teologia, XV (1955), pages 445-458. Ainsi espérons-nous donner un choix de textes suffisamment judicieux, qui mieux que tout ce qui a été écrit sur notre grand apôtre, fera ressortir sa forte personnalité et son enseignement tout à la fois intellectuel et populaire.
Mort à Vannes (Bretagne) le 5 avril 1419. Canonisé en 1456 par Callixte III.
Fête inscrite comme semidouble ad libitum en 1667 et obligatoire en 1706. Benoît XIII l'élève au rang de double en 1726.
Quatrième leçon. Vincent, né à Valence en Espagne, de parents honnêtes, montra dès sa jeunesse la maturité d'un vieillard. Ayant considéré avec l'étendue de son génie la fragilité de ce monde rempli de ténèbres, il reçut à l'âge de dix-huit ans l'habit religieux dans l'Ordre des Frères Prêcheurs. Après avoir émis solennellement ses vœux, il s'appliqua assidûment à l'étude des saintes lettres, et obtint avec la plus grande distinction le grade de docteur en théologie. Ses supérieurs lui ayant bientôt permis de prêcher la parole de Dieu, il commença à confondre la perfidie des Juifs et à réfuter les erreurs des Sarrasins avec tant de force et de succès, qu'il amena à la foi du Christ une grande multitude de ces infidèles, et port plusieurs milliers de Chrétiens à renoncer au péché pou faire pénitence, et aux vice pour embrasser la vertu Vincent avait été choisi de Dieu pour répandre les enseignements du salut chez toutes les nations, quelles que fussent leur race et leur langue ; et, en annonçant l'approche du dernier et redoutable jugement, il frappait de terreur les âmes de tous ses auditeurs, les arrachait aux passions terrestres, et les excitait à l'amour de Dieu.
Cinquième leçon. Dans l'exercice de ce ministère apostolique, voici quel fut constamment son genre de vie : chaque jour, de grand matin, il célébrait une Messe chantée ; chaque jour aussi, il adressait un sermon au peuple ; il observait toujours un jeûne inviolable, à moins d'une urgente nécessité ; il ne refusait jamais à personne ses saints et équitables conseils ; jamais il ne mangea de viande ni ne porta de linge ; il apaisa les dissensions des peuples et rétablit la paix entre des royaumes divisés ; enfin, lorsque la tunique sans couture de l'Église fut déchirée par un schisme douloureux, Vincent travailla beaucoup à ramener et à maintenir l'union. Toutes les vertus brillèrent en lui ; marchant dans la simplicité et l'humilité, il reçut avec bonté et il embrassa ses détracteurs et ses persécuteurs.
Sixième leçon. La puissance divine opéra par lui beaucoup de prodiges et de miracles en confirmation de sa vie et de sa prédication. Très souvent, en effet, par l'imposition de ses mains, les malades recouvrèrent la santé ; il chassa des esprits immondes du corps des possédés, rendit l'ouïe aux sourds, la parole aux muets, la vue aux aveugles ; il guérit des lépreux et ressuscita des morts. Enfin, accablé par la vieillesse, et la maladie, cet infatigable héraut de l'Évangile, qui avait parcouru plusieurs pays de l'Europe au grand profit des âmes, acheva le cours de ses prédications et de sa vie à Vannes en Bretagne, l'an du salut mil quatre cent dix-neuf. Calixte III, a inscrit Vincent au nombre des Saints.
Aujourd'hui, c'est encore la catholique Espagne qui fournit à l'Église un de ses fils pour être proposé à l'admiration du peuple chrétien. Vincent Ferrier, l'Ange du jugement, la trompette des vengeances divines, se montre à nous, et vient glacer de terreur nos cœurs infidèles en faisant retentir l'arrivée prochaine du souverain Juge des vivants et des morts. Autrefois il sillonna l'Europe entière dans ses courses évangéliques, et les peuples remués par son éloquence foudroyante se frappaient la poitrine, criaient miséricorde au Seigneur, et se convertissaient. De nos jours, la pensée de ces redoutables assises que Jésus-Christ viendra tenir sur les nuées du ciel n'émeut plus autant les chrétiens. On croit au jugement dernier, parce que c'est un article de la foi ; mais on tremble peu dans l'attente de ce jour formidable. On pèche durant de longues années ; on se convertit un jour par une grâce toute spéciale de la bonté divine ; mais le grand nombre de ces néophytes continue à mener une vie molle, pense peu à l'enfer et à la réprobation, moins encore au terrible jugement par lequel Dieu doit en finir avec ce monde.
Il n'en était pas ainsi dans les siècles chrétiens ; il n'en est pas non plus ainsi chez les aines vraiment converties. L'amour en elles domine la crainte ; mais la crainte du jugement de Dieu veille toujours au fond de leur pensée : c'est cette disposition qui les rend fermes dans le bien qu'elles ont recouvré. Assurément, ils se demandent peu quelle sera leur situation au jour où le signe du Fils de l'homme brillera dans les cieux, où Jésus, non plus Rédempteur, mais Juge, séparera les boucs des brebis, ces chrétiens qui ont tant à expier, et pour lesquels, chaque année, le Carême n'est qu'une occasion de témoigner leur lâcheté et leur indifférence. A voir leur sécurité, on dirait qu'ils ont reçu l'assurance que ce moment terrible ne saurait receler pour eux ni une inquiétude, ni une déception. Ayons plus de prudence, gardons-nous des illusions de l'orgueil et de l'insouciance ; par une pénitence sincère, assurons-nous le droit d'envisager avec une humble confiance cette heure redoutable qui a fait trembler tous les saints. Quelle joie d'entendre cette parole sortir de la bouche du Juge incorruptible : « Venez, les bénis de mon Père ; possédez le royaume qui vous a été préparé dès l'origine du monde [1] ! » Vincent Ferrier s'arrache au repos de la cellule pour aller remuer des nations entières qui dormaient dans l'oubli du grand jour des justices ; nous n'avons pas, il est vrai, entendu sa parole ; mais n'avons-nous pas le saint Évangile ? N'avons-nous pas l'Église qui, dès l'entrée de la sainte carrière que nous parcourons, nous a fait lire les oracles formidables que Vincent Ferrier ne faisait que commenter devant les chrétiens de son temps ? Préparons-nous donc à paraître devant celui qui viendra demander compte des grâces qu'il nous prodigue, et qui sont le fruit de son sang ; en mettant à profit toutes les ressources de la sainte Quarantaine, nous pouvons nous préparer un jugement favorable.
Le Bréviaire de l'Ordre des Frères-Prêcheurs célèbre saint Vincent Ferrier par de magnifiques éloges. Nous lui emprunterons quatre Répons et une Antienne, afin de louer plus dignement l'illustre prédicateur.
R/. Le Père souverain, celui qui gouverne les peuples, sur le soir du monde qui s'affaisse, a envoyé Vincent comme un nouveau prophète chargé d'instruire le peuple chrétien ; Vincent annonce que le jugement de Dieu est proche, * Ce jugement que tous les hommes doivent voir de leurs yeux. V/. Il s'écrie souvent : Craignez Dieu ; l'heure de son jugement est arrivée. * Ce jugement que tous les hommes doivent voir de leurs yeux.
R/. Marchant à la suite du Christ par la voie difficile, il s'éloigna des plaisirs terrestres ; il fit briller l'éclat de la vérité ; il dissipa les ténèbres de l'erreur ; * Il resplendit dans les régions de l'Occident, et tout l'univers retentit de sa renommée. V/. Sa doctrine éclatait comme un soleil ; sa parole était ardente comme la flamme. * Il resplendit dans les régions de l'Occident, et tout l'univers retentit de sa renommée.
R/. La nuit, il s'appliquait aux lettres sacrées, veillant dans la contemplation ; au matin, comme un bel astre, il lançait les rayons de la doctrine ; * Le soir, il appliquait à tous les maux un remède salutaire. V/. Pas une heure de sa vie ne s'écoulait, sans qu'il l'eût remplie par quelque action sainte. * Le soir, il appliquait à tous les maux un remède salutaire.
R/. Proférant les paroles de l'éternelle vie, il enflammait l'âme de ses auditeurs ; il faisait pénétrer dans le cœur des hommes l'amour des dons célestes ; traitant des vertus avec une science profonde, * Il enseignait à dompter tous les vices. V/. Une foule avide de l'entendre le suivait, lorsqu'il s'énonçait de sa bouche divine. * Il enseignait à dompter tous les vices.
Ant. Rempli d'un esprit prophétique, Vincent parla merveilleusement sur la fin du monde ; comme un soleil, il se coucha à l'Occident de la terre, et escorté d'une troupe d'Anges, il monta aux lumineuses demeures du ciel.
Que votre voix fut éloquente, ô Vincent, lorsqu'elle vint réveiller l'assoupissement des hommes, et leur fit éprouver les terreurs du grand jugement ! Nos pères entendirent cette voix, et ils revinrent à Dieu, et Dieu leur pardonna. Nous aussi nous nous étions endormis, lorsque l'Église, à l'ouverture de cette sainte carrière, troubla notre sommeil en marquant de la cendre nos fronts coupables, et en nous rappelant l'irrévocable sentence de mort que Dieu a prononcée sur nous. Nous mourrons, et dans peu d'années ; nous mourrons, et un jugement particulier décidera de notre sort pour l'éternité. Puis, au moment marqué dans les décrets divins, nous ressusciterons, et ce sera pour assister au plus solennel et au plus formidable des jugements. En face du genre humain tout entier, nos consciences seront mises à nu ; nos bonnes et nos mauvaises œuvres seront pesées publiquement ; après quoi viendra la nouvelle promulgation de la sentence que nous aurons méritée. Pécheurs que nous sommes, comment soutiendrons-nous les regards du Rédempteur qui ne sera plus en ce moment qu'un Juge incorruptible ? Comment même supporterons-nous la vue de nos semblables, dont l'œil plongera dans toutes les iniquités de notre vie ? Mais surtout, des deux sentences que les hommes entendront prononcer sur eux, à laquelle aurons-nous droit ? Si le juge la proférait à l'heure où nous sommes, est-ce parmi les bénis de son Père, ou parmi les maudits ; est-ce à la droite, ou à la gauche, qu'il nous rangerait ?
Nos pères étaient saisis de crainte, lorsque vous leur adressiez ces questions, ô Vincent ! Ils firent une sincère pénitence de leurs péchés, et après avoir reçu le pardon du Seigneur, leurs craintes s'apaisèrent et firent place à l'espoir et à la confiance. Ange du jugement de Dieu, priez, afin que nous aussi nous soyons remués par une crainte salutaire. Dans peu de jours, nos yeux verront le Rédempteur monter au Calvaire, courbé sous le poids de la croix, et nous l'entendrons dire aux filles de Jérusalem : « Ne pleurez pas sur moi, mais sur vos enfants : car si l'on traite ainsi le bois vert, comment sera traité le bois sec [2] ? » Aidez-nous, ô Vincent, à profiter de cet avertissement. Nos péchés nous avaient réduits à la condition de ce bois mort qui n'est plus bon que pour le feu des vengeances divines ; par votre intercession, rattachez au tronc ces rameaux détachés, afin qu'ils reprennent vie, et que la sève circule de nouveau en eux. Ami des âmes, nous remettons entre vos mains l'œuvre de notre entière réconciliation avec Dieu. Priez aussi, ô Vincent, pour l'Espagne qui vous donna le jour et au sein de laquelle vous avez puisé la foi, la profession religieuse et le sacerdoce ; mais souvenez-vous de la France, votre seconde patrie, que vous avez évangélisée avec tant de fatigues et de succès ; souvenez-vous de la catholique Bretagne qui garde si religieusement votre dépouille sacrée. Vous fûtes notre Apôtre dans des temps malheureux : les jours que nous traversons semblent plus orageux encore ; daignez, du haut du ciel, vous montrer toujours notre fidèle protecteur.
[1] Luc. XI, 50.
[2] Luc XXIII, 31.
Voici l'ange du jugement, comme il se nommait lui-même. Durant le schisme d'Occident, alors que la robe sans couture de l'Église, du fait de la dispute entre plusieurs prétendants au Pontificat, était sur le point d'être déchirée, et que la corruption dés peuples chrétiens semblait préluder à la fin du monde, Vincent Ferrier, par sa parole énergique et par ses miracles, ramena à la pénitence une grande multitude de fidèles.
Au commencement, il fut le confesseur de l'antipape Pierre de Lune (Benoît XIII) et soutint son parti avec vigueur. Mais quand par la suite l'injustice des prétentions de l'ambitieux Espagnol fut reconnue, saint Vincent Ferrier s'en détacha et prédit même que le temps viendrait où les enfants joueraient à la balle avec son crâne. Il en fut comme il l'avait annoncé, car en 1811 les Français occupant le château d'Illuca, où gisait sans sépulture le corps de Pedro de Luna, en détachèrent le crâne et jetèrent le reste par la fenêtre.
La fête de saint Vincent Ferrier fut instituée par Clément IX (+ 1669). La messe est du Commun, sauf la première collecte qui est propre.
Dieu n'abandonne jamais l'Église, et l'histoire enseigne que, précisément au temps des grandes crises religieuses ou politiques, il envoie toujours de grands saints, pour sauver les peuples de la ruine. Nous aimons à mettre en relief une particularité liturgique mentionnée dans la vie de saint Vincent Ferrier : Quotidie Missam summo mane cum cantu celebravit. Nos pères, et aujourd'hui encore les Orientaux, consentaient difficilement à lire la messe ; ils avaient l'habitude de la chanter, comme l'avait fait Jésus au Cénacle avec les Apôtres.
La liturgie unit l'office divin et l'Église.
Saint Vincent : Jour de mort : 5 avril 1419. — Tombeau : dans la cathédrale de Vannes. Image : On le représente en dominicain, portant dans la main un soleil avec les lettres J. H. S. Vie : Saint Vincent Ferrier, de l'Ordre des Dominicains, fut un prédicateur populaire assisté de Dieu, l'un des plus grands du 15e siècle. La fascination de ses discours entraînait tout le monde, de bon gré ou par force : rois, princes de l'Église, ecclésiastiques et séculiers, jusqu'au plus simple peuple. En Espagne seulement, sa parole et ses miracles auraient converti 25.000 Juifs et 8.000 Maures. Les sermons qu'il fit sont incalculables. On parle de 20.000. Il joua aussi un rôle bienfaisant au moment où prenait fin le grand schisme d'Occident. Il mourut en 1419.
Pratique : Le bréviaire raconte à son sujet : « Chaque jour, il célébrait de grand matin la messe chantée ; chaque jour, il prêchait au peuple ; il observait un jeûne continuel, ininterrompu. » Ces quelques mots nous peignent une vie liturgique idéale, unie à la charité lit plus active envers le prochain. Le saint se dépensa sans compter pour le bien du prochain. La liturgie unit harmonieusement le service de Dieu, l'amour du prochain et l'ascèse. — La messe (Os justi) est du [commun des confesseurs-332], c'est la messe du serviteur vigilant.
Saint Vincent Ferrer from
Saint Vincent Ferrier - Traité de la Vie spirituelle :