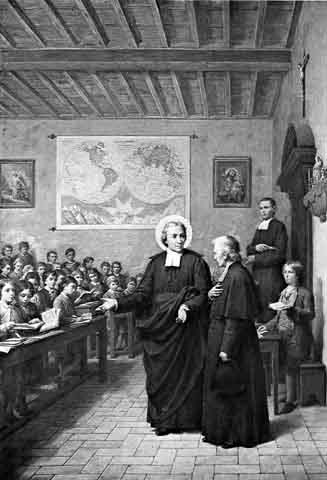 Fondateur des Frères des Écoles Chrétiennes
(1651-1719)
Au moment où Dieu est chassé des écoles publiques pour être plus sûrement chassé du coeur des enfants, il est plus opportun que jamais de publier les grands exemples des Saints qui se sont faits les éducateurs dévoués de l'enfance chrétienne. Parmi ces éducateurs, saint Jean-Baptiste de La Salle occupe le premier rang. Outre la fondation si admirable des Frères des Écoles chrétiennes, dont le mérite lui appartient, on peut dire qu'il a été l'inspirateur des fondateurs de l'avenir, et que les institutions plus récentes ont bourgeonné autour du tronc vigoureux qu'il a planté.
Jean-Baptiste, né le 30 avril 1651, appartenait à une noble maison de Reims. Il eût pu aussi bien que personne, grâce à ses talents et à sa situation, briller dans le monde; mais il préféra se cacher dans le sanctuaire, ignorant que là était pour lui la source d'une gloire infiniment supérieure à celle du monde, la gloire de la sainteté. Orphelin à dix-huit ans, après l'achèvement de ses études, il veilla si bien à l'éducation de ses frères et de ses soeurs, qu'il eut deux frères prêtres et une soeur religieuse: c'était le commencement de son apostolat.
Ordonné prêtre à l'âge de vingt-sept ans, il comprit, sous l'inspiration de Dieu, le plus grand besoin de son époque, et songea à combler une lacune regrettable dans les oeuvres si belles et si multiples de la sainte Église. Recruter des jeunes gens, les installer dans sa maison de chanoine de Reims, les former à l'enseignement de l'enfance, tel fut le commencement de son entreprise. Cette entreprise subit dès l'abord des épreuves terribles.
Peu de Saints ont eu à souffrir un plus entier crucifiement, que le bienheureux de La Salle; peu de Saints ont montré plus de désintéressement, plus de joie dans le sacrifice; il poussait l'amour divin jusqu'à joindre à tant de Croix d'effrayantes mortifications volontaires, soutenues par un esprit de prière tout angélique.
La bénédiction de Dieu ne pouvait manquer à son oeuvre, et, en peu d'années, l'Institut comptait seize écoles, où plus de quinze cents enfants recevaient les leçons de la vertu et de la science; mais chaque année les développements devenaient de plus en plus merveilleux, et quand le saint fondateur, affaibli par la maladie, força ses frères à accepter sa démission, en 1717, toute la France était couverte par les légions de son armée pacifique.
Jean-Baptiste de La Salle employa les deux dernières années de sa vie à sa propre sanctification: "La victime est prête à être immolée, disait-il; il faut travailler à la purifier."
Abbé L. Jaud, Vie des Saints pour tous les jours de l'année, Tours, Mame, 1950.
SOURCE :
http://magnificat.ca/cal/fr/saints/saint_jean-baptiste_de_la_salle.html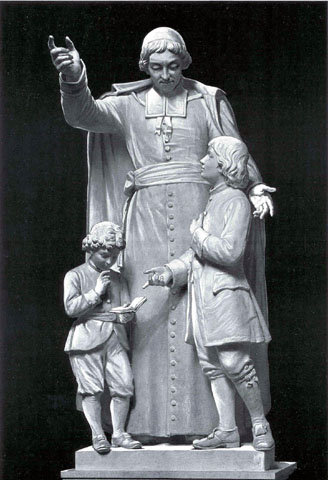 SAINT JEAN-BAPTISTE DE LA SALLE 1651-1719
Le Fondateur de l'Institut des Frères des Écoles Chrétiennes, Patron des Éducateurs ChrétiensJean-Baptiste de La Salle est né dans un monde totalement différent du nôtre. Il est le premier né de parents aisés, vivant en France il y a 300 ans. Né à Reims, Jean-Baptiste de La Salle reçut la tonsure à l'âge de 11 ans, et fut nommé Chanoine de la Cathédrale de Reims à 16 ans. A la mort de ses parents, il dut assumer la gestion des affaires familiales, il acheva ses études de théologie et fut ordonné prêtre le 9 avril 1678. Deux ans plus tard, il fut reçu Docteur en Théologie. Ce fut lors de cette période qu'il tenta de s'engager avec un groupe de jeunes gens rugueux et illettrés, dans le but de fonder des écoles pour garçons pauvres.A ce moment-là, seules quelques personnes vivaient luxueusement, mais la majorité vivait dans des conditions d'extrême pauvreté ; les paysans à la campagne et les habitants miséreux des villes. Seul un petit nombre pouvait envoyer les enfants à l'école ; la majorité des enfants n'avait que peu d'espoir en l'avenir. Ému par la condition de ces pauvres, qui semblaient "si loin du salut" dans un monde ou dans l'autre, il prit la décision de mettre ses talents et son éducation au service de ces enfants, "souvent laissés à eux-mêmes et mal élevés". Pour être plus efficace, il renonça à la maison familiale et emménagea avec des professeurs, renonça à sa position de Chanoine et à sa fortune, puis il forma la communauté aujourd'hui appelée Frères des Écoles Chrétiennes. Son entreprise rencontra l'opposition des autorités ecclésiastiques, qui ne souhaitaient pas la création d'une nouvelle forme de vie religieuse, une communauté de laïques consacrés conduisant des écoles "ensemble et par association". "L'establishment éducatif" fut choqué par ses méthodes innovatrices et sa volonté absolue de gratuité pour tous ; totalement indifférent au fait de savoir si les parents pouvaient payer ou pas. Malgré tout, De La Salle et ses Frères ont réussi, avec succès, à créer un réseau d'écoles de qualité, caractérisé par l'utilisation de la langue vernaculaire, par des groupes d'élèves réunis par niveau et résultats, par une instruction religieuse basée sur des thèmes originels, préparée par des professeurs ayant une vocation à la fois religieuse et missionnaire, et par l'implication des parents dans l'instruction. De plus, De La Salle fut un précurseur en proposant des programmes pour former des professeurs laïques, des cours les dimanches pour les jeunes ouvriers, et l'une des premières institutions pour la prise en charge de "délinquants". Harassé par une vie faite d'austérités et de labeurs, il mourut à Saint Yon, près de Rouen, en 1719, quelques semaines seulement avant son 68ème anniversaire.Jean-Baptiste de La Salle est le premier à avoir mis en place des centres de formation pour les professeurs, des écoles d'apprentissage pour les délinquants, des écoles techniques, et des écoles secondaires pour les langues modernes, les arts et les sciences. Son ouvre s'est répandue très rapidement en France, et après sa mort, à travers tout le monde. En 1900, Jean-Baptiste de La Salle fut déclaré Saint. En 1950, en raison de sa vie et de ses écrits inspirés, il fut fait Saint Patron de tous ceux travaillant dans le domaine de l'éducation. Jean-Baptiste de La Salle a montré comment enseigner et s'occuper des jeunes, comment faire face au manque et à la faiblesse avec compassion, comment soutenir, affirmer et guérir. Aujourd'hui, des écoles lasalliennes existent dans 80 pays autour du monde.
Né à Reims, en France, le 30 avril 1651
Ordonné prêtre le 9 avril 1678
Décédé le 7 avril 1719
Béatifié le 19 février 1888
Canonisé le 24 mai 1900
Proclamé Patron des Éducateurs Chrétiens le 15 mai 1950
SOURCE :
http://www.lasalle2.org/French/Heritage/History/hehijbdls.php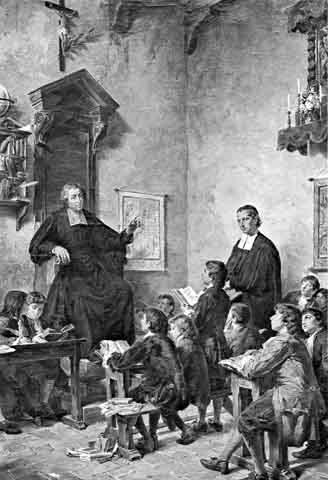 St Jean-Baptiste de la Salle
,
confesseur
Né à Reims en 1651. Fondateur des Frères des Écoles Chrétiennes en 1684. Mort à Rouen le 7 avril 1719. Canonisé en 1900 par Léon XIII qui inscrivit sa fête en 1901 sous le rite double en la fixant au 15 mai.
Leçons des Matines avant 1960
Au deuxième nocturne.
Quatrième leçon. Jean-Baptiste de la Salle, né à Reims d'une famille illustre, fit pressentir dès son enfance, par sa manière d'être et ses actes, qu'il serait appelé à prendre le Seigneur pour son partage et paré un jour de l'auréole de sainteté. Tandis qu'adolescent il s'instruisait des lettres et de la philosophie à l'académie de Reims, il se rendit cher à tous par les vertus de son âme, la douceur de son naturel et la vivacité de son esprit ; mais lui, néanmoins, fuyait la société de ses semblables pour s'occuper plus facilement de Dieu dans la solitude. Enrôlé déjà dans la milice cléricale, il fut inscrit parmi les chanoines de Reims, en la seizième année de son âge ; puis il se rendit à Paris pour étudier la théologie à la Sorbonne et fut reçu au séminaire des Sulpiciens. Mais la mort de ses parents l'obligea bientôt à regagner la maison paternelle où il prit soin de l'éducation de ses frères, sans interrompre l'étude des sciences sacrées qu'il poursuivit avec le plus grand succès, comme la suite le prouva.
Cinquième leçon. Jean-Baptiste fut enfin revêtu du sacerdoce, et continua toute sa vie de célébrer les sacrés mystères, qu'il offrit pour la première fois sur l'autel avec la foi la plus vive et toute l'ardeur de son âme. Enflammé de zèle pour le salut des âmes, il se dépensa tout entier pour leur plus grand bien. Ayant été chargé de la direction des Sœurs de l'Enfant-Jésus, instituées pour l'éducation des enfants, non seulement il les gouverna avec la plus grande prudence mais encore il les préserva de la ruine. De plus, il consacra dès lors ses soins à instruire de la religion et à former aux bonnes mœurs les enfants du peuple. Dieu l'avait suscité à cette fin de procurer des écoles aux enfants, et surtout aux enfants pauvres, d'une manière efficace et permanente, par rétablissement en son Église d'une nouvelle famille de religieux. Cette mission, qui lui était confiée par la divine Providence, il l'accomplit heureusement, malgré de nombreuses contradictions et de grandes épreuves, en fondant la congrégation des Frères qu'il nomma « Des Écoles Chrétiennes ».
Sixième leçon. Il prit d'abord chez lui les hommes qu'il s'était adjoints pour une œuvre si importante et si ardue, et, quand il les eut établis dans une résidence mieux appropriée à leur état, il leur inculqua son excellente discipline, au moyen de lois sagement instituées, que Benoît XIII a depuis confirmées. Par humilité et amour de la pauvreté, il renonça à son canonicat et distribua tous ses biens aux pauvres ; bien plus, Il abandonna même plus tard, volontairement, après avoir souvent en vain tenté de le faire, le gouvernement de l'institut qu'il avait fondé. Sans renoncer pourtant en rien à sa sollicitude pour les Frères, et pour les écoles ouvertes déjà par ses soins en bien des lieux, il commença à s'appliquer de toutes ses forces à la pensée de Dieu. Sévissant assidûment contre lui-même par des jeûnes, des flagellations et d'autres austérités, il passait les nuits en prière. Tel fut son genre de vie jusqu'à ce que, remarquable en toutes les vertus, spécialement par son obéissance, son zèle pour l'accomplissement de la volonté divine, son amour et son dévouement envers le siège apostolique, chargé de mérites, il s'endormit dans le Seigneur, âgé de soixante-huit ans et muni des Sacrements selon l'usage. Le Souverain Pontife Léon XIII inséra son nom au catalogue des Bienheureux, puis, quand l'éclat de nouveaux miracles l'eut illustré, il lui décerna les honneurs de la canonisation l'année jubilaire dix-neuf cent.
Au troisième nocturne.
Lecture du saint Évangile selon saint Matthieu. Cap. 18, 1-5.
En ce temps-là : les disciples vinrent un jour poser à Jésus cette question : Selon vous, qui est le plus grand dans le royaume des cieux ?. Et le reste.
Homélie de S. Jean Chrysostome.
Septième leçon. « Gardez-vous de mépriser un seul de ces petits enfants, parce que leurs Anges voient toujours la face de mon Père », parce que je suis venu pour eux, et que telle est la volonté de mon Père. Par là, Jésus-Christ nous rend plus attentifs à protéger et à préserver les petits enfants. Vous voyez quels grands remparts il a élevés pour abriter les faibles ; que de zèle et de sollicitude il a pour empêcher leur perte ! Il menace des châtiments les plus graves ceux qui les trompent ; il promet à ceux qui en prennent soin la suprême récompense ; et cela, il le corrobore, tant par son exemple que par celui de son Père.
Huitième leçon. A nous donc aussi d'imiter le Seigneur et de ne rien négliger pour nos frères, pas même les choses qui nous sembleraient trop basses et trop viles ; mais s'il est besoin même de notre service, quelque faible et humble que soit celui qu'il faut servir, quelque difficile et pénible que la chose paraisse, que tout cela, je vous en prie, nous semble tolérable et aisé pour le salut d'un frère : car Dieu nous a montré que cette âme est digne d'un si grand zèle et d'une si grande sollicitude, que pour elle « il n'a pas même épargné son Fils ».
Neuvième leçon. Puisque, pour assurer notre salut, il ne suffit pas de mener une vie vertueuse, et qu'il faut encore effectivement désirer le salut d'autrui, que répondrons-nous, quel espoir de salut nous restera, si nous négligeons de mener une vie sainte, et d'exciter les autres à faire de même ? Quelle plus grande chose que de discipliner les esprits, que de former les mœurs des tendres adolescents ? Pour moi, celui que s'entend à former l'âme de la jeunesse est assurément bien au-dessus des peintres, bien au-dessus des statuaires, et de tous les artistes de ce genre.
Bhx Cardinal Schuster, Liber Sacramentorum
Ce Saint fut canonisé par Léon XIII qui étendit sa fête à l'Église universelle. Sa mission historique fut importante surtout au point de vue social, puisque deux siècles avant que les temps nouveaux eussent rendu nécessaire l'instruction des masses populaires, et que les écoles techniques revendiquassent contre l'enseignement classique exclusif la place importante qui leur est due dans l'éducation de la jeunesse, Dieu, comme par un présage prophétique, lui en fit comprendre la nécessité. Saint Jean-Baptiste de la Salle, répondant à l'appel divin, renonça aux honneurs d'un canonicat à Reims, et, au milieu de mille contradictions et adversités, il fonda la société des maîtres des Écoles chrétiennes qui, aujourd'hui encore, accomplit un si grand bien dans l'Église.
La messe Os iusti est du Commun des Confesseurs, mais la première collecte et l'Évangile sont propres.
La collecte est pieuse ; mais pour vouloir contenir trop de choses, jusqu'à être un résumé de la biographie du Saint, elle est devenue prolixe et absolument rebelle aux lois rythmiques de l'antique cursus.
L'Évangile (Matth., XVIII, 1-5) a déjà été lu en partie le 8 mai. Jésus y fait l'éloge de l'innocence des enfants qu'il propose comme modèles à tous les chrétiens. L'enfant est simple, chaste et surtout humble, car, sans effort, il se reconnaît petit, faible, inférieur à ceux qui sont plus âgés que lui. Cette humilité naturelle du petit enfant plaît tout spécialement ; aussi devons-nous nous efforcer d'avoir une humble opinion de nous-mêmes en toute sincérité et non par calcul ou affectation, mais pour plaire à Dieu qui, étant tout, veut être aussi tout en nous.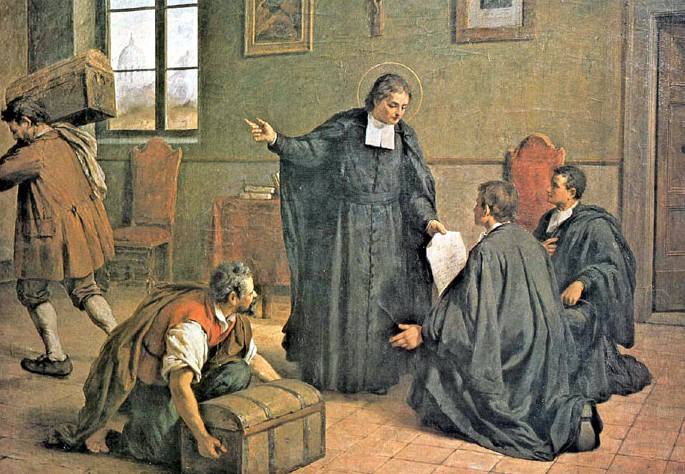 Dom Pius Parsch, le Guide dans l'année liturgique
Si vous ne devenez pas comme des petits enfants, vous n'entrerez pas dans le royaume des cieux.
Saint Jean-Baptiste. — Jour de mort : Le 7 avril 1719. Tombeau : à la maison-mère de Lembecq-lez-Hal, près de Bruxelles, en Belgique. Image : On le représente en prêtre, exhortant des enfants. Vie : Le saint naquit en 1651, à Reims. Après une pieuse jeunesse, il entra dans l'état ecclésiastique et fut ordonné prêtre en 1678. Il se sentit bientôt appelé par Dieu à « instruire les pauvres dans la doctrine chrétienne et particulièrement à conduire la jeunesse sur la voie de la vérité » (Oraison). Il fonda la Congrégation des Frères des écoles chrétiennes. C'est un Institut méritant qui compte plus de 17.000 frères dans environ 2.000 maisons. Le saint a beaucoup contribué au développement des écoles populaires. Par la fondation de sa Congrégation, il a donné des maîtres à la jeunesse dont l'éducation était très négligée et il a créé les premières écoles normales d'instituteurs. Par amour de la pauvreté, il renonça à son canonicat et distribua ses biens aux pauvres (Ép.). Son zèle pour la jeunesse le dévorait. Il était très sévère pour lui-même, jeûnait, se flagellait et exerçait d'autres actes de pénitence ; il passait des nuits entières en prière (Intr.). Il mourut à l'âge de 68 ans, le 7 avril 1719, le Vendredi-Saint. Ses dernières paroles furent : « J'adore en tout les dispositions de Dieu à mon égard ».
La messe. — La messe est du commun des confesseurs (Os justi) avec le bel Évangile des enfants dans lequel le Seigneur nous donne les enfants comme modèles : « Si vous ne vous convertissez pas et ne devenez pas comme des petits enfants, vous n'entrerez pas dans le royaume des cieux ». Nous devons être comme des enfants devant Dieu, avoir la simplicité des enfants, l'innocence des enfants, l'obéissance des enfants, la foi des enfants. Le Seigneur nous exhorte aussi à aimer les enfants : « Celui qui reçoit un enfant comme celui-ci en mon nom me reçoit ». Saint Jean Chrysostome nous dit aujourd'hui au bréviaire : « Former l'âme des jeunes gens me paraît un plus grand art que l'art du peintre et du sculpteur ».
SOURCE :
http://www.introibo.fr/15-05-St-Jean-Baptiste-de-la-Salle
Saint John Baptist de la Salle
Founder of the
Institute of the Brothers of the Christian Schools
,
educational
reformer, and father of modern pedagogy, was born at
Reims
, 30 April, 1651, and died at Saint-Yon,
Rouen
, on
Good Friday
, 7 April, 1719. The
family
of de la Salle traces its origin to Johan Salla, who, in the early part of the ninth century, was Commander-in-chief of the Royal forces of Alfonso the Chaste. It was not, however, until about 1350 that the younger branch of this
family
, from which our saint is descended, removed to
France
and settled in Champagne. John Baptist was the eldest child of Louis de la Salle and Nicolle de Moet de Brouillet. His
parents
were very solicitous in the care they bestowed upon their child, especially in regard to is moral and
intellectual
development. After due preparation, he was sent to the College des Bons Enfants, where he pursued the higher studies and, on 10 July, 1669, he took the degree of Master of Arts. Canon Pierre Dozet, chancellor of the University of
Reims
, was the presiding officer at the academic sessions, and in the discharge of his function had opportunity to study the character of his young cousin, de la Salle, with the result that he determined on resigning his
canonry
in his favour. Louis de la Salle, however, cherished the hope that John Baptist would select the profession of law, and thereby maintain the
family
tradition. But young de la Salle insisted that he was called to serve the
Church
, and accordingly he received the
tonsure
11 March, 1662, and was
solemnly
installed as a canon of the
metropolitan See
of
Reims
, 7 January, 1667.
When de la Salle had completed his classical, literary, and
philosophical
courses and had read the
Schoolmen
, he was sent to
Paris
to enter the Seminary of Saint-Sulpice on 18 October, 1670. While residing here he attended the lectures in
theology
at the
Sorbonne
. There, under the direction of Louis Tronson, he made such rapid progress in virtue, that M. Lechassier, superior general of the Congregation of Saint-Sulpice, renders this testimony of him: "De la Salle was a constant observer of the rule. His conversation was always pleasing and above reproach. He seems never to have given offence to any one, nor to have incurred any one's censure." While at the
seminary
de la Salle distinguished himself by his
piety
as well as by the vigour of his
intellectual
progress and the ability with which he handled
theological
subjects. Nine months after his arrival in
Paris
, his mother died, 19 July, 1671, and on 9 April, 1672, his
father
died. This circumstance
obliged
him to leave Saint-Sulpice, 19 April, 1672. He was now twenty-one, the head of the
family
, and as such had the responsibility of
educating
his brothers and sisters. His whole attention was devoted to his domestic affairs, and he provided for every circumstance by his discreet, businesslike administration. Canon Blain says that he underwent at this time many
mental
struggles. Distrusting his own lights, de la Salle had recourse to
prayer
and the guidance of discreet advisers, among them, Nicolas Roland, canon and
theologian
of
Reims
, a man of great spiritual discernment. Acting upon the advice of the latter, the future founder was
ordained
subdeacon
at
Cambrai
, by Archbishop Ladislas Jonnart, 2 June, 1672.
When not occupied with the
duties
of his
canonry
or with his
theological
studies, he was engaged in
good
works
, under the guidance of his
spiritual director
. After four years, he was
ordained
deacon
at
Paris
, 21 March, 1676, by François Batailler,
Bishop
of
Bethlehem
. On this occasion de la Salle sought to obtain the permission of
Maurice Le Tellier
,
Archbishop
of
Reims
, to resign his
canonry
and prepare for
parish
work. Nicolas Roland urged him to take this step, alleging that a rich
canonry
was little in harmony with youthful
zeal
and activity. His
archbishop
, however refused his request. With
humble
submission, de la Salle accepted the decision and returned to
Reims
to pursue his studies and to make final preparations for his
ordination
to the
priesthood
. He was
ordained
priest
by the
Archbishop
of
Reims
, on
Holy Saturday
, 9 April, 1678. The young
priest
was a model of
piety
, and his biographers say that
persons
went to assist at his Mass to be edified, and to share his
piety
. After Mass there were many who sought his counsel and put themselves under his spiritual guidance. De la Salle never omitted Holy Mass, save when prevented by sickness. In June, 1680, he submitted to his final examination and took his doctorate in
theology
. At this period of his life de la Salle evinced a docility of spirit, a self-diffidence, that bespoke the character of the man and saint. In physical appearance he was of commanding presence, somewhat above the medium height, and well-proportioned. He had large, penetrating blue eyes and a broad forehead. His portraits present a picture of sweetness and dignity, beaming with intelligence and breathing an air of modesty and refined grace. A smile plays about the finely chiseled lips and illumines a countenance to which the large lustrous eyes give an air of commanding intelligence.
During the few years that intervened between his
ordination
to the
priesthood
and the establishing of the institute, de la Salle was occupied in carrying out the last will and testament of Nicolas Roland, who, when dying, had confided to him the newly established Congregation of the Sisters of the Child Jesus. "Your zeal will bring it to prosperity", said Nicolas Roland to him. "You will complete the work which I have begun. In all this, Father Barre will be your model and guide." Thus was de la Salle imperceptibly drawn towards his life-work. "The idea never occurred to me", de la Salle wrote in a memoir. "If I had ever though that what I did out of pure charity for the poor
school
teachers would make it incumbent upon me to live with them, I would have given it up at once." This sentiment he again expressed towards the close of his life in these emphatic words: "If
God
had revealed to me the good that could be accomplished by this institute, and had likewise made known to me the trials and sufferings which would accompany it, my
courage
would have failed me, and I would never have undertaken it." At this period de la Salle was still occupied with his functions as canon. He was, however, aroused to the higher calling by a message from Madame Maillefer, in March, 1679, requesting him to aid Adrien Nyel in opening a free
school
at
Reims
. But hardly had he succeeded in establishing the
school
of St-Maurice when he quietly withdrew from the work, as if it were not his mission. Shortly afterwards the opening of another free
school
in St-Jacques
parish
lured him again from his seclusion, but he soon retired again.
Although instrumental in opening these elementary free
schools
at
Reims
, de la Salle seemed to allow Adrien Nyel to share all the honours resulting therefrom, while he was content to labour assiduously for the real progress of both
schools
. He was unconsciously attracted to the work. Daily he visited the teachers to encourage the or suggest practical methods to attain definite results. But when he found that the teachers became discouraged, owing to the lack of proper guidance after
school
hours, he undertook to house them, that he might be able to direct them and give them practical lessons in the useful employment of time, and to prevent weariness and disgust. Not only did he aid them in class and after class, but he made good any deficit in the cost of living. He even admitted them to his own table and later on sheltered them under his roof. Thus was he drawn closer and closer to them, forming an intimate fellowship with the teachers of the poor. "It was, indeed", says Mgr. Guibert, "his
love
that induced de la Salle to devote himself to the young teachers of
Reims
. They were like abandoned sheep without a shepherd. He assumed the responsibility of uniting them." As yet de la Salle had no definitive plans for the future, even as late as 2 June, 182, when he transferred his little community to the vicinity of rue Neuve. He simply kept himself in readiness to follow the guidance of Providence. He resigned his
canonry
in July, 1683, and he distributed his fortune to the poor in the winter of 1684, thus giving convincing
proofs
that he would not hesitate to make any
sacrifices
necessary
to complete the good work he had begun. Pere Barre counselled de la Salle to give up whatever might divert his attention from procuring
God's
glory. In reply to the earnest remonstrances of his friends and kinsfolk, he meekly answered: "I must do the work of
God
, and if the worst should come to pass, we shall have to beg
alms
." Reliance upon Providence was henceforth to be the foundation of the
Christian Schools
.
Up to this period (1684) the institute had lacked the characteristics of a permanent organization. From 1694 to 1717, the struggle for existence was most critical. In 1692 the institute was so weakened by deaths and defections that de la Salle could hardly find two Brothers who were willing to bind themselves by
vow
to maintain the free
schools
. The death of Henri L'Heureux in December, 1690, materially affected the rules of the
Brothers of the Christian Schools
. De la Salle, intending this gifted young Brother to be the future superior of the congregation, entertained the hope of having him
ordained
priest
, and with this view he sent him to
Paris
to pursue his
theological
studies at the
Sorbonne
. After a brilliant course, Brother Henri L'Heureux was ready for
ordination
, but before this event took place the young candidate fell sick and died. The loss of this Brother was a blow to the founder. After passing the whole night in
prayer
, he rose up, not only comforted but strengthened, but also enlightened as to the character of his future institute. He then determined that there should be no
priests
among the members of his institute. Although there were
priests
and
lay brothers
in nearly all existing
religious
orders, de la Salle was convinced that the time had come for a change in this matter in the new congregation. Brother Lucard, the Annalist of the institute, thus sums up the matter: "Since the death of Henri L'Heureux, de la Salle was firmly convinced that his institute was to be founded on simplicity and
humility
. No Brother could, without compromising his congregation, allow himself to be diverted from his functions as a teacher, by devoting himself to special studies, the saying of the
Divine Office
, or the fulfillment of other
duties
obligatory
on the sacred ministry." Therefore, no Brother can aspire to the
priesthood
nor perform any
priestly
function, and no ecclesiastic can become a member of the institute. This is the new rule that de la Salle added, and it is embodied in the Constitution of the institute.
From 1702 the founder began to endure a long period of trial, aggravated by
persecution
on the part of certain
ecclesiastical authorities
. In November, 1702, he was deposed by
Cardinal de Noailles
, and supplanted for a time by the Rev. B. Bricot. In 1703 one of his most trusted disciples, Nicolas Vuyart, treacherously deserted him. For the next ten years the holy founded was engaged in a series of struggles for the preservation of his institute, in the course of which his name was attacked, and
justice
denied him before the civil tribunals. After thirty-five years of hard labour, his work seemed to be almost on the verge of ruin. His confidence in
God
was so firm and unshaken that he was never really discouraged. In 171 he convoked a chapter for the purpose of solidifying the work and for the election of a superior general. His aim was to have a Brother elected during his lifetime and thus perfect the government of the institute in accordance with the rule he had formulated. The choice of the assembled Brothers fell upon Brother Barthélemy, a man whom all esteemed for his learning and
virtue
. The institute was now an accomplished fact. And from the first interview with Adrien Nyel, in 1679, de la Salle belonged wholly to the Brothers, sharing with them the burden of labour and observing the common rule. He never left them to engage in other works.
De la Salle was too prudent and too well inspired by
God
, not to give his institute a positive character in its twofold object: the
Christian
education
of youth and the cultivation of that spirit of
faith
,
piety
,
mortification
, and obedience which should characterize its members. His gift of gaining
souls
to
God
, and of leading them to make great
sacrifices
, was supplemented by the splendid executive ability that enabled him to found an institute and to supervise and direct its gradual development. A study of the extraordinary religious, social, and
educational
conditions, at the time the institute was founded by de la Salle, will show the peculiar character of the difficulties he had to encounter and overcome.
Jansenism
had gained the ascendancy in
France
and spread broadcast its pernicious doctrines; it fostered internal dissensions and promoted Gallicanism, to the great detriment of the Faith and of loyalty to the
Holy See
. In the social order, a spirit of exaggerated independence was abroad, condemning authority or thrusting it aside. When such conditions prevailed in the upper classes, one may well ask, what must have been the condition of the masses? The incessant foreign and internal
wars
, with their consequent evils, told with disastrous effect upon the people. Exorbitant demands on the part of army officials, the
violence
of the soldiery, the rapine of supervisors, the wholesale plunder of crops, followed by famine and ruin, left whole provinces of
France
under the weight of terrible sufferings and untold misery. The peasants frequently had no bread, and when they had it the circumstances were such as to deprive them of any hope of sustenance for the morrow. Even when the gloom of internal turmoil had been momentarily brightened by the splendid victories abroad, the sad effect of the glory of the reign of
Louis XIV
made the mourning in cottages only the more bitter owing of the loss of the
loved
ones on foreign battlefields. Evidently,
morals
among the masses under these dire circumstances were threatened with ruin, as were the social and
economic
conditions; for
false doctrines
were spread and took hold among the people, destroying their
faith
and stultifying their consciences. Schools there were, but they were poorly attended and shamefully neglected. The children and the people generally were
ignorant
, and vice, according to contemporary authorities, was rampant among all classes. De la Salle carefully studied these conditions and, moved to compassion for the
poor
, resolved to improve their social and moral status. The founder grasped the situation and proposed as a remedy, popular free
schools
thoroughly graded and supplied with
zealous
teachers, who would implant in the hearts of the children the germs of those virtues that would tend towards the regeneration of both the pupils and the
parents
. He saw that a religious congregation composed of enlightened men, eager for the
salvation
of
souls
, could alone stem the tide of irreligion, vice, and
ignorance
. He clearly perceived that, in the peculiar conditions which surround any institute at the period of its origin, the work proposed to be done should embody in its ends the special requirements of the age in which it originates. He also foresaw that, while the guiding spirit of such an institute must ever remain fundamentally the same, its scope, as a permanent organization working for the welfare of humanity, should have the character of a social force answering to the needs and conditions of any age and country.
The various
educational
reforms which de la Salle introduced prove that he legislated wisely. The courses of study for elementary free
schools
, technical
schools
, and colleges are evidences of his broad culture and wide grasp of
educational
problems. Hence, if the needs of a certain locality called for special branches, or if the times and conditions demanded certain advanced studies, de la Salle was not slow in responding nor in giving these subjects a place commensurate in importance with their
educational
value. De la Salle, furthermore, displayed his genius in giving is institute a distinctive character, that of a teaching body,
consecrated
to the work of popular
education
. Thus he became the author of a system of psychologic pedagogy which included the essential principles adopted by later workers in the field of
educational
reforms, notably by
Pestalozzi
, Fröbel, Herbart, and others. In making the vernacular the basis of all instruction, de la Salle appealed to the intelligence of the child, prepared the way for the study of national literature, and opened up to the grown man those avenues of real
knowledge
and delight that had hitherto been closed against the eager multitude. With
true
scientific insight he perceived the absurdity of retaining Latin texts to teach the art of reading. For this change he gave the following reasons :
The teaching of the art of reading, in primary and elementary
schools
, through the vernacular, is of greater and wider utility than by Latin texts.
The vernacular is more easily taught to children, who already possess some
knowledge
of it, than the Latin of which they are wholly
ignorant
.
It requires considerably less time to learn the art of reading through the vernacular than through a foreign tongue.
The boys and girls attending the primary and elementary
schools
, can spend only a few years under instruction. Now, if thy are taught reading from a Latin text, they generally leave
school
without being able to read the vernacular, and with only an imperfect
knowledge
of how to read the Latin. Hence, they will soon forget the little they have learned, and, perhaps, even how to read the vernacular.
Reading is one of he most efficacious means of acquiring
knowledge
. With due care in the selection of books, children who can read in the vernacular could spread the
Christian doctrine
in the
family
circle, and, on evenings, read some useful or instructive books to the assembled household; whereas, if they could read the Latin only, without understanding it, they would be deprived of many valuable benefits resulting from the intelligent reading of a good book.
It is impossible for children in primary and elementary
schools
to master the reading of Latin texts, because they are not acquainted with its subject matter. It is, therefore, the part of wisdom to train children thoroughly to the intelligent reading of works written in the vernacular. Thus, having mastered the art of reading in the vernacular, a few months would suffice to make them read the Latin fluently, whereas, if the traditional method were followed, it would require at least several years [Annales de l'Institut, I (1883), pp. 140, 141].
This fact proves that de la Salle was a profound thinker, a genius in the work of popular
education
. He embraced all classes, all conditions of
society
. By making the free
schools
popular, he grasped the growing needs of
society
in his own day and for all times. No phase of the
educational
problem escaped his penetrating vision.
As de la Salle is especially identified with the "Simultaneous Method" of teaching, an explanation of the method and its history will prove of interest to the educator. By the "Simultaneous Method" the pupils are graded according to their capacity, putting those of equal attainments in the same class, giving them the same text-books, and requiring them to follow the same lesson under one and the same teacher. This method has best stood the test of time and experience, and is that which the
Brothers of the Christian Schools
employ in all grades of instruction even at the present day. Like all fruitful
ideas
, the "Simultaneous Method" is not the exclusive
property
of any one man. Others besides de la Salle discerned its value, and even partially applied its essential principles, long before the founder of the
Christian Schools
made it live in his institute. It had no place in the
university
system of the
Middle Ages
. The plan adopted n those time was that which prevails to a great extent in the
universities
of our own day, namely, listening to lectures, taking notes thereon, and holding disputations upon the subject-matter. The
Jesuits
organized each class in subdivisions; each division being headed by an advanced pupil called a decurion, to whom the boys recited their lessons at stated times, while the teacher corrected exercises or heard the lessons of particular pupils. The whole class afterwards received explanations form the teacher.
St. Peter Fourier
(1565-1640) saw in
Christian
education
the remedy for many of the disorders existing among the poor and labouring class. He was far-seeing, and anticipated more than one of our modern
educational
improvements. Indeed, he was one of the first to apply some of the principles of the "Simultaneous Method". In his constitutions he prescribes that, as far as it can possibly be carried out, all the pupils of the same mistress shall have each the same book, in order to learn and read therein the same lesson; so that, whilst one is reading hers in an audible and intelligible voice before the mistress, all the others, hearing her and following this lesson in their books at the same time, may earn it sooner, more readily, and more perfectly. Herein the principle of the "Simultaneous Method" is for the first time, clearly stated. Yet, when he enters into the details of practice he seems to lose sight of the principle which he lays down. In the very next paragraph of the Constitutions, it is provided that the mistress shall call up two pupils at a time, and place them one at each side of her desk. The more advanced pupil shall read her lesson; the other shall listen to her, shall correct all the faults she may make, in the use of words, in pronunciation, or in the observance of pauses. This is the individual method. For the smaller pupils he recommends that four or six at a time come to her desk, and to make use of some graded cards, containing letters and syllables. (Sommaire des Constitutions des Religieuses de la Congrégation de Notre-Dame, 1649, 3rd part.)
Cornelius (or Amos Komensky, 1592-1674), in his "Didactica Magna", requires the teacher to instruct his pupils semel et omnes simul, "all together at one and the same time" (edit. 1647, cap. xix, Probl. I, Col, 102, 103). Mgr. de Nesmond (1629-1715) divided the class into four or five groups, each having the same book, "in order that all the children of the same group or bench may receive the same lesson, and when one begins to read, the others are to read in a low voice at the same time" (Méthode pour instruire en peu de temps les Enfants, p. 59). About 1674, Charles Démia, of
Lyons
, adopted the method of Mgr. de Nesmond. Life him, he gave the same reading-book to each group, requiring that each one follow, holding his finger or a marker on the words that are being read. The immediate precursor of St. John Baptist de la Salle was a theorist, the anonymous author of "Avis touchant les Petites Exoles" (Bibl. Nat., 40 R. 556). In this little work, which Leopold Delisle places prior to 1680, the author complains of the condition of the primary
schools
and proposes a method by which a large number of pupils might be taught, by one teacher, one book, and one voice. The
school
, he tells us, should be so regulated that one and the same book, one and the same teacher, one and the same lesson, one and the same correction, should serve for all, so that each pupil would thereby possess his teacher wholly and entirely, and occupy all his care, all his time, and all his attention, as if he were the only pupil (pp. 14 and 19). It is reasonable to presume that de la Salle frequented the
schools
taught by the Congregation of Notre-Dame, which were founded at
Reims
in 1634, and observed the method of teaching employed in that congregation. We can have no
doubt
that he was equally well acquainted with the defects which rendered such methods useless. In 1682 de la Salle had organized the
Brothers of the Christian Schools
, and had given them the "Simultaneous Method".
Brother Azarias
says: "What
St. Peter Fourier
touched, what Komensky and Mgr. de Nesmond and Charles Démia had glimmerings of, what the anonymous author could nowhere find and thought to realize, had become a fact". De la Salle applied the Simultaneous Method not only to reading, as was done by his predecessors, but also to
catechism
, writing, spelling, and arithmetic in the elementary classes, and then to all the specialties taught in the colleges which he founded. He is, therefore, the genius who introduced and perfected the Simultaneous Method in all its practical details. De la Salle definitely points out the "Simultaneous Method" as the one which he wished his disciples to follow. It is no longer the one teacher governing a whole
school
; it is two or three, or more, according to the number of pupils, each taking those of the same capacity and teaching them together. His instructions on these heads are exact:
The Brothers shall pay special attention to three things in class: (1) During the lessons, to correct every word that the pupil who is reading pronounces badly; (2) To make all who read in the same lesson to follow therein; (3) To have silence strictly observed in the
school
. (Common Rules)
The pupils follow in the same lesson, they observe strict silence, the teacher in correcting one, is correcting all. Here is the essence of the "Simultaneous Method". De la Salle generalizes the principles for all lessons, thus:
in all the lessons from alphabet-cards, syllabaries, and other books, whether French or Latin, and even during arithmetic, while one reads, all the others of the same lesson shall follow; that is, they shall read to themselves from their books without making noises with their lips, what the one reading pronounces aloud from his book. (Conduite des écoles chrétiennes, Avignon, 1724)
With
truth
has Matthew Arnold said, in speaking of this handbook of Method: "Later works on the same subject have little improved the
precepts
, while they entirely lack the unction." In the management of
Christian
schools
, de la Salle states concisely the following practical rules for teaching methodically:
1. The teacher determines the relative intelligence of every pupil in his class. 2. He adapts his language and explanations to the capacity of his class, and is careful never to neglect the duller pupils. 3. He makes sure that the pupils
know
the meaning of the words they employ. 4. He advances from the simple to the complex, from the easy to the difficult. 5. He makes it a special point to insist greatly on the elementary part of each subject; not to advance until the pupils are well grounded on what goes before . . . 9. To state but few principles at a time, but to explain them well . . . 10. To speak much to the eyes of the pupils, making sue of the blackboard . . . 11. To prepare every lesson carefully. 12. To place no faulty models or standards before the pupils; always to speak to them in a sensible manner, expressing one's self in correct language, good English, and with clearness and precision. 13. To employ none but exact definitions and well-founded divisions . . . 18. To assert nothing without being positively certain of its
truth
, especially as regards facts, definitions, or principles. 19. To make frequent use of the system of question and answer. (Chap. V, art. ii, pp. 31-33)
It is
true
that de la Salle, in establishing his institute, had in mind principally the primary and elementary
school
, which was the real raison d'etre for the existence of the
Brothers of the Christian Schools
. He was the organizer of the public instruction of his time, and no master of pedagogical
science
will deny him that distinction. But, if the primary and elementary
school
was the principal masterwork of de la Salle, there was yet another field of labour which likewise reveals his creative genius. At the opening of the eighteenth century, he was confronted with singularly perplexing conditions. The rising generation was weary of past glories, disgusted with the present and was ambitious to achieve renown in hitherto unexplored fields of activity. As
education
was gradually extending to the masses, with the light of instruction came new
ideas
, new occupations, new ventures, and a breaking away from the old civilization, with the desire to wrestle with the problems born of the new conditions. Even those who were trained in traditional methods became aware of a mighty change in men and things. They felt that there was a desideratum in the actual
educational
system. With their sons, they experienced the world-spirit breathing upon the moribund civilization of
Louis XIV
. The political horizon had changed,
society
became more degenerate, the
intellectual
world was awakened and cast off its lethargy, assuming a bolder attitude and aspiring to greater freedom in the realm of thought and research. De la Salle had been struck with the serious hiatus in the instruction reserved for the wealthy children, who were destined for the liberal professions. So, while organizing the primary and elementary
school
, he also created, in 1705, a special establishment until then unknown in the
educational
world. This new creation was the boarding college at Saint-Yon, wherein he inaugurated the system of modern secondary instruction. Saint-Yon became the type of all such colleges, and that of Passy, Paris, became the modern exemplar of similar institutions in
France
and elsewhere. M. Drury, in his report upon technical
education
, states that
France
is indebted to de la Salle for the practical installation and popularization of that form of instruction.
Hence, from the origin of the institute, there was a constant adaptation of programmes to the needs created by the social transformations which were taking place. This flexibility, which contrasted with the fixedness of the
university
programmes, excited surprise and no little opposition among the representatives of academic authority in those days. The instruction given in the college founded by de la Salle and his successors was peculiarly adapted of the needs of a very interesting class of young men. The
educational
reforms thus planned and carried out by him give unmistakable evidence that Providence had raised him up to be the lawgiver of primary and elementary teaching, as well as the creator of a new system of
intellectual
training, combining the precision of the traditional method with the wider scope of the new one. It was but natural that de la Salle, who had assimilated the best that the seventeenth century could give, and who had become cognizant of the inefficiency of the old system to meet the requirements of the new conditions, should create
schools
which were then, and have been since, the admiration of educators. The boarding colleges founded by de la Salle for the modern secondary instruction are, therefore, a distinct creation. The date of the Saint-Yon college is 1705. He later added a technical
school
to develop the mechanical skill of the students, and also a special garden for botany.
There were Sunday
schools
prior to the seventeenth century. But the Christian Academy, founded by de la Salle for adults in the
parish
of Saint-Sulpice, in 1699, was of a different character, the first of its kind in the history of
education
. The programme of this academy, or Sunday
school
, included not only the ordinary branches taught in the other Sunday
schools
, but it added geometry, architecture, and drawing.
Alain claims that the first normal
schools
were the novitiates of the teaching orders. But there were no normal
schools
for lay teachers. De la Salle had been frequently asked by
clergy
to send a Brother to take charge of their
school
. This request was refused, for he had established the rule that not less than two Brothers teach in any
school
. Accordingly, he offered to open a
seminary
for teachers, an institution in which young men would be trained in the principles and practices of the new method of teaching. The normal
school
was opened at
Reims
in 1684. Indeed, thirteen years before Francke organized his teachers' class at Halle, and fifty years before
Hecker
founded the
Prussian
normal college at Stettin, de la Salle had given a programme which is even today deemed excellent. In the same year he established for youths who were destined to enter the brotherhood, a
Christian
academy, or preparatory
novitiate
, in which they were taught the
sciences
, literature, and the principles of scientific pedagogy.
De la Salle is entitled to be ranked among the advanced educators of the eighteenth century and among the greatest thinkers and
educational
reformers of all time. His system embraces the best in the modern
educational
methods. He gave an impetus to the higher
educational
progress which is the distinctive mark of modern times, and bequeathed to is own disciples, and to educators in general, a system of teaching which is adaptable to the wants of school-going youth in every country. But it was especially as a
priest
that John Baptist de la Salle
loved
his vocation as an educator. Like
St. Ignatius Loyola
, he taught letters that he might have the
right
to teach
Christian doctrine
. In claiming this privilege de la Salle was actuated by the highest and purest motives. There was nothing narrow in his
educational
plans. He was too wise not to realize the necessity that the truest and best children of the
Church
should be among the most skilled in human affairs. His view was from the summit, therefore, broad and comprehensive. Intellectual training was supplemented by a complete course of
Christian
morals
. Man had a destiny, and the teacher was to inculcate this
truth
by cultivating and developing the
theological
virtues in the
souls
of the children.
This thought seemed to be uppermost in the mind and to haunt the
soul
of de la Salle, when he drew up those excellent programmes for his
schools
, colleges, and technical institutions. His pedagogic principle was that nothing human should be foreign to the students, and the teaching of
science
and letters appeared to him to take nothing from the teacher in his ministry as an apostle. In September, 1713,
Clement XI
issued the
Bull
"Unigenitus"
, condemning the
errors
of
Quesnel
, culled from his "Moral Reflections". M. de Montmartin,
Bishop
of
Grenoble
,
promulgated
the
Bull
in a circular letter, in February, 1714. De la Salle was then making a retreat at Parmenie. When he left this place, he entered the arena to defend the
Church
against
Jansenism
. He assembled the Brothers of
Grenoble
and explained the meaning of the
Bull
, in order to safeguard the purity of their
faith
. Not satisfied with this manifestation of loyalty, he published several articles in defence of the
true
doctrine
. This irritated the
Jansenists
, but their opposition only served to give greater lustre to the purity of his
faith
and
zeal
. He was a fearless and uncompromising champion, and he seemed to forget his habitual calm and reserve when there was question of the integrity and purity of the Faith. To show his inviolable attachment to the
Church
and to the Sovereign Pontiff, he always signed himself Roman Priest. "Hold fast to what is of faith", he writes to the Brothers; "shun novelties; follow the traditions of the
Church
; receive only what she receives; condemn what she condemns; approve what she approves, either by her Councils or by the
Sovereign Pontiffs
. In all things render her prompt obedience". He was even eager to go to
Rome
to cast himself at the feet of the
pope
and request his blessing for the institute. However, not being able to go himself, he sent Brother Gabriel Drolin to establish a
school
there in 1700. Even the consolation of seeing his rule approved by the
Holy See
was denied the
saint
, for he had been dead nearly six years when, on 26 February, 1725,
Benedict XIII
, by his
Bull
, "In apostolicae dignitatis solio", placed the seal of
approbation
upon the institute, empowering the members to teach and explain
Christian doctrine
, and constituting them a religious congregation.
The last years of de la Salle were spent in close retirement at Saint-Yon. There he revised his rule before giving it to Brother Barthélemy, the first superior general. During the last days of his life he showed the same spirit of sacrifice which had marked his earlier years. In
Holy Week
of 1719, he gave unmistakable signs that the end was near. On
Holy Thursday
, at the request of Brother Barthélemy, he blessed the Brothers assembled at his bedside, and gave them his last words of counsel. His final words were: "In all things I adore the will of
God
in my regard." On
Good Friday
morning, 7 April, 1719, he breathed his
soul
into the hands of his Creator. He was
canonized
by
Leo XIII
on 24 May 1900. His
feast
is celebrated on 15 May.
The principal writings which he has bequeathed to his spiritual children are: "Conduite des écoles" (1717), a treatise on pedagogic method, presenting fundamental principles in a scientific manner. It is remarkable that the methods herein given have not been considerably changed since the time of its author, and that the principles laid down are as applicable today as when they were written. Les Règles de la bienséance et de la civilité chrétiennes", is a volume written in 1695, and used as a treatise on politeness and as a text in the reading of
manuscripts
. The style is simple and direct. It contains excellent rules for cultured manners. Les devoirs du chrétien" (73), a simple and precise exposition of
Christian doctrine
is remarkable for its accuracy, and for the practical lessons it inculcates. It was intended as a reader and a
catechism
. It still retains its place in many
schools
and colleges. "Recueil de différents petits traités à Pusage des Frères des Ecoles chrétiennes" (1711) is a noteworthy treatise, stating in remarkably simple terms the fundamental principles of the
religious life
. It abounds in Scriptural quotations and is a valuable guide for
persons
striving after perfection. "Explication de la méthode d'oraison" (1st printed ed., 1739). In point of clearness and adaptation, this method of
mental
prayer
is eminently suited to the needs of the Brothers. It appeals to every degree of capacity, for all can find therein the spiritual food
necessary
for their special condition and state of perfection. "Méditations pour le temps de la Retraite" (1st printed ed. 1730), written for the exercises of the annual retreat, and, combining he principles of the spiritual life with pedagogics, tends to promote the Christian Apostolate in the
school
. These méditations contain some of the soundest principles of pedagogy ever enunciated. "Meditations pour tous les Dimanches de Panée, avec les Evangiles de tous les Dimanches; Meditations pour les principales fetes de Panee" (Rouen, 1710?), is an epitome of spiritual
doctrine
, based upon the Gospels of the year and applied to the needs of the teaching profession and the principles of the
religious life
. This treatise reveals the greatness of de la Sale and shows him to be a man of deep religious conviction. His language is always simple, direct, and vigorous.
The spirit of de la Salle has even permeated other religious
families
, either in giving them a special character or suggesting their rules. Thus, the
Brothers of St. Gabriel
, founded by Blessed Grignon de Montfort and M. Deshayes, in 1795 and 1821; The
Brothers of Christian Instruction
of Ploërmel, founded by
J.-M. de Lamennais
, in 1816; The Brothers of Christian Doctrine of
Nancy
, founded by Father Fréchard, in 1817; The
Little Brothers of Mary
(Marists), founded by Père Champagnat, in 1817; The
Brothers of the Sacred Heart
of Paradis, founded by Father Coindre, in 1821; The Brothers of the
Society of Mary
, founded by Père Chaminade, in 1817; The Brothers of the Holy Family, founded by Brother Gabriel Taborin, in 1821; The
Brothers of the Cross of Jesus
, founded by Père Bochard, in 1824; The
Clerics of St-Viateur
, founded by Père Guerbes, in 1829; The
Congregation of the Holy Cross
, founded by M. Moreau and M. Dujarris, in 1835; The
Congregation of the Holy Ghost
and the Sacred Heart of Mary, founded by Father Liebermann, in 1841; The Brothers of Mercy, founded by M. Delamare, in 1842; The
Christian Brothers of Ireland
, founded by Brother Ignatius Rice, in 1805; and the Institute of the Sisters of the Christian Schools of Mercy, founded by Ven. Julie Postel, in 1802-all exemplify in the character of their work and in the rules adopted, a striking similarity to the methods and aims proposed by Saint John Baptist de la Salle in founding the
Institute of the Brothers of the Christian Schools
.
BLAIN, Vie de M. Jean-Baptiste de la Salle (Rouen, 1733); CARRON, Une Vie (Paris, 1885); IDEM, L'Esprit et les Vertus du bienheureux J.-B. de la Salle (Paris, 1890); The Spirit and Virtues of Bl. J.-B. de la Salle (Tours, 1895); GARREAU, Vie de M. J.-B. de la Salle (Paris, 1875); CARRON, Le Tendre Ami des Enfants du Peuple (Lyon, 1828); L'Ami de l'Enfance (Lille, 1831); Le Véritable Ami de l'Enfance (Paris, 1838); DUROZIER, L'Abbé de la Salle (Paris, 1842); SALVAN, Vie de M. Ven de la Salle (Toulouse, 1852); AYMA, Vie de M. de la Salle (Aix, 1858); LUCARD, Vie du Ven. de la Salle (Paris, 1876); RAVELET, Vie du B. J.-B. de la Salle (Paris, 1888); GAVEAU, Vie de M. de la Salle (Paris, 1883); Life of M. de la Salle (Italian) (Rome, 1888); KREBS, Leben von J.-B. de la Salle (Ratisbonne, 1859); GUIBERT, Histoire de Jean-Baptiste de la Salle (Paris, end ed., 1901); IDEM, Vie et Vertus de S. J.-B. de la Salle (Tours, 1901); DELAIRE, Saint Jean Baptiste de la Salle (4th ed., Paris, 1902); BAINVEL, Saint Jean Baptiste de la Salle (Paris, 1901); GUIBERT, Renouvellement religieux (Paris, 1903); IDEM, Doctrine spirituelle de Saint J.-B. de la Salle (Paris, 1900); BROTHER NOAH, Life and Work of the Ven. J.-B. de la Salle (New York, 1878); WILSON, The Christian Brothers, their Origin and their Work (London, 1883); DE DONCOURT, Remarques Historiques (Paris, 1773); FELLER, Dictionnaire Historique (Paris, 1797); CERF, Maison où dut naître le B. J.-B. de la Salle (Reims, 1870); CHEVALIER, Les Frères des écoles chrétiennes (Paris, 1887); RAVELET-O'MEARA, The Life of Bl. J.-B. de la Salle (Tours, 1888); BONVALLET, Sur la Noblesse de la Salle in La Revue de Champagne (December, 1888); PIN DE LA GUERIVIERE, Les aïeuls maternels du Bienheureux J.-B. de la Salle (Reims, 1897); KNECHT, Leben von Johan Baptist de la Salle (Freiburg, 1879); SPEH., Der Heilige Johannes Baptista de la Salle und sine Stiftung (Kaufbeuren, 1907); HUBERT, Leben von Johan Baptist de la Salle (Mainz, 1887); LUCARD, Annales de l'Institut des Frères des Écoles Chretiennes (Tours, 1883); CONSTANTIUS (M.M. GRAHAM) in Am. Cath. Review (July, 1900); IDEM, in Cath. World (August, 1900); BEDEL, La Vie du Rev. Pierre Fourier (Paris, 1666); ARNOLD, The Popular Education of France (London, 1861); SAINT-SIMON, Mémoires (Paris, 1886); ALAIN, L'Instruction primaire avant la Révolution (Paris, 1881); ARNOLD, Notes et Documents sur les Etablissements d'Instruction Primaire de la Ville Reims (Reims, 1848); BABEAU, L'Instruction Primaire dans les campagnes avant 1789 (Paris, 1896); BUISSON, Dictionnaire de Pédagogie (Paris, 1887); RENDU, De l'Instruction Publique (Paris, 1819); BARNARD, De l'Enseignement élémentaire en France (Paris, 1894); H. BARNARD, Normal Schools and other Institutions (Hartford); JUSTINUS, The Educational System of the Brothers of the Christian Schools in France; Report of the Commissioner of Education (Washington, 1898-1899).
Graham, Matthias. "St. John Baptist de la Salle."
The Catholic Encyclopedia.
Vol. 8. New York: Robert Appleton Company,1910.
6 Apr. 2015 <http://www.newadvent.org/cathen/08444a.htm>.
Transcription.
This article was transcribed for New Advent by Michael T. Barrett.
Dedicated to all the

staff

and students of La Salle H.S., Milwaukee, Oregon.
Ecclesiastical approbation.
Nihil Obstat.

October 1, 1910. Remy Lafort, S.T.D., Censor.

Imprimatur.

+John Cardinal Farley, Archbishop of New York.
SOURCE :
http://www.newadvent.org/cathen/08444a.htm
St. John Baptist De La Salle
Complete dedication to what he saw as God's will for him dominated the life of John Baptist de la Salle. In 1950, Pope Pius XII named him patron of schoolteachers for his efforts in upgrading school instruction. As a young seventeenth-century Frenchman, John had everything going for him: scholarly bent, good looks, noble family background, money, refined upbringing. At the early age of 11, he received the tonsure and started preparation for the priesthood, to which he was ordained at 27. He seemed assured then of a life of dignified ease and a high position in the Church.
But God had other plans for John, which were gradually revealed to him in the next several years. During a chance meeting with M. Nyel of Raven, he became interested in the creation of schools for poor boys in Raven, where he was stationed. Though the work was extremely distasteful to him at first, he became more involved in working with the deprived youths.
Once convinced that this was his divinely appointed mission, John threw himself wholeheartedly into the work, left home and family, abandoned his position as canon at Rheims, gave away his fortune and reduced himself to the level of the poor to whom he devoted his entire life.
The remainder of his life was closely entwined with the community of religious men he founded, the Brothers of the Christian School (Christian Brothers, or De La Salle Brothers). This community grew rapidly and was successful in educating boys of poor families using methods designed by John, preparing teachers in the first training college for teachers and also setting up homes and schools for young delinquents of wealthy families. The motivating element in all these endeavors was the desire to become a good Christian.
Yet even in his success, John did not escape experiencing many trials: heartrending disappointment and defections among his disciples, bitter opposition from the secular schoolmasters who resented his new and fruitful methods, and persistent opposition from the Jansenists of his time, whose moral regidity and pessimism abut the human condition John resisted vehemently all his life.
Afflicted with asthma and rheumatism in his last years, he died on Good Friday at 68 and was canonized in 1900.
SOURCE : http://www.ucatholic.com/saints/john-baptist-de-la-salle/
John-Baptist de la Salle, Priest (RM)

Born at Rheims, France, April 30, 1651; died at Rouen, France, on April 7, 1719; canonized by Pope Leo XIII in 1900; named patron of teachers by Pope Pius XII in 1950; feast day formerly on May 15.
John-Baptist de la Salle was the eldest of ten children of a wealthy and noble family. He was destined for the priesthood at age 10, tonsured the following year, and was actually made a canon of Rheims cathedral 11 years (1667) before he was ordained a priest in 1678, following his seminary training at Saint Sulpice in Paris. He seemed set for a brilliant ecclesiastical career for he was striking in appearance, well connected, refined, and scholarly. Soon after his ordination, however, he met Adrian Nyel, a layman who was opening a school in Rheims for poor boys in 1679.
He found himself drawn more and more into the project. First he rented a house for the seven masters and fed them at his table. In 1681, he invited them to share his own home in order to instill in them the high educational ideals forming in his own mind. Two of his own brothers left soon after, then five of the school masters.
The endeavor seemed about to fail.
Finally, John-Baptist decided to devote himself to the mission. In 1683, he resigned his canonry and distributed his family inheritance for the relief of the famine-stricken in Champagne. Thus freed of other obligations, he dedicated himself to the education of the poor. After a false start, he realized that the first problem was the provision of teachers, so he himself began to train laymen as teachers. He called the twelve young men he gathered together the "Brethren of the Christian Schools' (which did not receive papal approval until 1725). La Salle's original intention was to have priests in his institution to take charge of each house, but when his designated successor Brother L'Heureux, whom he was about to present for ordination, died unexpectedly, he doubted whether he design had been according to God's plan. It was ultimately decided when he drew up the rule in 1695 that they should all in fact be laybrothers and no priest could become a Christian Brother. This work went on simultaneously with opening schools.
Saint John-Baptist de la Salle established the first teachers' colleges because parish priests continually sent him young men to train as teachers before returning to schools in their own villages. He sought to inspire his teachers with "a father's love for their pupils, ready to devote all their time and energies to them, as concerned to save them from wickedness as to dispel their ignorance. There were no such teachers for the poor."
In 1688, he took over a free school in Paris and started teacher training colleges in Rheims (1687), Paris (1699), and Saint-Denis (1709), and established a junior novitiate in 1685 for boys aged 15 to 20. In Paris he also introduced Sunday-schools. In 1700, the brothers opened a school in Rome. By that point they had opened schools in Avignon, Calais, Languedoc, Provence, Rouen, and Dijon.
In 1698, he began teaching the children of those who had come into exile in France with the deposed King James II of England. This brought his ideas and techniques into contact with a more influential sector of society. He was also the first to set up a reform school for delinquent boys at Dijon and even taught prisoners. Today about 20,000 of his brothers, the Christian Brothers, are still teaching throughout the world.
The successful growth of the new congregation provoked violent opposition from professional school-masters and others. In 1702 his enemies managed to get him dismissed, but all his teachers threatened to leave with him, so John-Baptist managed to keep control of his brethren.
His system of education, outlined in The Conduct of Christian Schools (Conduite des ecoles Chretiennes, English translation, 1935), was a milestone in the schooling of the young, with its use of the "simultaneous method" (as opposed to individual instruction) and its teaching through the mother tongue rather than Latin. John-Baptist believed that to teach the poor in Latin (as was the custom) was absurd. They needed to be taught to write and read their own language, and given religious and vocational training.
Matthew Arnold said of this book that later works on the subject hardly improved on its precepts and had none of its religious feeling. La Salle, who had studied at Saint-Sulpice under Louis Tronson, also wrote several works of value on prayer and meditation, including Meditations for Sundays, which was influenced by Bérulle.
Later, spurred by the Jansenists, an attack on teaching anything but manual labor to poor students caused his schools in Paris to be closed, but the storm subsided and they reopened.
John-Baptist resigned in 1717 and retired to Saint Yon, Rouen, where he lived as the humblest of brothers. He suffered from asthma and rheumatism, but would give up none of his habitual austerities. He died on Good Friday at Rouen. In 1937, his relics were translated to Rome (Attwater, Battersby, Benedictines, Bentley, Delaney, Farmer, Walsh).
SOURCE :
http://www.saintpatrickdc.org/ss/0407.shtml
San Giovanni Battista de La Salle Sacerdote
Reims (Francia), 30 aprile 1651 - Saint-Yon (presso Rouen), 7 aprile 1719
Nasce a Reims il 30 aprile 1651 da genitori nobili, ma non ricchi, e con dieci figli. Si laurea in lettere e filosofia; è sacerdote nel 1678, e a Reims assume vari incarichi, collaborando anche all'attività delle scuole fondate da Adriano Nyel, un laico votato all'istruzione popolare. Scuole gestite però da maestri ignoranti e senza stimoli. E proprio dai maestri parte la sua opera. Riunisce quelli di Nyel in una casa comune, vive con loro, studia e li fa studiare, osserva metodi e organizzazione di altre scuole. Insgna un metodo e abolisce le lezioni in latino, introducendo in ogni disciplina la lingua francese. Nel 1680 nasce la comunità dei «Fratelli delle Scuole Cristiane». In genere non sono preti, vestono una tonaca nera con pettorina bianca, con un mantello contadino e gli zoccoli, e sotto la guida del La Salle aprono altre scuole. Nel 1687 hanno già un loro noviziato. Nel 1688 sono chiamati a insegnare a Parigi dove in un solo anno i loro allievi superano il migliaio. A causa di critiche e ostacoli esterni da Parigi dovrà portare la sua comunità nel paesino di Saint-Yon, presso Rouen, dove morirà il 7 aprile 1719.
Etimologia: Giovanni = il Signore è benefico, dono del Signore, dall'ebraico
Martirologio Romano: Memoria di san Giovanni Battista de la Salle, sacerdote, che a Rouen in Normandia in Francia si adoperò molto per la formazione umana e cristiana dei bambini, in particolare quelli poveri, e istituì la Congregazione dei Fratelli delle Scuole Cristiane, per la quale sostenne molte tribolazioni, divenendo benemerito davanti al popolo di Dio.
Combatte l'ignoranza per tutta la vita, e molti combattono lui. Nato da genitori nobili, ma non ricchi, e con dieci figli, Giovanni Battista si laurea in lettere e filosofia; è sacerdote nel 1678, e a Reims assume vari incarichi, collaborando anche all'attività delle scuole fondate da Adriano Nyel, un laico votato all'istruzione popolare. Scuole che vanno male, però, soprattutto perché hanno maestri ignoranti e senza stimoli.

E di qui parte lui. Dai maestri. Riunisce quelli di Nyel in una casa comune, vive con loro, studia e li fa studiare, osserva metodi e organizzazione di altre scuole... Comunica a questi giovani raccogliticci la gioia dell'insegnamento, dell'aprire scuole; li appassiona a un metodo che da "ripetitori" li fa veri "insegnanti", abolendo le lezioni in latino, e introducendo in ogni disciplina la viva lingua francese. Da quel primo nucleo ecco svilupparsi nel 1680 la comunità dei "Fratelli delle Scuole Cristiane": il sodalizio degli educatori. In genere non sono preti (lui li vuole laici, vicini al mondo che devono istruire nella fede, nel sapere, nelle professioni); vestono una tonaca nera con pettorina bianca, con un mantello contadino e gli zoccoli, e sotto la guida del La Salle aprono altre scuole. Nel 1687 hanno già un loro noviziato. Nel 1688 sono chiamati a insegnare a Parigi dove in un solo anno i loro allievi superano il migliaio.

Poi cominciano le battaglie, e tutto sembra crollare. Il fondatore si trova via via attaccato dall'alto clero di Parigi, da vari parroci e dall'autorità civile, dai cattolici integrali e dai giansenisti, abbandonato da gente che credeva fedele, e più tardi anche esautorato. Lui in quei momenti si immerge – si inabissa, potremmo dire – nell'isolamento penitenziale, nella meditazione. Studia e si studia. Ma resiste, con la sua mitezza irreducibile. Da Parigi dovrà portare la sua comunità nel paesino di Saint-Yon, presso Rouen.

Però la semina continua a dare frutti: nascono le scuole per adulti, le scuole per maestri, gli istituti d'istruzione nelle carceri, i collegi "di istruzione civile a pagamento": e i suoi libri, trattati e sillabari pilotano l'opera dei maestri. Nei momenti più desolati giunge a dubitare della propria vocazione per la scuola e si accusa di nuocere alla stessa opera. Ma intanto le dedica ogni energia, scrivendo e insegnando per il futuro dei Fratelli, che la fine del XX secolo troverà presenti e attivi ben oltre i confini della Francia e dell'Europa.

Quando muore nel piccolo centro di Saint-Yon, le sue case sono 23 e gli allievi diecimila. Ma per i funerali accade l'imprevedibile: trentamila persone si riversano nel paese per dargli l'ultimo saluto. Trentamila risposte a persecuzioni e tradimenti. Papa Leone XIII lo canonizzerà nell'anno 1900. E, cinquant'anni dopo, Pio XII lo proclamerà "patrono celeste presso Dio di tutti gli insegnanti".
Bref pontifical de S. S. Pie XII proclamant saint Jean-Baptiste de la Salle patron de tous les maîtres chrétiens
:
http://www.liberius.net/articles/Bref_pontifical_de_S._S._Pie_XII_proclamant_saint_Jean-Baptiste_de_la_Salle_patron_de_tous_les_maitres_chretiens.pdf